Top 5 International Shipping Challenges for Business Owners and How Heroshe Solves Them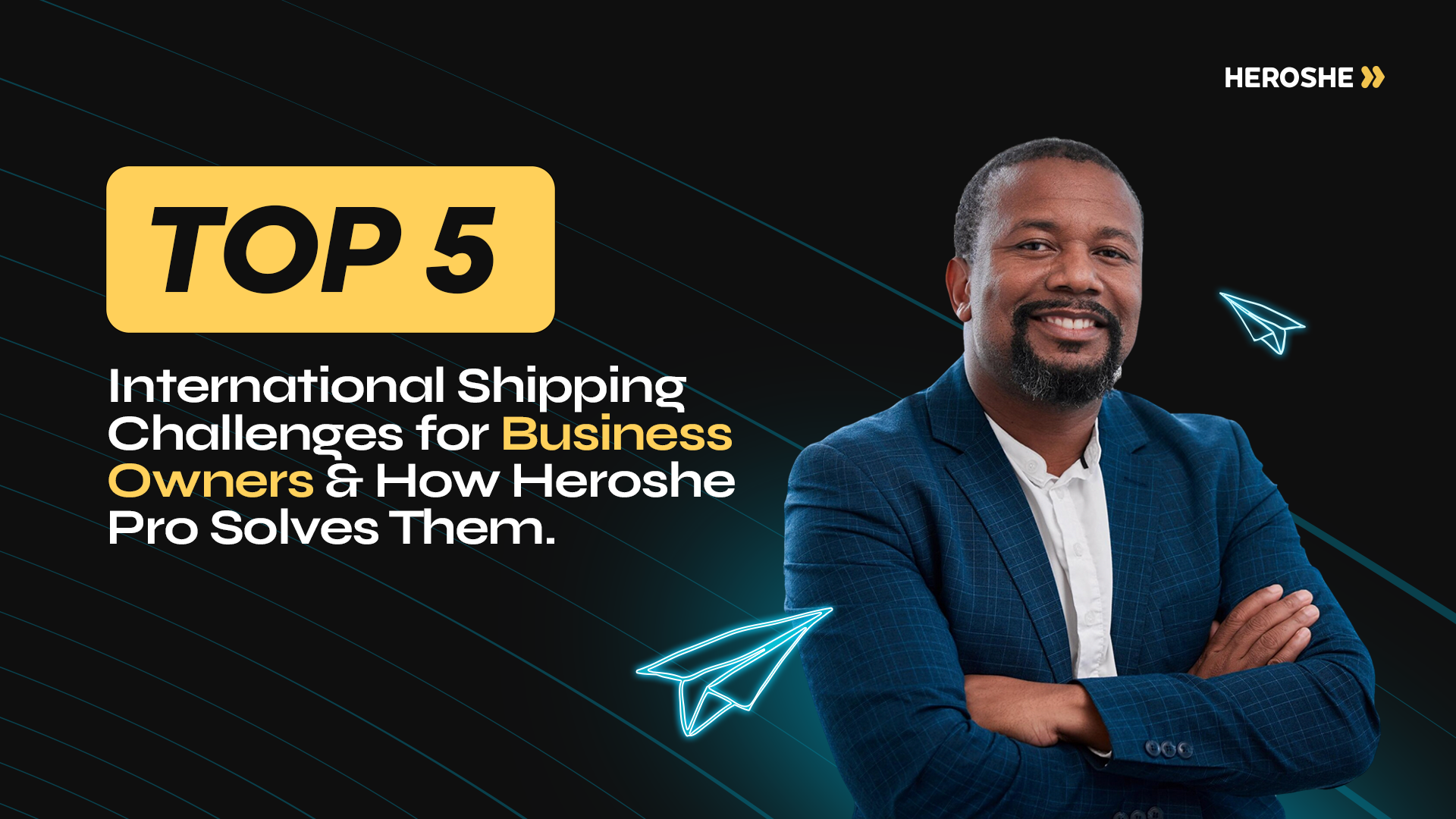 Shipping products from the U.S. to Nigeria and Ghana can be daunting for business owners. Many challenges make the process hard, from dealing with high shipping fees to exorbitant customs fees. In our recent blog post, we shared the experiences of Segun and Emeka, two business owners who faced these problems firsthand.
Fortunately, there is a solution. Heroshe Pro has been assisting countless business owners in successfully shipping their goods from the U.S. to Nigeria and Ghana. This article will explore the top 5 international shipping challenges that business owners commonly encounter and how Heroshe Pro solves them.
Are you ready to gain valuable insights and discover how to overcome these challenges? Let's dive in!
What is Heroshe Pro?
Heroshe Pro is an exciting new premium service launched by Heroshe to support the growth of various business owners, including personal shoppers, online and social sellers, store owners, drop shippers, and SMEs. This specialized service will help businesses grow by providing access to faster end-to-end delivery, convenient payment solutions, and a personalized shipping experience.
With Heroshe Pro, business owners can enjoy significant benefits. For example, they can now ship a 1 lb item for just $6, ensuring cost-effective shipping solutions. You are also guaranteed prompt delivery, with items arriving at your doorstep in Nigeria within 5-7 days. You can also entrust us with last-mile delivery saving you valuable time and resources as a business owner.
What Challenges Do Business Owners Face When Shipping From the U.S. to Nigeria?
International shipping can be a daunting and complicated process. Business owners face many hurdles when shipping products overseas, including customs and duties, shipping costs, delivery time, lack of real-time tracking, and inefficient last-mile delivery. These challenges can cause delays, increase costs, and lead to unhappy customers.
Challenge 1: Customs Duties
One of the most significant challenges business owners face when shipping from the U.S. to Nigeria is dealing with customs duties. These duties are specifically applied to imported items, and their rates can vary depending on the goods, usually falling between 5% to 35%. Authorities refer to the Harmonized Commodity and Coding System (HS code) to ensure a fair and consistent assessment process.
But recently, people have complained of receiving outrageous charges that exceed the actual value of their items. This issue is deeply concerning, considering the potential impact on profits.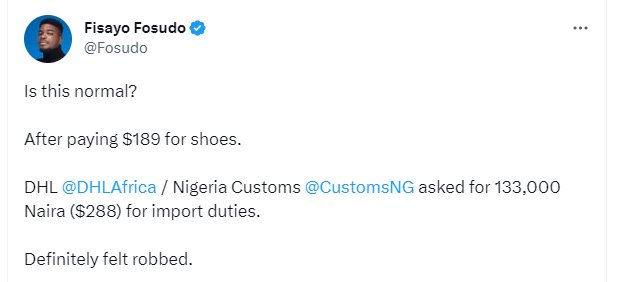 Just think about it - if an individual gets charged $288 for an item that costs $189, how much would he resell to make a profit? Now imagine how overwhelming that would be for a business owner importing a hundred pieces. Ko funny mehn.
How Heroshe Pro Solves This:|
Upgrading to Heroshe Pro means you can bid farewell to customs duties and hidden charges. With our exclusive service, you pay a flat rate of $6 per pound, and that's it!
Regardless of your item's cost or value, we handle the customs duties, ensuring no surprise expenses that eat into your profits.
Challenge 2: Shipping Costs
Another major challenge for businesses looking to ship products from the U.S. to Nigeria is shipping costs. Shipping costs can vary widely depending on the country, the weight of the product, and the shipping method used. Let's run a quick exercise to determine the shipping costs of an iPhone 14 Pro Max from the U.S. to Nigeria using FedEx and DHL.
We will start with FedEx's shipping calculator.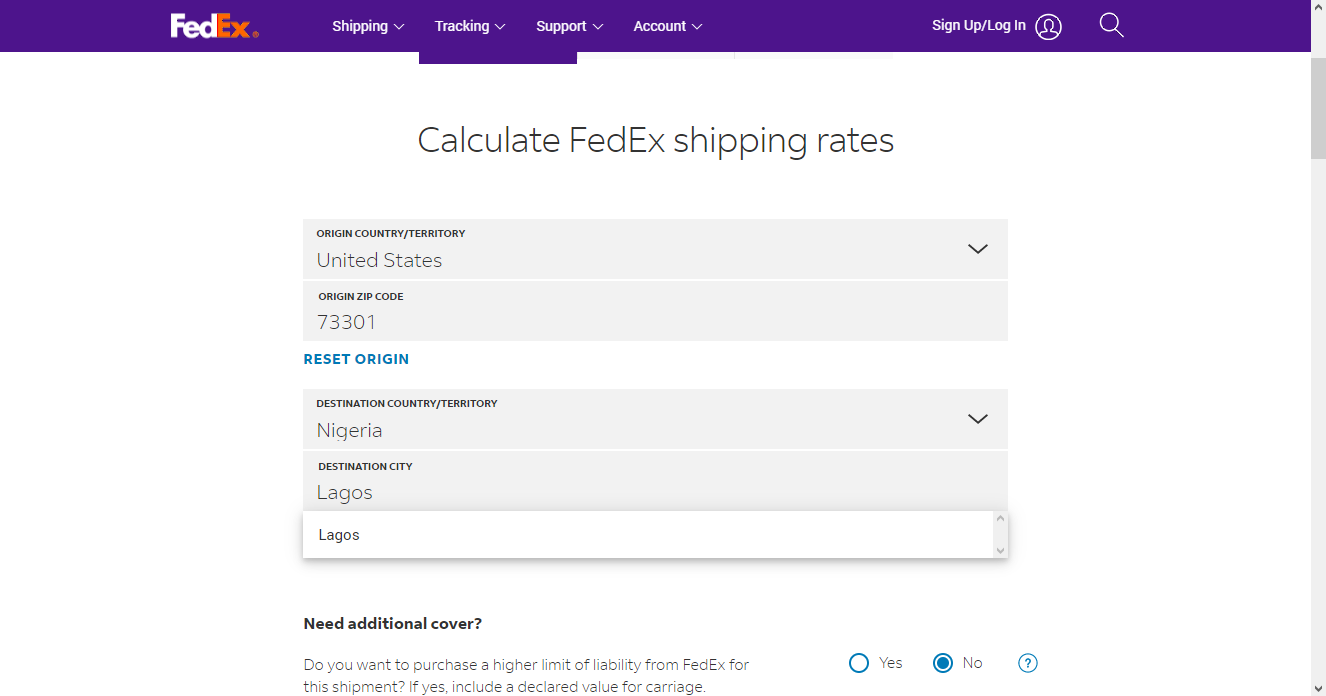 After entering the country of origin and destination, we will proceed to fill out the next form that appears. In these boxes, we will enter the weight and dimensions of the iPhone 14 Pro Max. We will round up all weights to the nearest whole number.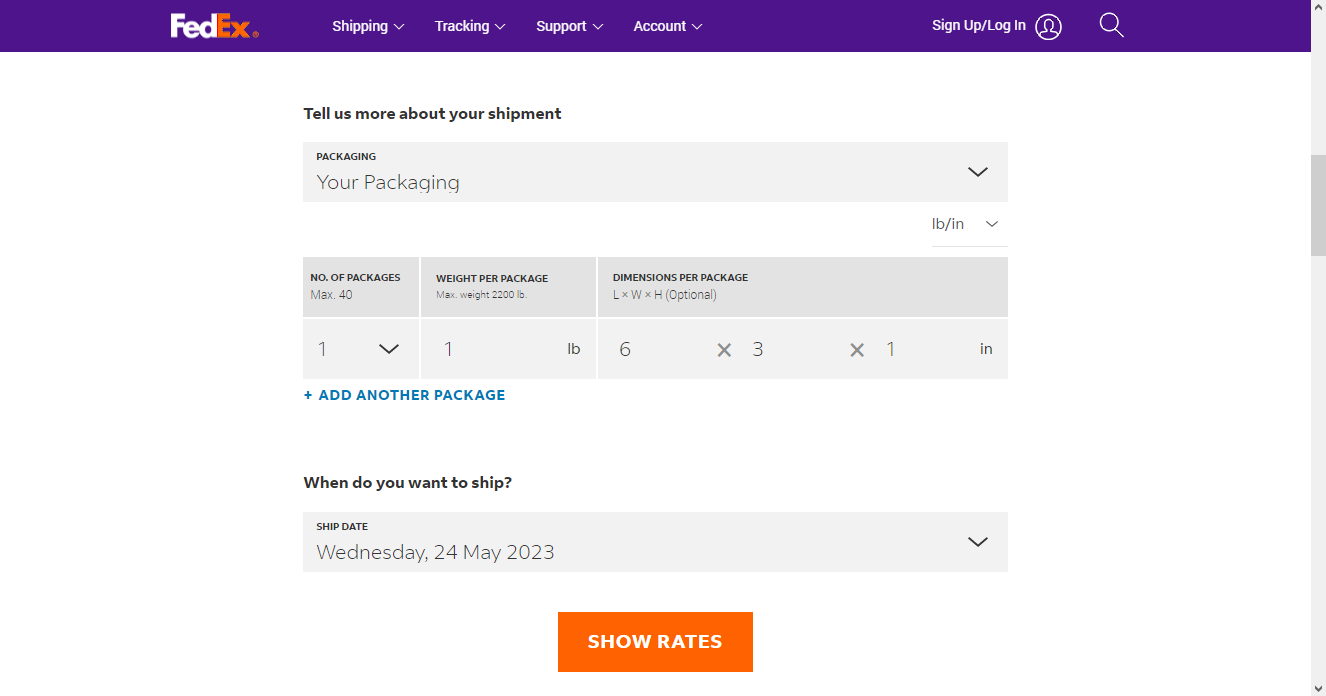 When using FedEx, the cost of shipping the iPhone 14 Pro Max to Nigeria is $160.69 with the International Economy package. If you prefer faster shipping, you have the option to upgrade to the International Priority package and that costs $282.75.
Next up is DHL. We will also use the official shipping calculator on their website and fill in the pick up and delivery country and state.
We will then enter the weight and dimensions of the iPhone 14 Pro Max.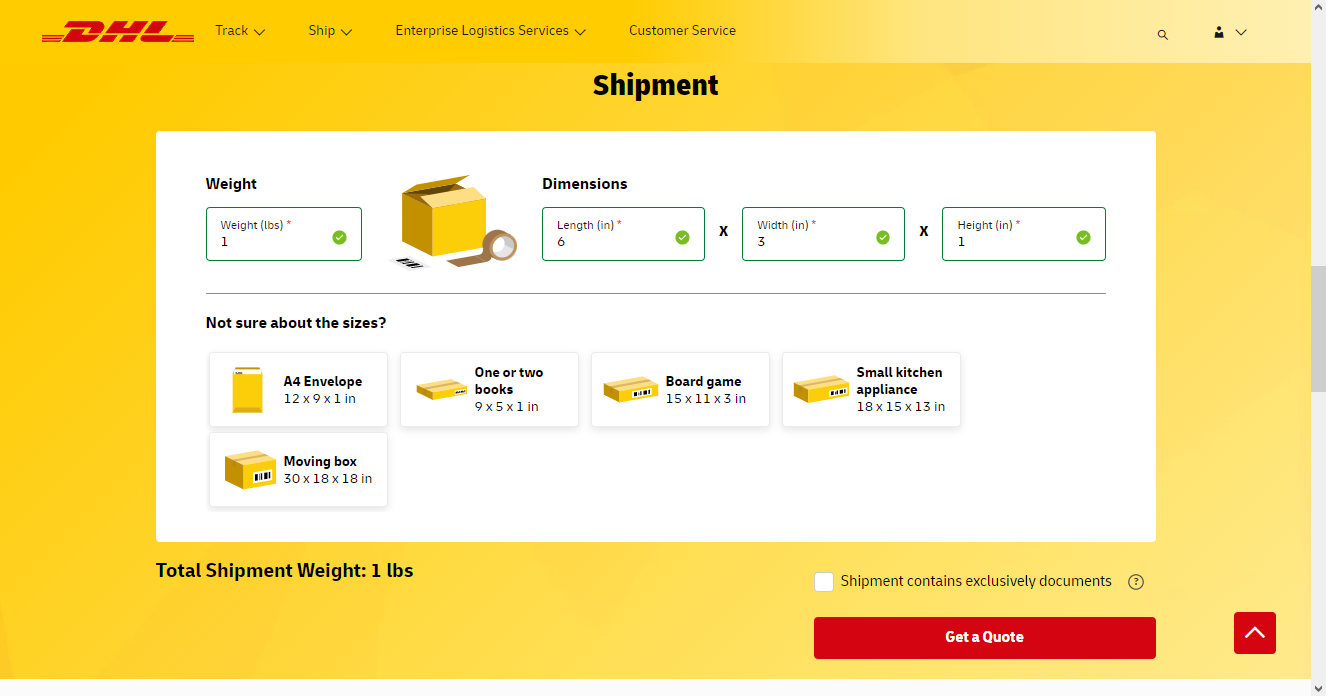 With DHL, we can see that it costs $193.14 to ship an iPhone 14 Pro Max to Nigeria.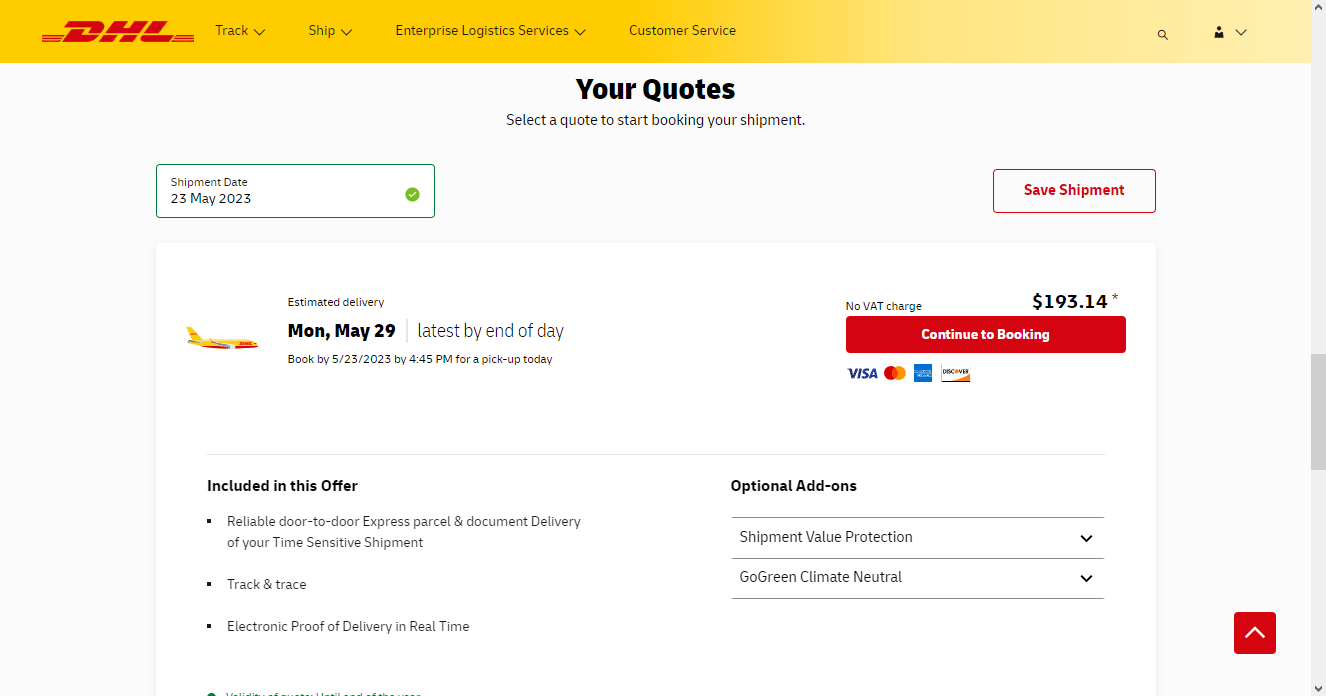 These shipping costs no too much???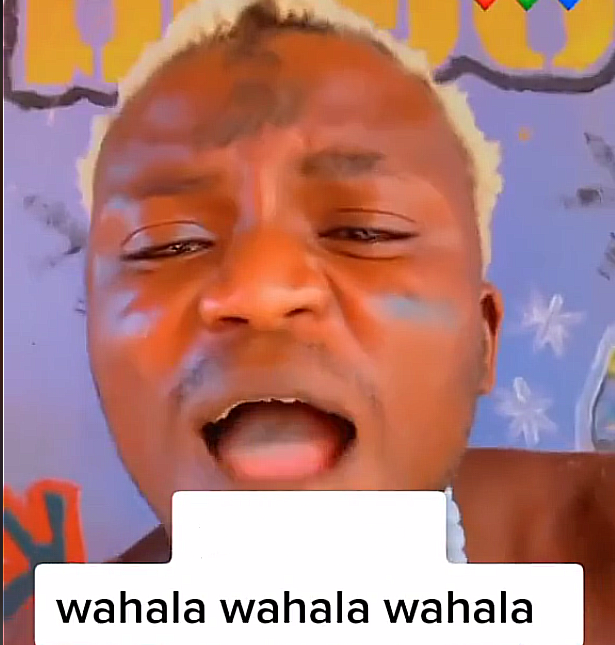 Let's assume you buy an iPhone 14 Pro Max from eBay for $1,000 (750,000 Naira) and ship it to Nigeria for $160.69 (120,517 Naira), along with customs clearance fees of 7% amounting to $70 (52,500 Naira). In total, the cost price of the phone when it arrives at your store will be $1,230.69 (around 923,017 Naira). However, a quick check on Jumia Nigeria reveals that the same iPhone is available for $1,227.99 (920,999 Naira).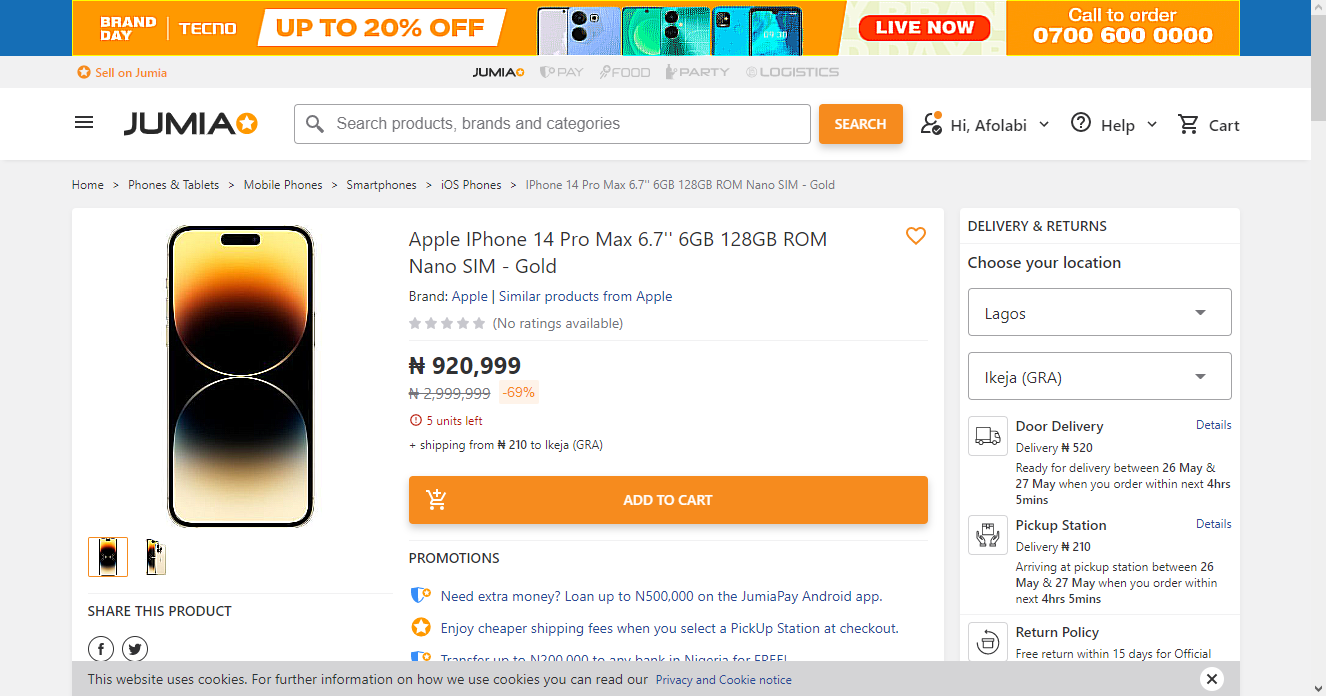 This leaves no profit margin for your business making buying it from the U.S. pointless.
How Heroshe Pro Solves This:
At Heroshe, we understand the importance of competitive shipping rates for businesses. That's why we have partnerships with renowned shipping carriers, allowing us to offer discounted rates to our Heroshe Pro customers.
In fact, here's the exciting part: let us see how much it costs to ship using Heroshe Pro shipping calculator.
Shipping an iPhone 14 Pro Max with Heroshe Pro costs only $6! Yes, you read that right, just six dollars! As in 4,500 Naira! As I mentioned, the best part is that there are NO customs duties to worry about. That means the cost price at your store is $1006 (754,500 Naira)! Just like that, you are already competing with the major e-commerce stores in Nigeria!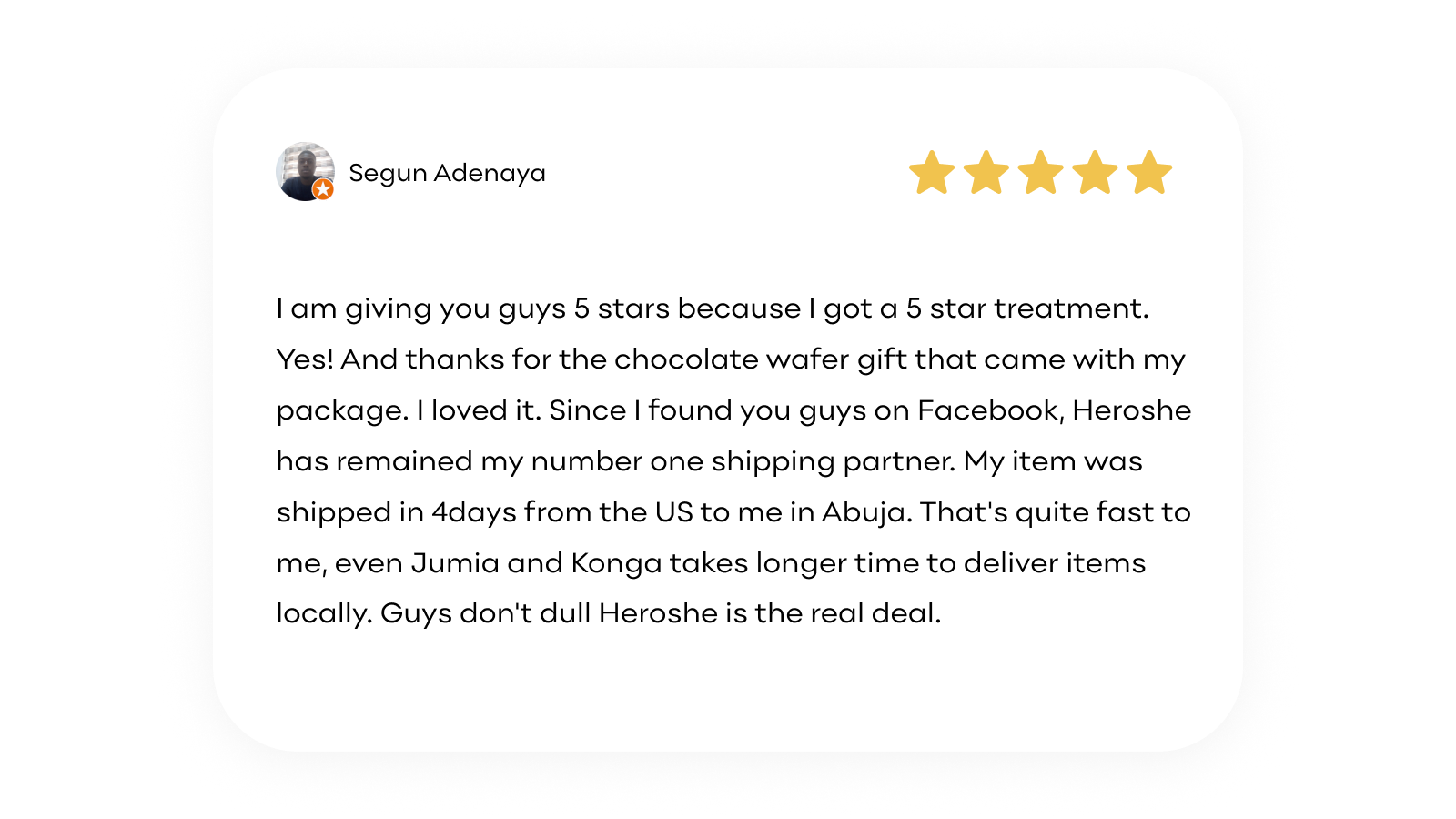 Challenge 3: Delivery Time
DHL and FedEx have excellent delivery times, but let's face it, the price tag odikwa serious! So, what are the alternatives? Well, some options won't break the bank, but their delivery times can be as unpredictable as the tides of the Ogun River. Sometimes, they will have your items at your doorstep in three weeks, while other times, you will find yourself fasting and praying, waiting for them to show up after two months. It is like playing a game of delivery roulette!
As business owners, we know that delivery time is of the essence when it comes to delivery. It is that crucial factor that can make or break our profits. We empathize with the frustration and financial implications when items take longer to reach your store. Each delayed day feels like a missed opportunity, leaving you yearning for those extra sales that could have been.
How Heroshe Pro Solves This:
Heroshe Pro offers efficient shipping services from the U.S. to Nigeria and Ghana, with a speedy delivery time of 5 - 7 days. This expedited shipping time rivals the big boys, ensuring your packages reach you faster. Even more impressive is that Heroshe Pro offers savings of up to 2667% compared to other providers.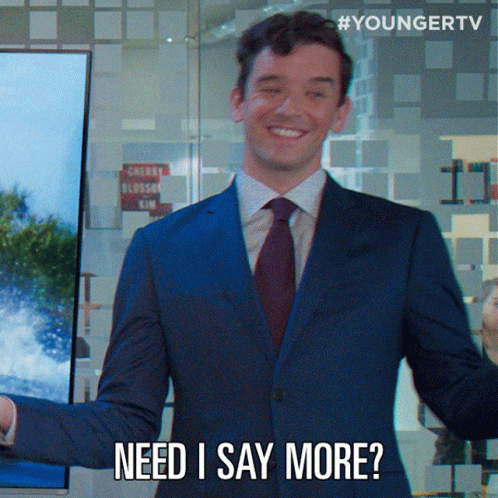 Challenge 4: Lack of Real-Time Tracking
When you ship with traditional methods, you rely on inconsistent messages and emails to track where your shipment is and when it will arrive. The lack of clarity and reliability in the information you receive can cause frustration and uncertainty. Waiting for sporadic updates can increase anxiety about the status of your package.
How Heroshe Pro Solves This:
Heroshe Pro solves this by providing you with real-time shipping status updates. The updates let you track your item throughout the entire shipping journey. From the moment your items arrive at the Heroshe U.S. warehouse to their arrival at your doorstep or store in Nigeria, you can stay informed about the progress of your shipments. And when you have any questions, you can easily reach out to your dedicated account manager. Simply because, VIP lomo!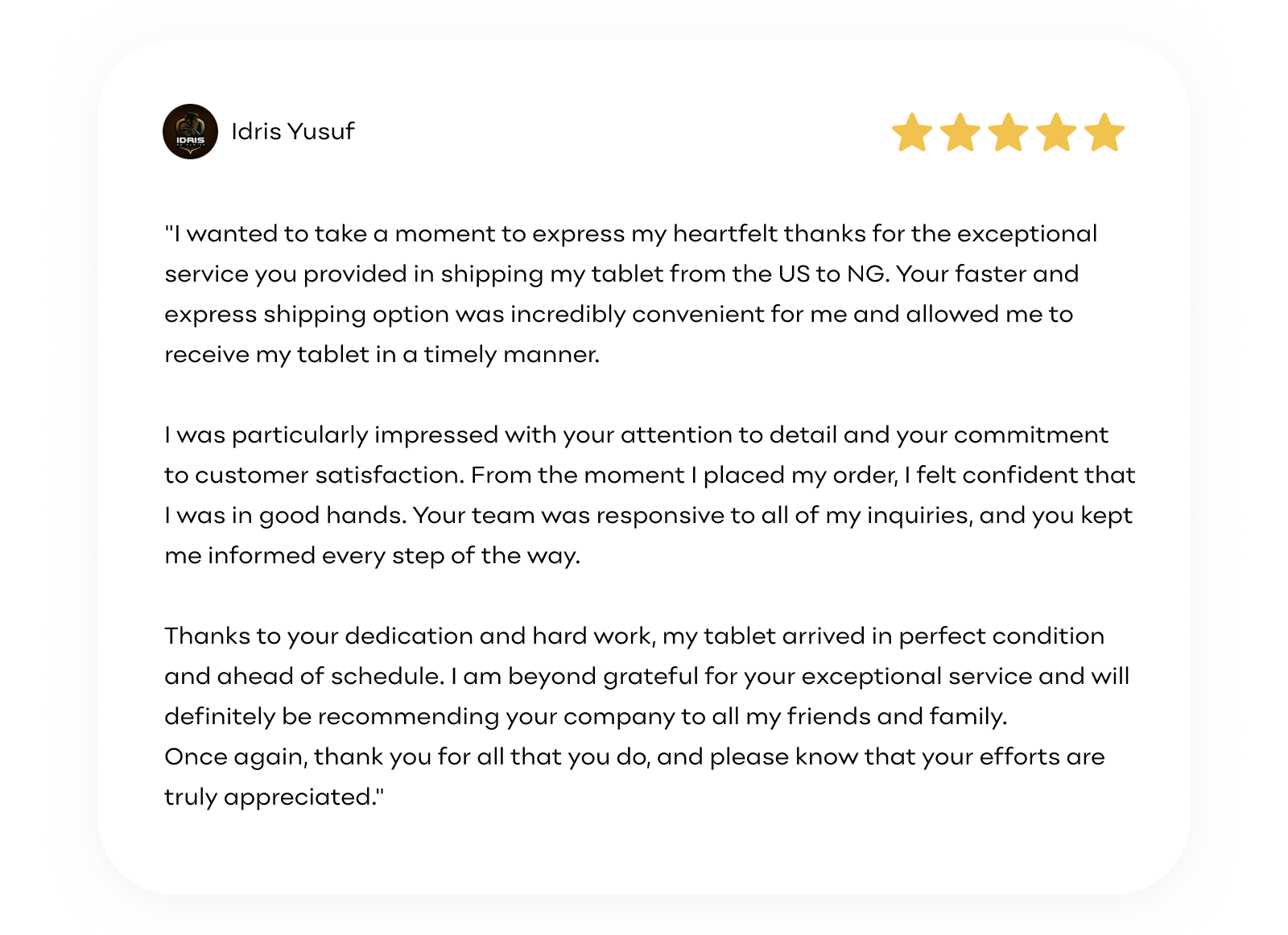 Challenge 5: Inefficient Last-Mile Delivery
Last-mile delivery is another major problem facing businesses that rely on shipping from the U.S. to Nigeria. Last-mile delivery is the final leg of the shipping process, from Customs to your customer's doorstep. Unreliable logistics services for last-mile delivery worsen this problem, resulting in prolonged delivery times.
How Heroshe Pro Solves This:
Heroshe Pro provides a seamless solution to this problem with efficient last-mile delivery. Through our strategic partnerships with local delivery companies throughout Nigeria, we ensure fast and dependable last-mile delivery. Moreover, with Heroshe Pro, you can personalize shipping labels with your business name. This means your customers can receive their iPhone 14 Pro Max packaged in your store branding without hassle.
How Can You Upgrade to Heroshe Pro?
Upgrading to Heroshe Pro is as easy as ABC. Just follow these steps:
Kindly visit your dashboard.
In the upper right corner or on the menu, click on Upgrade to Heroshe Pro.
Click on your preferred payment option and click on the subscribe button.
Make the payment and you are in!
We can't wait to have you on board.
Conclusion
International shipping can be a complex and challenging process for business owners. From customs duties to last-mile delivery, there are many obstacles to overcome. But by now, we already know that Heroshe Pro offers efficient solutions to these challenges.
Using Heroshe Pro saves you money on shipping costs, reduces delivery times, and improves customer satisfaction. Upgrade to Heroshe Pro today and experience the love and swift delivery you deserve!

---
Enter your email below to join our newsletter