5 Tips To Help You Prepare For The 2021 Holiday Shopping Season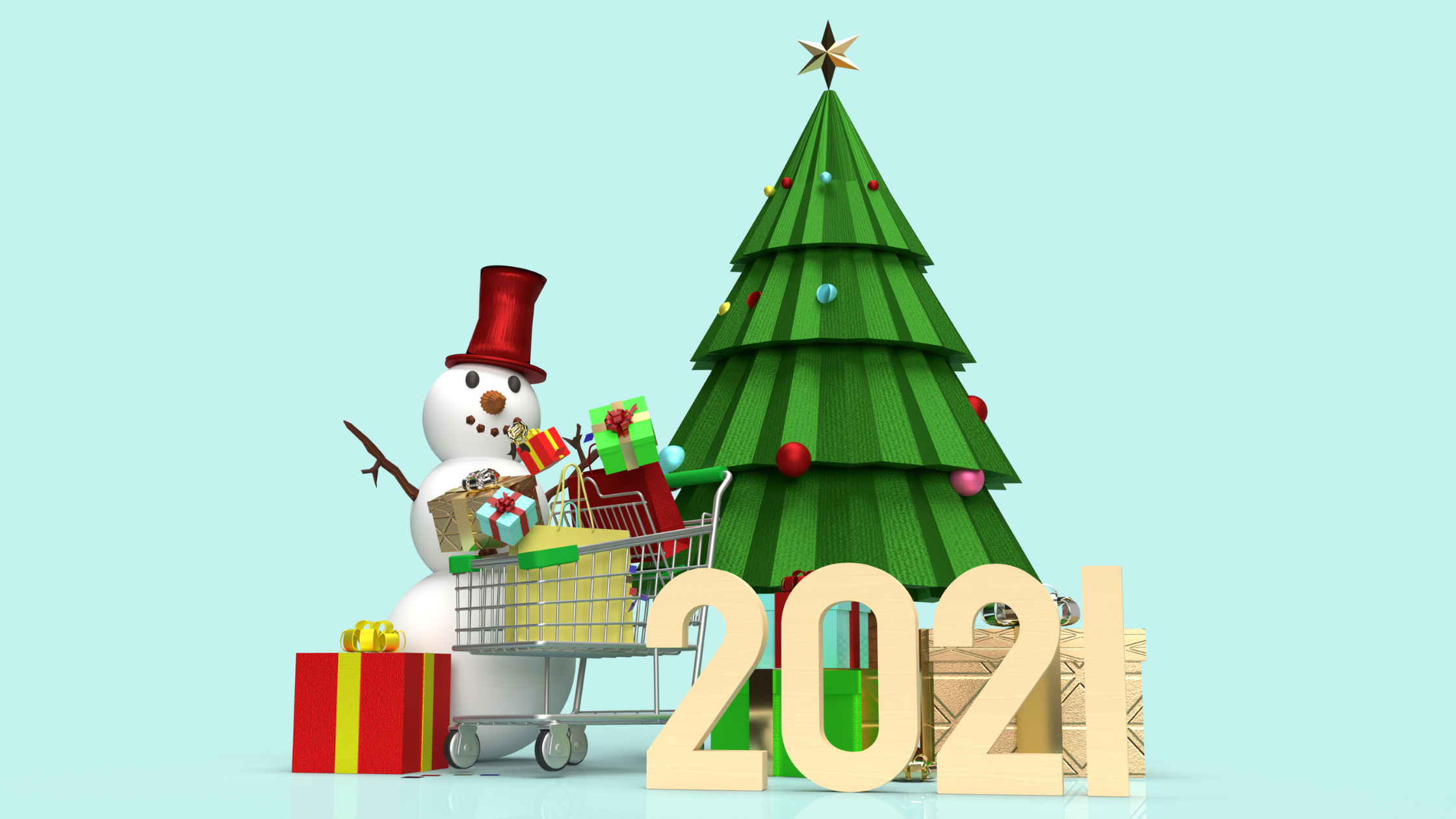 The 2021 holiday shopping season in Nigeria is almost here. For smart buyers, late October to November is the time to start Christmas shopping. For small business owners, this means different things. Some of these are record sales, delayed deliveries, and dwindled stock.
According to eMarketer, total holiday sales in 2021 should surpass $1 trillion. Guess what? Ecommerce sales will make up 18.9% of total holiday season retail sales. That is a 1.4% increase over the sales made in 2020 and double the amount seen in 2016!
Getting a slice in that pie is the dream of any online store owner. But as we all know, it doesn't end at making sales. You still need to fulfill the delivery of your orders. This is a good problem to have and luckily for you, Heroshe is here to help. We have provided five tips that would help your customers have a seamless shipping experience.
Tips For The 2021 Holiday Shopping Season in Nigeria
Increase Your Presence Online
The months leading into the holiday season are the time to increase your presence online. This helps you in many ways. It helps you create brand awareness, increase the number of customers, and boost your credibility.
Ensure Your Inventory Stays in Stock
Now is the time to make sure all the items you need to sell during the peak holiday season are available. This ensures that you don't run out of stock when orders start rolling in.
Prioritize Customer Service
With more orders come more customer inquiries and complaints. Now is not the time to leave automated responses for your customers. Excellent customer service boosts customer loyalty and referrals.
Set A Cutoff Time
To avoid a situation where customers can't receive their packages before the new year, you should set a cutoff time. This is very important because many couriers don't deliver items after a certain date.
Provide Timely and Reliable Shipping Options
The holiday season is a time to delight your customers. One of the major ways to do that is to provide timely and reliable shipping options.
If for some reason, a delay happens while trying to fulfill an order, contact the customer. Transparency and communication should be key parts of your customer service strategy since this builds trust and customer retention.
Heroshe's Holiday Shipping Guide
Delays with our Airline Partners and the Nigerian Customs are typical at this time of the year. We recommend that you place your Christmas orders as soon as possible to avoid delays.
Holiday Shipping Date Guide
Thanksgiving Day, November 25th, 2021: There will be no shipping on Thanksgiving Day; instead, shipping will take place on Wednesday, November 24th, 2021.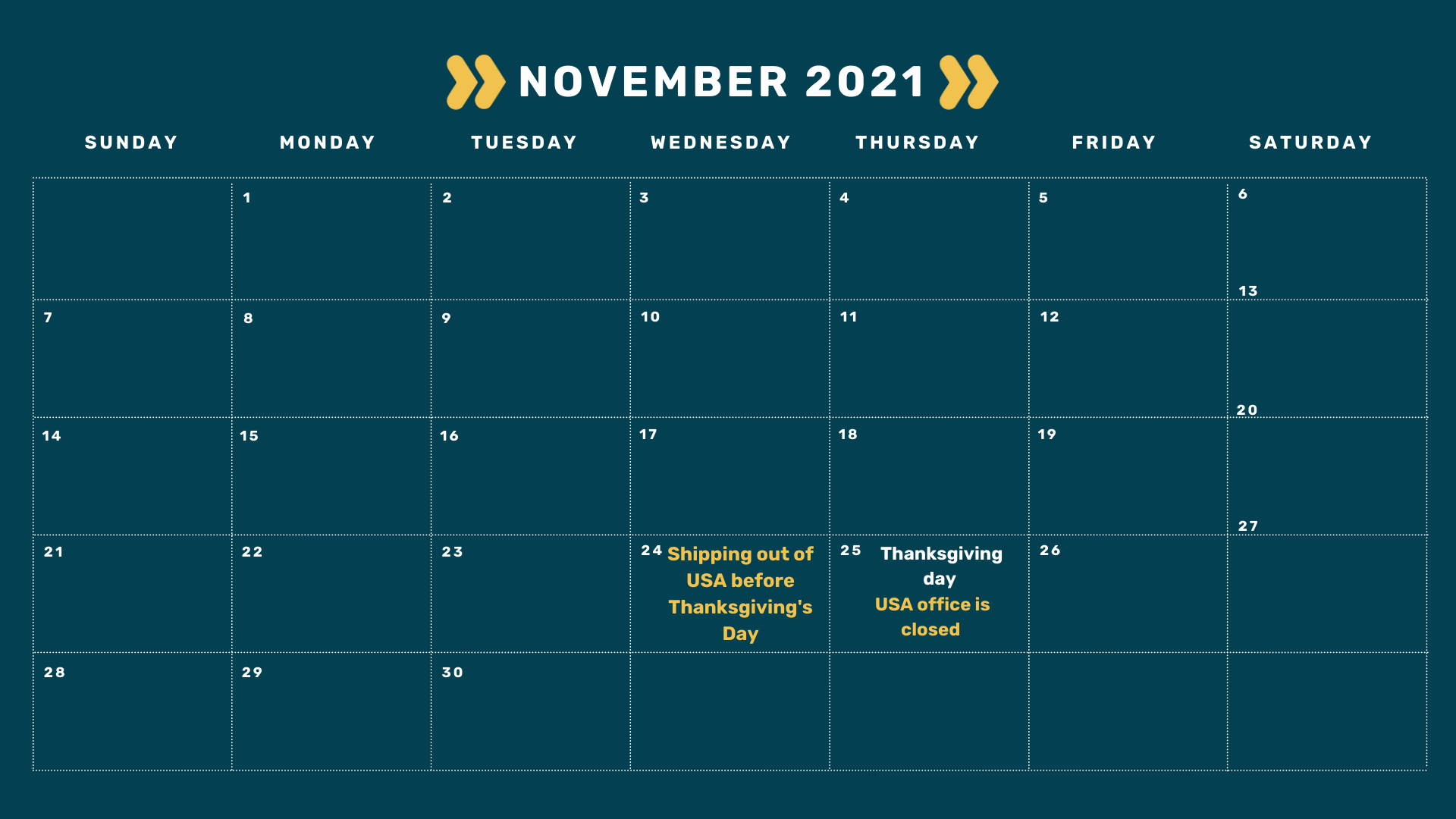 Thursday, December 2nd, 2021: The final day for Lagos customers to ship and receive their items before Christmas. Outside of Lagos, delivery before Christmas is not guaranteed.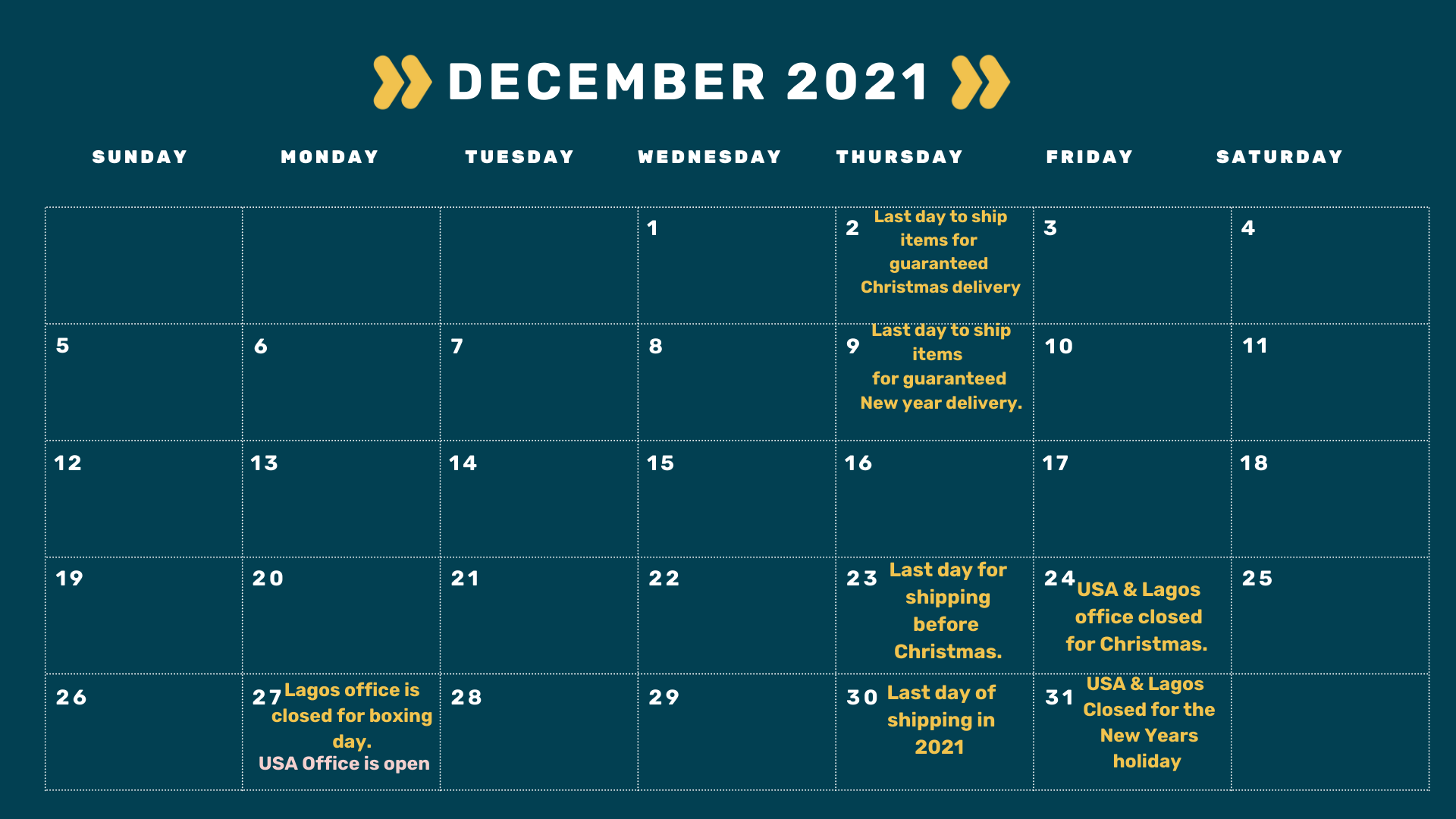 Thursday, December 9th, 2021: The final day for Lagos customers to ship and receive their orders before Christmas. Outside of Lagos: Delivery before the New Year is not guaranteed.
Thursday, December 23rd, 2021: The final day of shipping before Christmas.
Thursday, December 30th, 2021: This is our final shipping day for 2021. On Thursday, January 6th, 2022, we will resume shipping.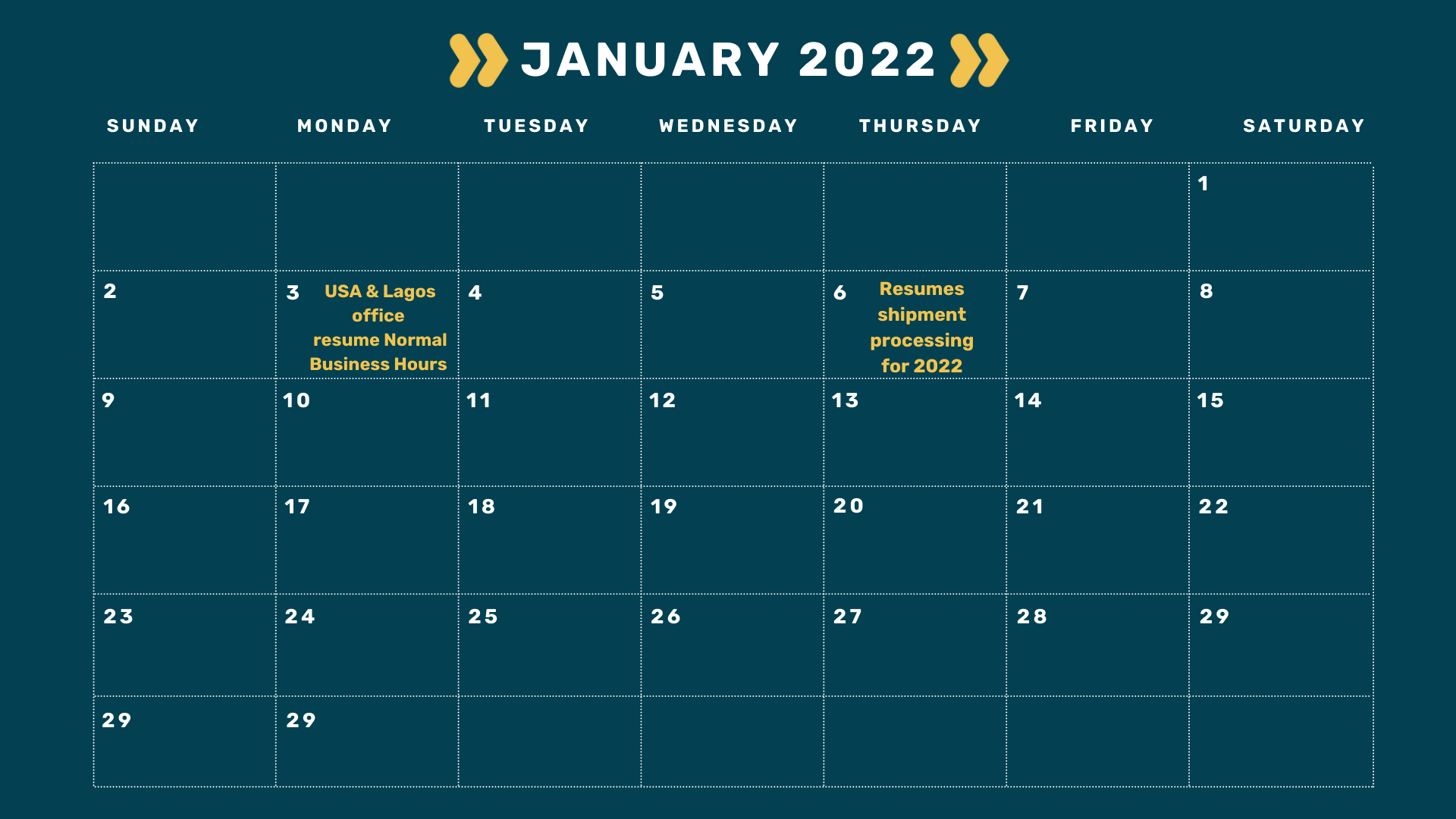 While we're closed for Christmas and New Year holiday, these activities will be ongoing:
Receiving customer packages at the U.S. warehouse. But, we won't process them until our U.S. warehouse resumes on January 3rd, 2022.
Lite Customer Support via website chat and our social media platforms.
If you have any questions, please reach out to us on any of our platforms. We wish you a Merry Christmas and an amazing New Year in advance.
---
Enter your email below to join our newsletter