Top 30 Affordable U.K. Online Stores For Nigerian Shoppers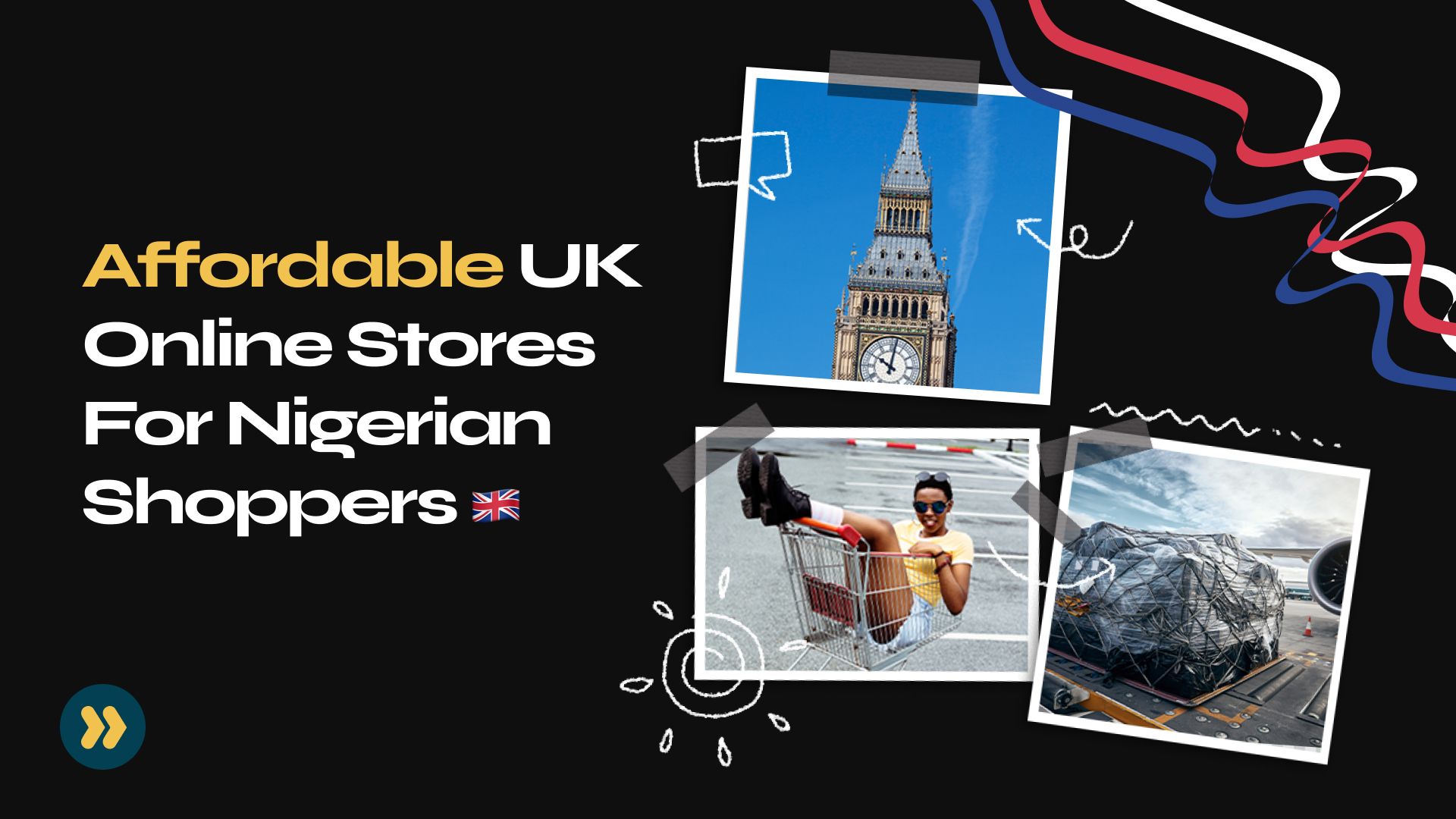 The shopping world has changed, bringing the market right to our fingertips. Imagine strolling through aisles without leaving your home – that's the magic of online shopping. And if you are a Nigerian shopper with an eye for global trends, U.K. online stores have a lot of goodies waiting for you.
This article will highlight the top 10 affordable U.K. online stores that provide access to quality products. So, let's dive in and discover the top shopping stores in the U.K. that cater to your every need.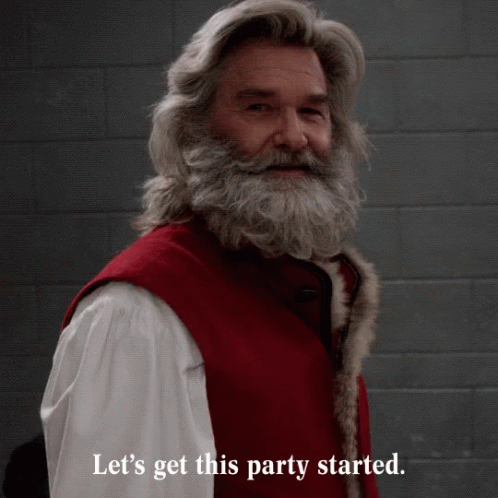 Top Affordable U.K. Online Stores For Nigerian Shoppers
1. Amazon U.K.:
I believe it's perfect to kick off this list by talking about Amazon U.K., the ultimate U.K. Online Store. Amazon needs no introduction. They are your affordable one-stop shop for everything under the sun. Seriously, they've got it all, from affordable cool gadgets to gripping books, skincare products, and even gadgets to set up your home office. Amazon's like a magical treasure chest of affordable things you didn't even know you needed!
And here's the scoop: Amazon U.K. is like your personal shopping genie. They have this incredible power to bring you affordable things you'd only find in stores. Imagine all those cool items you thought you had to leave your house for, now delivered to your doorstep in Nigeria! So, if you're up for exploring a world of endless affordable options without leaving your couch, Amazon U.K. is where the adventure begins.
Related: How To Shop On Amazon And Ship To Nigeria
2. Asos:
ASOS is not your regular fashion crowd. The magic happens when the creative minds in their London design team dive in. They've got their own ASOS Brands that go beyond ordinary to bring you the newest styles in clothes, shoes, accessories, and even cool gifts. You won't find this stuff anywhere else!
But wait, there's more! ASOS is all about giving you options that fit your unique vibe. They handpick the best brands, bringing you a bunch of choices, exclusive finds, and exciting collaborations. And don't even get me started on their Face + Body lineup. Express yourself with fantastic products that let you shine. Remember, there are no rules at ASOS – just endless ways to rock your style and be you. So, why stick to the ordinary when you can ASOS your way into the extraordinary?
3. Boohoo:
Sabi people know Boohoo doesn't need any introduction. They are the go-to online U.K. store for fashion items for all cool people. This British online fashion hotspot kicked off in 2006 and raked in a whopping £856.9 million in sales by 2019. With over 36,000 trendy items in their brand collection, they're all about keeping you fashionably covered from head to toe.
Boohoo isn't just about clothes – it's about boosting your confidence and making you feel incredible, inside and out. They're all in for building up your self-esteem and promoting body positivity so that you can achieve your full potential with a dazzling smile. And the best part is that you can explore their vast collection of trendy outfits without breaking the bank. So, while shopping for your next killer outfit, know that Boohoo de there for you.
4. Beauty Bay:
Beauty Bay is your new BFF if you are all about makeup, skincare, and beauty goodies that match your skin tone and type. They have you covered with many awesome products to level up your beauty game, all from one of the most popular U.K. online stores.
Starting its journey back in 1999, Beauty Bay began as a place for fragrances but quickly expanded into skincare and cosmetics. They brought some of the big shots in the beauty world to the U.K. and became a real player in the beauty game. Flash forward to 2018; they launched their beauty brand called BEAUTY BAY. It's all about top-notch, affordable, and cruelty-free makeup and skincare that everyone loves (their most popular stuff, actually!)
But hold on, that's not all. Beauty Bay is not just about the familiar faces. They are like a secret mine for those rare, hard-to-find products you can't find anywhere else. Whether you're into bold liners or cool jade rollers, Beauty Bay is the spot for the next wave of beauty enthusiasts. They are all about hooking you up with the newest and coolest stuff. My wife once said they have an endless supply of inspiration!
With a whopping 10,000+ products in their stash and new stuff coming out every week, Beauty Bay is the haven for all things beauty. No matter what vibe you are rocking, you will find the perfect products and get tons of inspo from BEAUTY BAY. So, if you are hunting for the ultimate beauty hub from a reputable U.K. online store, you have found it!
5. Pretty Little Thing:
Let me introduce you to a fashion paradise with many Whatsapp groups hooked – PrettyLittleThing! If you want to rock those celebrity-inspired outfits without emptying your wallet, this U.K. online store is your guy. They have the trendiest styles that won't make your bank account cry, even though they're yet to dive into menswear territory.
Something to note is that they offer free next-day delivery within the U.K. with their Royalty membership; it's just £0.83 a month! So that means that you can get it even faster in Nigeria with services like Heroshe! That's like a dream deal for someone who's all about affordable fashion.
But it's not just about the prices but the whole vibe. PrettyLittleThing isn't just an online store; it's a style sanctuary. What I love most is that they are all about bringing the runway glam and the coolest vibes to people like you and me. They have it all, whether it's the latest trends, outfits that could make celebrities jealous, everyday essentials, or that show-stopping party piece.
6. Missguided:
If you are a fashion-savvy shopper looking for an affordable and trendy wardrobe update, you should check out Missguided. This U.K. online store is like your style-savvy friend who always knows what's in vogue. While they might not have a menswear collection, don't fret – they have something special for everyone. On their website, you will find a super cool "trend & occasion" section like a treasure trove of fashion inspiration. From the latest styles to outfits perfect for special moments, Misguided keeps your look up-to-date and ready for any event.
Even better, Missguided knows the importance of getting your new outfits ASAP. That's why they offer a fantastic deal: for only £5.99, you can enjoy unlimited next-day delivery within the U.K. for an entire year. That means your fashion items can reach the Heroshe U.K. warehouse the day after you buy them. And guess what? Your fantastic finds will be in Nigeria in 7 to 10 days after that, ready to upgrade your wardrobe and style game.
7. New Look:
Are you looking for stylish and affordable fashion? Look no further than New Look, the ultimate U.K. online store about affordability and elegance. From men's to women's wear, they have you covered, whether it's a special event or a relaxed day out. New Look isn't just about clothes – it is about boosting your confidence with fabulous outfits that suit any occasion.
They get how a fantastic outfit can transform your mood at New Look. They are on a mission to bring you fashion that looks great and makes you feel amazing. They are your fashion best friends, always there to help you look your best. New Look is more than just an online store; they are your partner in good style. And the best part? They will ensure that your awesome finds can go from the U.K. to Nigeria with smooth shipping options. It's fashion that understands you, ships to you, and makes you shine – all in one place!
8. Debenhams:
Debenhams, with a history spanning over 200 years, is a name that speaks for itself. This U.K. online store is a one-stop shop, offering a wide range of items from clothing to furniture to kids' stuff. They have everything you need and have some really good deals.
If you are shopping from Nigeria or Ghana, Debenhams is still an option, as they offer international shipping. However, you should note that their "Never Knowingly Undersold" promise, which ensures great prices, only applies within the U.K. So while you might get different price benefits overseas, you can still access their diverse collection.
💡
Unless, of course, you ship to the Heroshe U.K. Warehouse (which you totally should!)
9. John Lewis:
John Lewis is a beloved British department store, practically a household name across the U.K. If you have ever wandered around any major U.K. city, chances are you have stumbled upon one of their stores. But now, their online shop brings a piece of the U.K.'s everyday culture right to you, wherever you are. While they have an impressive array of clothing options, they have many unexpected finds.
The good news is even if you are in Nigeria or Ghana, you can still get a taste of John Lewis's offerings because they offer international shipping. However, remember that while most products can make their way to you, there might be a few exceptions due to availability for international delivery. So, whether you're looking for clothing or curious about those delightful tea caddies, John Lewis brings a touch of the U.K. to your doorstep in Nigeria or Ghana.
10. Marks & Spencer:
Marks & Spencer, more popularly known as M&S, is a brand like a slice of British history. Since starting in 1884, they have become a part of the very fabric of the U.K. And guess what? They have embraced the digital age with their online store, making it super convenient to bring the M&S store to your phone or laptop screen. They are not just any online store; they're your ultimate go-to, offering a little bit of everything. But what makes them stand out and secure a spot on our affordable U.K. online stores list? Their fantastic gift sets, which come in especially handy as Christmas approaches. It's like a happening place for thoughtful presents!
Even if you are in Nigeria or Ghana, M&S is still within reach, as they offer international shipping. However, you should note that this shipping option is mainly for clothing and some homeware items. So, while you might not be able to get everything, M&S ensures you can still enjoy a taste of their iconic British style and charm no matter where you are.
11. 4th and Reckless:
If you are looking for contemporary trends and classic tailoring, 4th and Reckless is the perfect online store for you. This UK-based womenswear and footwear label is all about creating head-to-toe looks that exude confidence and style. From effortless crop tops to tailored blazers, their collection offers versatile and fashion-forward pieces that make a statement.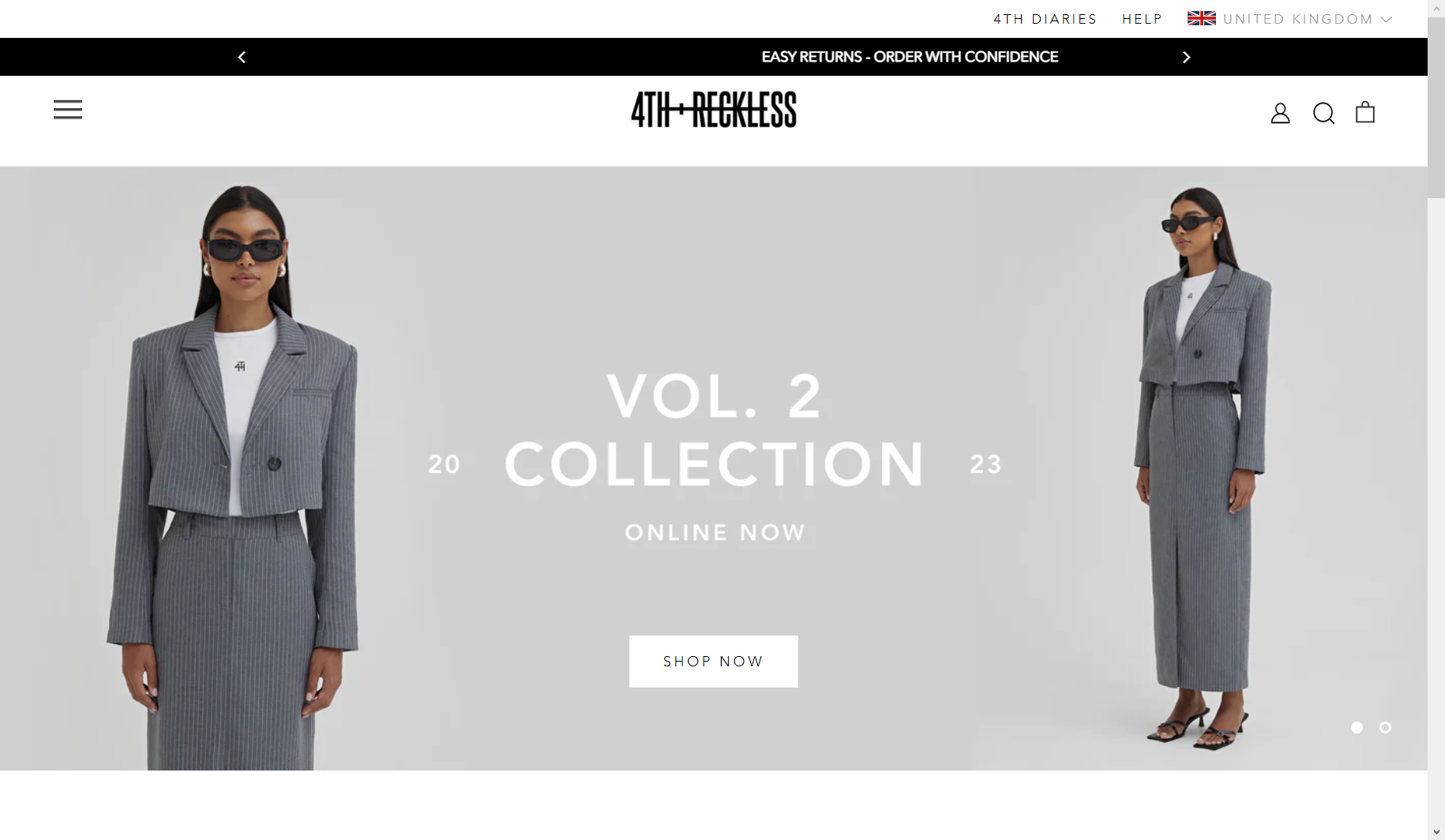 4th and Reckless pride themselves on using high-quality materials and paying attention to detail. Their pieces are designed to be both comfortable and stylish, ensuring that you feel your best while wearing them. Whether you're dressing up for a special occasion or looking for everyday staples, 4th and Reckless has everything you need to create a unique and fashionable outfit.
12. Maniere de Voir:
Maniere de Voir is a UK-based fashion house that specializes in creating unique and transitionable investment pieces. With a focus on sustainability, they offer edgy and adventurous party wear with interesting cuts and silhouettes. Their garments are made from durable and innovative fabrics, ensuring that they stand the test of time.
One of their standout pieces is the edgy knit, which adds a powerful and feminine touch to any outfit. With its perfect stretch and shape-retaining qualities, this statement piece is versatile and comfortable. Pair it with jeans or leather leggings for a look that will turn heads wherever you go. Maniere de Voir is a go-to brand for those who want to make a bold fashion statement.
13. Club L London:
If you want search of beautiful and wearable dresses, look no further than Club L London. Established in 2007, this UK-based brand is known for its trend-led and glamorous designs. Their mission is to create dresses that women will want to wear again and again, whether it is for a date night or a party.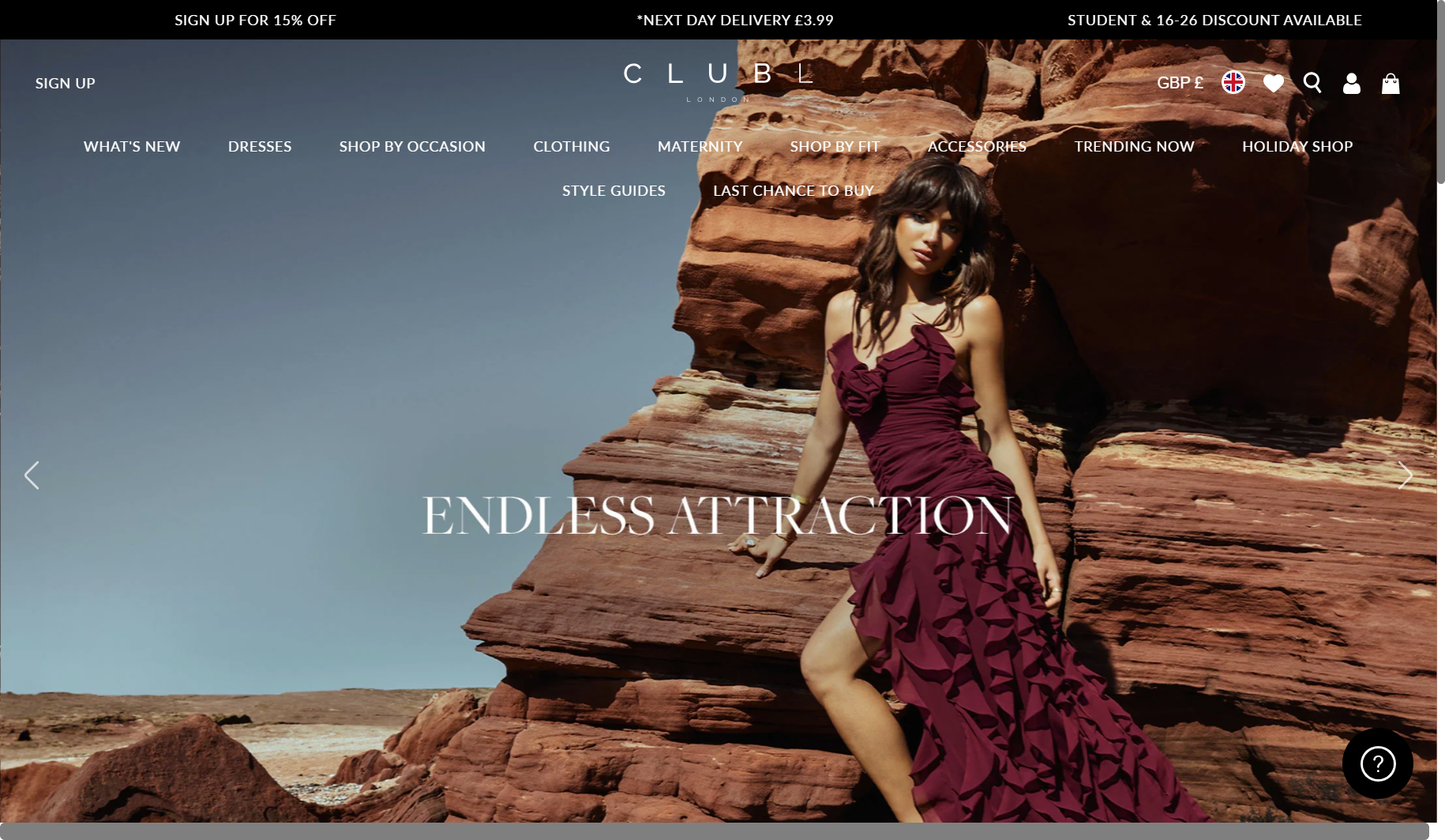 One of their standout dresses is the glamorous mini dress with feather trims. This dress is perfect for a night out or any special occasion. Dress it up with heels and diamond jewelry for a sophisticated look, or dress it down with sandals for a more casual vibe. Club L London offers a wide range of dresses and other clothing items, ensuring that you'll find something that suits your style.
14. Nadine Merabi:
Nadine Merabi is a British-Lebanese fashion designer known for her unique and statement-making designs. Her brand offers a variety of pieces, from sequined dresses to beaded empire-waist gowns. Whether you are attending a wedding or a red carpet event, Nadine Merabi has the perfect outfit for you.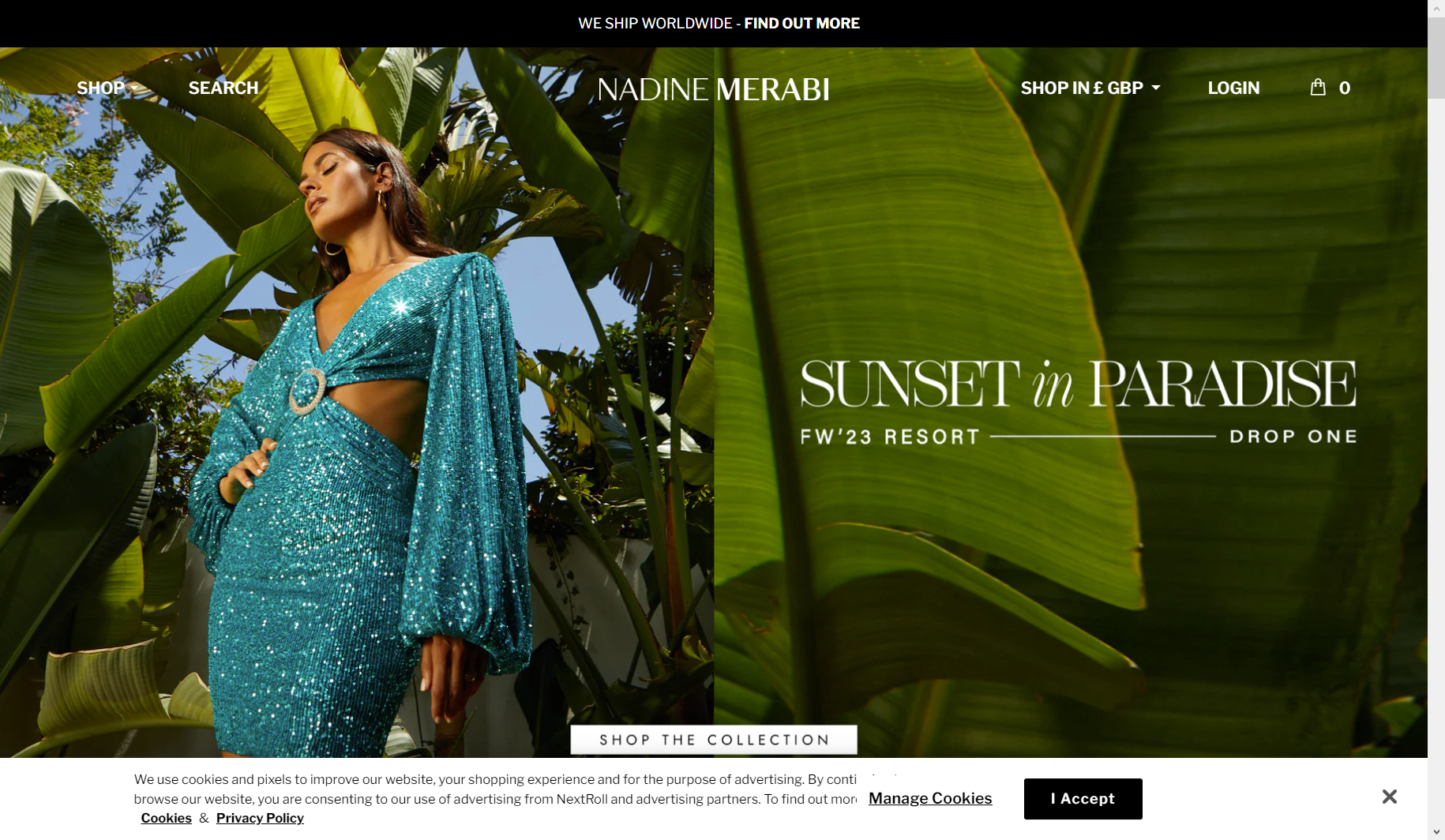 One of the highlights of Nadine Merabi's collection is the transformation of traditional wedding dresses into stunning statement pieces. Whether you prefer something simple or extravagant, you will find a wide range of options that showcase innovative designs and luxurious fabrics. With Nadine Merabi, you will feel like a true fashion icon wherever you go.
15. Net-A-Porter:
If you are looking to make a luxe fashion statement, Net-A-Porter is the place to go. This high-end online luxury department store offers a wide range of designer clothing, accessories, shoes, and beauty products. With a selection of over 500 designers, including Yves Saint Laurent, Gucci, and Alexander McQueen, you'll find the latest contemporary and classic styles.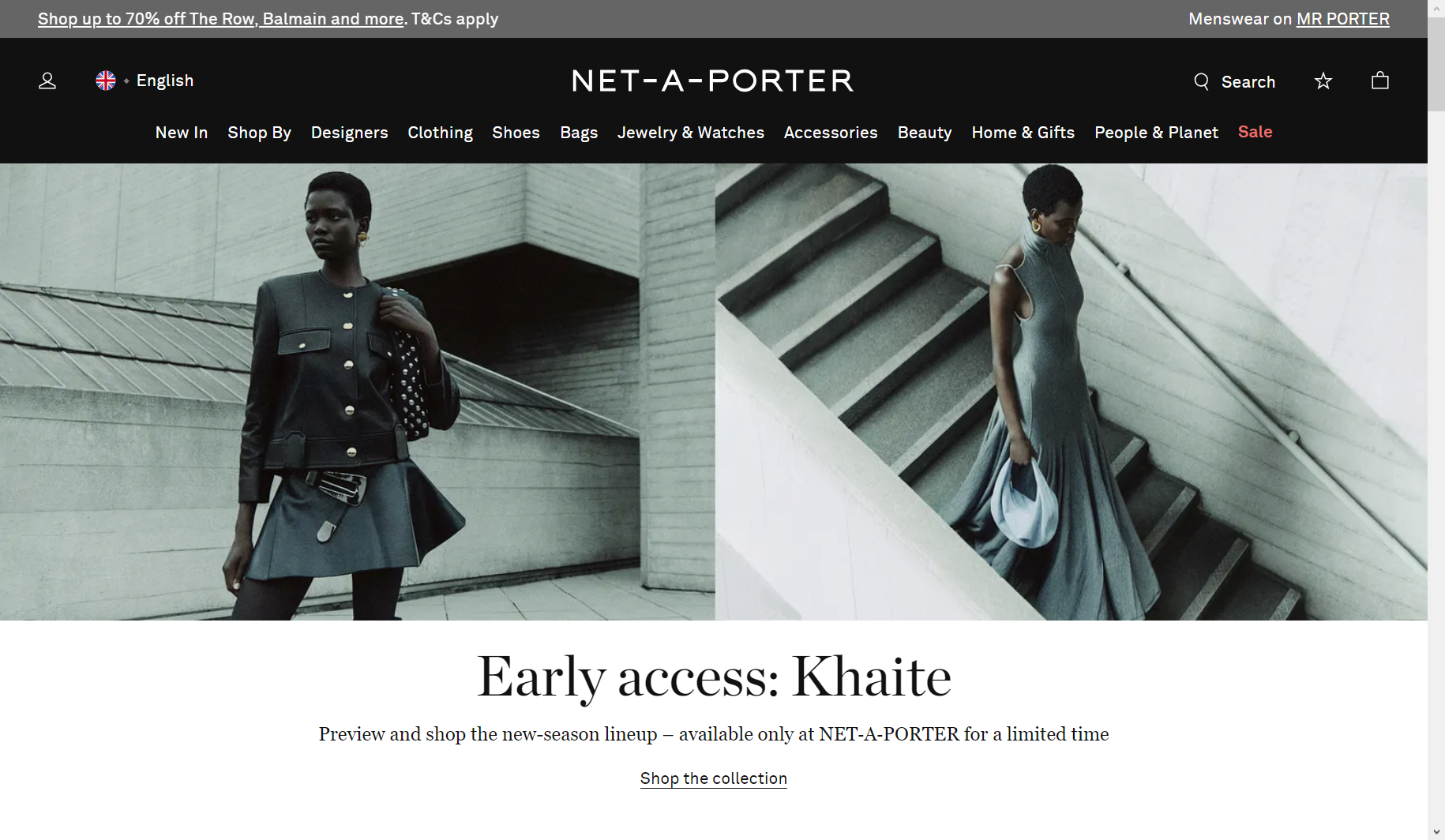 Net-A-Porter's editorially-styled website is a treasure trove for shoppers who want to discover the very best in designer fashion. From handbags to jewelry, their selection is carefully curated to provide you with the ultimate luxury shopping experience. If you are in the mood to splurge on high-end fashion, Net-A-Porter is the perfect destination.
16. Karen Millen:
Karen Millen is a coveted British clothing brand known for its effortlessly polished and trend-driven designs. Acquired by the Boohoo group in 2019, Karen Millen focuses on making luxury accessible with its ready-to-wear and occasion pieces. Whether you are looking for workwear, eveningwear, or cozy knitwear, Karen Millen has got you covered.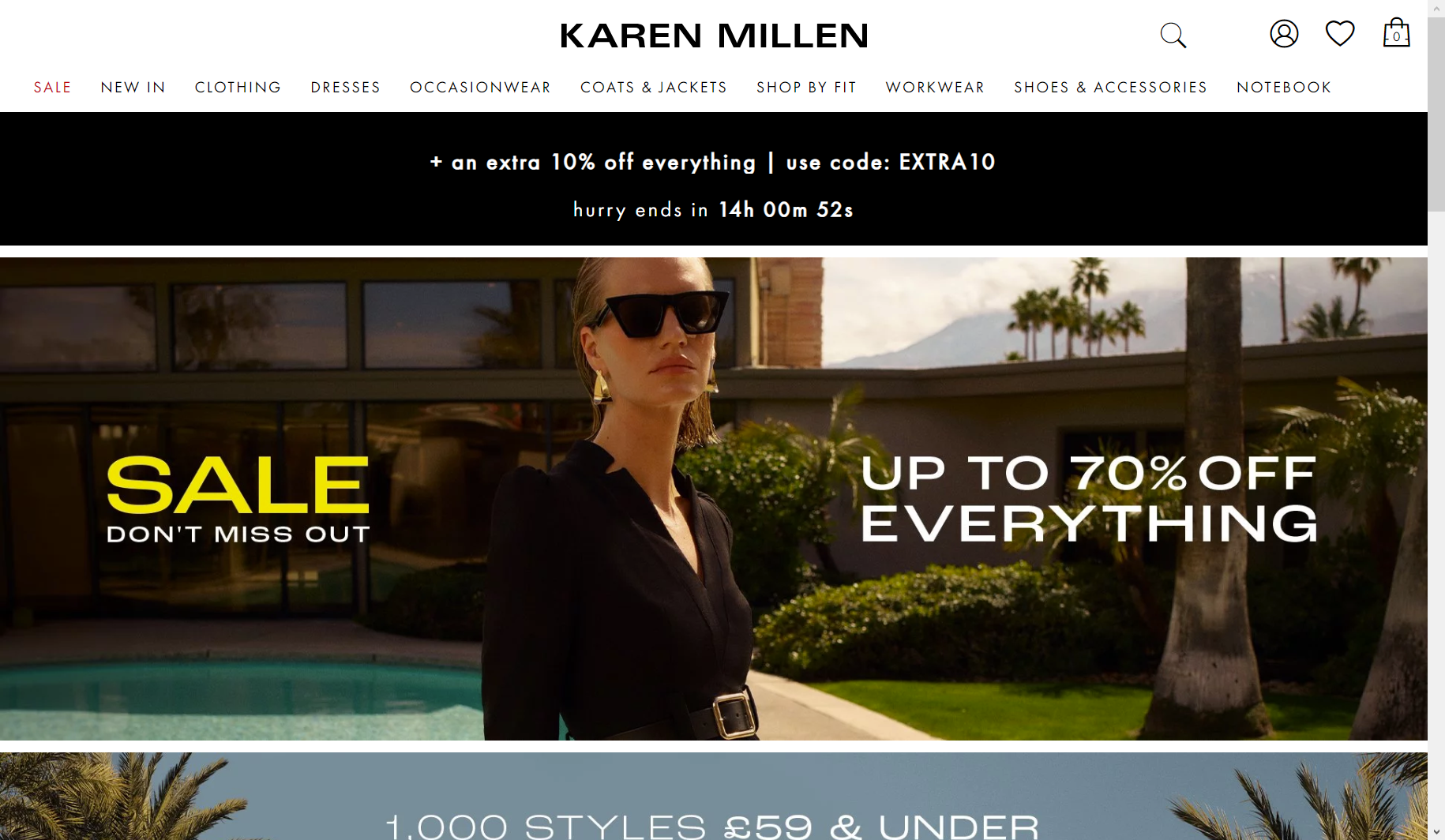 Their sleek pantsuits and sharply cut jackets are favorites among city girls everywhere. With a wide range of styles and categories to choose from, you'll find everything you need to build a fashionable and versatile wardrobe. Karen Millen's pieces are expertly tailored and always on trend, making them a go-to brand for fashion-forward individuals.
17. Holland Cooper:
Inspired by the British countryside, Holland Cooper has positioned itself as a quintessentially British lifestyle brand since its establishment in 2011. Their pieces are to die for, and their equestrian section is specially designed for those who want to look fashionable while riding their horses.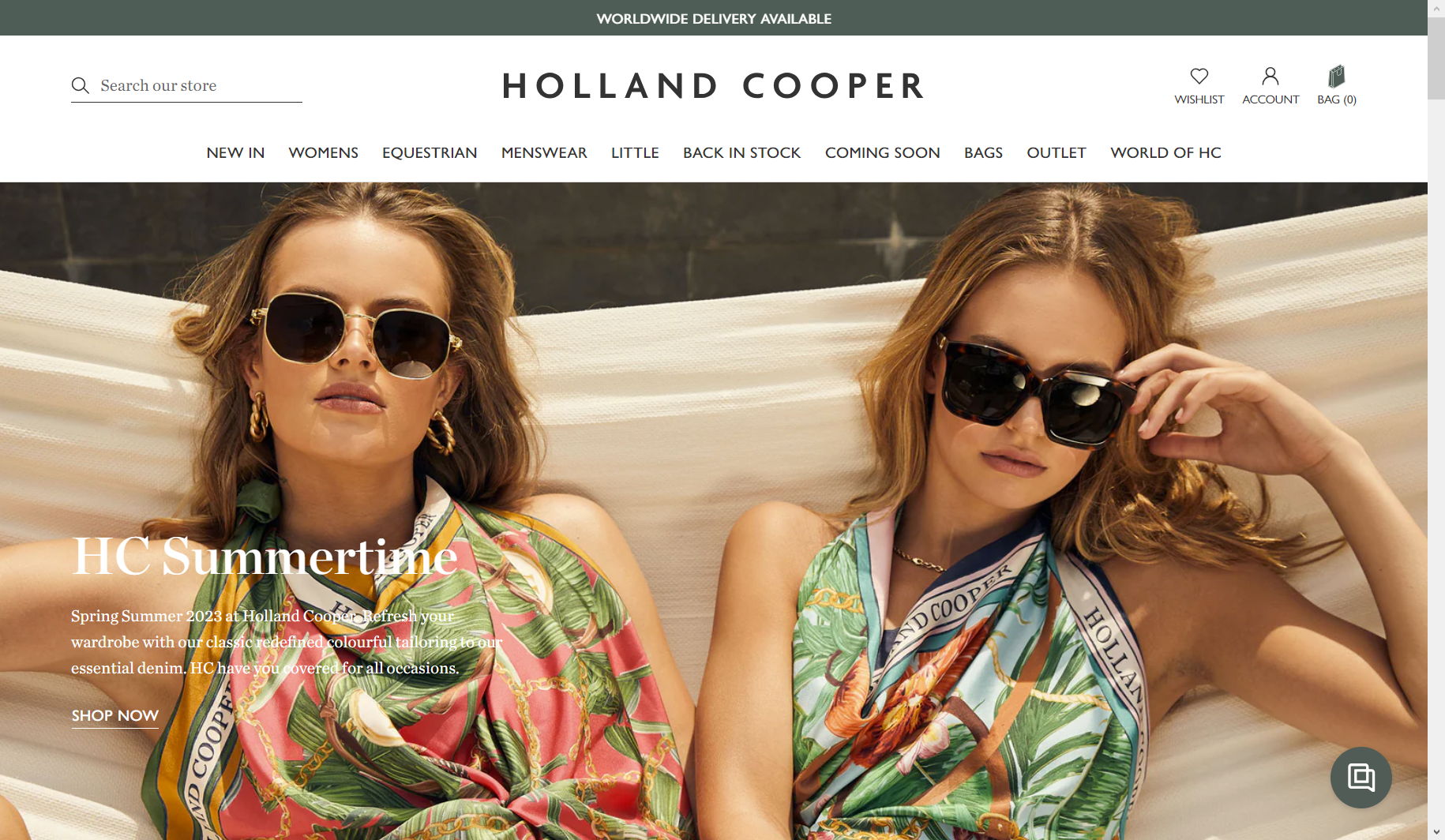 Whether you are in search of a timeless trench coat or fine woolen knitwear, Holland Cooper has something for you. Their high-quality garments are made to withstand the test of time, ensuring that you will enjoy them for years to come. Embrace the British spirit with Holland Cooper's stylish and durable fashion pieces.
18. Coast:
Coast is a British fashion brand dedicated to creating beautifully designed occasionwear items. Since 2019, it has been a sister brand under the Boohoo Group, offering a range of elegant and stylish dresses for special occasions. From feather-trim blazers to sequined dresses, Coast is synonymous with partywear and elegance.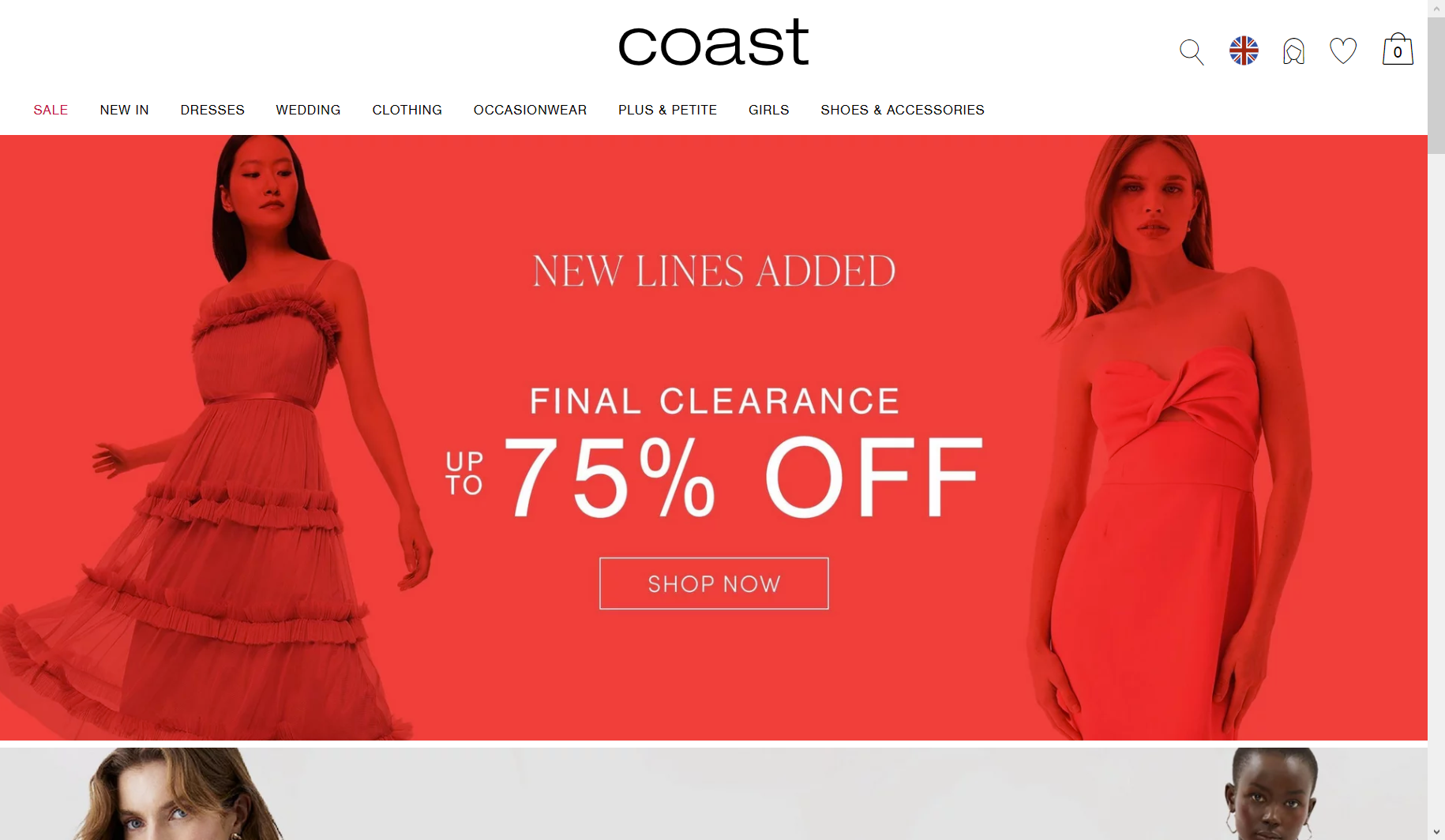 Their feather-trim blazer is the perfect piece for the upcoming party season. With its luxurious and eye-catching design, it's sure to make a statement wherever you go. Coast's collection is designed to make you feel confident and glamorous, so you can shine at any event.
19. House of CB:
House of CB is a leading British womenswear brand known for its glamorous and figure-hugging pieces. With a focus on form-fitting tailoring, House of CB constantly launches designer-inspired party clothing for the most fashion-conscious individuals.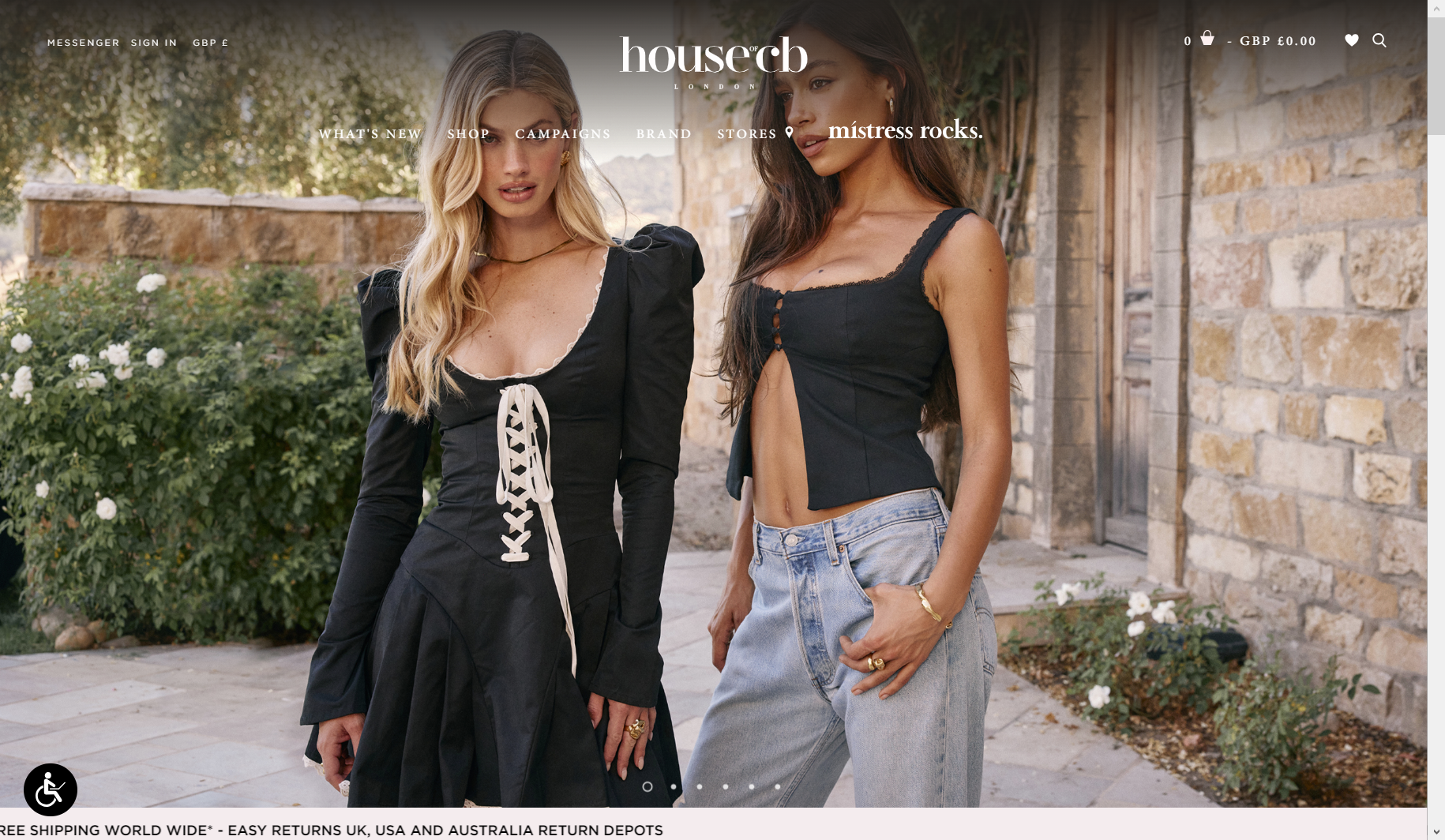 Their collections balance timeless elegance with contemporary styling, creating figure-flattering eveningwear that will make you feel like a red carpet star. Despite its celebrity-favorite status, House of CB remains affordable for fashion enthusiasts. From Gigi Hadid to the Kardashians, their pieces have been seen on numerous celebrities, making them a must-have for any fashion-forward individual.
20. Lavish Alice:
Lavish Alice is an international womenswear brand based in Manchester, UK. Known for its contemporary and fun designs, Lavish Alice encapsulates the spirit of femininity, playfulness, comfort, and fun. Their collection aims to showcase the best-dressed woman at any given time, celebrating individuality and self-confidence.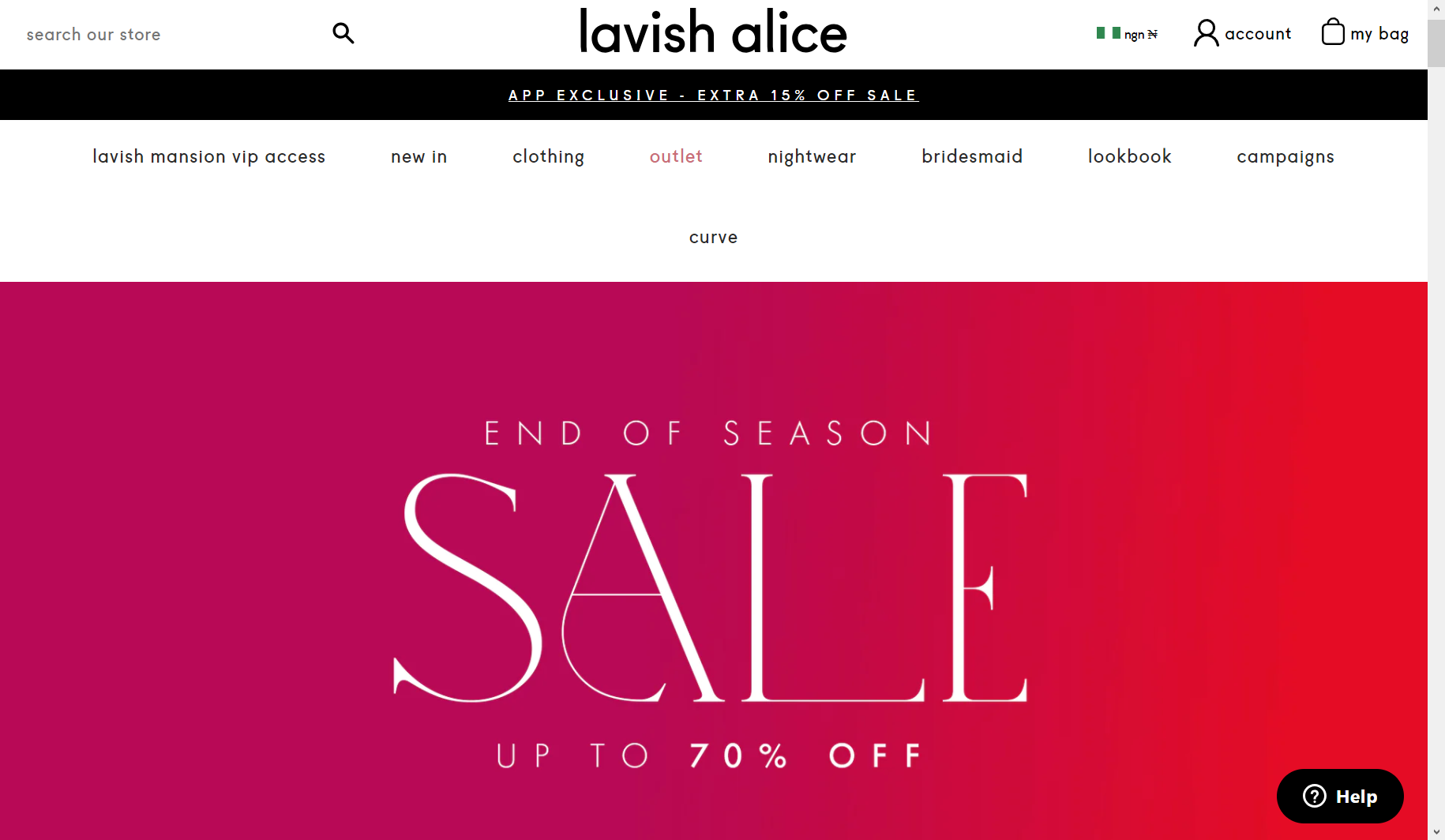 One of their standout pieces is the one-shoulder blazer dress, which is perfect for a formal occasion. Whether you're attending a wedding or a cocktail party, this dress will make you stand out from the crowd. Lavish Alice offers a range of clothing options that cater to different tastes and occasions, ensuring that you'll find something that fits your style.
21. Matches Fashion:
Matches Fashion is a luxury fashion retailer that sells clothing and accessories for both men and women online. With over 500 designers on their website, they offer a wide range of options, from handbags and dresses to coats and shoes. Matches Fashion is primarily an online store but also operates through physical stores in London.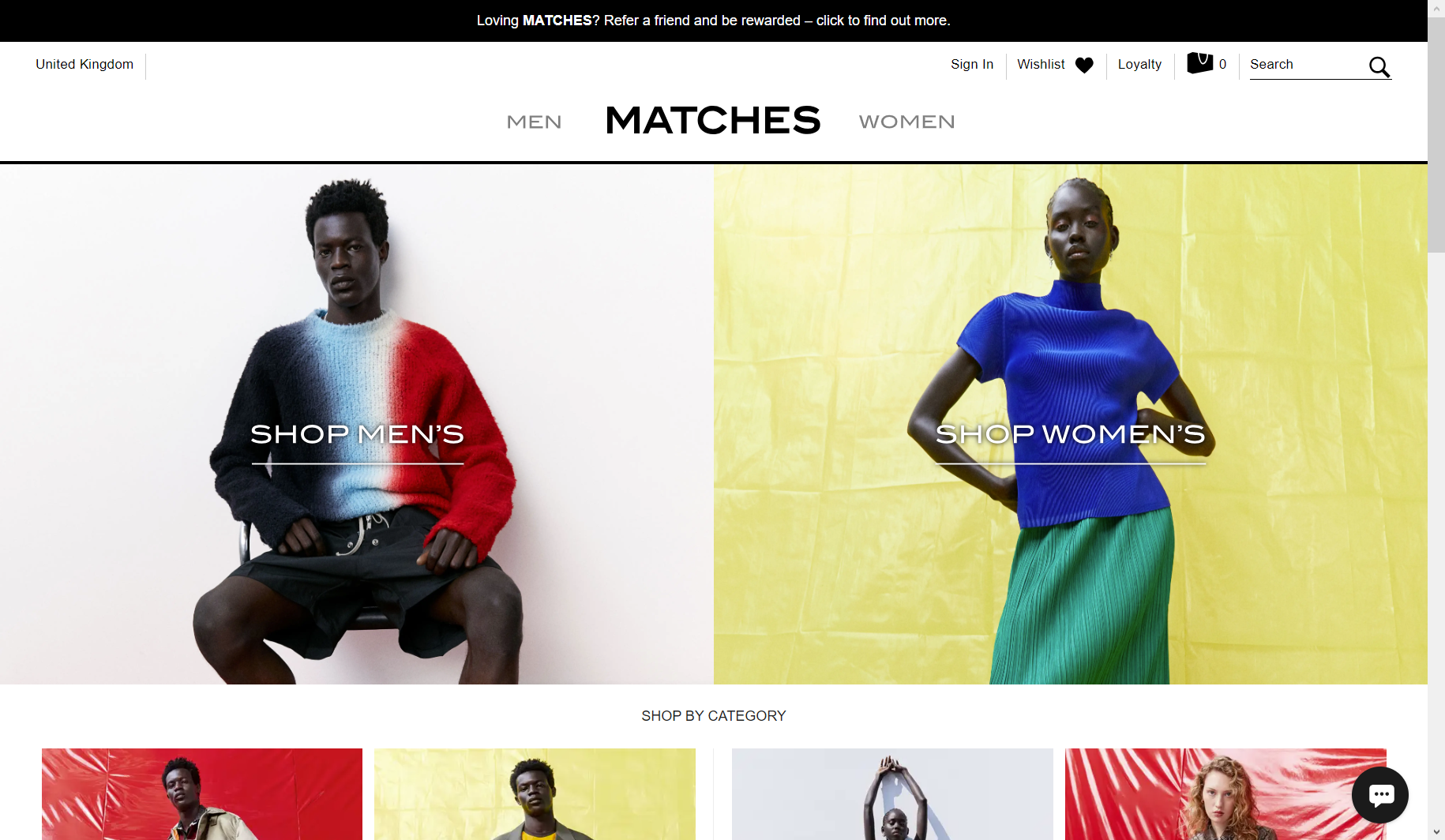 Matches Fashion is a go-to destination for luxury fashion lovers. Whether you're looking for a classic piece or a statement-making design, you'll find it on their website. With their carefully curated selection of brands and designers, Matches Fashion allows you to shop for designer pieces globally, ensuring that you will always be dressed in the finest fashion.
22. Farfetch:
Farfetch is a global platform that brings together retailers, designers, and consumers. With a network of over a thousand boutiques and 1,500 brands, Farfetch is one of the most popular platforms for luxury fashion shopping. They offer an extensive selection of brand names and designers, allowing you to purchase designer pieces from around the world.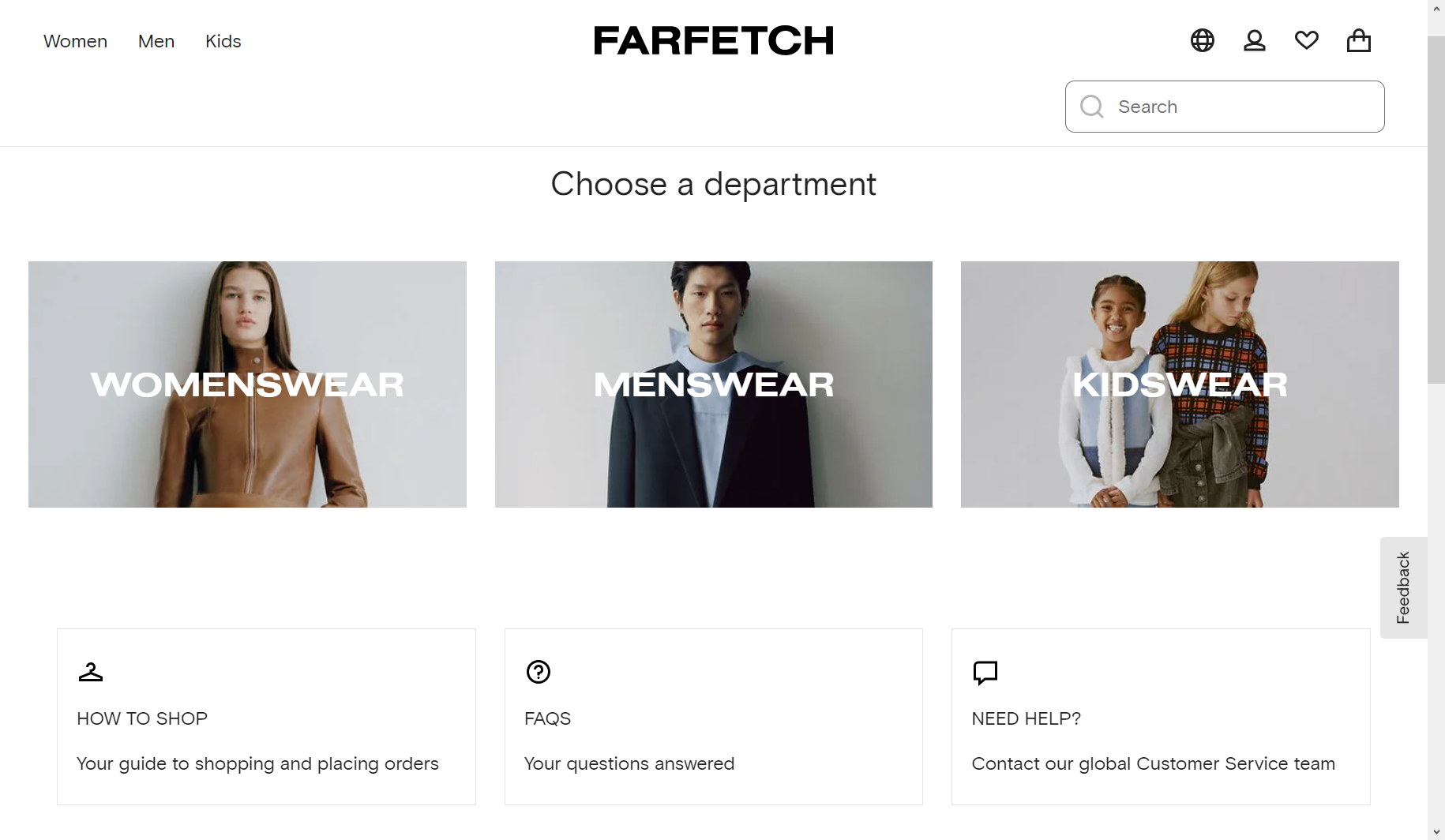 One of the advantages of shopping on Farfetch is the ability to find unique pieces that may have sold out in your country. With millions of dollars spent on their marketplaces every year, Farfetch is a powerhouse in the fashion industry. If you are looking to elevate your fashion game and discover new designers, Farfetch is the place to go.
23. Oh Polly:
Oh Polly offers affordable partywear for fashion-conscious women. This London-based brand focuses on creating dazzling and head-turning designs that will make you feel hot and glamorous when hitting the nightclub. They also provide supportive tops to ensure that you look your best, no matter the occasion.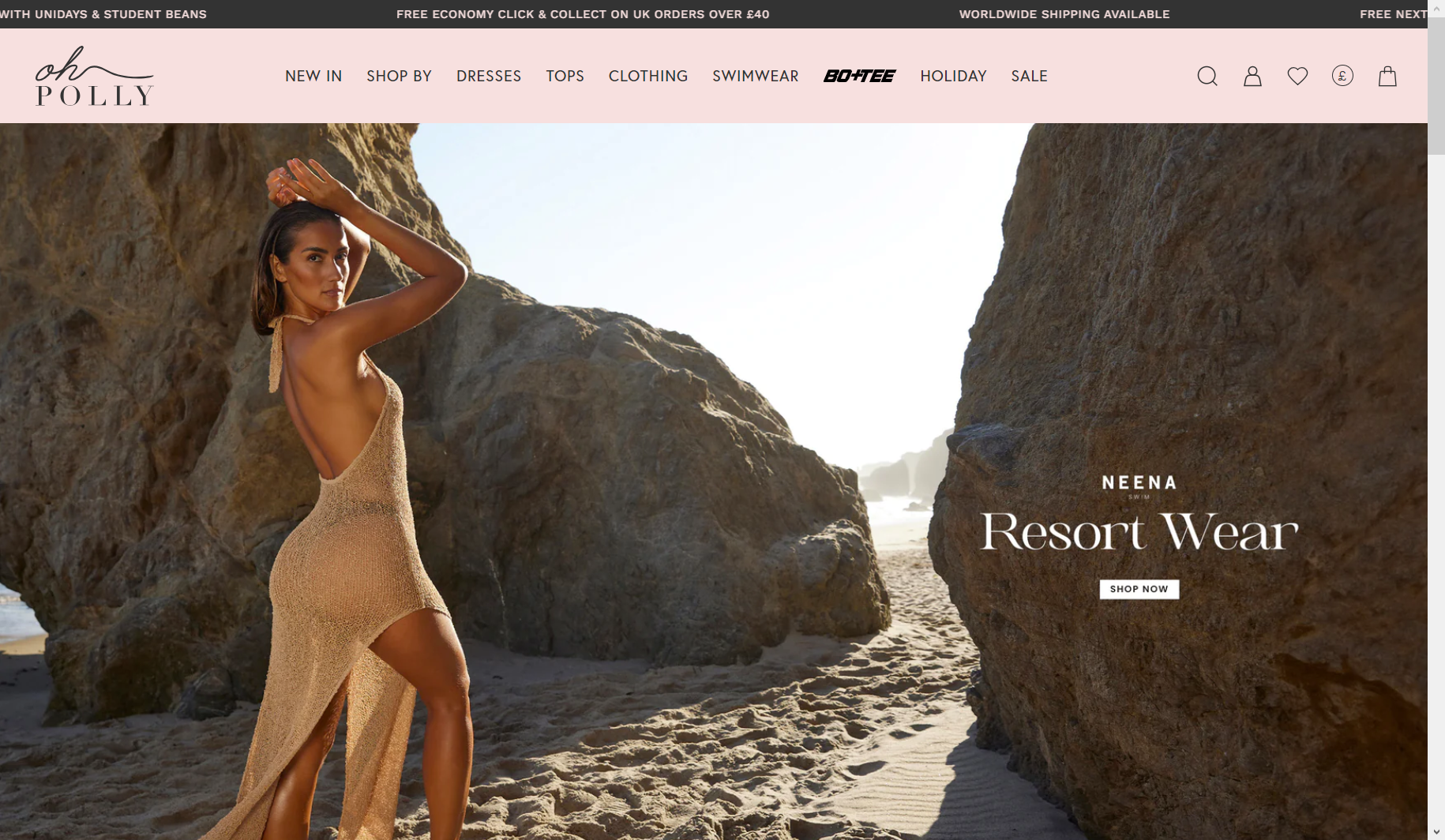 Oh Polly is all about glam, fun, and flirty fashion. Their collection features cool clubbing styles and trendy pieces that are perfect for a night out. Whether you're looking for a bodycon dress or chic pants, Oh Polly has got you covered. With their fashion-forward designs and affordable prices, you will be ready to dance the night away in style.
24. Boden:
Boden is a British fashion retailer dedicated to bohemian lifestyle and modern classics. Their collection includes timeless clothing for men, women, and children. Founded in 1991, Boden is known for its middle-class, middle-of-the-road fashion that appeals to a wide range of individuals.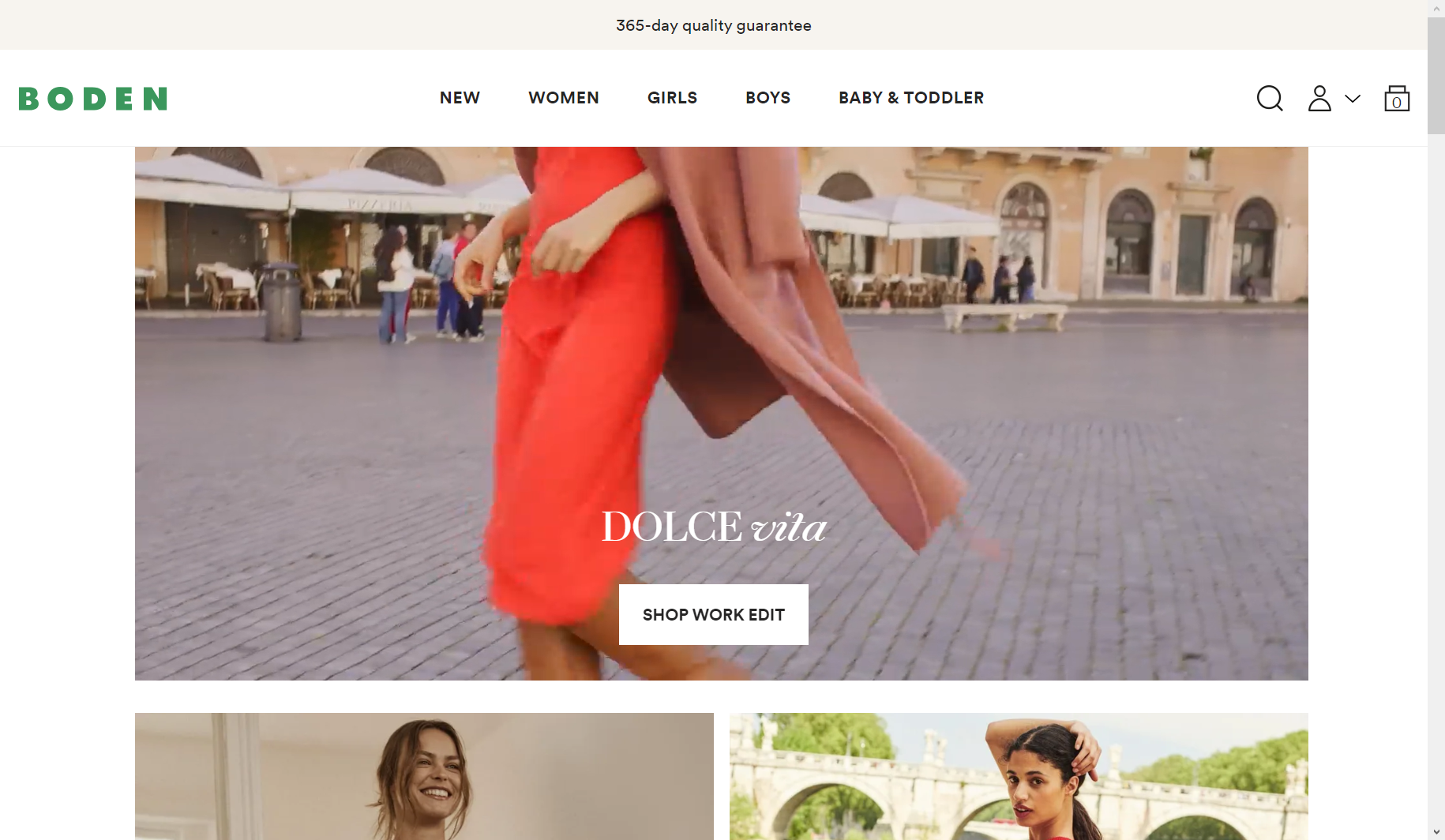 While Boden operates primarily online, they also have an outlet store in Hanger Lane, London. Whether you are in search of casual wear or formal attire, Boden offers a variety of options to suit your style. Embrace the bohemian spirit with Boden's collection of fashionable and comfortable clothing.
25. I Saw It First:
I Saw It First is the go-to fast fashion store for everyday style and boutique trends. This British online retailer offers trendy clothes for women, catering to fashionistas on the go who don't have time to visit physical stores. Founded by Jalal Kamani, the co-founder of Boohoo, I Saw It First provides affordable and stylish options for fashion enthusiasts.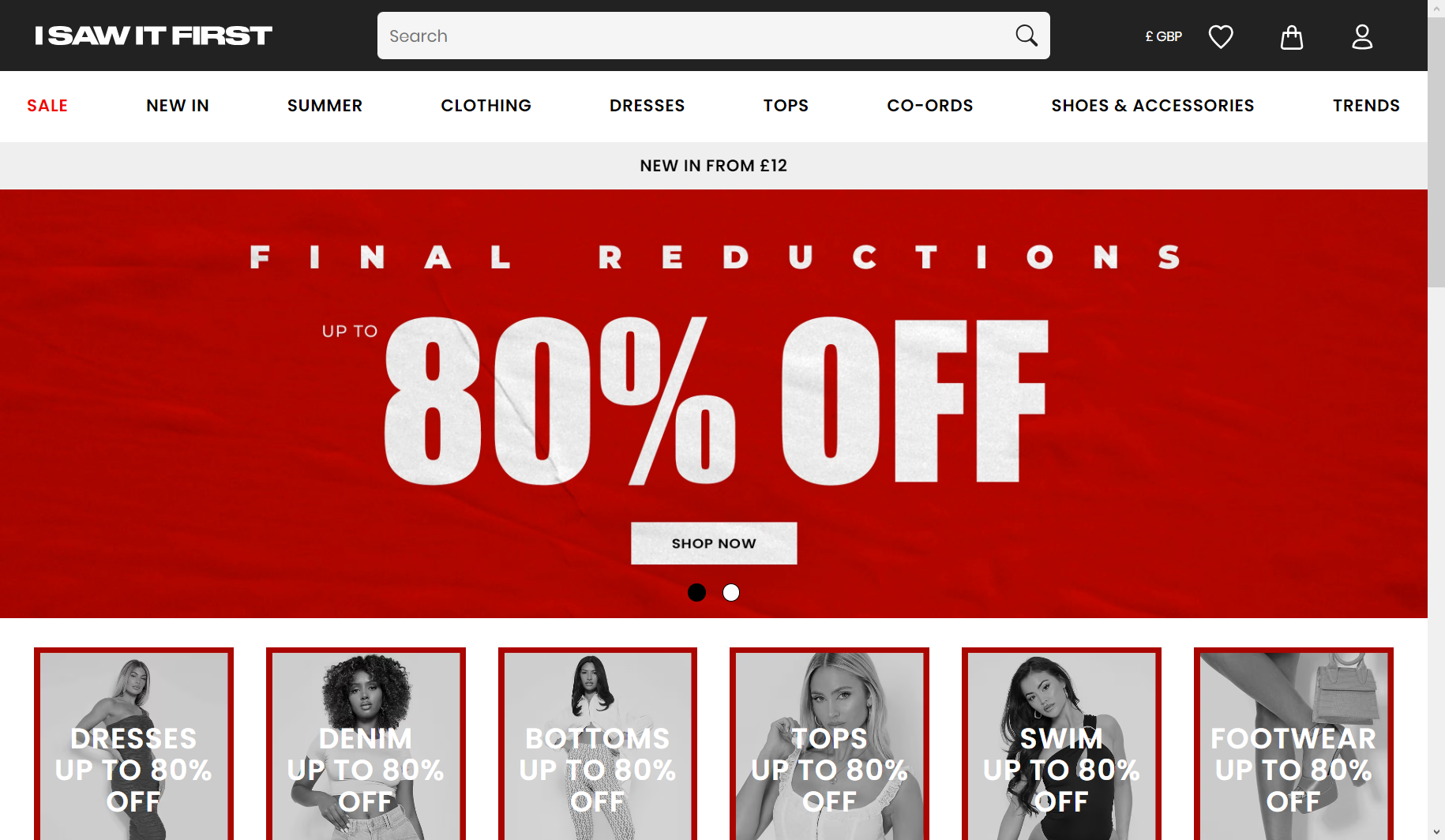 One of the highlights of I Saw It First is its home section, where you can find accessories and home decor items. From dresses to beauty products, I Saw It First has everything you need to stay on top of the latest trends. With their affordable prices and diverse range of products, you can update your wardrobe without breaking the bank.
26. In The Style:
In The Style is an online fashion and lifestyle brand that focuses on inclusive empowerment and body confidence. Their collections are inspired by celebrity style, bringing together the latest trends from the world's best-loved celebrities and their followers. In The Style caters to different tastes and celebrates individuality in all its forms.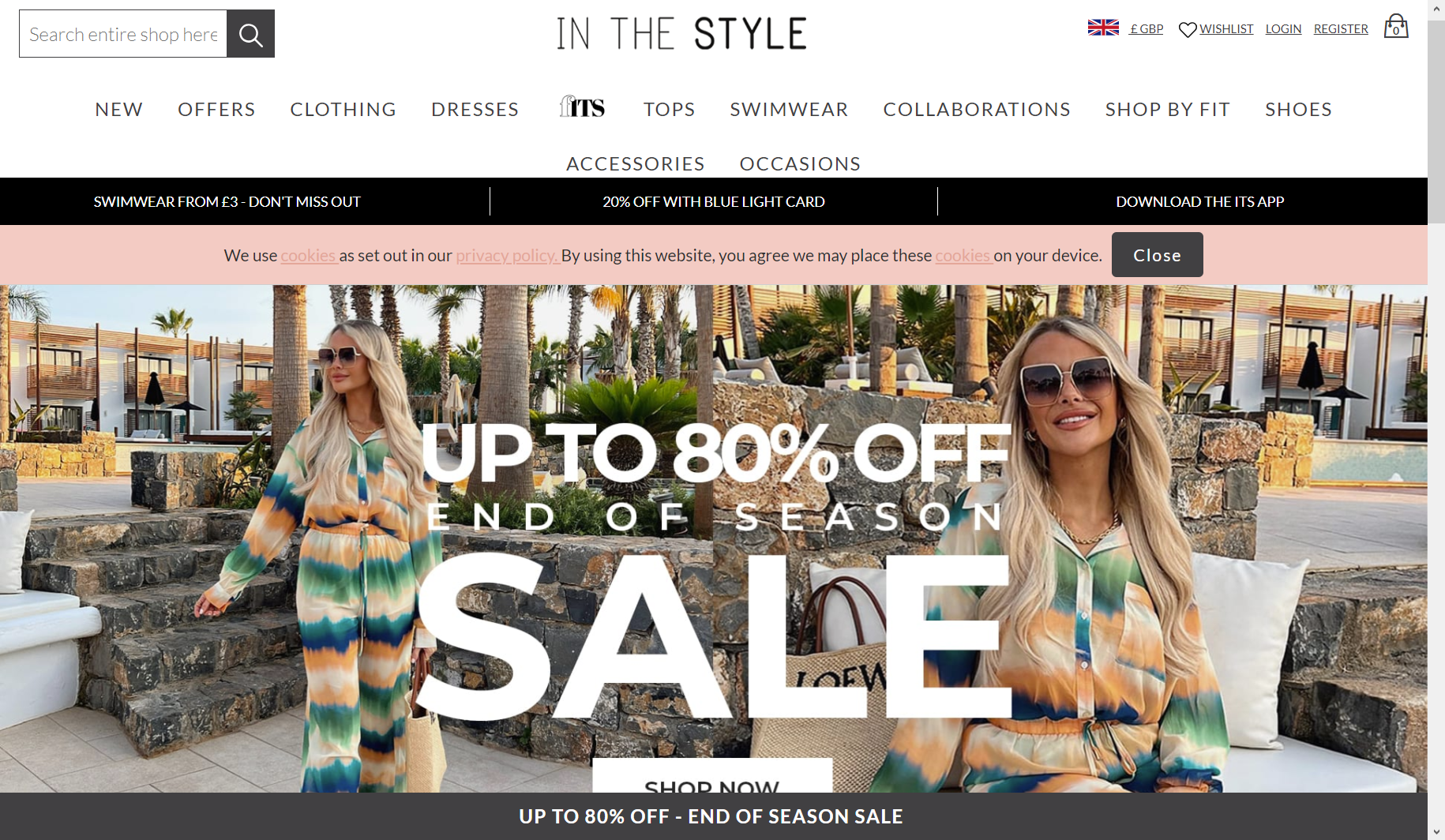 One of their standout pieces is the Parisian houndstooth longline coat, perfect for winter. Dress it up with heels and an oversized handbag, or dress it down with sneakers and a jumper. In The Style offers a wide range of clothing options, from instantly recognizable designs to unique pieces that celebrate your personal style. With In The Style, you can embrace your individuality and feel confident in your fashion choices.
27. SilkFred:
SilkFred is an online commercial platform that showcases independent fashion brands. With over 600 brands from around the world, SilkFred brings you the best emerging designers and cult classics at every price point. Their mission is to provide a platform for independent designers to showcase their unique creations.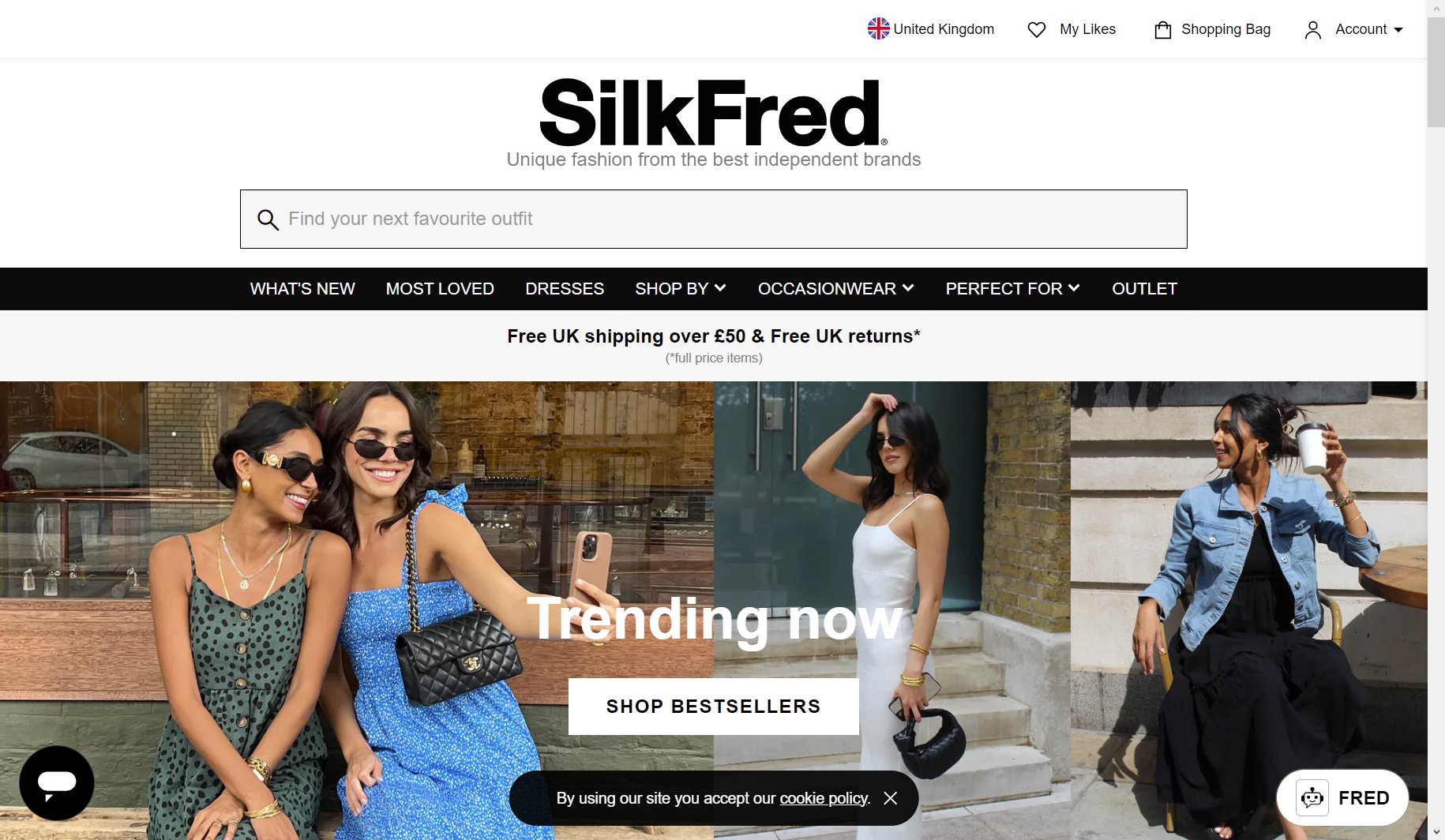 One of SilkFred's bestsellers is the mocha silk cardigan, a wardrobe staple that combines comfort and style. This ultra-cozy cardigan pairs perfectly with jeans and loafers, creating a chic look that you can wear any day of the week. With SilkFred, you can discover new designers and support independent fashion brands.
28. Chi Chi Clothing:
Chi Chi Clothing is a size-inclusive occasionwear retailer that offers beautifully made, high-quality dresses and pieces. Their range includes stylish jumpsuits, cocktail dresses, fur coats, sequined dresses, and more, all ideal for any special occasion.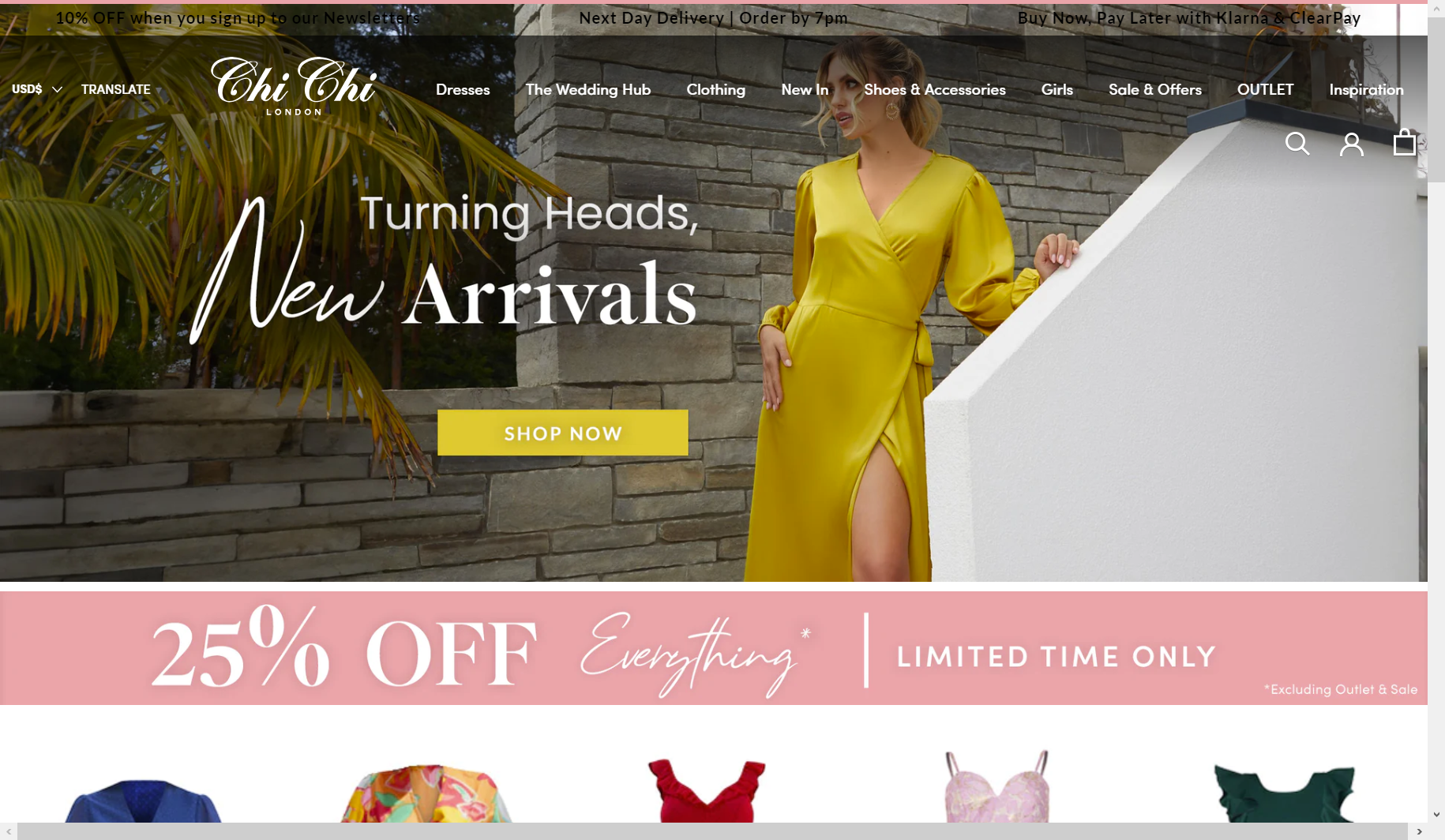 They also have a dedicated bump-friendly section for pregnant women who want to look chic, as well as a Bride & Bridesmaid page. Chi Chi Clothing aims to dress women who are fashion-forward, feminine, and romantic, regardless of their size. With their accessible price point and unique customer service, Chi Chi Clothing is the go-to brand for special occasion fashion.
29. Missy Empire:
Missy Empire is a UK online clothing store that offers stylish and affordable fashion for women. Their collection includes bodycon dresses, chic pants, gym leggings, and midi dresses, catering to different styles and occasions.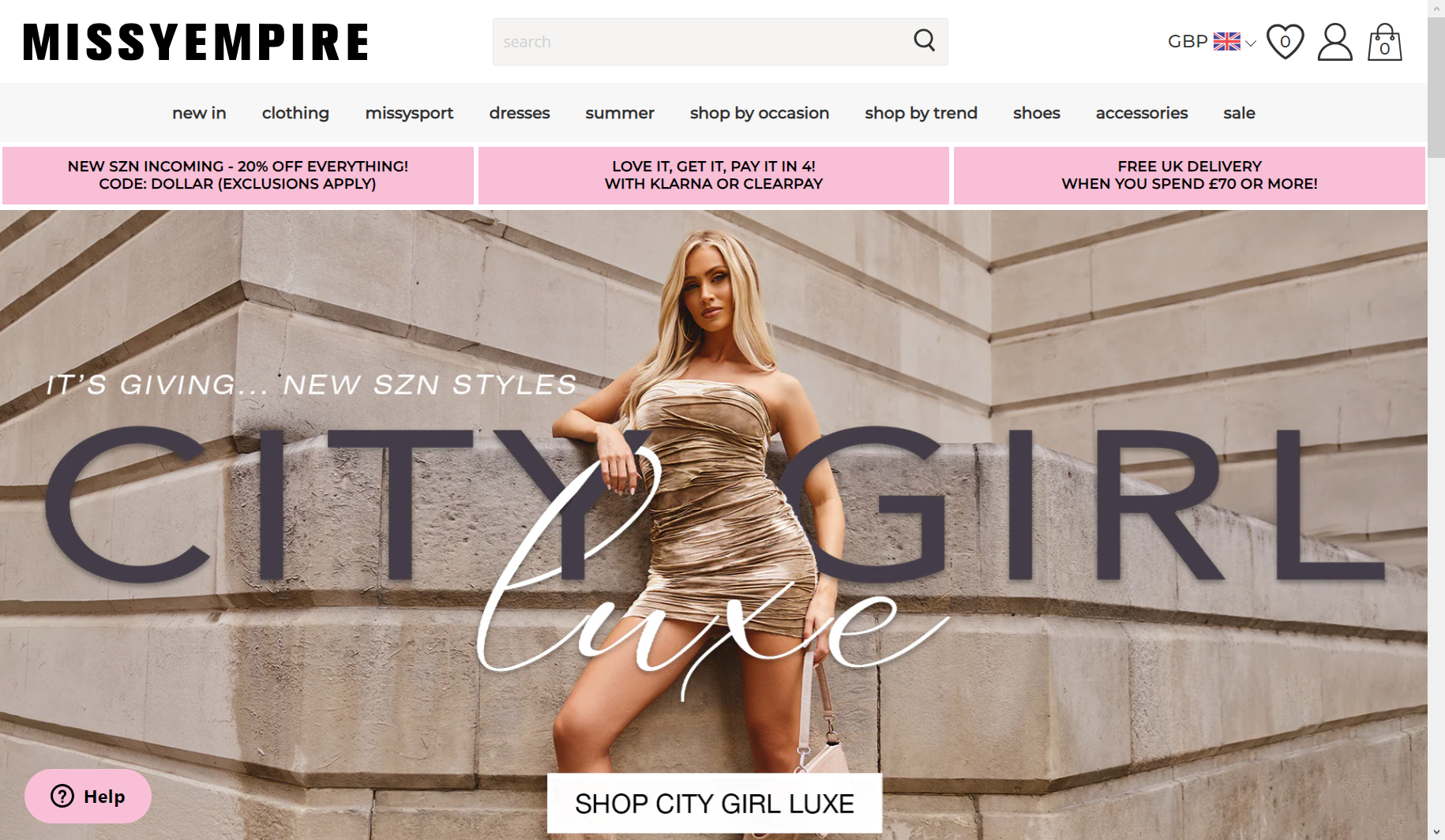 Missy Empire is known for its inclusive sizing, offering dresses, jumpsuits, skirts, tops, shorts, and trousers for women of all sizes. Their clothes are designed to make you look and feel amazing, whether you're dressing up for a night out or want to elevate your everyday style. With Missy Empire, you can stay on-trend without breaking the bank.
30. Selfridges & Co:
Selfridges is a British fashion brand known for its fresh, young, chic, feminine, and cutting-edge styles. Formerly a high street store chain, Selfridges was acquired by ASOS in 2021. The brand takes inspiration from its rich history and continues to create fashion-forward designs for the modern woman.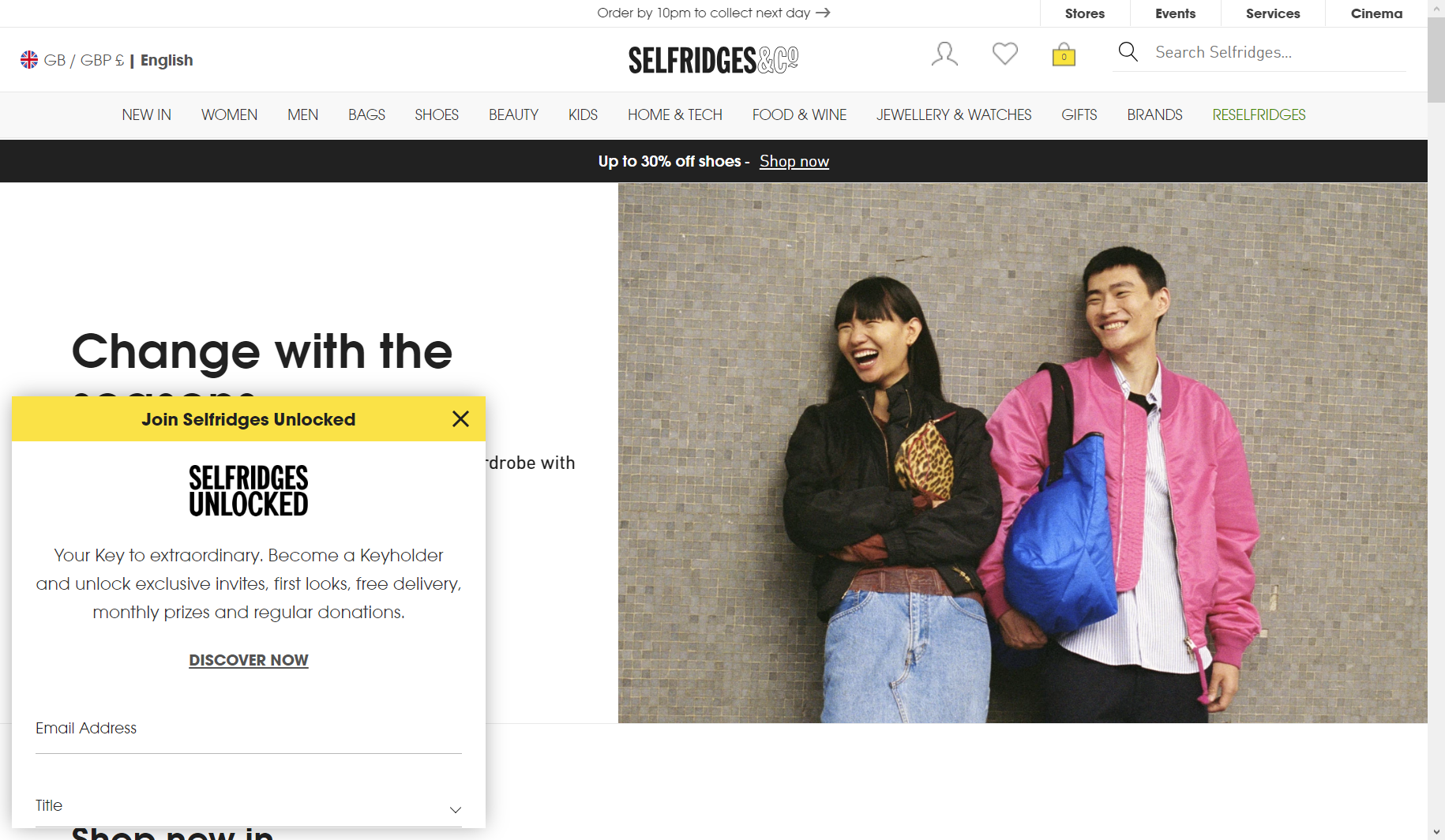 A modern-day fashionista's wardrobe is incomplete without a pretty dress or blouse from Selfridges. With their range of stylish clothing, you can embrace your personal style and make your own fashion rules. Selfridges offers a variety of options that are perfect for any occasion, whether it's a casual outing or a special event.
Why You Should Use Heroshe To Ship From The U.K. To Nigeria
Heroshe is a service company that gives Nigerians access to quality products worldwide. Our excellent delivery solutions give you total control of your shipments from the U.K. till you receive them in Nigeria.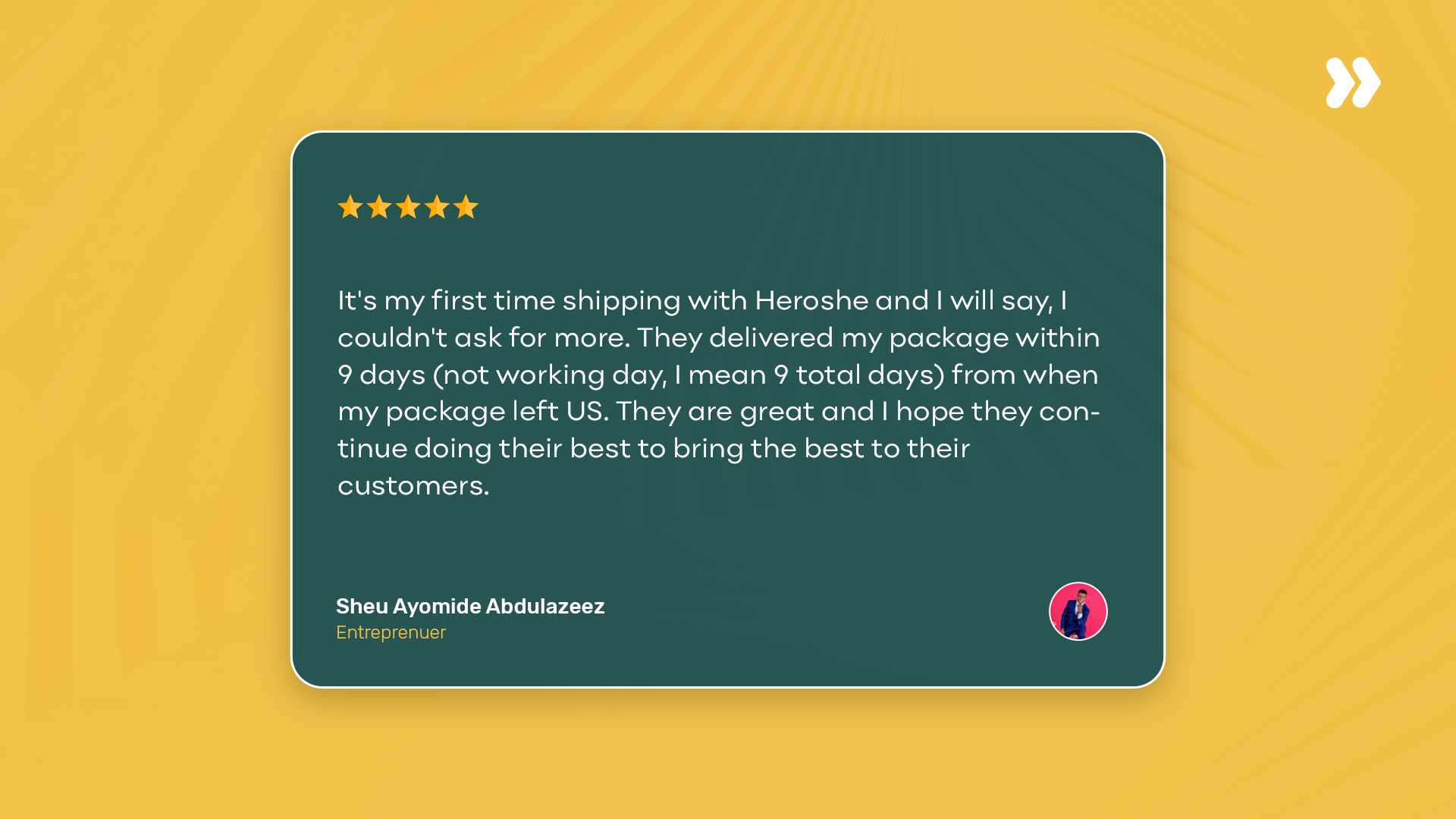 Some of the benefits you enjoy by shipping with us include:
Access:
Many U.K. online stores offer exclusive deals for customers within the U.K. but you can't enjoy them because you live in Nigeria. With Heroshe, you don't have to worry about that. You get your own free U.K. address that you can use to receive items and ship directly to Nigeria.
Ease:
Our users really love how easy it is to use our service. It all starts with our shipping calculator, which gives you an idea of how much it will cost to send your items to Nigeria based on their weight and how you want them delivered. The whole journey, from signing up to paying, goes incredibly smoothly. No need to worry or track things down – all the important details will be right there on your Heroshe dashboard. You can just relax and let everything unfold seamlessly.
Affordable Prices:
We provide consistent, hassle-free, and timely deliveries like the 3 major carriers - UPS, DHL, and FedEx - but at a fraction of their cost. How much does it cost to ship from the U.K. to Nigeria? The price of shipping an item that is 1 pound is $8. For more information, check out our pricing page.
With Heroshe, you don't have to pay exorbitant shipping fees and you have a lot of buying options. Create an account with Heroshe now and let's save you some Naira.
SHARE THIS POST
Don't hesitate to share this post and let us know your experiences using these affordable U.K. online stores in the comments section. For more tips like this, subscribe to the Heroshe blog for free.
---
Enter your email below to join our newsletter