5 Tips For Finding Trending Products to Sell in Your Dropshipping Business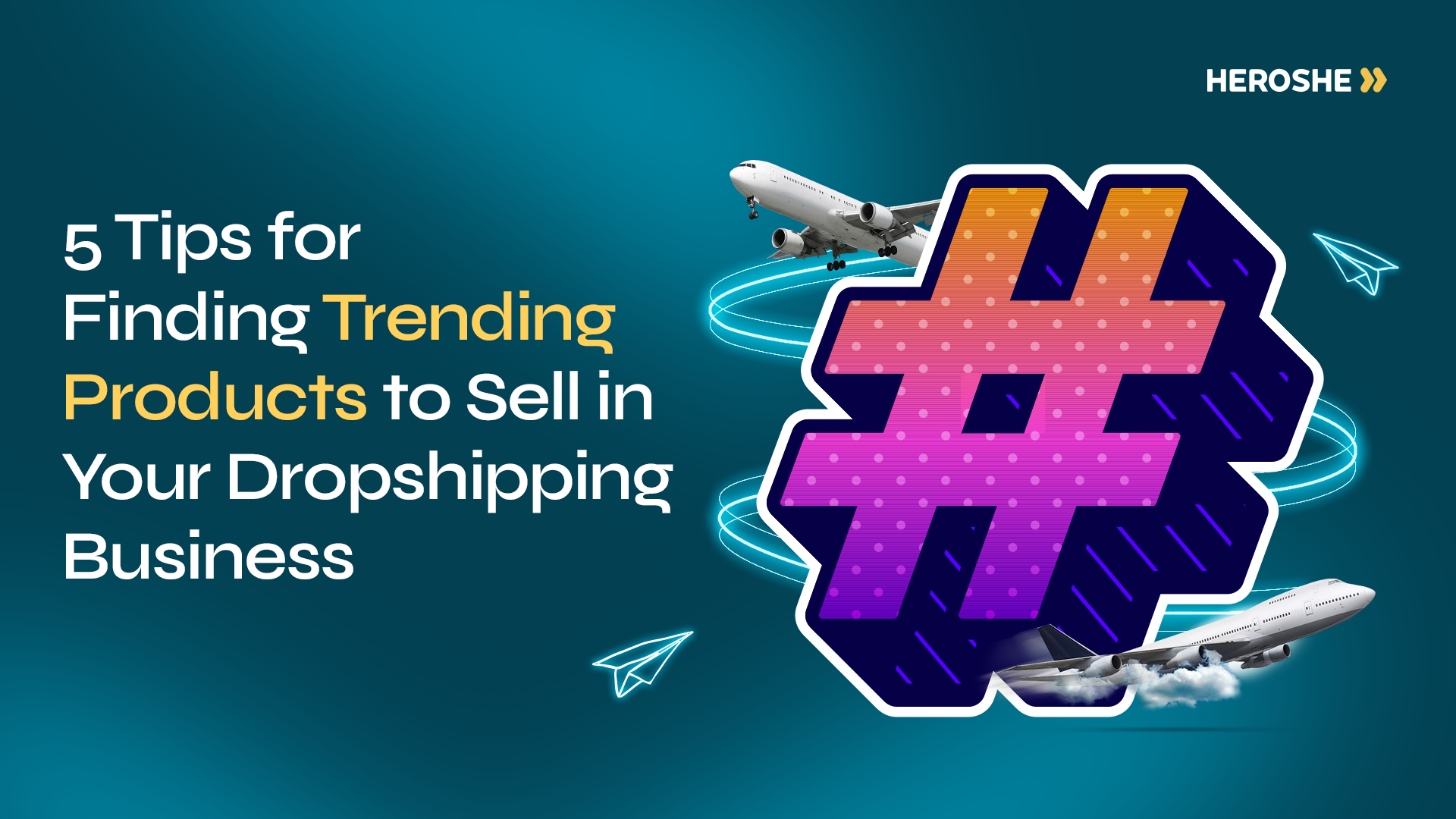 Are you a drop shipper looking for the next big product to sell? Have you ever struggled to find a profitable product in your dropshipping business? Are you worried that your current product selection is becoming outdated and losing its appeal? Have you ever had a product that just wouldn't sell and wished you had a better way of identifying the right items for your business?
If you answered yes to any of these questions, then you are not alone. As someone in the dropshipping business for several years, I know how hard it is to find the right products to sell. You must keep up with the trends and ensure your product selection remains profitable and relevant. Recent studies project the drop shipping industry's market size to reach $557.9 billion by 2025. With numbers like these, it is no surprise that competition is fierce, and staying ahead is crucial for success. With so many options available and competition growing each day, it can be daunting to stay ahead of the game.
Thankfully, you don't need a crystal ball to find the right products for your dropshipping business. In fact, some clever strategies can help you uncover those hidden gems. This article will share some of the most effective methods for finding profitable products to sell. These tips will help you stay ahead of the game and keep your business booming whether you are a seasoned pro or just starting out. So let's jump right in and discover the next big thing together!
How Can You Find Trending Products For Your Dropshipping Business?
Use Social Media to Find Inspiration
Social media is an excellent tool for finding inspiration for your next product. One strategy that has worked well for me is following influencers in my niche and keeping an eye on the products they are promoting. By doing so, I can stay on top of the latest trends and identify products likely to be in high demand. In February, I noticed that Fisayo Fosudo and other popular tech influencers were raving about the Samsung s23 lineup, so I decided to try it. To my surprise, it became one of my best-selling products!
You can also check out hashtags related to your niche to see what products people are talking about. This is a great way to gauge interest and identify potential products to sell. And if you want more inspiration, tools like Pinterest and Instagram can be incredibly useful for seeing what's trending in your niche. Using these social media platforms lets you stay ahead of the competition and find the next big thing for your dropshipping business.
Look for Products with High Demand and Low Competition
As an online seller, you know how important it is to find products that will sell and help you stand out from the competition. One of the best ways to do that is to look for products with high demand but low competition. It might sound tough, but it is easier than you think!
Start by doing some market research. Use tools like Google Trends, Amazon Best Sellers, and Facebook Ad Library to see which products are trending and which have low competition. Doing this lets you find products that are in demand but not oversaturated. For example, suppose you are in the clothing niche. You will find that clogs are currently trending, but few sellers are offering them. This means you could capitalize on this trend and potentially make some serious profits.
When you are doing your research, consider your own interests and passions. Selling products you are passionate about can make the process more enjoyable and help you develop unique marketing ideas. So feel free to explore different niches and products to find the perfect fit for your business.
Check Out Best Selling Lists
When finding profitable products for your dropshipping business, it can be overwhelming to know where to start. But one great place to look is best-selling lists on popular marketplaces like Amazon and eBay. These lists are updated frequently and offer valuable insights into the products currently in high demand.
By checking out these lists, you can understand what popular products and niches are worth exploring. You can also use these lists to identify products selling well but not yet saturating the market. For example, if you see that a gadget is selling well, but only a few sellers are offering it, that could be a chance to fill that gap in the market. Remember best-selling lists as a tool for finding profitable products to sell in your dropshipping business.
Keep an Eye on Emerging Trends
Staying on top of emerging trends is a key strategy to ensure the long-term success of your dropshipping business. By identifying trends early on, you can get ahead of the competition and position your business as a leader in the market. In 2023, experts predict that the trend of sustainable and eco-friendly products will continue to grow. This trend has been gaining significant momentum in recent years and will likely remain popular in the years to come.
Another emerging trend to watch in 2023 is the rise of virtual events and experiences. Since the COVID-19 pandemic, many events have gone virtual, and this trend is likely to continue even as restrictions ease. This presents a unique opportunity for dropshippers to offer products that enhance virtual experiences, such as virtual reality headsets or smart home devices that can create an immersive environment. By staying on top of emerging trends like these, you can ensure that your dropshipping business remains relevant and profitable in the ever-changing market.
Test Your Products
Testing your products is an important step in ensuring your dropshipping business succeeds. It allows you to determine whether a product is in high enough demand to justify the investment. Social media ads and Google Ads are great tools for testing products because they allow you to target specific audiences and see how they respond to your product. By monitoring engagement, clicks, and conversions, you can get a sense of whether your product has the potential to be profitable.
Another way to test your product is by listing it on marketplaces like Amazon or eBay. These platforms have a large customer base, which can help you gauge the level of demand for your product. You can monitor how many views and sales your product gets and use that data to determine whether it's worth investing in further. Additionally, by listing your product on these platforms, you can build a reputation for your business and gain valuable customer feedback. This feedback can help you improve your product or identify other products your customers might be interested in.
How Heroshe Can Help You Get Your Products to Nigeria
If you're a drop shipper, you know how important it is to have a reliable shipping partner to deliver your products on time. Heroshe is an excellent choice for those seeking an affordable, fast shipping option in Nigeria. With competitive shipping rates starting at just $8 per pound, you can easily ship your products from the USA to Nigeria and Ghana without breaking the bank.
One of the best things about using Heroshe is the fast delivery times. Your customers can receive their products in 10-14 days, much faster than many other shipping options. This means you can provide your customers with a better shopping experience, leading to more repeat business and positive reviews. With Heroshe, you can focus on growing your business and let us handle the shipping logistics. Sign up now and enjoy the love and swift delivery of Heroshe.
Conclusion
Finding trending products to sell in your dropshipping business is crucial to its success. These tips, along with Heroshe's reliable shipping services, can help you find the best products and deliver them to your customers in Nigeria quickly and affordably.
Stay informed on the latest dropshipping trends and get more tips on how to grow your business by joining the Heroshe community. As a member, you will have access to exclusive content and be the first to know about our resources, including our latest dropshipping ebook packed with practical advice and proven strategies.
---
Enter your email below to join our newsletter