Frequently Asked Questions About Using Heroshe Pro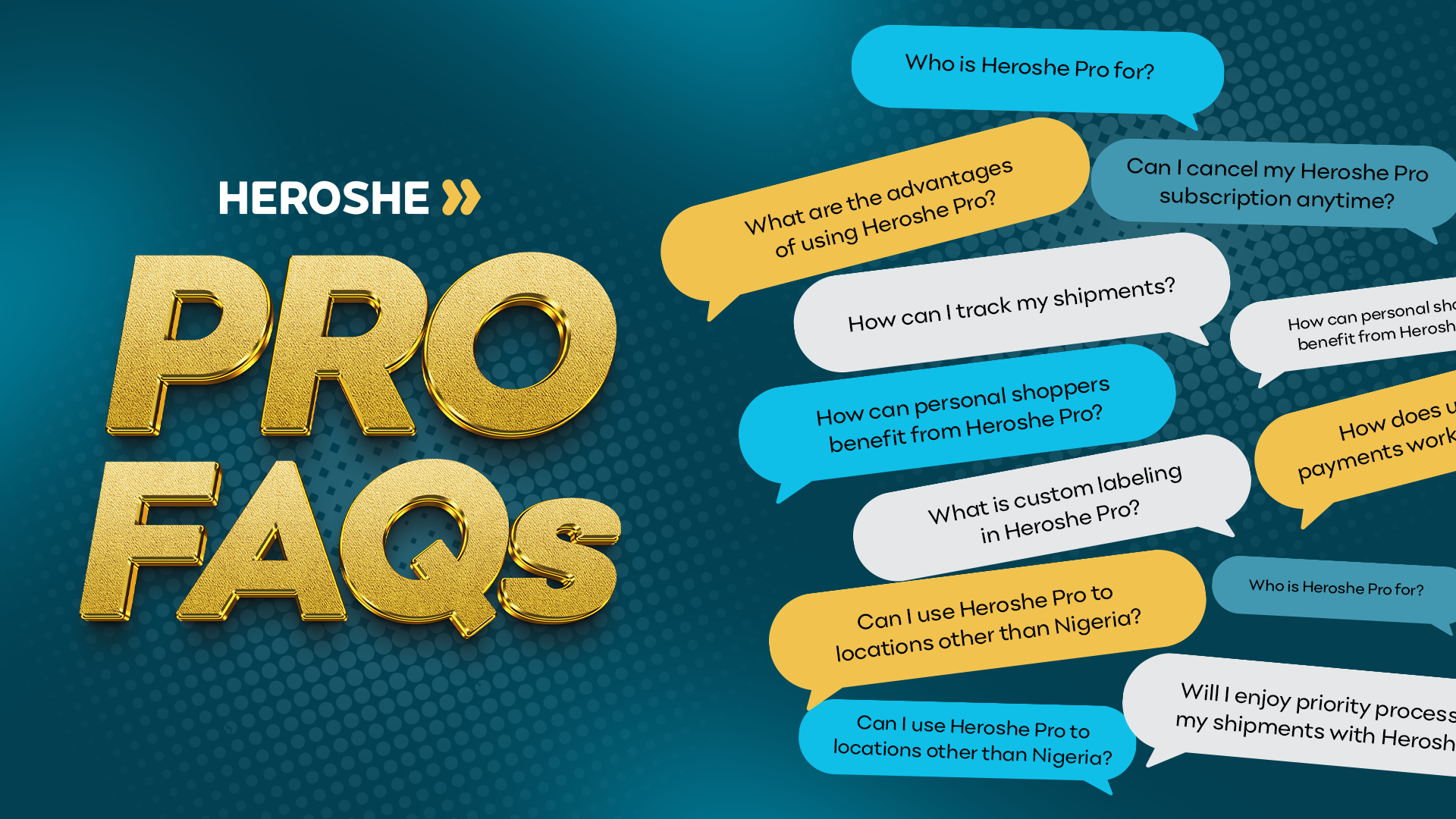 Remember Segun and Emeka, the ambitious business owners we introduced in our previous article? Well, they have found success using Heroshe Pro and referred their friends and fellow business owners. One of those business owners is Chimdi, an electronics shop owner in Yaba. With a focus on shipping refurbished electronics, Chimdi caters to young web developers, designers, and tech enthusiasts who seek affordable options.
As he embarks on his journey with Heroshe Pro, Chimdi, like many others, has questions about this premium service. In this article, we will address 30 frequently asked questions to help Chimdi (and you 😉) better understand Heroshe Pro. Let's dive in and explore the answers together!
Heroshe Pro FAQs
What is Heroshe Pro?
Heroshe Pro is a shipping solution designed specifically for existing and new customers who buy items in large volumes for their businesses and ship with Heroshe. It offers a range of features and benefits tailored to the needs of business owners, resellers, and personal shoppers.
Related: Introducing Heroshe Pro
Who is Heroshe Pro for?
Heroshe Pro is for existing and new customers who buy items in significant quantities for their businesses and ship with Heroshe. If you ship in high volumes, Heroshe Pro is for you.
What are the advantages of using Heroshe Pro?
Here are some things you enjoy using Heroshe Pro:
Access to 10 split payments.
Up to 10k delivery addresses.
Discounted shipping and delivery rates.
Tracking in near real-time.
Custom labeling.
Access to last-mile delivery directly from the Heroshe Lagos warehouse to your customers.
Can I collect shipping fee payments from multiple customers at once? Yes, Heroshe Pro allows you to create 10 Split Payment links. This enables you to collect shipping fee payments from these customers simultaneously, making the payment process more efficient and convenient.
How can I track my shipments?
Heroshe Pro provides simple shipping status that allows you to monitor the progress of your shipments.
Does Heroshe Pro offer temporary warehousing for items?
While temporary warehousing is not part of the features being released initially, Heroshe Pro aims to make business operations easier for customers. However, you can contact our support team for any specific warehousing requirements or future updates.
How can personal shoppers benefit from Heroshe Pro?
Personal shoppers can reap profitable benefits from Heroshe Pro. They can now effortlessly source items from a wide range of US online stores on behalf of their clients. The convenience doesn't end there—once the purchases are made, Heroshe Pro ensures swift delivery, ensuring that their clients receive their items within a week. Heroshe Pro goes the extra mile by providing last-mile delivery services. This reduces the time to deliver the items to their clients.
How can I sign up for Heroshe Pro?
To sign up for Heroshe Pro, visit our website and follow the registration process. You can find more information and details about this in our step by step guide.
How much discount can I get on shipping and delivery rates with Heroshe Pro?
On your regular Heroshe account, it costs $8 to ship 1lb, the Pro upgrade slashes the price to a mere $6. This means that by making the switch, you will enjoy a 25% reduction in shipping expenses. With the reduced shipping fee, you can optimize your budget and allocate your savings to other aspects of your business operations. Upgrade to Heroshe Pro today to save more while ensuring your items are delivered swiftly and reliably.
What is custom labeling in Heroshe Pro?
Custom labeling enables you to personalize the labels on your packages, making them more branded and professional, enhancing your business image.
What is last-mile delivery, and how does it benefit me with Heroshe Pro?
Last-mile delivery refers to the final leg of the shipping process, delivering packages directly from the Heroshe Lagos warehouse to your customers anywhere in Nigeria. It offers faster and more reliable delivery, ensuring customer satisfaction.
Will I enjoy priority processing of my shipments with Heroshe Pro?
Yes, you will. Priority processing ensures that your shipments are given higher priority, resulting in faster handling and processing, reducing any delays in getting your packages ready for shipping.
Is there a minimum volume requirement to qualify for Heroshe Pro?
No, there isn't. This means you can use Heroshe Pro regardless of your business size and benefit from the premium services.
Can I cancel my Heroshe Pro subscription anytime?
Yes you can. You will be downgraded after your current expiry date.
Can I upgrade from Heroshe Pro to a different plan in the future?
We have something cooking for you in the future but for now we only offer Heroshe Pro.
Are there any restrictions on the types of items I can ship with Heroshe Pro?
Heroshe Pro allows you to ship a wide range of items, including personal and business goods. However, there may be certain restrictions based on international shipping regulations or prohibited items. You can read this article or consult with your dedicated account manager regarding specific items you plan to ship.
Can I use Heroshe Pro to locations other than Nigeria?
We currently cater to customers in Nigeria and Ghana. In time we will expand and we will let you know all about it.
Can I receive assistance with customs clearance for my shipments with Heroshe Pro?
Yes, Heroshe Pro provides support and guidance with customs clearance for your shipments. Our experienced team takes care of this so you don't.
Just like Chimdi, Segun, and Emeka, who have witnessed the love and swift delivery of Heroshe Pro, you, too, can level up your business. Upgrade to Heroshe Pro today and join the league of business owners, getting the best value for money.
---
Enter your email below to join our newsletter