How to Win eBay Bids and Get the Best Deals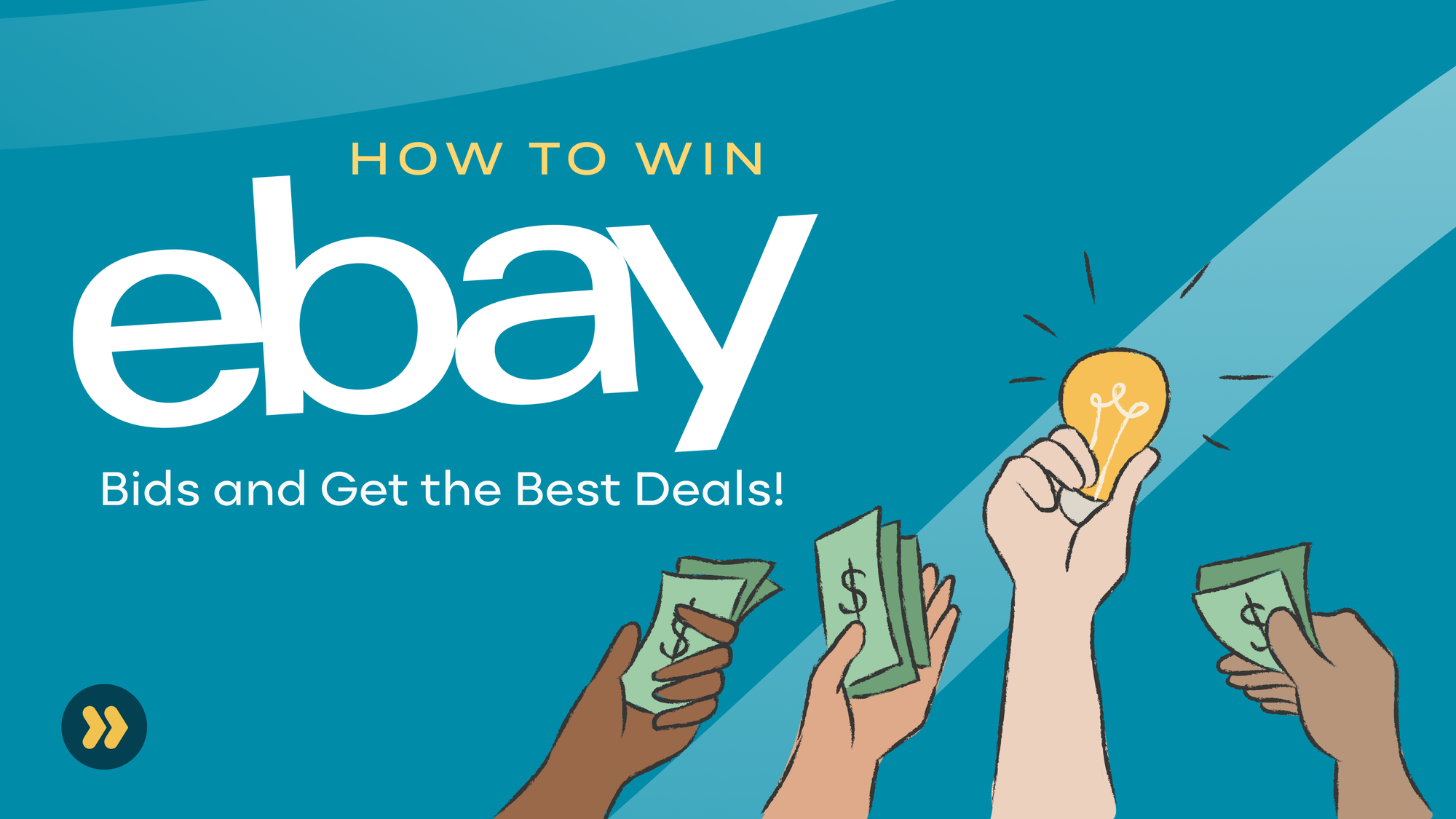 If you have been to a Bazaar, you'd know everyone wants to win whatever items they bid for. But truth be told, only one person can emerge as the winner and go home with that item.
And if 132 million active users are vying for that item, this reduces the chances of winning. Like a typical Bazaar, eBay has many people looking to snag precious items for good prices.
How do you ensure that out of the millions of eBay users, you win the auction and go home with the priced item?
This article will show you how to do so with proven tips and tricks. So, sit back, relax, and get ready to become an eBay bidding pro!
Research and Preparation
Research and preparation are key to winning eBay bids and getting the best deals. Before you bid on an item, research its market value. One way to do this is by using eBay's completed listings feature, which shows you what similar items have sold for in the past. You can also explore other online marketplaces to compare prices and see if you can find a better deal elsewhere. By knowing the item's market value, you'll better understand a fair price and can set a realistic budget.
A budget helps you avoid overspending and getting caught up in a bidding war. Determine the maximum bid amount based on market value so you don't overpay for an item. When you have a budget in mind, you'll also be able to make a quick decision on whether to bid or not when the auction is live.
Use the 'Buy It Now' Option.
The 'Buy It Now' option is a great feature for buyers who don't want to wait for the auction to end or risk losing the item to someone else. It lets you purchase the item immediately at the listed price without bidding or competing with other buyers. This option is available on many eBay listings, and it's worth checking if the item you're interested in has this option.
The 'Buy It Now' option is particularly useful if you've researched and know the price is fair and within your budget. It can save you time and effort that would have gone into monitoring the auction, waiting for the bidding to end, and hoping you win.
Make a 'Best Offer' to the Seller
Another way to get a better deal on eBay is to make a 'best offer' to the seller. This feature allows you to negotiate the price of the item with the seller, which can sometimes result in a lower price than the listed price.
To make a best offer, click the "Make Offer" button on the listing page and enter the amount you're willing to pay. You can also include a message to the seller explaining why you think your offer is fair or why you're interested in the item.
Remember that the seller may accept, reject, or counter your offer. If they counter, you can negotiate until you reach a mutually agreeable price. However, if your offer is rejected, you can make a higher offer or move on to another listing.
Use Snipe Biding
One strategy eBay buyers use to win bids and get the best deals is snipe bidding. This involves bidding on an item in the final seconds of the auction, which can reduce the chances of other bidders outbidding you. It's important to note that snipe bidding doesn't guarantee that you'll win the auction. Other bidders may have also placed a higher maximum bid, and your snipe bid may not be enough to outbid them.
Utilising the "Watch List" Feature
The Watch List feature on eBay is a helpful tool that lets you keep track of items you're interested in without having to bid on them immediately. This feature can be especially useful if you're unsure about the item's market value or want to wait for a better deal.
Adding an item to your Watch List is simple. All you have to do is click on the "Add to Watch List" button on the listing page. Once you've added an item to your Watch List, you can view it anytime from your eBay account. You'll receive notifications if the item's listing ends soon or if there's a price reduction.
Stay Informed with Alerts and Notifications
To stay informed and increase your chances of winning eBay bids and getting the best deals, it's important to set up alerts and notifications. eBay offers a variety of ways to stay informed about the items you're interested in, so you don't miss out on any opportunities.
One way to stay informed is to set up email alerts for items on your Watch List. eBay allows you to receive email notifications when an auction is about to end, you've been outbid, or the seller has accepted your offer. This can help you stay on top of your bidding and avoid missing out on an item you want.
Another way to stay informed is to download the eBay mobile app and enable push notifications. This allows you to receive real-time alerts on your phone when you've been outbid or an auction is about to end. The mobile app also allows you to bid and manage your auctions on the go, so you don't have to be tied to your computer.
Avoiding Peak Bidding Times to Reduce Competition
During peak bidding times, more buyers are active on eBay, which can lead to high competition and increased prices. To avoid this competition and potentially get a better deal, consider bidding during off-peak hours or when fewer buyers are active.
For example, bidding during the early morning or late at night can give you an advantage as there are generally fewer buyers online at these times. Additionally, bidding on weekdays rather than weekends can reduce competition as fewer people are actively shopping and bidding during the workweek.
What's Next After Winning?
When you win a bid and get to pay for the item won, you'll have to partner with a shipping company to get your items to you. Here are a few things to keep in mind when choosing a shipping company:
Firstly, finding a reputable shipping company with experience shipping to Nigeria is important. Look for companies that have good reviews and are transparent about their shipping process. This will help ensure that your items are delivered safely and on time.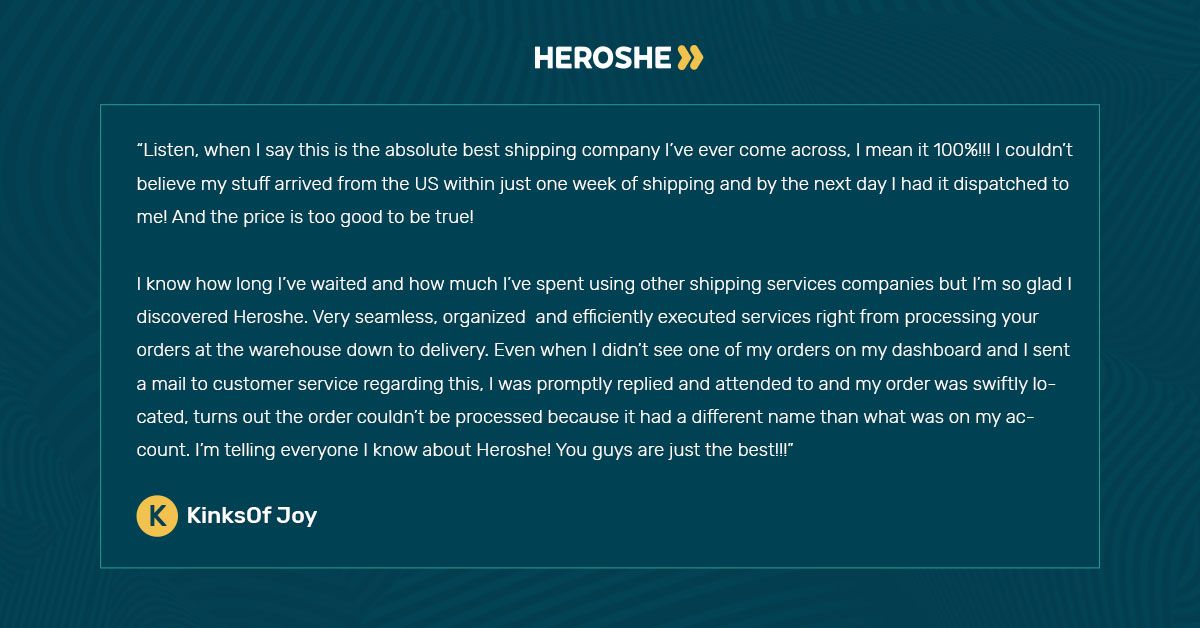 Secondly, make sure to check and compare shipping rates. Shipping rates may differ by company, and you want to get value for your money irrespective of how their rates are determined.
Lastly, consider using a shipping company that offers package tracking. This will allow you to track your package's progress and ensure that it arrives at its destination safely.
Heroshe: Your Shipping Buddy
For us at Heroshe, getting your packages delivered to you in shape and in time is something we pride ourselves on, as we are dedicated to giving you a hassle-free shipping experience.
Here's why we stand out:
Hassle-free Shipping
We give you a shipping experience that will have you coming back whenever you want items delivered. With a delivery timeline of 10-14 days, you can be sure to have your items when you need them.
Tracking System
We offer a tracking system that allows you to track your packages in real-time. This ensures that you are always kept up to date with your package delivery.
Competitive Pricing
With Heroshe, you get premium value at a relatively low price of $8 per pound. This transparent pricing policy ensures that you only pay for the services they use without any hidden charges or fees.
Customer Experience
Another factor that sets us apart is the exceptional customer support we offer. We have a team of dedicated professionals who are always available to take in your concerns and queries.

Our catchphrase of love and swift delivery empowers us to go the extra mile to ensure your shipping experience is worth it. Enjoy the Heroshe experience when you sign up and ship your items with us.
---
Enter your email below to join our newsletter