10 Best Virtual Dollar Cards in Nigeria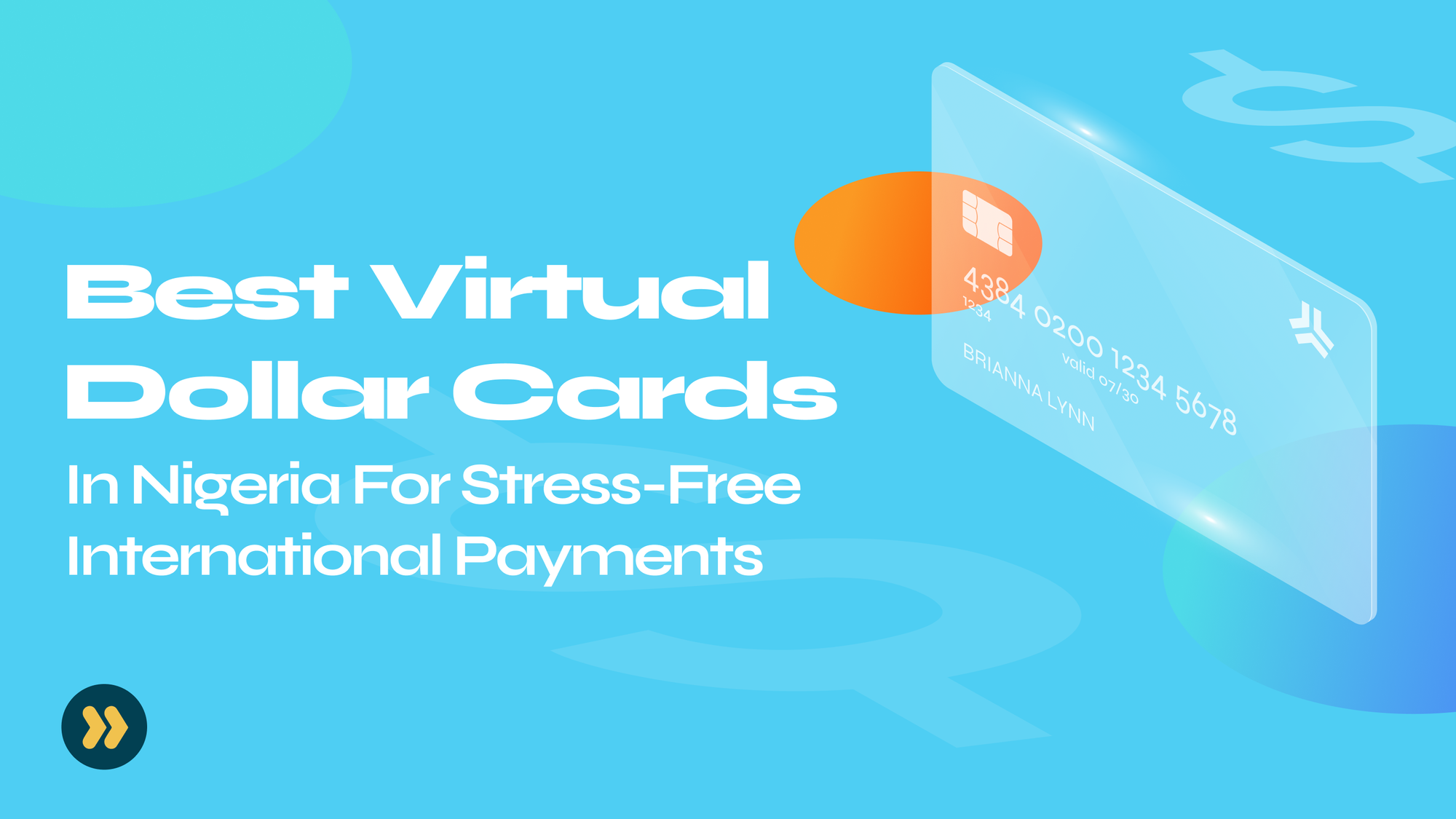 Have you ever tried to pay for stuff on Amazon, eBay, Netflix, or Apple but aborted the mission because of your Naira card? Does the idea of missing out on global online deals leave you feeling frustrated? Do you need a solution that can make international online shopping hassle-free?
You are not alone.
Since 2022, many Nigerians have been stuck, unable to use their Naira cards to shop on global websites. But guess what? Some fintech companies have made virtual dollar cards to fix this. These non-physical cards, denominated in dollars, offer a convenient and secure way to transact online. In this comprehensive guide, we will explore the best virtual dollar card providers in Nigeria and provide you with all the information you need to choose the right card for your needs.
What are Virtual Dollar Cards?
Virtual dollar cards are non-physical cards that are dollar-denominated and designed for online payments. Unlike traditional debit or credit cards, virtual dollar cards can only be used for online transactions. These cards are linked to your bank account and enable you to pay in US dollars from any website that accepts Visa or Mastercard.
What Are The Benefits of Virtual Dollar Cards?
You might be wondering: Why should I use Virtual Dollar Cards? I promise you that the benefits are as refreshing as a cool breeze on a sunny day. Here are some of them:
Convenience:
Virtual dollar cards redefine online shopping, offering a seamless and accessible experience. Unlike traditional payment methods that need a physical card, you only need an app for virtual dollar cards. This means you can easily carry out your transactions from the comfort of your home. Whether you are browsing your favorite online store in the middle of the night or making a last-minute purchase, the convenience of virtual dollar cards lies in their ability to adapt to your lifestyle, providing a hassle-free way to shop anytime and from any location.
Security:
One of the standout features of virtual dollar cards is the enhanced security they bring to online transactions. These cards protect against potential fraud and unauthorized access to your bank account. The virtual nature of these cards means that they don't carry the same physical risks as traditional cards, reducing the likelihood of card skimming or theft. Many virtual card providers implement advanced security measures, such as one-time-use card numbers and transaction limits, adding more protection to your financial information. By using virtual dollar cards, Nigerians can reduce the risks associated with online shopping.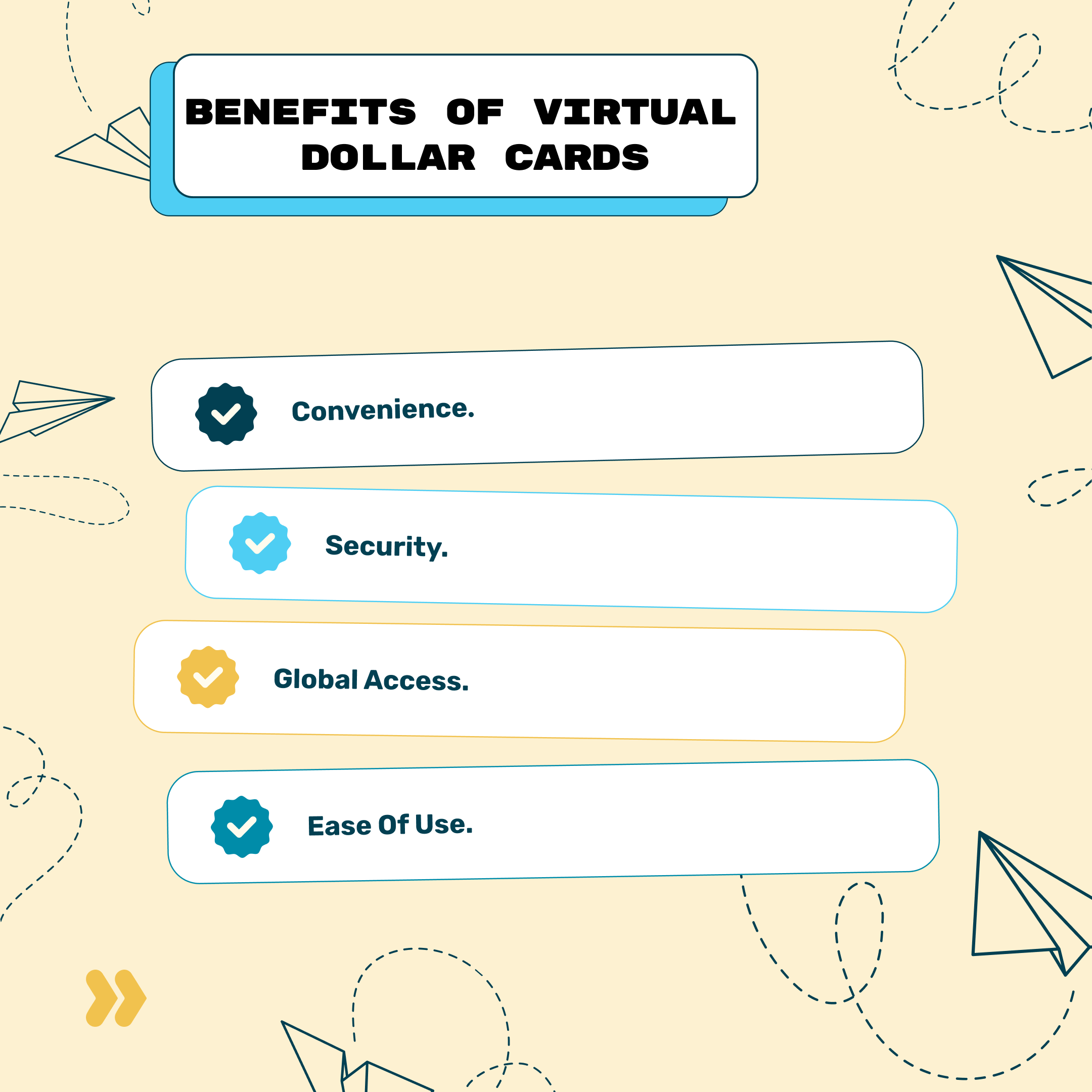 Global Access:
Virtual dollar cards open up a world of possibilities regarding international online shopping. Some websites, like Alibaba, Amazon, and Ali Express, exclusively accept US dollars. With a virtual dollar card, you can seamlessly purchase from these platforms, overcoming geographical barriers and expanding your access to a wider range of products. This global reach is particularly beneficial for users who enjoy exploring unique items from international markets or taking advantage of exclusive deals on platforms catering primarily to a US-dollar audience. The virtual dollar card serves as a gateway, allowing users to tap into the global marketplace without the constraints of traditional payment methods.
Ease of Use:
Virtual dollar cards are simple to use. Setting them up is a breeze, and most providers have easy-to-use apps. You can activate your card, add money, and track your purchases with just a few taps. Even if you are not a tech whiz, you won't have a hard time using virtual dollar cards. They are designed to be stress-free and straightforward, giving you a smooth online shopping experience.
Top Virtual Dollar Cards in Nigeria
Now that we understand the benefits, let us explore the top virtual dollar cards in Nigeria:
Disclaimer: All options on this list are recommendations and do not serve as endorsements. Ensure you do your research before using any of them.
Changera
Changera is a leading provider of virtual dollar cards in Nigeria, offering a seamless solution for individuals and businesses seeking international transactions. With Changera's virtual dollar cards, users can easily access global e-commerce platforms, subscription services, and digital marketplaces. The platform prioritizes security and user privacy, implementing advanced encryption protocols and robust fraud protection measures to safeguard transactions.
Chipper Cash
Chipper Cash is a popular payment platform that allows you to send and receive money between Ghana and Nigeria. They also offer virtual dollar cards for international transactions. You can fund your Chipper Cash Visa virtual card from your Chipper wallet, and there are no limits for total withdrawals. Chipper Cash provides a convenient and secure way to make online payments globally.
Klasha
Klasha offers a comprehensive virtual dollar card solution that caters to the specific requirements of Nigerian users participating in cross-border e-commerce and international trade. Klasha's virtual dollar cards are designed to provide seamless access to global online platforms, subscription services, and digital marketplaces, facilitating easy international transactions.
Payday
Payday is a customer-centric virtual dollar card provider that allows you to send and receive instant international payments. They also offer virtual dollar cards for online purchases and payments. Payday virtual dollar cards have no funding or withdrawal limits, allowing you to use the card as per your requirements. The virtual dollar cards offer seamless integration with international online platforms, subscription services, and digital marketplaces. Their platform ensures the security and convenience of your online transactions.
Fundall
Fundall is a virtual dollar card solution in Nigeria that offers a dollar-denominated virtual card for international payments without cross-border restrictions. You can easily create a virtual dollar card on the Fundall app for free. Fundall allows you to generate multiple virtual dollar cards for one-off payments, making it a flexible option for online transactions. You can start using the virtual card by funding it with as low as $5 in naira equivalent.
Bitnob
Bitnob is a trusted provider of virtual dollar cards, offering a seamless solution for Nigerian users navigating the global digital economy. The Bitnob virtual dollar card allows you to spend money within your set limit. It's made for easy online transactions, shopping, and payments locally and globally. You can also use it to pay for monthly subscriptions to popular streaming services such as YouTube, Netflix, Prime Videos, and others. With it, you can shop online, make international transactions, and pay for things without needing a dollar account.
ALAT by Wema
ALAT by Wema, a digital banking platform regulated by Wema Bank, offer virtual dollar cards for international online payments. You can create a free ALAT virtual dollar card and fund it from your naira account. ALAT virtual dollar cards can be used on various international platforms like Facebook, Amazon, and Shopify. ALAT provides a secure and user-friendly interface for your online transactions.
Eversend
Eversend provides a reliable virtual dollar card solution tailored to the needs of Nigerian users seeking a seamless avenue for international transactions. Eversend's virtual dollar cards offer seamless integration with global online platforms. You need $2 to create a card ($1 monthly fee and $1 minimum top-up). This makes a total of $2 needed to create your virtual card. You can use the cards on platforms like Amazon, Alibaba, AliExpress, Google Ads, Shopify, and Fiverr.
What Should I Consider Before Choosing a Virtual Dollar Card Provider?
There are some factors to consider before choosing a virtual dollar card provider in Nigeria. Some of them include:
Security:
Security is paramount in the realm of virtual dollar cards. Before settling on a provider, you should know the security measures they employ. Seek providers that use robust encryption protocols, multi-factor authentication, and advanced fraud protection features. A reputable provider should also adhere to industry standards and compliance regulations to safeguard financial information effectively.
User-Friendliness:
The ease of use of virtual dollar cards significantly influences the overall user experience. Opt for a provider that offers an intuitive user interface, straightforward card activation processes, and easy account management. A user-friendly platform enhances convenience and ensures you can effortlessly navigate your virtual dollar card from initial setup to day-to-day transactions.
Accessibility:
Consider the accessibility of the virtual dollar card across various platforms and devices. Providers with responsive mobile apps and user-friendly websites empower you to manage your card on the go. It should be compatible across different operating systems and devices, ensuring seamless access to and using your virtual dollar card, whether you're using a smartphone, tablet, or computer.
Card Limits:
Virtual dollar card providers often have limits on transactions, withdrawals, and balances. Understanding and evaluating these limits is essential to ensure they align with your financial needs. Factors such as maximum transaction amounts, daily spending limits, and withdrawal restrictions should be considered. Opting for a provider with customisable limits allows you to tailor the virtual dollar card to your specific usage patterns and requirements.
Fees:
Shine your eyes well well on the fee structure associated with virtual dollar cards. Providers may charge fees for card issuance, transaction processing, currency conversion, or annual maintenance. Being aware of these fees upfront helps you avoid unexpected costs. Compare fee structures among different providers to find one that aligns with your budget and usage preferences. Some providers may offer transparent fee structures or even fee-free options for certain transactions, making them more cost-effective for your virtual dollar card needs.
Conclusion
Virtual dollar cards have revolutionized online payments in Nigeria, offering convenience, security, and ease of use. With the wide range of virtual dollar card providers available, you can find the perfect card that suits your needs. Choose the right provider and enjoy the benefits of virtual dollar cards.
As you step into the realm of online transactions, enhance your journey by subscribing to the Heroshe blog. Get the best tips on accessing quality goods in the US and UK while experiencing the love and swift delivery that sets Heroshe apart.
---
Enter your email below to join our newsletter