Top 10 Laptop Suppliers in the USA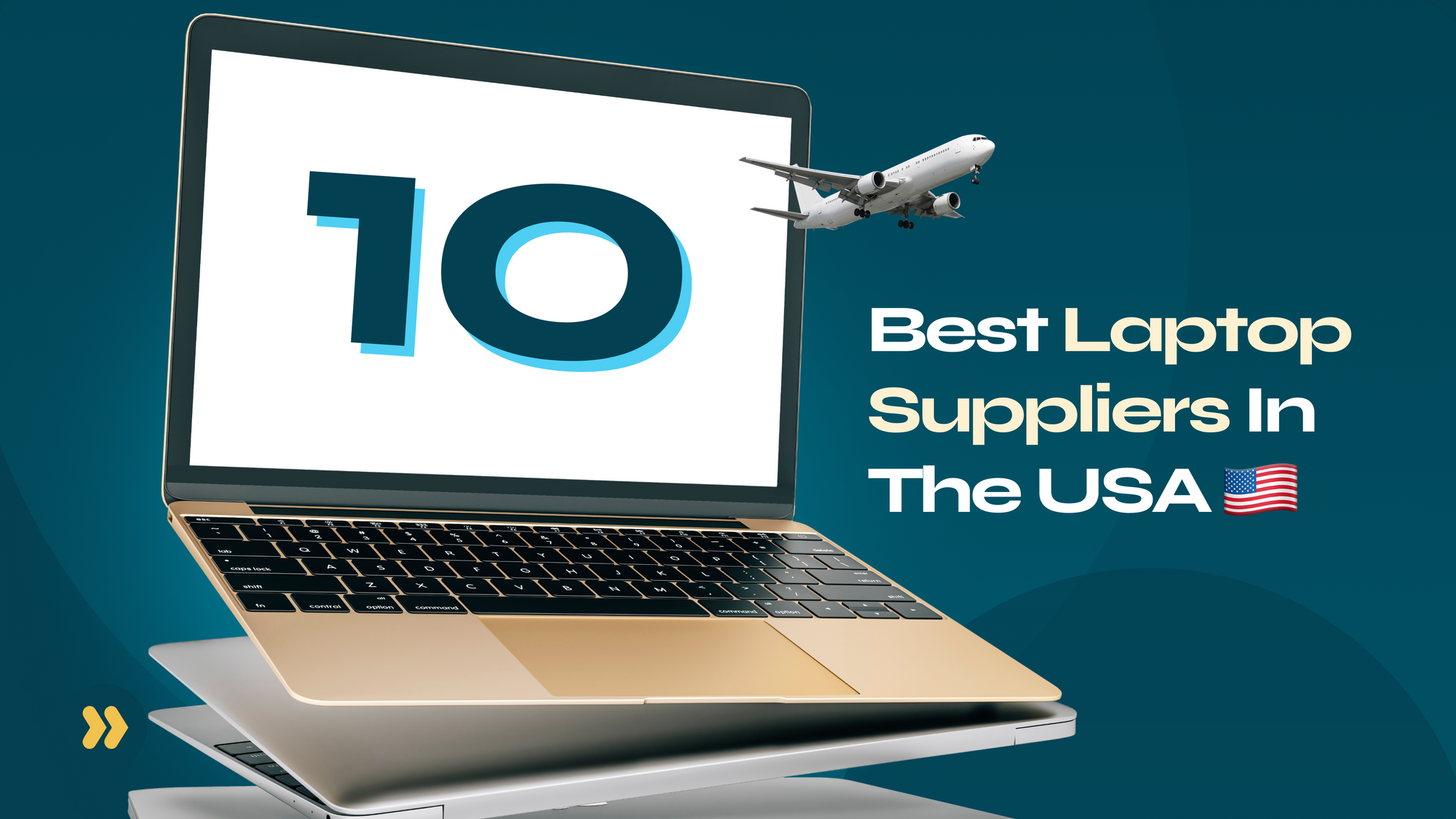 Looking to source top-quality laptops in bulk? In today's fast-paced digital age, having reliable laptops is crucial for businesses, educational institutions, and tech enthusiasts alike.
But with many options available, how do you choose the best supplier? In this guide, we've curated a list of ten laptop suppliers in the USA, each renowned for their quality, reliability, and extensive product range. Let's explore the industry leaders who are changing the way we acquire cutting-edge laptops.
PCLiquidations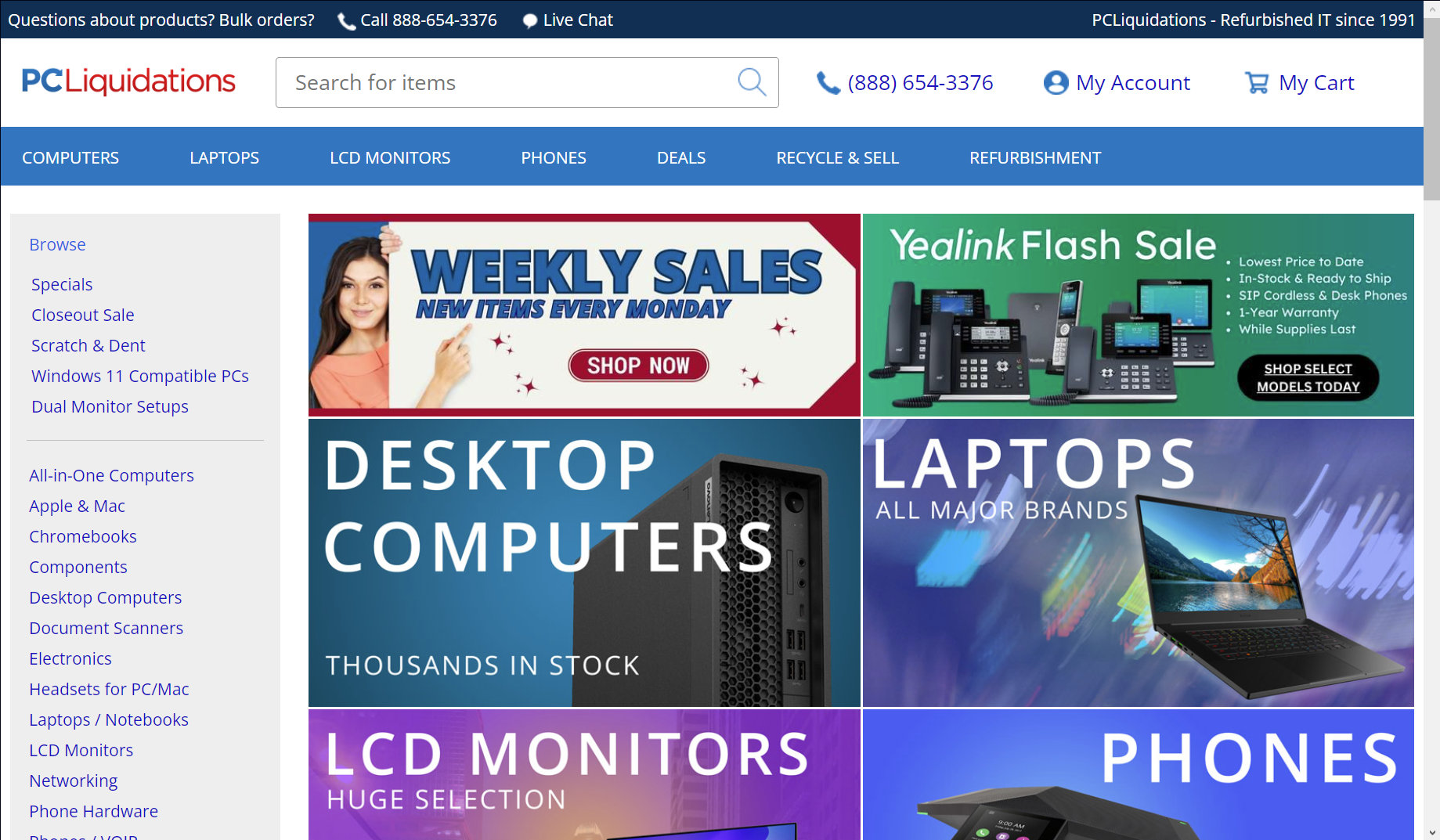 PCLiquidations is a trusted and innovative supplier in the technology industry when sourcing laptops. With a history dating back to 1991, this company has evolved from a small PC repair shop to a powerhouse in technology distribution. Their commitment to delivering a world-class customer experience is evident in every facet of their operations.
From business-class to high-performance gaming laptops, they offer a diverse array of laptops to cater to various user needs. Their inventory spans a spectrum of brands and specifications, ensuring businesses and individuals can find the perfect fit for their requirements.
If you are mindful of your budget, PCLiquidations also provides refurbished laptops that deliver exceptional performance without breaking the bank. These products undergo rigorous testing and refurbishment processes, ensuring they meet quality standards.
Newegg
Newegg is a global leader in online retail, specialising in a wide range of tech products. This includes laptops, PC hardware, consumer electronics, gaming peripherals, and more, making it an ideal destination for entrepreneurs looking to get more than just laptops for their businesses.
Their large inventory and specialised expertise in bulk orders make it a prime choice for entrepreneurs aiming to scale their operations. Whether launching a startup, managing a growing enterprise, or establishing an e-commerce platform, Newegg provides a seamless process for procuring high-performance laptops in quantity.
Listed on the NASDAQ exchange under the ticker symbol NEGG, Newegg's presence in the stock market reinforces its position as a reliable and forward-thinking player in the technology sector. You can trust that you are partnering with a company that not only has a track record of success but also remains committed to staying at the forefront of industry trends.
Ambar Distributors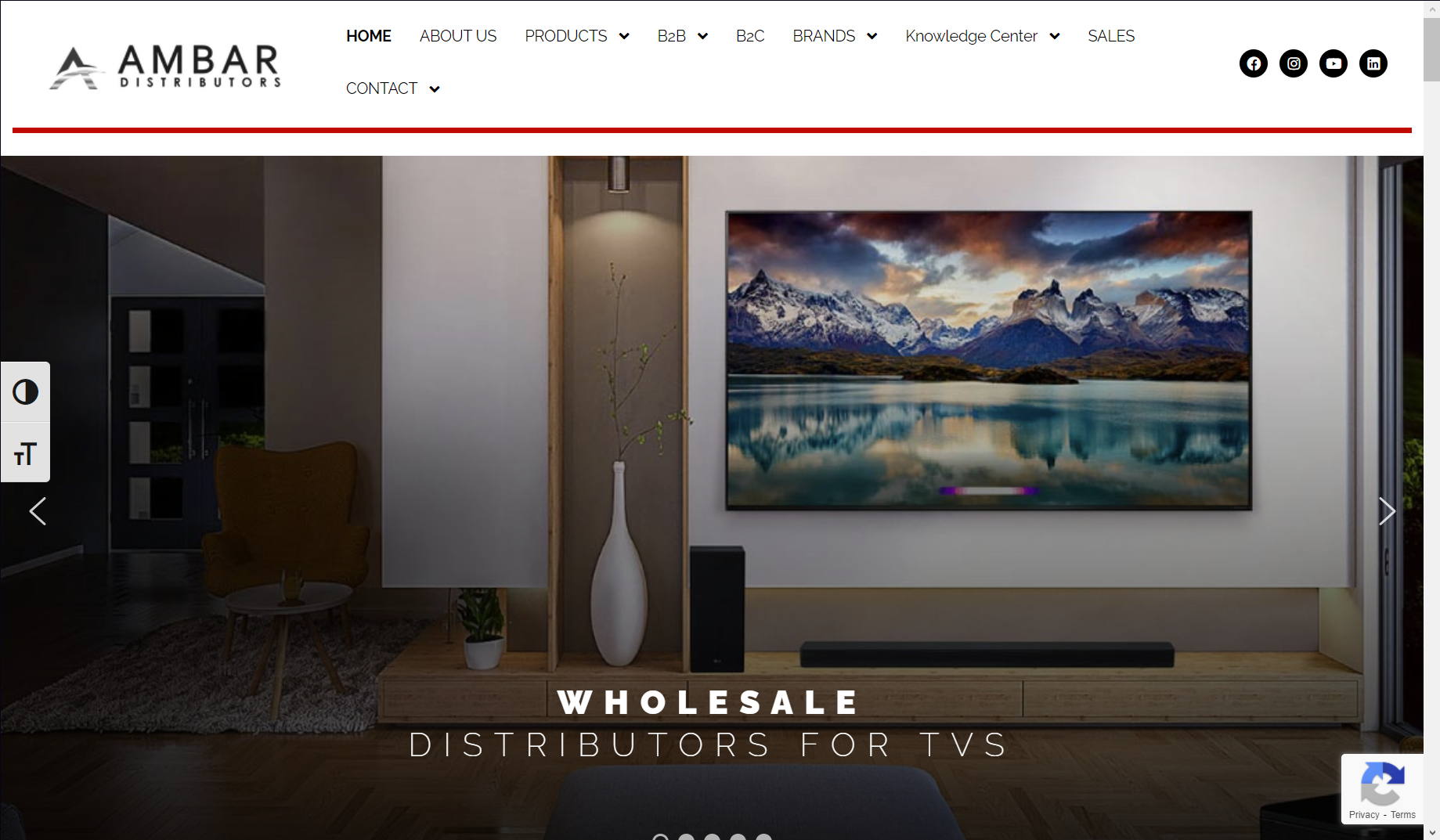 Ambar Distributors is renowned as one of the largest and most trustworthy computer wholesale distributor companies globally. And with over a decade of experience, they have become a go-to resource for businesses seeking cutting-edge technology.
As a distributor, Ambar understands the unique demands of entrepreneurial ventures and offers a tailored approach to sourcing laptops in quantity. Their extensive range of laptops makes it a reliable option if you're looking for a distributor to give you access to laptops from reliable brands.
It is important to note that they partner with industry-leading brands, including HP®, Dell, Acer, Apple®, and Samsung, to provide laptops that meet the highest standards of performance and reliability. This means entrepreneurs can confidently invest in laptops that empower their business operations.
Power Signal Technologies (PST)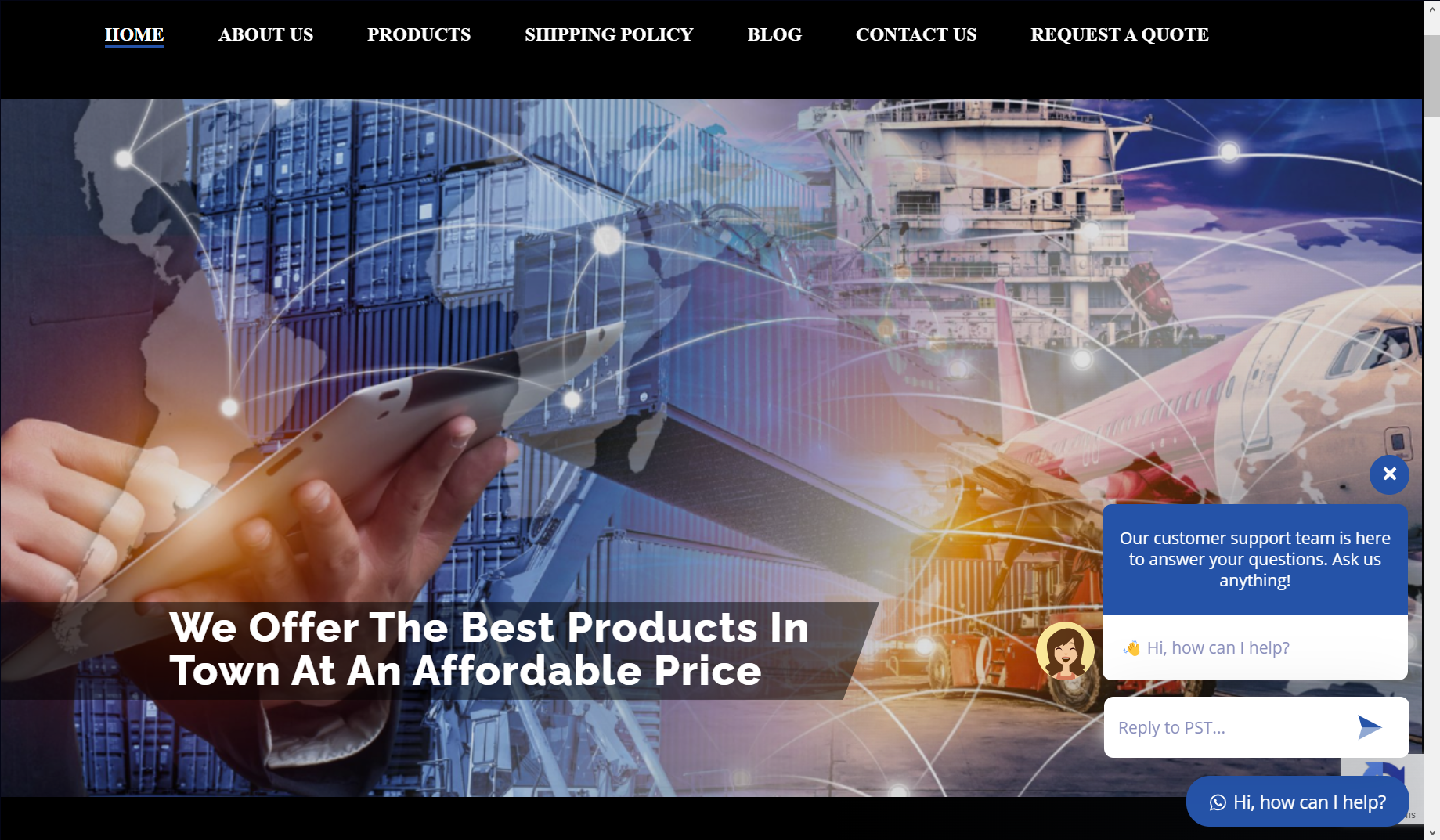 Power Signal Technologies (PST) is another trusted and dependable supplier when seeking to get laptops in bulk. With a commitment to providing the best in tablets, laptops, and electronic accessories, PST ensures its products meet high industry standards. Their offerings include products manufactured directly by PST and partner products sourced from authorised channels.
PST's laptops are crafted with precision and attention to detail, ensuring they meet the demanding standards of today's tech-savvy consumers. This commitment to quality is reflected in every aspect of their products, from design to performance.
Understanding the significance of authenticity in electronics, PST takes pride in sourcing partner products directly from authorised channels. This means customers can be confident in the legitimacy of the products they purchase. Whether it's laptops, tablets, or accessories, PST ensures that customers receive genuine, brand-name products.
They equally have a dedicated team that is readily available to address any inquiries or concerns. Whether you're seeking product information or assistance with your purchase, PST is committed to providing prompt and helpful support.
Stop4Wholesale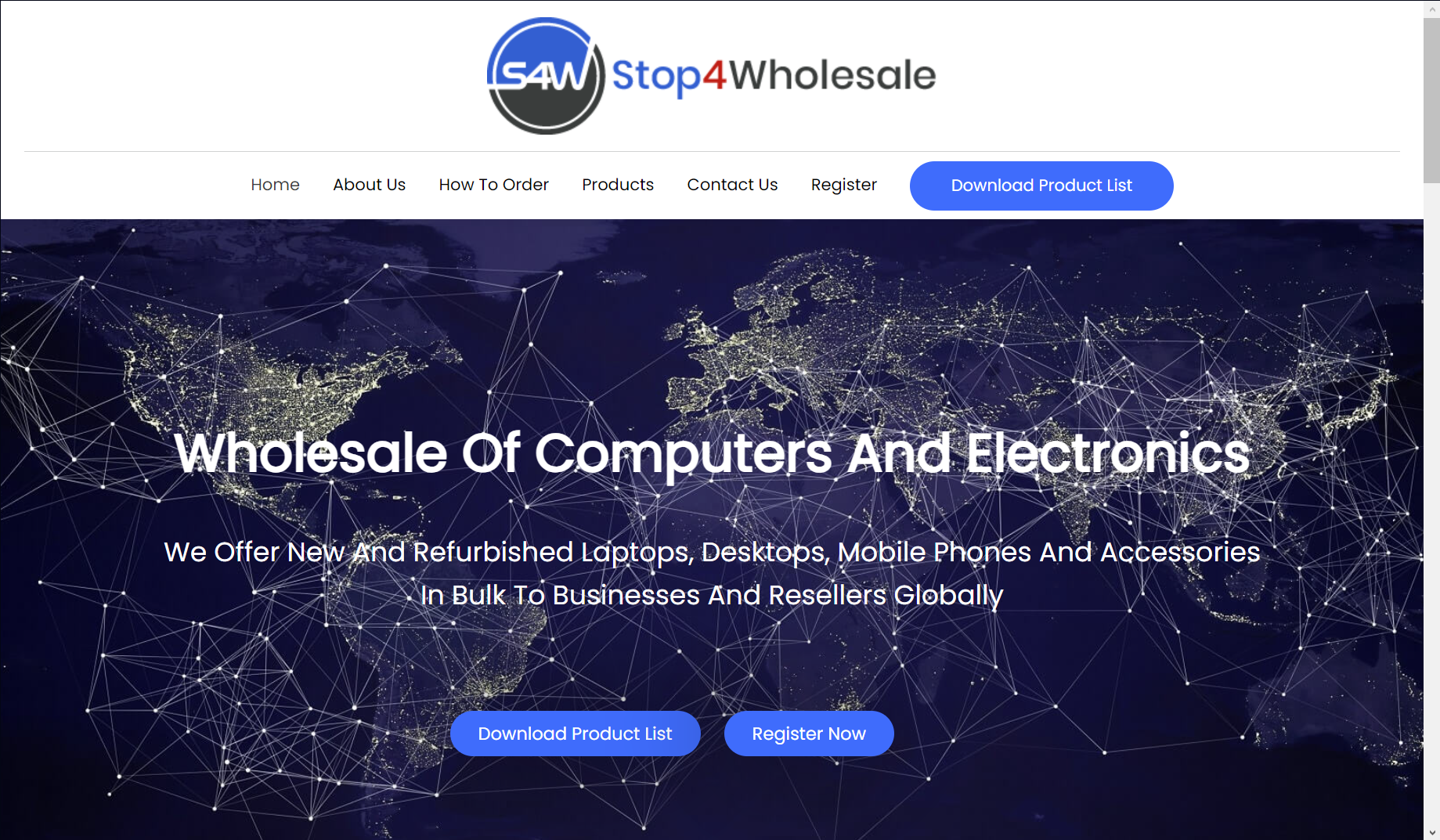 For over two decades, Stop4Wholesale, a Florida-based wholesale company, has been a trusted authority in providing the latest technology products, with a special emphasis on laptops. Their expertise extends to major brands, ensuring their clients access a diverse range of computers, mobile devices, and home electronics.
Stop4Wholesale's 20+ years of operation are a testament to their dedication to the industry. Their long-standing presence underscores their reliability and the trust they've garnered from clients. One of their strengths is volume sales, making them an ideal partner for businesses and resellers looking to procure laptops in bulk.
On the aspects of shipping, they can deliver worldwide; hence, distance is not a barrier, and they are committed to timely delivery.
Foxway Reseller Store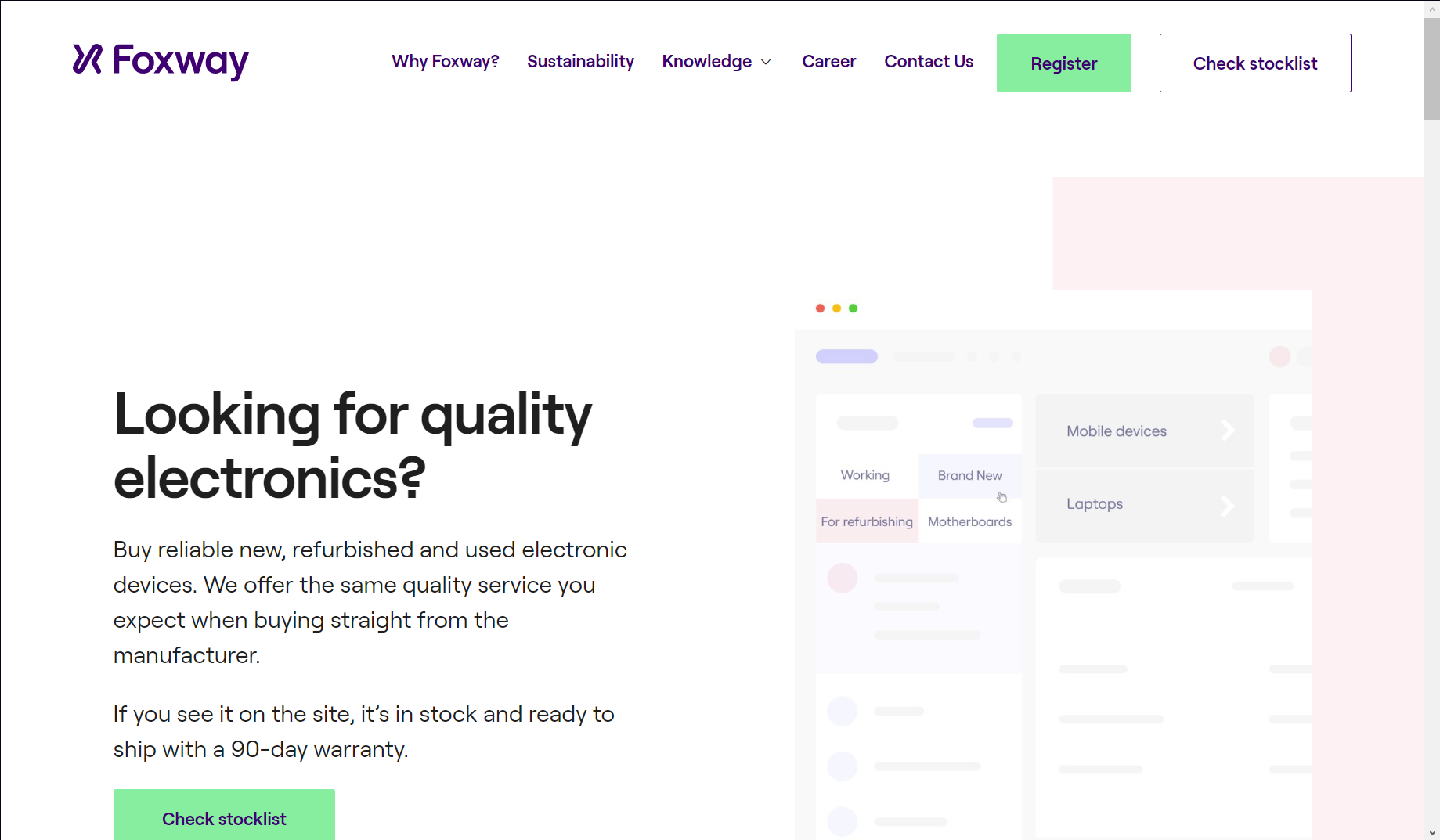 Foxway Reseller Store is one of the brands offering brand new and refurbished laptops in bulk to entrepreneurs seeking a reliable partner to get laptop supplies. Irrespective of your need and budget, they have a laptop that will suit you perfectly.
As part of their operations, they have a knack for quality assurance, making sure that all used devices are tested and graded for quality, ensuring that customers receive products that meet their expectations. This commitment to quality is reflected in their less-than-2% return rate.
They are dedicated to resellers, as shown in the number of resellers, businesses and retailers around and beyond Europe whom they've helped to meet their supply needs while also ensuring that these resellers have peace of mind with their 90-day warranty.
As a circular economy company, Foxway is committed to giving electronic devices a second, third, or even fourth life. This aligns with a broader commitment to sustainability and environmental responsibility.
Related: 25 Best Gaming Phones In The Market Under $1,000
Discount Computer Depot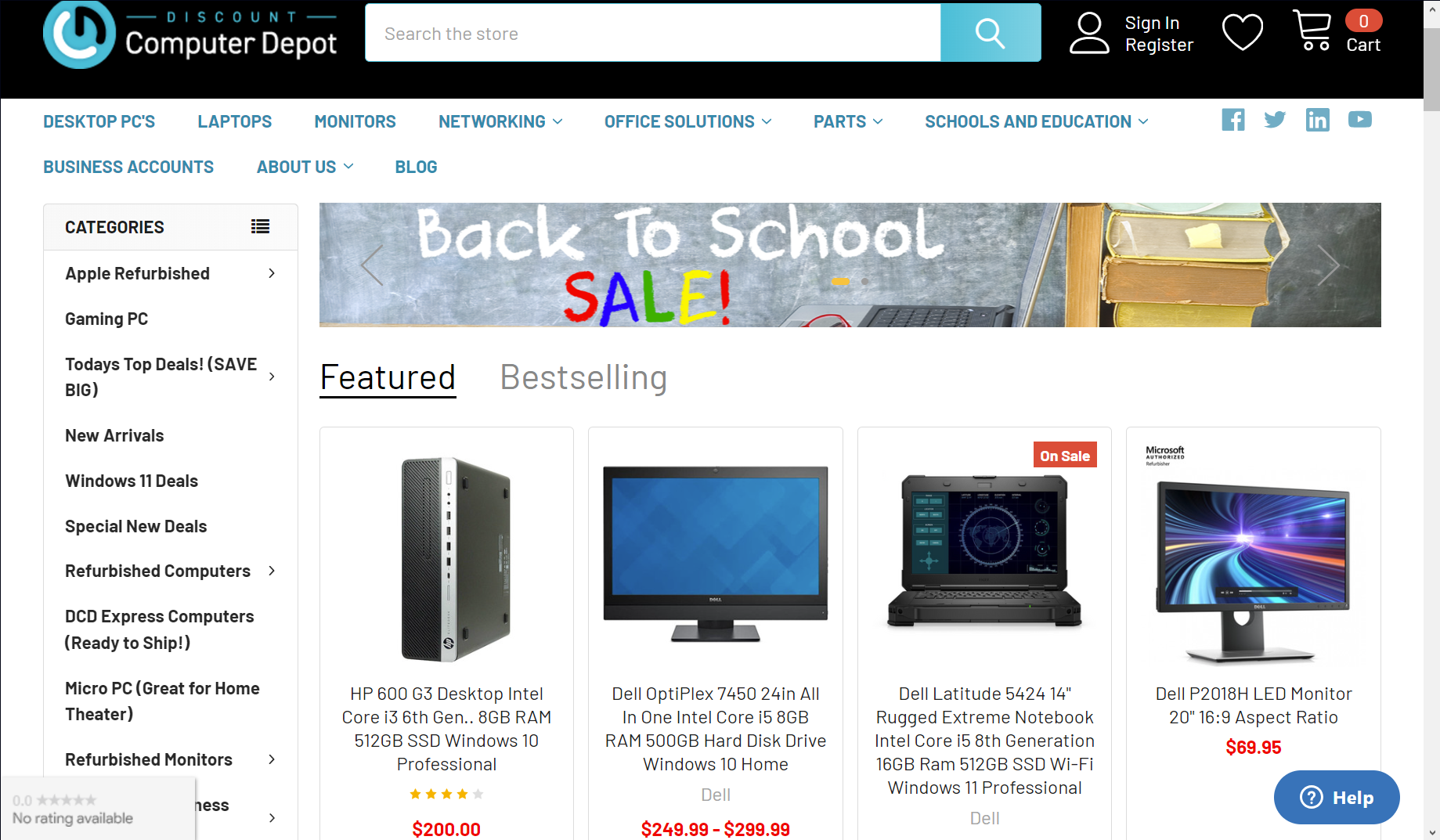 Discount Computer Depot (DCD) was established in 2014 by a group of entrepreneurs who recognised the challenges people faced when buying computers. Their mission was clear: to simplify the buying process and provide customers easy access to a wide range of computers.
DCD's founders understood the complexities of purchasing computers. They set out to make the process hassle-free, ensuring customers can easily choose, customise, and purchase their desired laptops. Over the years, they have grown to have a 250,000 sq. ft. warehouse and have successfully served over 17,000 customers, expanding their delivery capabilities.
In response to the growing demand, they have expanded their inventory to include not only desktops and laptops but also smartphones, tablets, monitors, and printers, providing customers with a comprehensive selection of electronic devices. They subject every machine to rigorous testing and hand inspection thrice, ensuring customers receive products that meet their expectations.
Laptop Plaza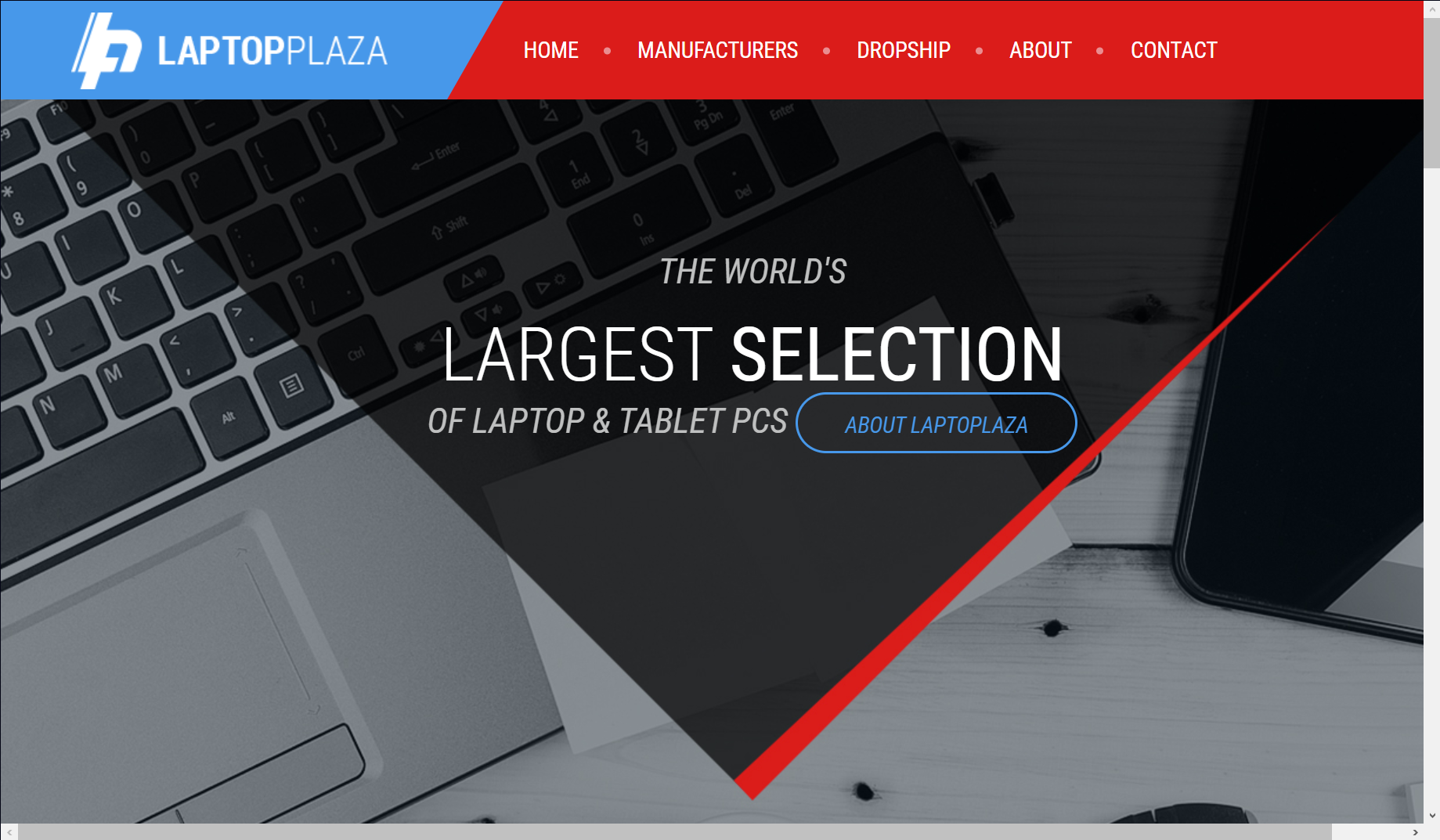 With a rich history spanning over two decades, Laptop Plaza has built enduring partnerships with the world's foremost manufacturers. Year after year, they facilitate the purchase and sale of hundreds of thousands of laptop units sourced from industry giants like Apple, Acer, Toshiba, Dell, ASUS, IBM, Lenovo, and more.
Laptop Plaza is committed to securing top-quality products, whether factory refurbished or brand-new and factory-sealed. Part of this commitment is to provide customers with a comprehensive range of laptops and tablets, ensuring access to the latest and most reliable technology.
Related: Best Websites to Buy Refurbished Electronics in the USA (2023)
Laptop Closeout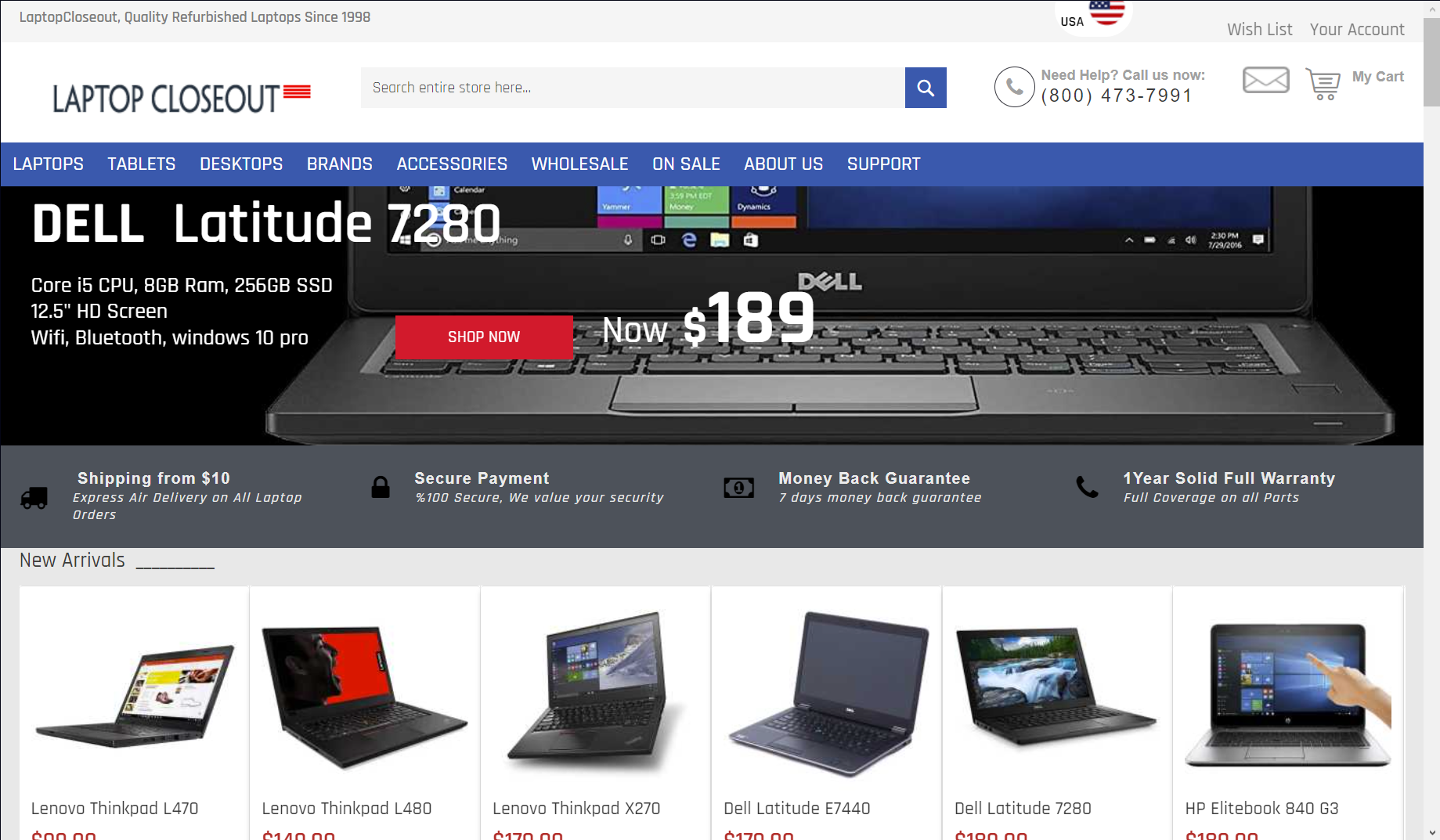 Laptop Closeout specialises in providing top-notch new and refurbished computers to many customers. With roots dating back to 1998, they bring a wealth of experience which speaks volumes on reliability and commitment to quality.
Whatever your preferences and requirements, Laptop Closeout's diverse product range cater to your needs as they have laptops, notebooks and accessories from top brands such as Lenovo, HP, Dell, Toshiba, and others. This means you have access to laptops and accessories from some of the most trusted names in the industry.
ALM Wholesale Ltd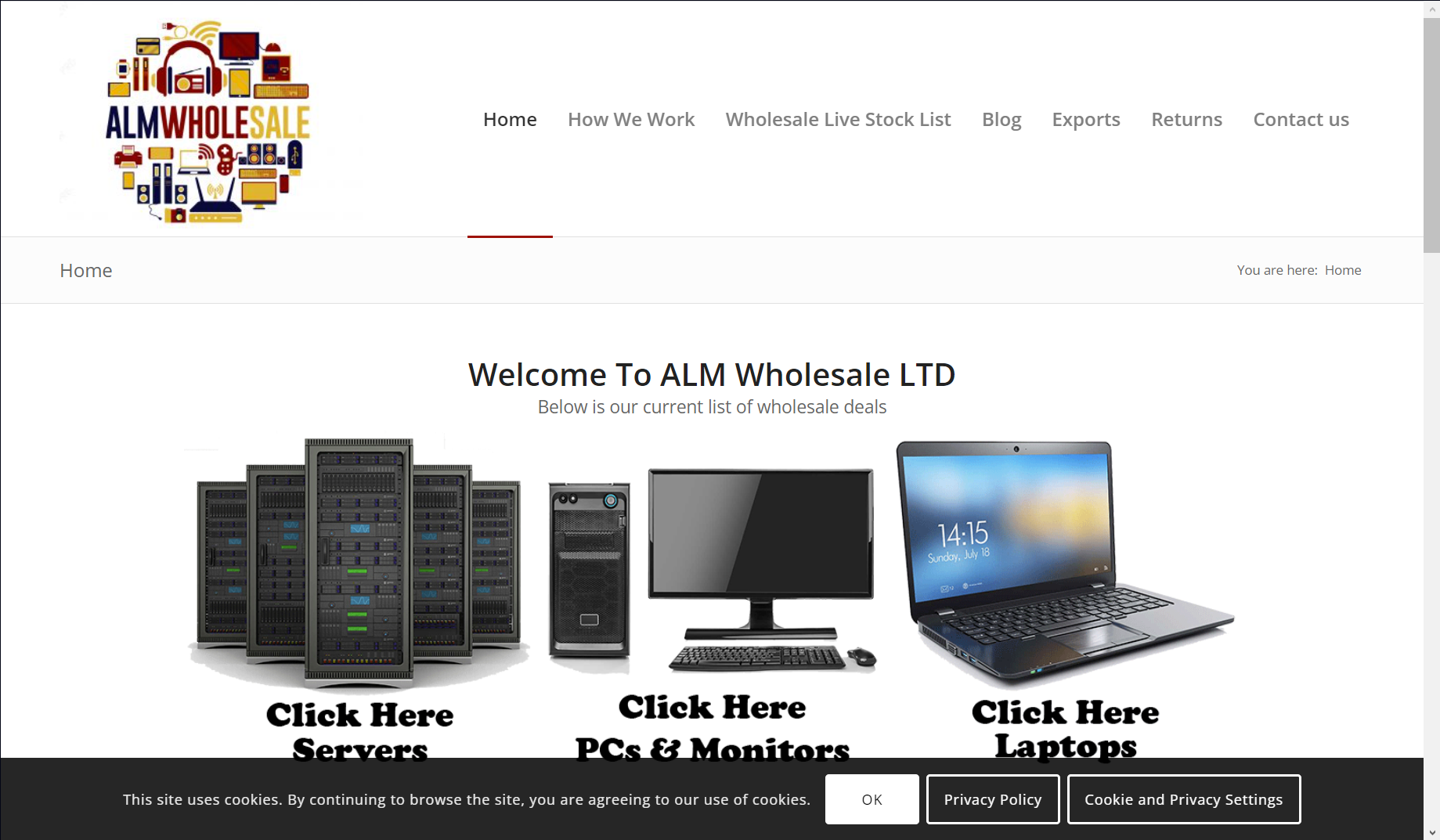 ALM Wholesale Ltd. is your go-to source for high-quality laptops in bulk. With over a decade of industry experience, they offer a diverse range of laptops from renowned brands like Apple, Dell, HP, and Sony. Each laptop undergoes rigorous testing, ensuring top-notch quality. ALM Wholesale Ltd. stands out for its reliability, extensive product range, and cost-effective solutions, making them an ideal partner for your bulk laptop needs.
Conclusion
Making the decision to buy laptops in bulk is a significant financial commitment that requires careful consideration. While this list provides reputable suppliers for your next bulk purchase, it's crucial to complement your research with reviews, ratings, and feedback from people patronising these suppliers to ensure seamless transactions.
Once you've verified the authenticity of your chosen supplier and are ready to make your purchase, consider partnering with Heroshe. With a proven track record of enabling global commerce, we've assisted over 40,000 businesses and individuals in securely shipping goods from the UK and USA to Nigeria. Rest assured, your items will reach you bearing our emblem of love and swift delivery. Your journey towards seamless bulk laptop acquisition starts here.
---
Enter your email below to join our newsletter