Shipping Delays: 5 Key Causes and How to Avoid Them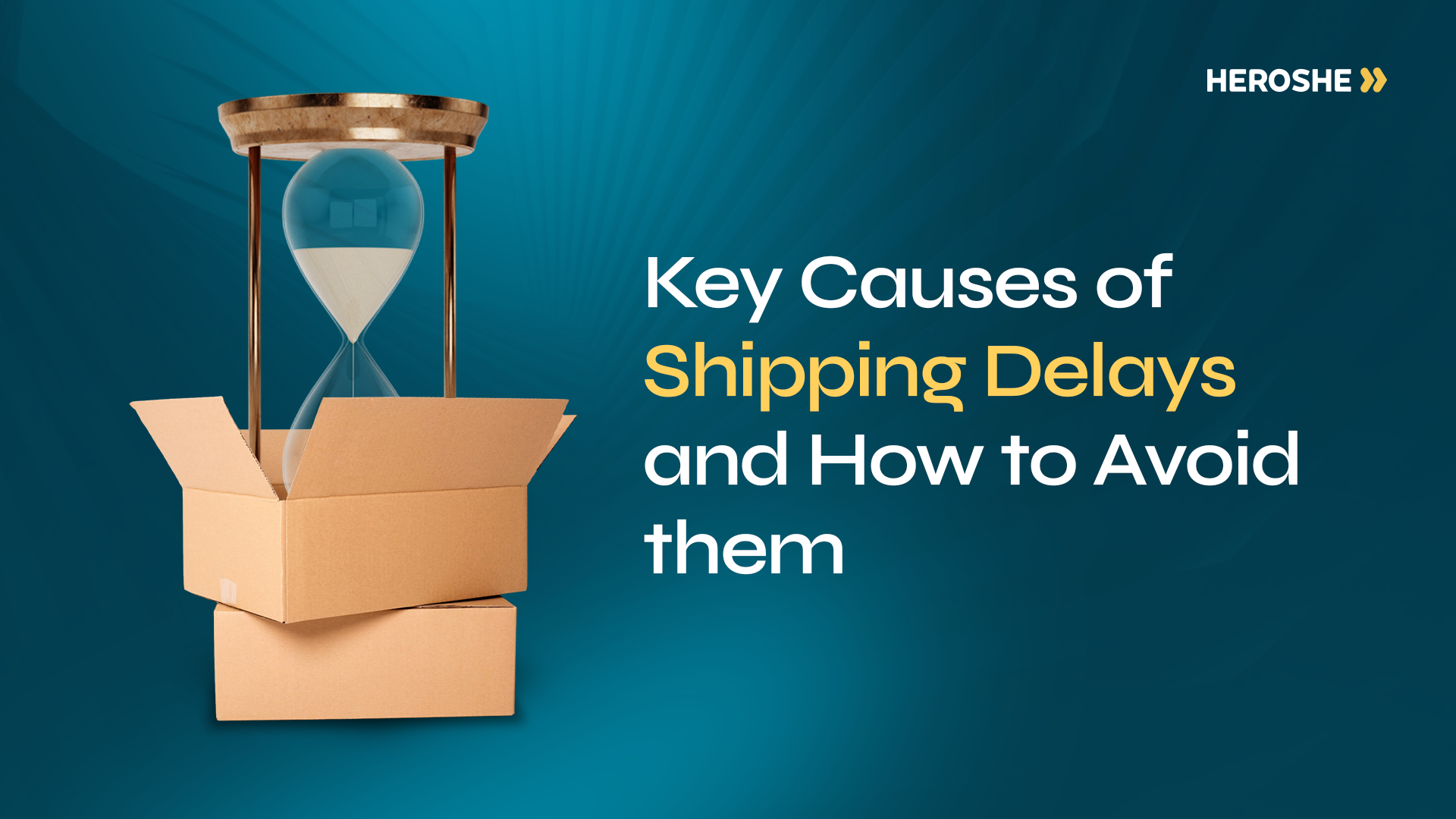 Ahh, my people! You know that feeling when you expect your goods tomorrow, and the next thing you hear is, "Oga, sorry, container no go land till next month"? Despite our best efforts, shipping delays can happen, and when they do, they are not just a minor inconvenience to brush off with a "God dey o." Instead, they can make your customers lose trust in your business and sometimes even lead to its bankruptcy.
Shipping delays might seem like a drag, but with the proper knowledge, you can "navigate" them easily. In this article, you will learn what causes shipping delays and tips to avoid them. Let's get started!
What Causes Shipping Delays?
Shipping delays happen when a shipment takes longer than expected to arrive at its   intended destination. They are an inevitable part of the shipping process and knowing what can cause them can help you take steps to reduce their impact.
Let us take a closer look at the common culprits behind shipping delays:
Global emergencies.
Global emergencies can cause chaos in the shipping industry. Take COVID-19, for example. It affected our health and caused major delays in the delivery of goods. Air and seaports became congested, and the thorough checks of shipments caused delayed shipments.
Do you also remember when the Ever Given blocked the Suez Canal for six days in 2021? It was like a big, stubborn elephant blocking the road. Other ships could not get through and caused global shipment delays, with an estimated $9.6 billion worth of goods held up daily.
As a shipping company, we understand that global emergencies can cause delays. Sadly, we have no control over them, which makes it challenging to predict or prevent their impact on our deliveries. Nonetheless, we are always committed to finding ways to reduce the disruptions and get your shipments to you as quickly as possible.
Weather anomalies.
Bad weather and natural disasters are other major causes of shipping delays. When weather conditions are unfavorable, ships may need to take longer routes, or ships may have to stay in port until conditions improve. This can cause a ripple effect which causes delays. Shipping delays caused by global emergencies can impact ships and air cargo shipments. While planes can fly at high altitudes and avoid many weather disturbances, hurricanes and tropical storms can still affect them.
For example, in 2019, Typhoon Hagibis, one of the most powerful typhoons to hit Japan in decades, caused significant damage to Narita and Haneda airports, two of Japan's busiest airports. The typhoon forced airlines to cancel over 1,000 flights, causing a ripple effect affecting air cargo shipments worldwide.
Peak season.
Receiving packages during the holiday season is exciting, but I have bad news for you. While this is a time of high demand and excitement for businesses and consumers alike, it is also a time of frustration and delays. We refer to this period of high demand for goods, like Christmas and Thanksgiving, as the peak season. You can learn more about the peak period in this blog article.
During peak season, air cargo volumes increase significantly, leading to a strain on resources and capacity. This can result in longer transit times and delayed deliveries. In fact, according to the International Air Transport Association (IATA), air cargo demand increased by 9.4% in 2021 compared to 2020, leading to capacity constraints and delays. This increased volume and staffing shortages, and weather-related disruptions have led to longer delivery times and frustrated customers.
So what can you do to avoid shipping delays during peak season? Planning ahead is key. Start shopping and shipping early, as delays will likely occur closer to the holidays. Consider using a reliable and experienced air cargo carrier to help ensure your shipment arrives on time.
Customs clearance.
If you have ever tried importing items, you might have experienced customs clearance delays. This process involves the Customs ensuring that the goods entering or leaving the country follow all applicable laws and regulations. It can be complex and time-consuming, leading to shipping delays.
According to the European Shippers' Council survey, customs clearance is the second most common cause of shipping delays for air cargo, after capacity constraints. These delays can occur due to incomplete documentation, inspections, and security checks. To avoid these delays, ensure you have all the necessary paperwork. You can also choose to work with a reliable shipper like Heroshe, who has expertise in customs clearance and can help streamline the process.
Congestion at the Airport.
Have you ever experienced the frustration of waiting for your flight to take off because of delays at the airport? The same is true for shipments, as they can also get delayed due to airport congestion. This is a common problem faced by businesses that rely on air cargo shipments to transport goods.
Let me share a personal experience with you. Last year, I ordered a custom-made suit from a tailor based in Houston, Texas. The suit was initially meant to arrive in Lagos in 10 days. Still, it ended up getting delayed for two extra days. The reason? Congestion at the airport.
Due to the high volume of air traffic, the George Bush Intercontinental Airport was facing congestion, causing a backlog of cargo waiting to be loaded onto planes. This led to delays in the flight taking off, resulting in my suit getting delayed in transit.
This is just one example of how airport congestion can cause shipping delays. When airports face congestion, cargo is often delayed as it waits for clearance, inspection, and loading onto planes. This can cause a ripple effect, leading to further delays at the receiving end as cargo arrives late.
How to Avoid Shipping Delays
Plan Ahead.
When it comes to avoiding shipping delays, planning ahead is crucial. It would help if you kept peak shipping seasons in mind, such as the holiday period when shipping volumes are at their highest. By anticipating these peak periods, you can ensure the logistics and resources are in place to handle the increased demand.
Working with multiple carriers is one way to prepare for peak shipping periods. This ensures that you have backup options in case one carrier experiences delays or other issues. It also provides more flexibility and can help you find the most cost-effective shipping solutions for your business. By being proactive and planning ahead, you can ensure that your shipments arrive on time and avoid the headaches of shipping delays.
Manage Customer Expectations.
Managing customer expectations is crucial to avoid the economic impact of shipping delays. Customers like to be informed, so you should provide real-time tracking and communication throughout shipping.
This includes regular updates on their orders' status, potential delays, and issues that may arise. Keeping customers in the loop can help them feel more in control and reduce the risk of frustration and negative reviews.
Set Realistic Delivery Estimates.
Another way to manage customer expectations is to set realistic delivery estimates. During peak shipping periods, such as the holiday season, consider potential delays and adjust your estimated delivery times accordingly. This can help avoid disappointment and frustration for your customers while reducing the risk of cancellations or lost sales.
Use Reliable Shipping companies.
Using a reliable shipping company can make all the difference in getting your orders to your customers on time. A good shipping company has a track record of delivering packages quickly and efficiently. This not only helps ensure that your customers receive their orders on time, but it also helps build trust and loyalty with them.
This is where we come in.
At Heroshe, we understand the importance of timely and efficient shipping. That is why we offer reliable and affordable shipping services that you can count on. With our shipping processes, you can rest assured that we will deliver your products to your customers on time, every time.
Don't let shipping delays damage your reputation and bottom line. Choose Heroshe as your reliable shipping partner and experience the peace of mind of knowing your packages are in good hands. Contact us today to learn more and sign up for our services!
---
Enter your email below to join our newsletter