15 Best Productivity Apps Every Nigerian Business Owner Should Have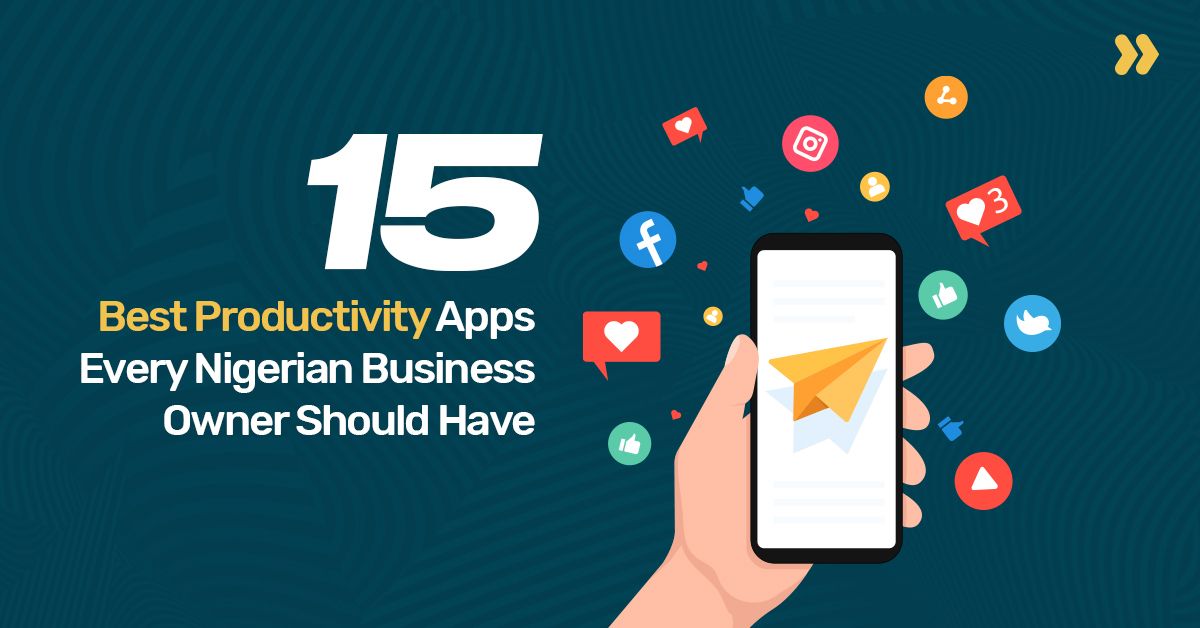 Are you a Nigerian business owner struggling to be productive? There is an app for that!
The struggle to stay on task gets harder if you have a 9-5 job, a family, or other obligations. Having a healthy work-life balance or sticking to New Year resolutions becomes nonexistent. I know this because when I started my sneaker business, I had a toddler and a job as a product manager. It was hard to combine my duties as a mom, product manager, and business owner since I was constantly distracted. Imagine waking up at 2 am to schedule outbound deliveries, but I end up rocking a crying baby to sleep instead. My dear, hard was an understatement!
At the time, I relied heavily on email to manage my business projects and had to make many calls to get simple information like the inventory of goods. This took a mental toll on me, but the pandemic brought a silver lining: the popularity of productivity software.
With the help of productivity apps (and a maid), I was able to juggle my many duties effectively. With a couple of clicks on my laptop, I knew the number of raw materials I had left in the Sango factory even though I lived in Surulere. This increased my productivity and I was able to build a viable business while being a working mother. I hope the ones listed below help you too.
This article contains my pick of the best 20 productivity apps to help you get more tasks done daily. These apps have been consistent in helping me get more work done from 2020 to date. They are different and take different approaches to improving your workflow.
So, let's get started.
1. Todoist (Windows, Mac, iOS, Android, Chrome, Safari, and Firefox)
Todoist is a task management app that allows you to manage complicated to-do lists. It helps you keep track of responsibilities and make sure you don't forget anything.
Key features
Task management: A slick, feature-rich interface that makes creating and managing tasks simple, no matter how long your to-do list is.
Prioritize tasks: Prioritizing tasks allows you to complete the most important tasks first.
Project goals: Set project goals and make sure you're on track throughout.
Reports: Keep track of your progress with Todoist's measurement and reporting features.
2. Trello (Windows, Mac, iOS, Android, and web)
Trello is a simple project management app built on the Kanban board philosophy for collaboration teams. This works by adding and organizing tasks to "to-do," "going" and "done" statuses. This helps the team track their progress.
Key features
Project management: Trello is a simple, easy-to-use project management app for collaborative teams.
To-do lists: Create to-do lists, add due dates, assign them to people, and manage tasks as they're completed.
Trello boards: Dashboards where you can create and manage lists of cards containing tasks and to-do lists.
Work with anyone: Invite people from all over the world to assist you in making things happen.
Instant messaging: Talk to team members in real-time to discuss tasks.
3. Slack (Windows, Mac, iOS, Android, and web)
Slack is a messaging platform built to communicate with all team members. Team members can discuss in public or private channels that other team members can join.
Key features
Instant messaging: Live communication between every team member for seamless collaboration.
Statuses: Users can set availability statuses to focus on individual tasks as needed.
File sharing: Drag-and-drop file sharing for PDFs, images, videos, and other common file types.
Huddle: Direct voice and video calls from within Slack.
Screen sharing: This allows team members to show their work to others in real time for stronger collaboration.
4. Airtable (Mac, Windows, iOS, and Android)
Airtable's designers built it around the spreadsheet format, and this is awesome if you have experience using Excel. The Airtable spreadsheet interface allows you to create and assign tasks and add attachments without learning formulas and functions.
Key features
Project management: Airtable turns spreadsheets into a fully-featured project management tool.
Dynamic fields: Turn fields into checkboxes or add links, attachments, and text notes to fields.
Views: Manage projects in multiple views—grid, gallery, calendar, and Kanban.
Team collaboration: Team members can interact with projects, update task statuses, add messages, and prioritize their workflows.
5. Taskade (Mac, Windows, iOS, Android, and web)
Taskade is a project management tool that converts the to-do list concept into a visual platform to track the progress of projects and tasks. You have access to many views that you can toggle to see the general progress.
Key features:
Project and task management features with multiple views for team members to keep track of progress.
Live collaboration: edit projects in real-time and communicate via live chat.
Keep track of tasks across multiple teams and workspaces using the Team Calendar.
Team roadmap: Plan and manage projects by visually assigning tasks and setting deadlines.
6.  Calendar (Web)
You are probably thinking: Why do I need another calendar app when I have Google Calendar? Google Calendar is great, but Calendar gives you more advanced features. It syncs all your calendars into one interface, provides analytics, and lets you schedule meetings easily.
Key features:
One calendar: Calendar integrates with all your calendars (Google Calendar, Outlook, etc.) to keep everything in one place.
Synced events: Create events in Calendar or create them in your other calendar apps – they'll always be synced.
Easy scheduling: Schedule team meetings without the usual email back and forth.
Calendar provides analytics reports to help you boost productivity.
Meeting transcriptions: automatic transcripts of your meetings.
7. Pocket (Mac, Windows, iOS, Android, and web)
Pocket is a wonderfully simple productivity app that simply lets you save web pages for reading later. To be honest, it is a little more than a bookmarking app, but it really makes a huge difference to how you work.
When you come across an interesting or useful article with no time to read it, Pocket is there for you. All you have to do is save the URL of the page, assign a category and build a collection of resources.
Key feature
Save web pages for reading when you have time or need them.
It may only have one key feature, but I find myself using it every day. The best part is that it is totally free.
8. Loop – Habit Tracker (Android)
Many productivity apps try to prevent you from allowing bad habits to distract you from work, but Loop takes a different approach. The aim of the app is to help you spend your time forming beneficial habits. This could be spending more time reading, decluttering your inbox, or playing catch with the kids. Regardless of the habit you want to improve, Loop will help.
Key features
Set targets for the things you want to spend more time doing.
Set specific times and dates or weekly schedules to make your goals more achievable.
See how you're doing with individual habits or overall with your habit score.
Detailed graphs and statistics to help you keep track of your habits and track your progress over time.
Set reminders to keep you in check during moments of weakness.
9. Forest (Available on iOS and Android)
Forest is a personal favorite because of its quirkiness. The productivity app aims to reduce the time you spend on your phone. In fact, the app gamifies time away from your mobile devices. How does it do this? When you choose the focus option on the app, you "plant" a tree that grows in direct proportion to the time spent away from your phone. If you leave the app during this mode, the tree dies. If you spend enough time away from your phone, you can grow an entire forest.
Key features
Productivity: Spend less time on your mobile devices and see the progress in the form of digital trees.
Gamification: Forest adds a bit of fun to the chase for better productivity.
Grow actual trees: No other app on this list is going to help you plant actual, real-life trees.
10. Notion (Mac, Windows, iOS, and Android).
Notion calls itself "the missing half of Slack," which integrates perfectly to create a single location for all the resources important to your team.
Key features
Create and share documents, notes, and media files with Notes & Docs.
Create a central knowledge base of essential information and guidelines for all team members.
Highly customizable Kanban boards and calendars that adapt to your work.
File sharing is intended for concentrated writing, simple editing, and rich media.
Work on tasks together in real time.
11. Serene (only available on macOS)
Serene is a productivity app designed to help you get organized and improve your working habits. The app was designed based on research that shows that working in short power bursts increases concentration levels.
12. Habitica (available for iOS, Android, and the web)
Habitica is a unique to-do list app designed to help form better habits when you are away from your computer. The app gamifies the to-do list experience by giving points and bonuses to your character whenever you complete tasks on your list. The more points your avatar wins, the more in-game features you can unlock.
Key features
Habitica turns to-do lists into mobile game experiences.
Habits: Schedule good habits you want to develop or bad habits you want to overcome.
Create your own avatars to progress through your gamified to-do lists.
Earn points for completing tasks and developing good habits, level up your avatar, unlock new features, and earn in-game rewards.
Join other Habitica users to fight monsters with your avatars.
13. Mindful Browsing (Only in Chrome)
Mindful Browsing is a free, open-source extension for Chrome that helps you become more productive by giving you a little dose of self-restraint. The extension does not stop you from visiting websites; it instead asks if you want to proceed.
You can create tasks and the extension will remind you of them until you complete them. When you get the reminder, you have the choice of completing the tasks or staying away.
Key features
Website interruptions: A page asks you if you're sure you want to proceed to websites you've listed as potential time-wasters.
Reminders: Mindful Browsing will remind you after 10 minutes on listed sites that you might want to get back to the task at hand.
No tracking: Mindful Browsing doesn't track your online activity.
Open source: You have full access to the code, so you can confirm you're not being tracked.
14. Noisli (available on the web, as a Chrome extension, on iOS, and on Android)
Noisli is an online app that plays different sounds that help you relax and focus on work. The playlist includes sounds of the rainforest, ocean, rain, and birds. You can also create your own playlist.
Key features
Random: Cycles through a set of extended loops at random.
Loops recorded specifically for the purpose of helping you relax.
A playlist of sounds to give you a little productivity boost.
15. Clockify (Windows, Mac, Linux, Android, iOS, and web)
Clockify is a time-tracking software that helps you improve your productivity. The app lets you show your clients how much time you have spent working on their projects. As a business owner, you can also use it to review the activities of your staff.
Key features
Time tracker: log in your time by using a timer or add your working hours manually. You can mark the hours as billable or non-billable and assign them to a certain project.
Timesheet: you can review different weekly activities that you've added (project X, lunch break, vacation time) and take a look at the total time per activity/day.
Monitor the time you spend on various projects and track the progress of the project.
Invite your team to Clockify, so they can also log in the time they spend on numerous tasks.
Dashboard: thanks to this amazing option, you can see a summary of your last week, month, or year. It contains all entered projects, total billable hours, as well as what your team has been working on.
Reports: another visually appealing overview where you can review tracked hours and group them by activity, user, or day. The best part is that you can share the reports with your clients and also export these reports into CSV, PDF, or Excel.
Experiment and Choose the Apps that Work Best for You
We have now come to the end of the article. That is my pick of the best apps designed for time management and productivity. You may not get all the tools you need for your business in this article, but I am confident you will make good headway from the suggestions. It is now up to you to check out the apps and choose the ones that work best for you.
Need more productivity tips? Subscribe now to the Heroshe blog for weekly tips to grow your business.
---
Enter your email below to join our newsletter