10 Brands You Will Love More Than ASOS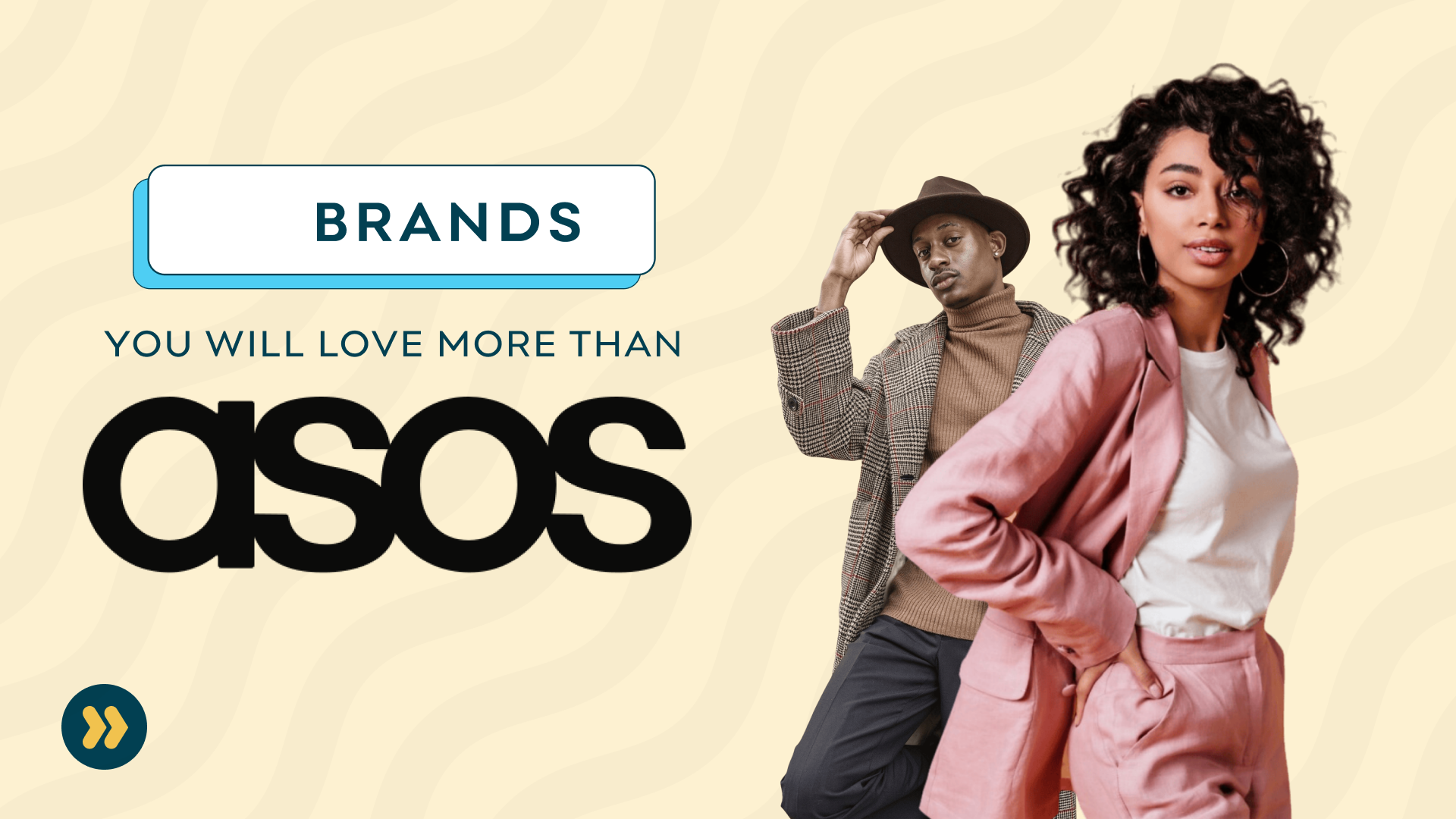 Are you a boutique owner in Nigeria or Ghana? Do you regularly source clothing from UK online stores? Are you tired of ASOS and want something different? Then, you are not alone. The famous British fashion store offers a wide range of clothing and accessories and has become a beloved fashion destination for many. However, if you are like Rita and are looking for more variety and budget-friendly options for your boutique, today is your lucky day!
In this article, we will explore 40 ASOS alternatives that cater to the needs of Nigerian and Ghanaian shoppers. While ASOS is undoubtedly popular among consumers, we understand that it might not always be the best fit for you. That's why I researched the UK fashion scene to provide the best ASOS alternatives for your business. These brands offer a high-quality clothing selection to rival ASOS at a rate friendlier to your company's bank account.
Let's get started.
What Are The Best ASOS Alternatives?
Rita's quest to find the perfect blend of stylish clothes at wallet-friendly rates has taken us on an exciting journey to find the best ASOS alternatives. These are online stores like ASOS, where you can find many different styles, brands, and prices. Whether you are a savvy business owner, a smart shopper, or want to try something new, these websites have a little something for everyone.
We have provided their websites and the top reasons to love them. Here they are:
5PoundStuff
5poundstuff is a unique online retailer that has revolutionized how people shop for fashion and household items. With a steadfast commitment to delivering exceptional quality without breaking the bank, they have garnered a loyal following of savvy shoppers.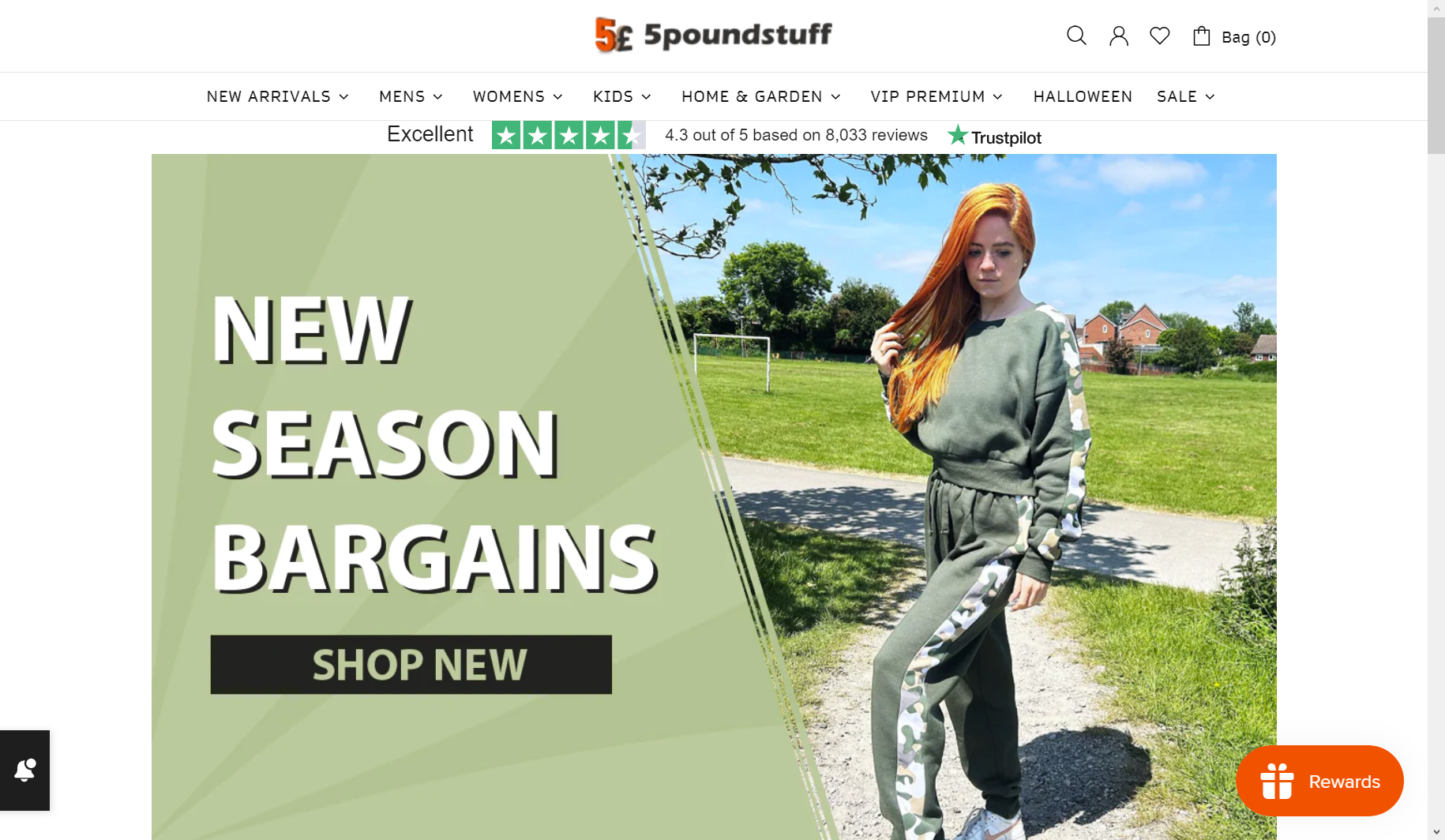 Here are three reasons why you might find yourself falling in love with 5poundstuff more than ASOS:
Unbeatable Value: At 5poundstuff, their mantra is clear: quality shouldn't come at an exorbitant price. They have perfected the art of offering high-quality products at astonishingly affordable rates. By partnering directly with suppliers worldwide and eliminating the middleman, 5poundstuff cuts down on unnecessary costs, passing on the savings to their customers. This means you can enjoy stylish clothing, footwear, and household items without emptying your wallet.
Constantly Updated Selection: 5poundstuff differs from your typical UK online store with stagnant inventory. Their dedication to staying ahead of trends means you will always find the latest fashion and household items. They update their website daily, ensuring it is brimming with hidden gems that cater to your evolving tastes and needs. Keep an eye on their active social media platforms and visit their site for exciting announcements on new arrivals.
Exceptional Customer Quality: 5poundstuff strongly emphasizes providing exceptional customer quality. Their dedication to customer satisfaction extends beyond affordable prices and trendy products. Their customer-centric approach includes reliable shipping options and responsive customer support. You can shop confidently, knowing that your shopping experience is their top priority.
Shein
Shein is a popular UK clothing store and is very popular in the fashion world due to its stylish and affordable clothing. They offer many fashionable clothes, accessories, and beauty items.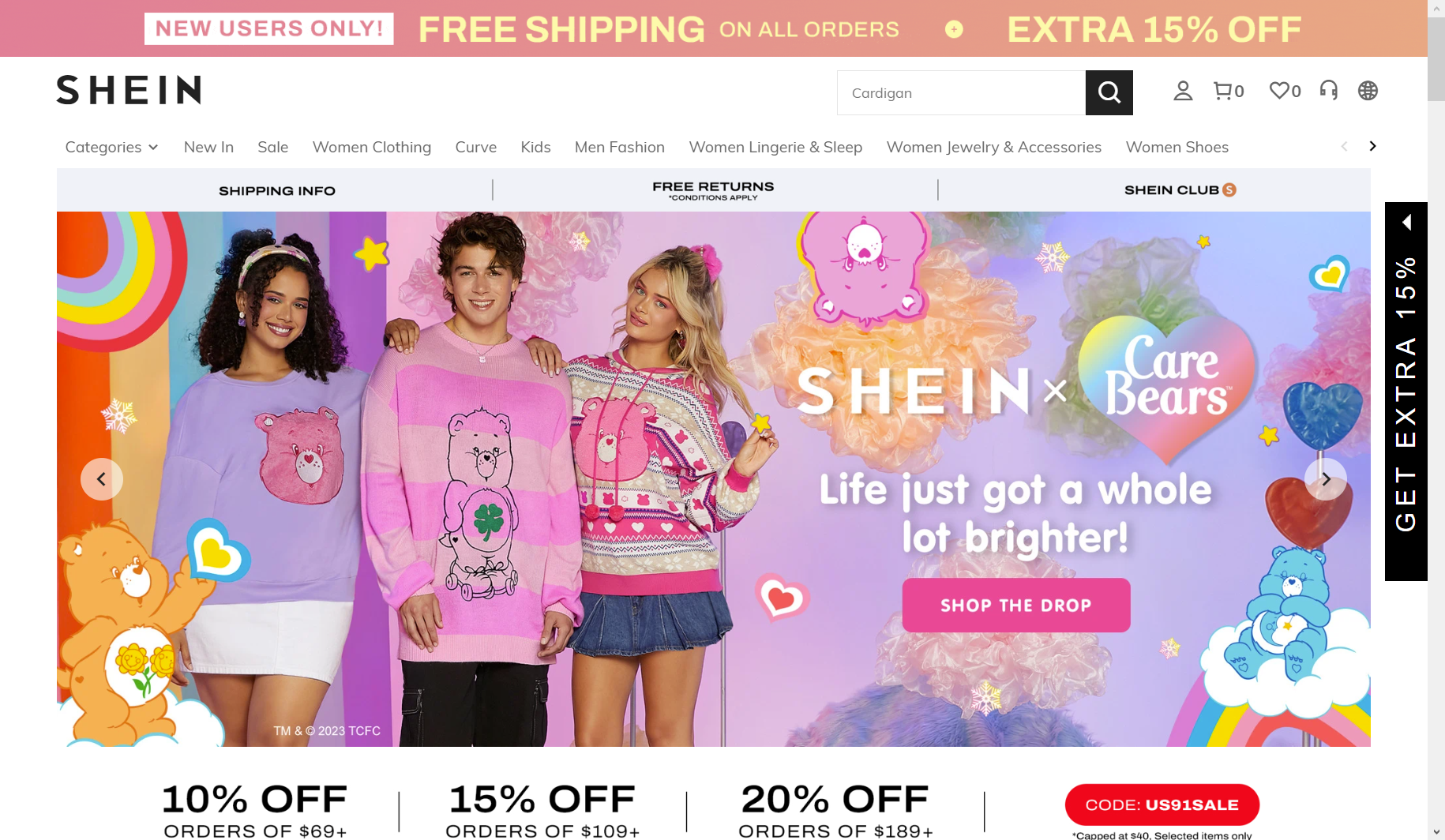 Here are three reasons you will love Shein for your fashion needs instead of ASOS.
Unbeatable Prices: Shein's commitment to providing fashion at unbeatable prices sets it apart from the competition. The brand's dedication to affordability is consistent with style and quality. From chic dresses to trendy activewear and accessories, Shein offers a vast selection of trendy clothes and accessories at affordable prices.
Trend-Setting Variety: Shein stays ahead of the curve when it comes to fashion trends. With an ever-evolving inventory that keeps up with the latest styles, you can count on Shein to have what you are looking for. Whether you are into boho chic, streetwear, or classic elegance, Shein's diverse catalogue ensures you find clothing and accessories that cater to your unique taste. Plus, the brand frequently collaborates with influencers and designers, resulting in exclusive and one-of-a-kind collections.
Inclusive Sizing and Fit: Shein understands that fashion should be accessible to all, regardless of size or body type. That's why they offer an extensive range of sizes to cater to diverse customer needs. From petite to plus-size options, Shein ensures everyone can find comfortable clothing that flatters their body. Their commitment to inclusivity extends beyond just sizing; Shein also provides detailed size charts and customer reviews to help you make informed choices, ensuring a better shopping experience.
Boohoo
Boohoo is a trendy British online fashion store for people aged 16 to 30. They started in 2006 and made a lot of money in 2022 - $2.65 billion! Boohoo sells stylish clothes for women and men so you can always look cool. They have a big selection of women's stuff like dresses, tops, warm clothes, and even shoes and accessories.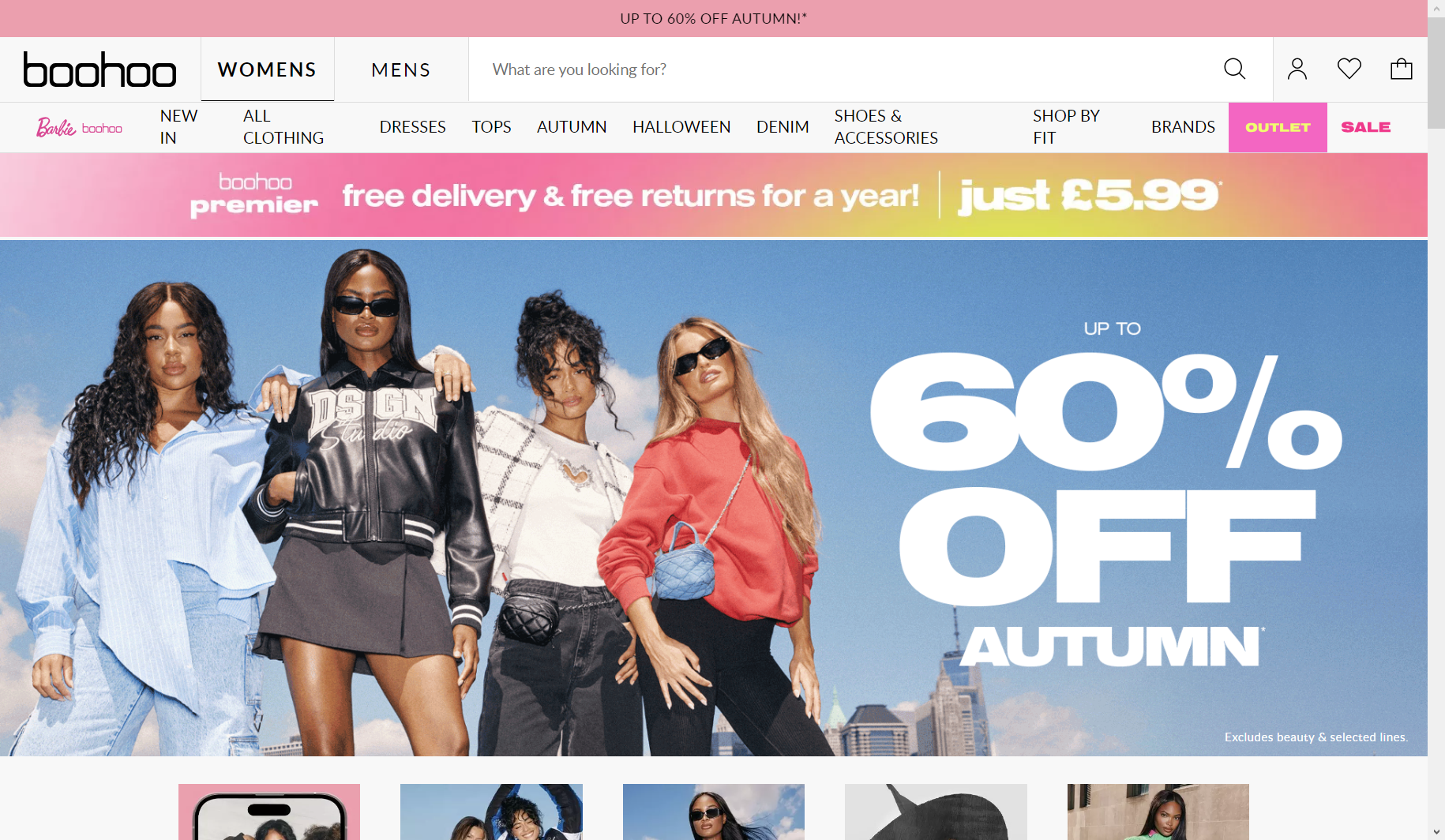 Now, here are three good reasons to like Boohoo more than ASOS:
Great Prices: Boohoo gives you the latest fashion without making you spend a lot. Their clothes are affordable, so you can buy new things without emptying your wallet. It means you can always try out new styles.
For Everyone: Boohoo has clothes for all sizes and types of people. They believe that fashion should make everyone feel good, no matter your shape or size. They show this in their ads and the clothes they sell.
Fast Fashion: Boohoo is super quick at catching new trends. When something's hot in fashion, Boohoo gets it to you fast. That means you can be in style right when things are cool.
Zara
Zara is a Spanish fashion retailer known for its high-quality clothing and accessories. With a focus on the latest trends and a commitment to quality, Zara offers fashion enthusiasts a wide range of stylish options. While not based in the UK, Zara has a strong online presence and is loved by many UK shoppers. Zara is an excellent alternative to ASOS to elevate your style with high-quality pieces.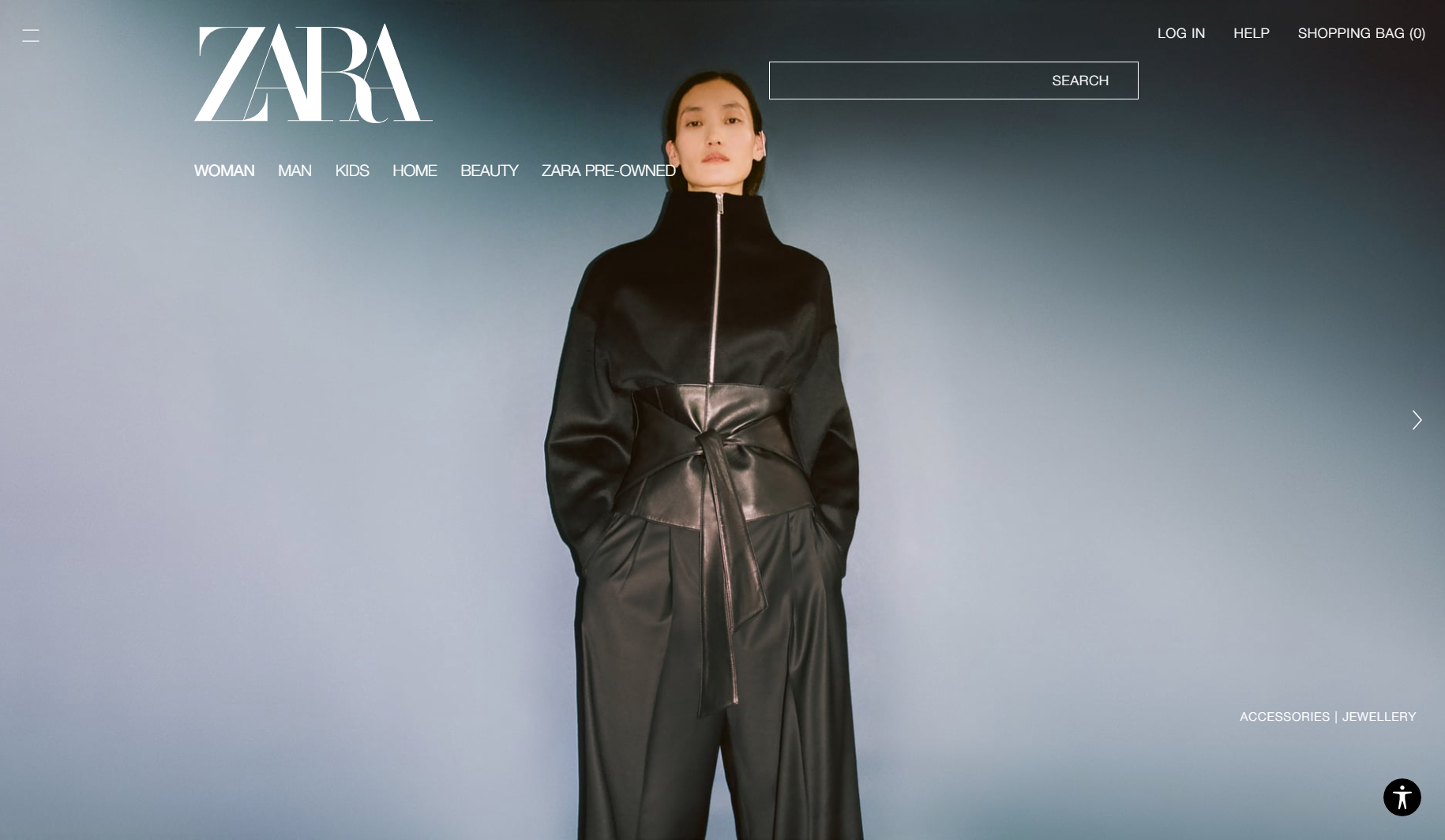 Here's why it is a great alternative to ASOS:
Timeless Elegance: Zara has timeless and elegant designs that can effortlessly transition from season to season. Their pieces often have a classic appeal, allowing you to create a versatile wardrobe filled with items that remain stylish year after year. If you appreciate enduring fashion that doesn't go out of style quickly, Zara is the brand for you.
Attention to Detail: Zara pays meticulous attention to the details of their clothing and accessories. This commitment to quality is evident in the craftsmanship of their products. From well-sewn seams to carefully chosen fabrics, Zara's dedication to excellence ensures that your purchases provide value for your money.
Global Influence: Zara's Spanish origin gives it a unique European flair that differentiates it from ASOS. Their designs often reflect international fashion trends, allowing you to infuse your wardrobe with a touch of European style. If you're looking for fashion that carries a global influence, Zara provides a distinctive alternative to ASOS.
H&M
H&M has long been a favorite among fashion enthusiasts looking to level up their fashion sense and wardrobe without breaking the bank. With a wide range of clothing for men, women, and kids, H&M is the perfect destination to curate a fashionable wardrobe on a budget. If you can't find an outfit on ASOS, you will likely find it on H&M.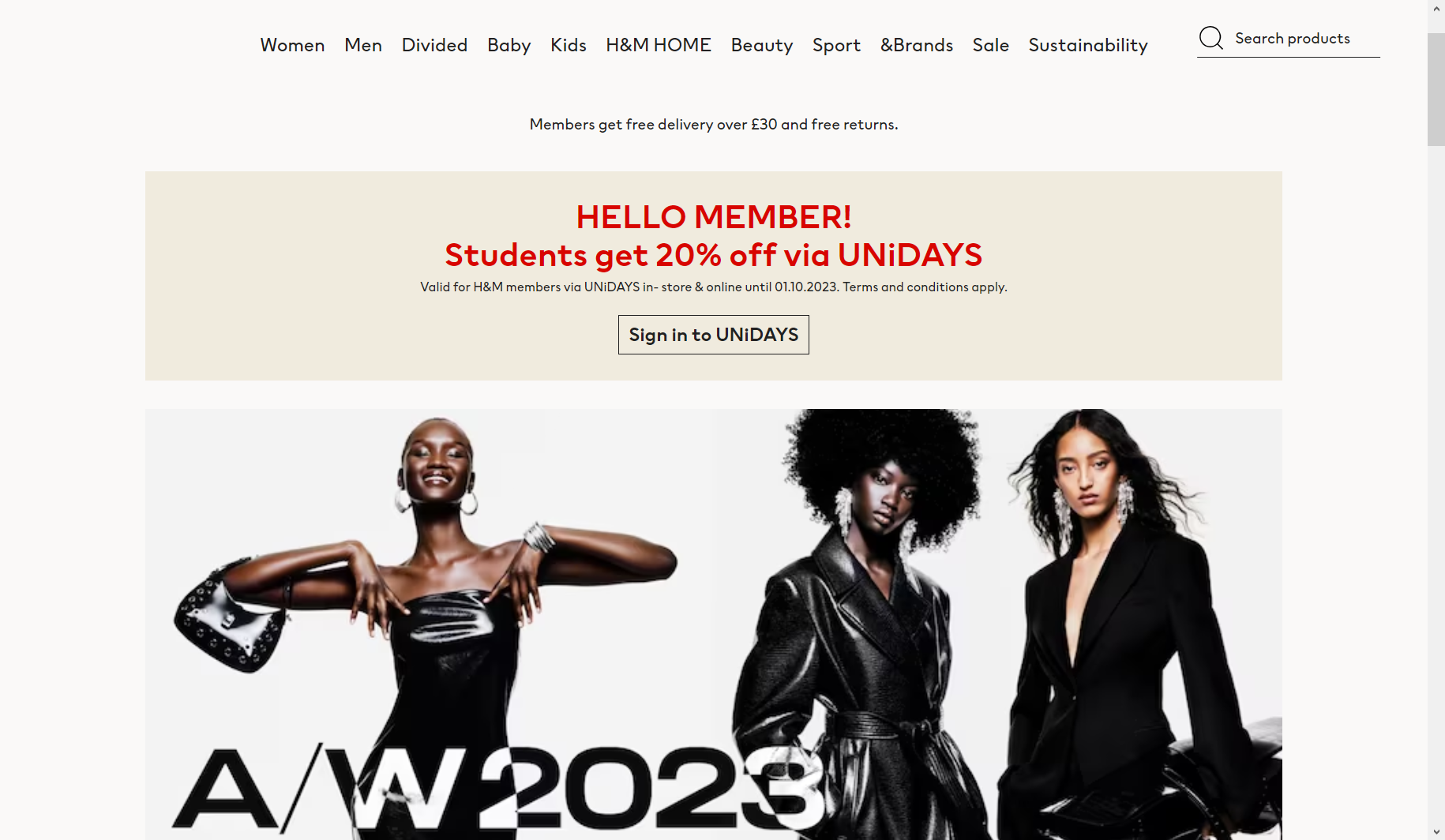 Their prices are typically lower than ASOS, offering stylish pieces for every occasion. H&M is also committed to sustainability and provides a range of eco-friendly clothing options. Here are three more reasons why you may love them more than ASOS:
Affordable Fashion: H&M gives you trendy clothes without costing too much. It's perfect if you want a stylish wardrobe without spending a lot.
Eco-Friendly Options: H&M cares about the environment and has clothes made from eco-friendly materials. If you want to be kind to the Earth, H&M has options.
Special Deals and Fashion Tips: When you sign up for H&M's newsletter, you get special deals and learn about the latest fashion trends. This helps you stay stylish without overspending.
NastyGal
NastyGal started small in San Francisco, but now it's big in Los Angeles. They offer trendy and affordable fashion for confident women who like to be themselves. Suppose you are a fashion-forward individual who loves to embrace your inner badass. In that case, NastyGal is the perfect online store for you.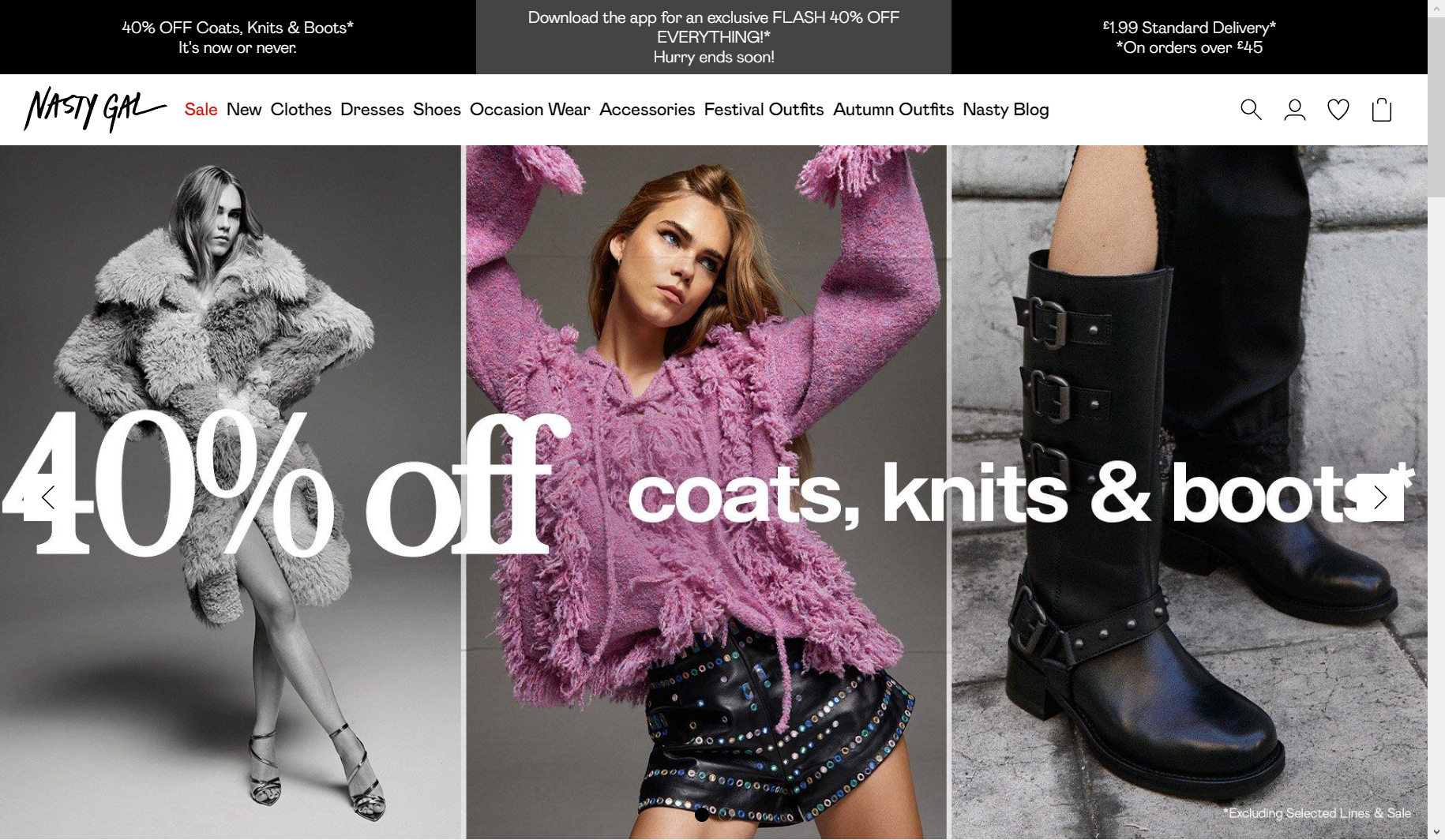 With a collection of clothing and accessories similar to ASOS, NastyGal has edgy and trendy styles that are always on point. Whether you are looking for a statement piece or everyday essentials, you will find it at NastyGal. They often have sales, so you can snag your favorite items at even lower prices!
Here are three reasons why you might love Nasty Gal more than ASOS:
Confidence and Style: Nasty Gal empowers women to express themselves with bold fashion choices. They have cool and edgy styles that match the latest trends. Whether you want a standout outfit or everyday clothes, Nasty Gal's got it.
Affordable Fashion: Like ASOS, Nasty Gal offers trendy clothes and accessories. What makes them stand out is their affordable pricing. You can look great without spending a fortune. They also often have sales, so you can get your favorite items for even less.
Celebrating Individuality: Nasty Gal is more than just a store. It's a place to be yourself and show off your unique style. It's about embracing your inner confidence and expressing it through fashion. When you shop at Nasty Gal, you're on a journey of self-expression and self-discovery.
Pretty Little Thing
Pretty Little Thing believes everyone should be able to look stylish, no matter their budget. They take inspiration from fashion runways and trendy celebrities to offer you the latest looks. They don't just provide clothes; they have become experts in fashion and beauty.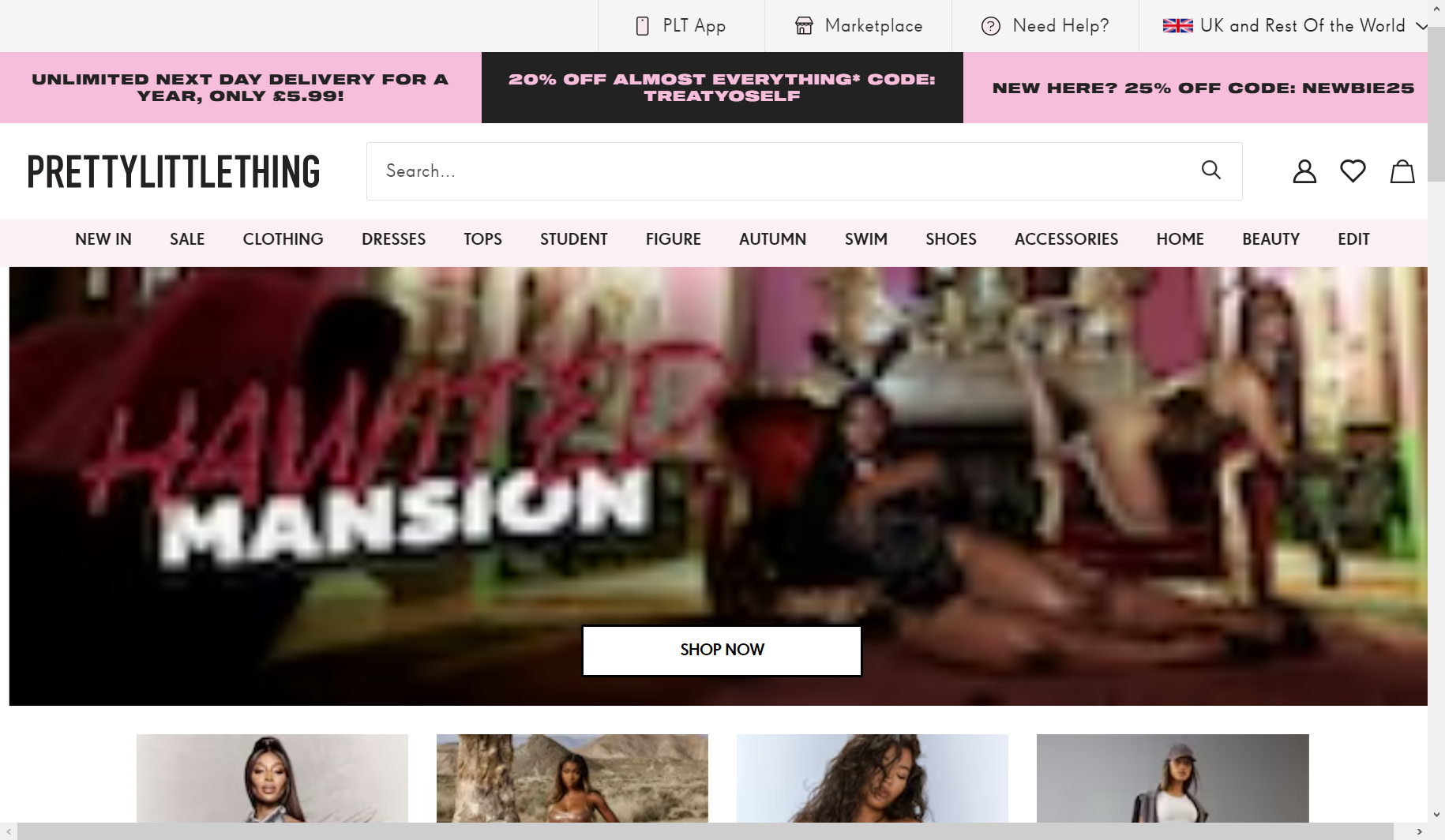 Here are three reasons why you may love Pretty Little Thing better than ASOS:
Trendy Choices Every Day:
They are excellent at giving you the latest fashion trends and celebrity-inspired styles. They update their collection daily, so you can always find what's in. Whether you want to stand out or keep it simple, they've got it all.
Affordable Fashion:
The best part is that Pretty Little Thing offers these stylish choices at prices that won't hurt your wallet. You can stay fashionable without spending too much. This makes it a fantastic choice for anyone looking to dress well without spending much money.
Boost Your Confidence:
Pretty Little Thing isn't just about selling clothes; they are all about making you feel good. They want you to feel confident in what you wear. Whether you prefer a sexy or a more subtle look, they have something for you.
Revolve
If you are a Nigerian boutique owner looking to offer your customers a premium shopping experience with a diverse selection of designer brands, Revolve is your go-to choice. Based in Los Angeles, they provide a curated collection of the world's most coveted brands of men's and women's designer apparel, shoes, and accessories. From athleticwear to denim and dresses, you will find everything you need to elevate your wardrobe.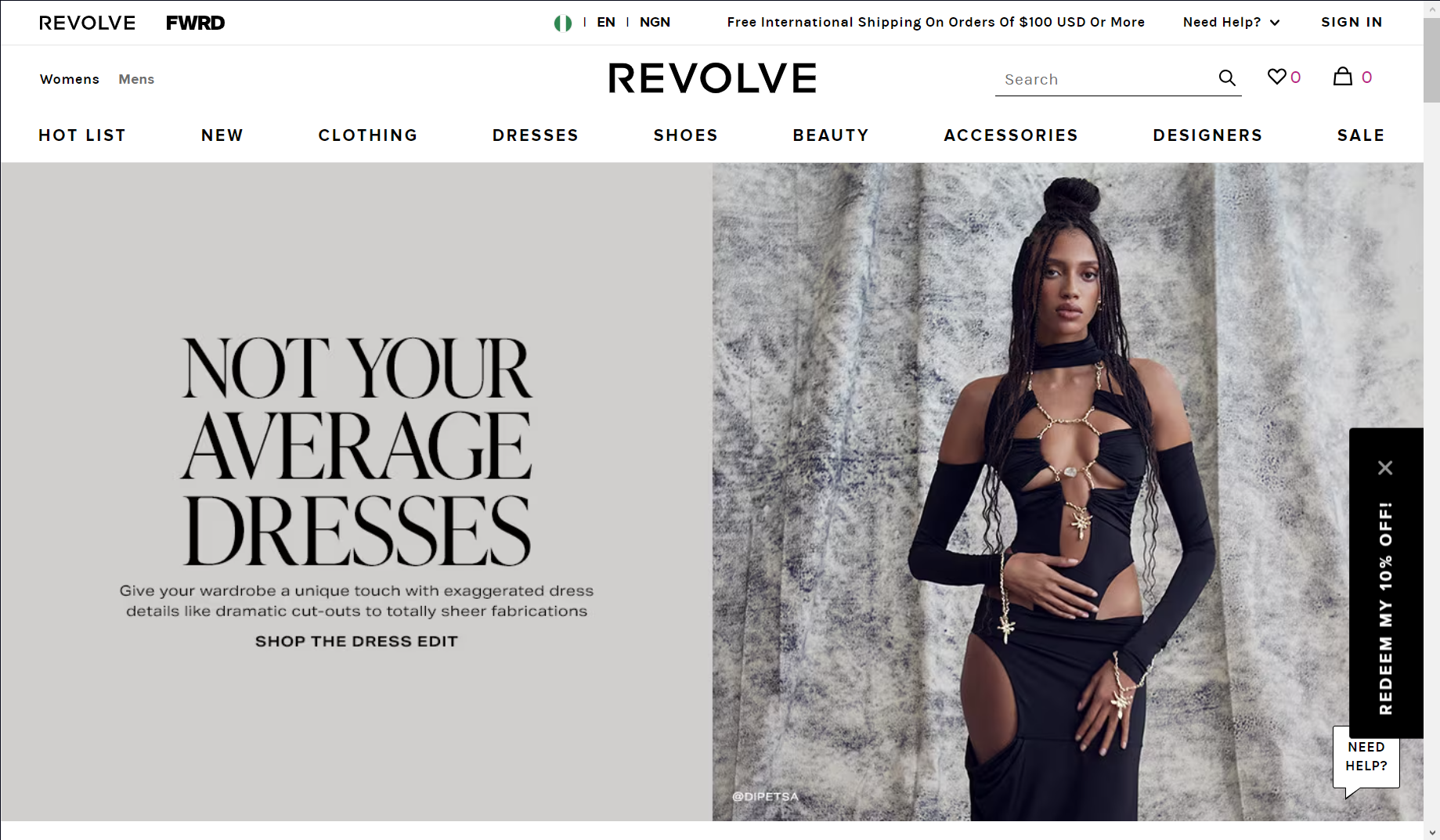 Here's why you should pick Revolve over ASOS for your boutique:
Fantastic Collection of Top Brands: Revolve has a special collection of the best brands in the world. They have everything from sporty clothes to jeans and dresses. So, if you want to make your boutique stand out, Revolve has the coolest stuff.
Prices for Everyone: Revolve is a bit more expensive on average than ASOS, but that doesn't mean they're only for rich people. They also have things that are affordable for everyone. So, whether your customers like fancy stuff or need something within their budget, Revolve has got you covered.
Modern Fashion Shop: Revolve is not your regular online store. It's super modern and loved by young people. They have many different clothes, shoes, and makeup to choose from - more than 49,000 styles! Plus, they are connected to millions of fashion fans and influencers. They are really good at using technology to make shopping fun. So, if you want to stay up-to-date and offer trendy things in your boutique, Revolve is the way to go.
French Connection
If you appreciate classic and timeless fashion, you will love French Connection. This British brand offers a fashion-forward clothing range with a quirky spin on design. French Connection prides itself on quality and affordable prices, making it a great alternative to ASOS for those who love classic pieces. While their price point is a bit higher, the selection of classic items at French Connection is sure to impress.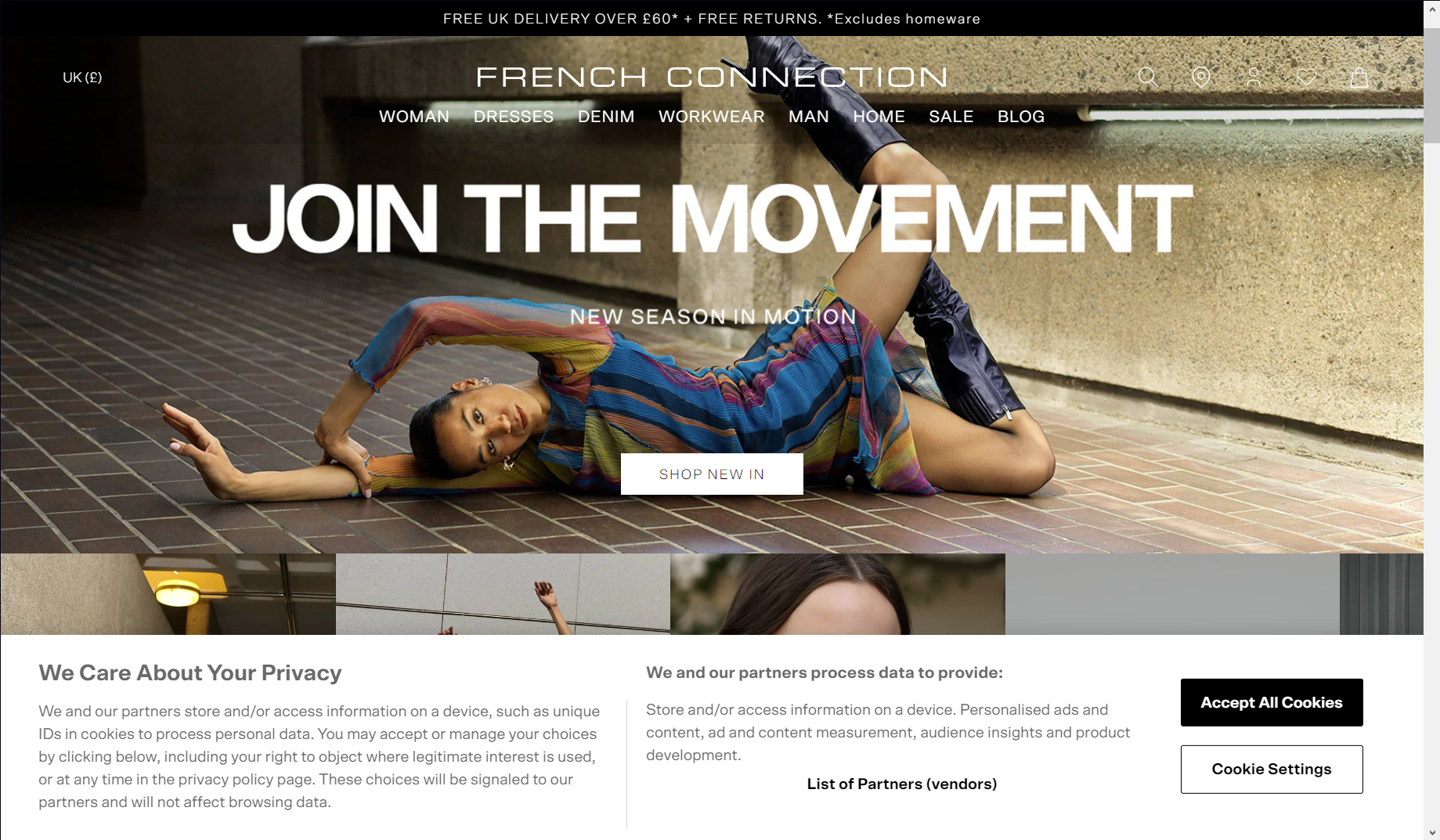 Here are three reasons why French connection is a good ASOS alternative:
If you like timeless and classic fashion, here are three reasons why French Connection is a great ASOS alternative:
Unique Style with a Classic Touch: French Connection offers classic clothes with a twist of creativity. They add a bit of uniqueness to their designs, making them stand out from ASOS. If you want elegant and a little different clothing, French Connection is a great choice.
Top-Quality Clothes: French Connection makes clothes that last. They pay close attention to how they make their clothes, so you can be sure that what you buy will stay in great shape for a long time. Even though ASOS has a lot of options, French Connection's focus on quality means you get more value for your money.
Affordable Elegance: While French Connection might cost more than ASOS, it's still budget-friendly for those who want classic and elegant clothing. Their pieces, like dresses, coats, and suits, look good and come at reasonable prices. So you can have a stylish wardrobe without overspending.
Mango
If you are looking to dress to impress, Mango is the online store for you. This trendy clothing fashion company from Barcelona, Spain, offers many contemporary pieces that are perfect for both everyday wear and special occasions. Known for their business casual attire, Mango provides a wide variety of clothing that would work well in many offices. With a price point similar to ASOS, Mango combines quality and affordability to deliver stylish fashion options for every fashionista.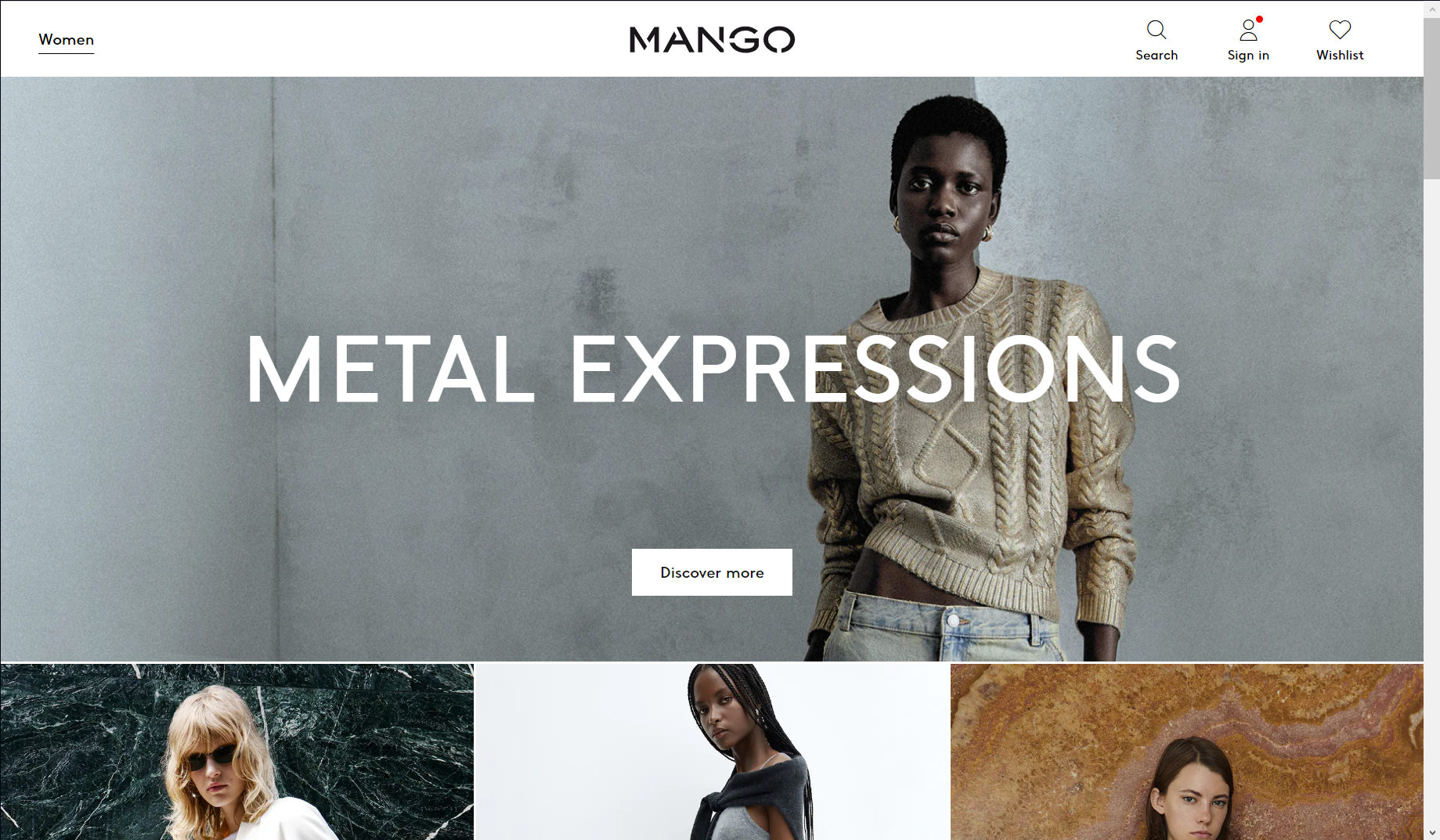 Here are three reasons to love Mango more than ASOS:
Chic and Versatile Styles: Mango offers trendy clothing for everyday wear and special events. Their contemporary pieces cater to various fashion needs, making it easy to dress to impress for any occasion.
Great for Business Casual: Mango is popularly known for its business casual attire, making it an excellent choice if you need professional yet stylish clothing for the workplace. They provide a wide range of options that are office-appropriate and fashionable.
Quality and Affordability: Like ASOS, Mango balances quality and affordability. You can expect well-made fashion without breaking the bank, making it a budget-friendly choice for fashion enthusiasts looking for stylish options.
Related: A Comprehensive Guide To Ship From ASOS to Nigeria
Heroshe: Your Trusted Partner For Shipping ASOS Alternatives to Nigeria and Ghana
Looking for a seamless way to ship your favorite fashion finds from the best ASOS alternatives to Nigeria? Look no further than Heroshe! We specialize in hassle-free shipping, ensuring you get your desired styles delivered right to your doorstep.
Here are some of the benefits you enjoy when you choose Heroshe:
Affordable Shipping Rates
One of the most remarkable features of our service is the incredibly low shipping rates. Customers can ship their desired items for just $8 per pound, a fraction of the cost associated with traditional shipping methods. This affordability opens up a world of possibilities for you.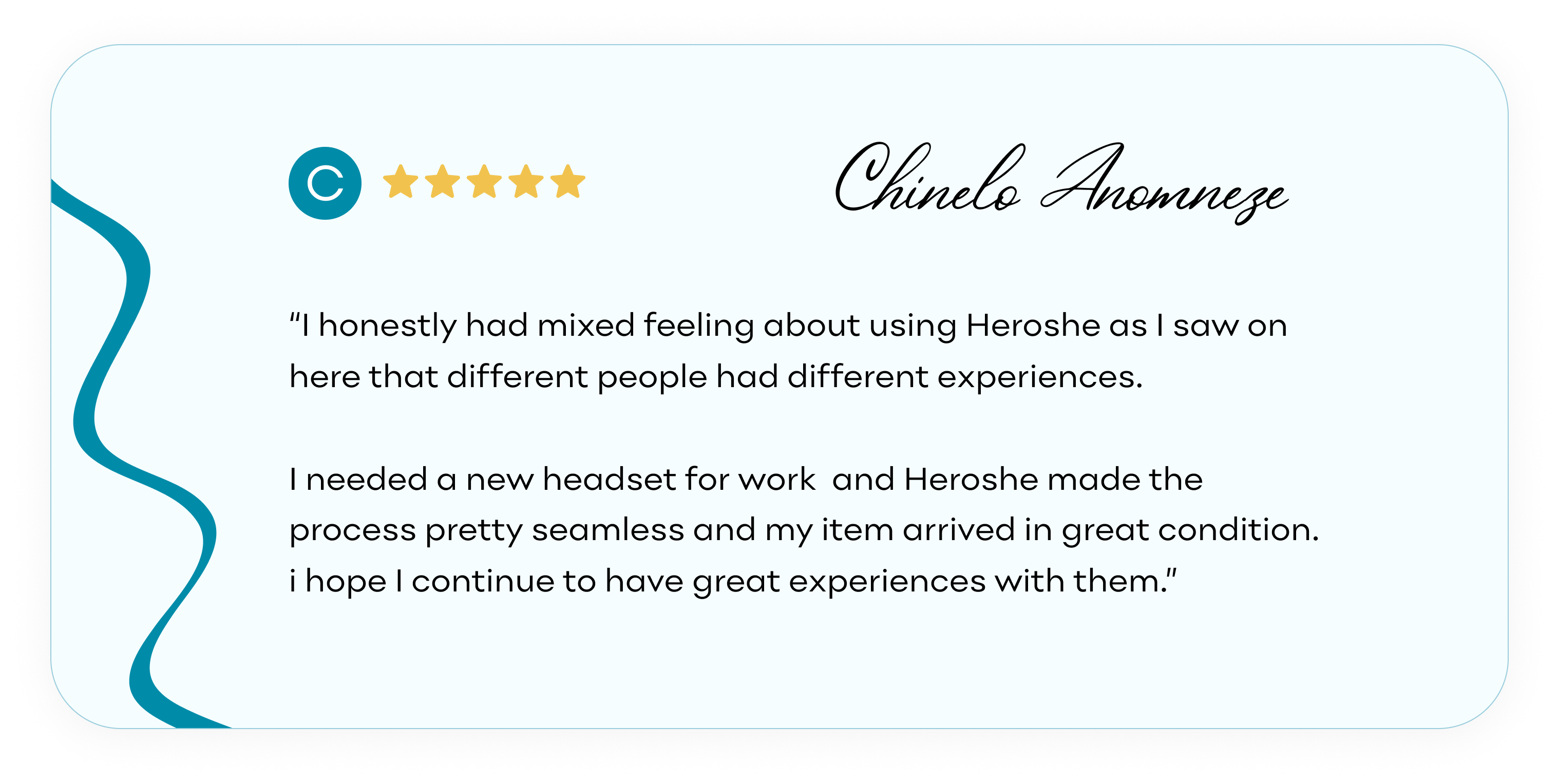 Speedy Delivery
We understand that waiting months to receive your package is not an option for today's customers. We take pride in our ability to deliver items to Nigeria and Ghana in just 7 - 10 working days, ensuring that customers can enjoy their products on time.
No Surprise Customs Fees
One of the standout benefits of using Heroshe is the transparent pricing. With Heroshe, you don't have to worry about unexpected customs fees.

Easy-to-Use Dashboard
We have provided a user-friendly dashboard that simplifies the entire shipping process. You can easily manage your shipments, fund your wallet, and access customer support with just a few clicks.
How To Ship From The Best ASOS Alternatives To Nigeria and Ghana
Finding the best ASOS alternatives is crucial for Nigerians and Ghanaians looking to access quality products from the USA and UK. Recognizing the need for a more accessible and affordable solution, Heroshe stepped in to simplify the process. Our mission is to provide Nigerians and Ghanaians with a seamless shopping experience.
Here is how to use Heroshe to shop from these stores:
Sign Up: To get started, sign up for a Heroshe account. This quick and straightforward process will grant you access to our platform.
Browse Your Favorite Stores: Explore your favourite online stores in the USA and UK. Select the items you wish to buy and add them to your cart.
Use Heroshe's Shipping Address: During checkout, use Heroshe's provided shipping address in the USA or UK as your delivery address. The store delivers your item to our warehouse, and we process it and send you a bill.
Pay for Shipping: We will notify you once your items arrive at Heroshe's warehouse. You can then pay for shipping. The $8 per pound rate applies here.
Track Your Shipment: Keep an eye on your shipment's progress through the user-friendly Heroshe dashboard. You will receive regular updates on the status of your package.
Receive Your Order: In 7 - 10 working days, your items will arrive in Nigeria or Ghana. We ensure safe and timely delivery to your doorstep.
No Surprises: Rest easy knowing you won't pay any unexpected customs fees. Our pricing is transparent and upfront.
Conclusion
Our search for ASOS alternatives has been exciting, especially for boutique owners like Rita in Nigeria and Ghana. If you are tired of ASOS and looking for more variety and budget-friendly options for your boutique, we hope you found value in this. To stay updated on the latest exclusive deals and guides, we encourage you to subscribe to the Heroshe newsletter.
We explored 40 different brands and found something for everyone, including those who love fast delivery. Brands like 5poundstuff offer unbeatable value, providing high-quality items without breaking the bank. Shein keeps up with the latest fashion trends, and Boohoo caters to people of all sizes and shapes. Zara offers timeless elegance, while H&M combines affordability with eco-friendly choices.
And for those in Nigeria and Ghana, Heroshe is your trusted partner. So, whether you're a boutique owner like Rita or a fashion enthusiast, keep shopping and enjoying love and swift delivery from us. Enjoy your shopping experience!
---
Enter your email below to join our newsletter