Your Comprehensive Guide to Free Shipping On Black Friday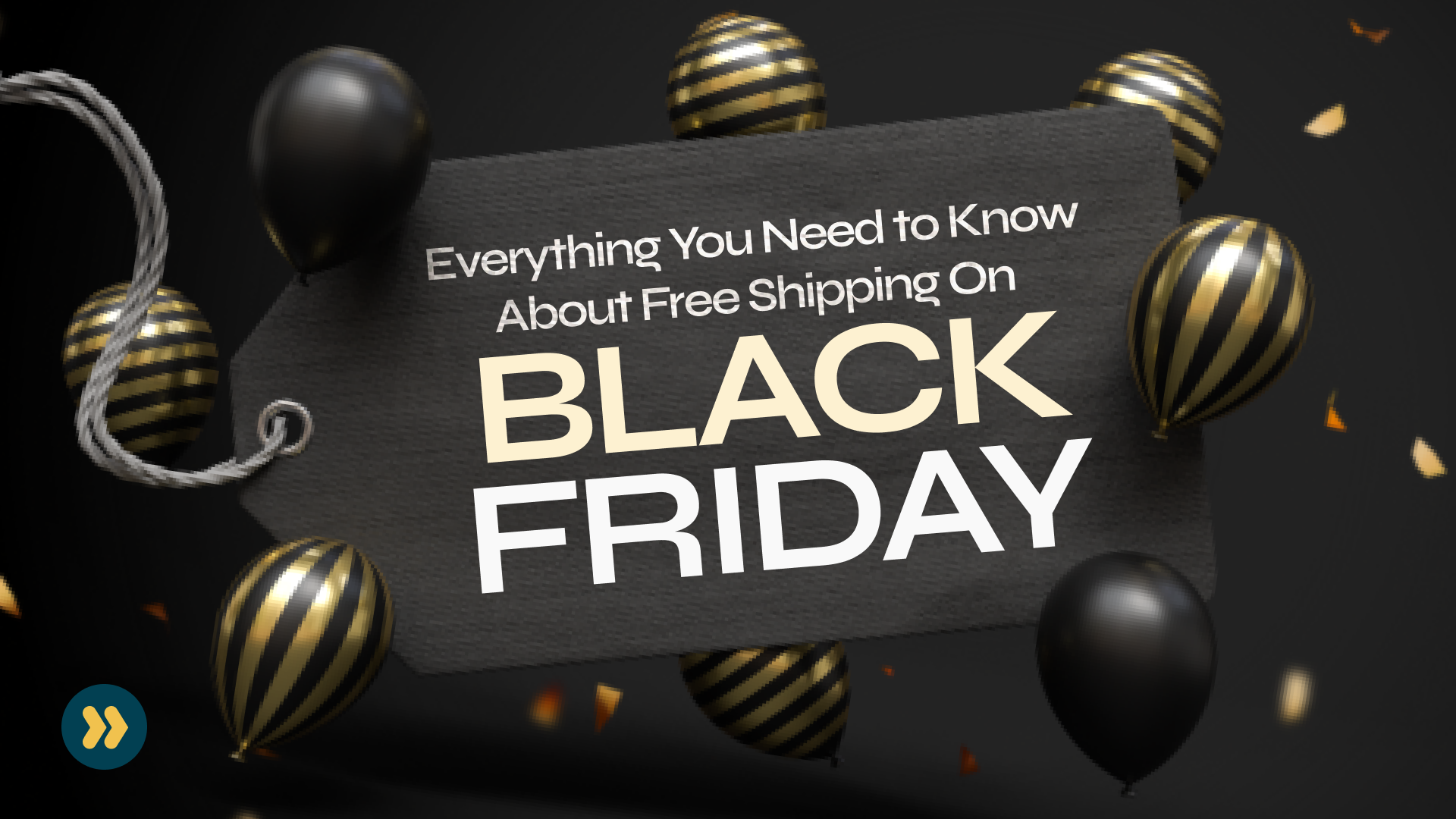 Black Friday is almost here! And in Lagos, Nigeria, a savvy businessman named Breakthrough is setting the stage for a shopping spectacle. His hustle involves buying phones and gadgets from U.S. online stores and shipping them to Nigeria using Heroshe.
Breakthrough has a clever strategy in mind to make the most of 2023 Black Friday deals. He knows that many U.S. stores offer free shipping on Black Friday. By using Heroshe's U.S. address, he can reduce shipping costs and boost profits. But here's the kicker: Breakthrough has a game-changing trick up his sleeve. He figured out that he could save even more by shipping to Heroshe's Delaware address, which is tax-free. It is the ultimate Black Friday shopping secret!
This guide will unravel the mysteries of maximizing your Black Friday savings with free shipping. We will tell you where to find free shipping on Black Friday, the benefits, and how to make the most of this shopping bonanza.
What is Black Friday?
Black Friday is a beloved shopping tradition with incredible discounts and amazing deals. It usually falls on the Friday following Thanksgiving in the United States and is now celebrated worldwide. On this day, retailers, both in physical stores and online, offer fantastic savings to shoppers.
In 2023, Black Friday falls on November 24, marking the official start of the holiday shopping season. People always look forward to this day to snag great deals on phones, tablets, laptops, sunglasses, shoes, and wigs. While the date is the same each year, the specific discounts can vary, so you stay updated with your favorite retailers and their announcements.
Related: Everything You Need To Know About Black Friday 2023
What Are The Benefits of Free Shipping on Black Friday?
Free shipping is the holy grail of online shopping, and it becomes even more magical on Black Friday. So, why is it such a big deal? According to the Walker Sands Future of Retail study, 90% of consumers would shop online more often if given the option of free shipping. Now, let's dive into the benefits of free shipping on Black Friday.
Cost Savings:
The most obvious benefit of free shipping is cost savings. Black Friday is all about finding the best deals; free shipping adds more savings. Shipping costs can add up quickly, especially when ordering many items. Free shipping means more cash in your pocket to grab even more deals.
This means you can maximize your budget and get even more discounted items without the burden of shipping fees. For business owners like you and Breakthrough, it is a great way to boost profits, letting you stock up on products at even more competitive prices.
Stretch Your Budget:
Who doesn't love a good deal? With free shipping, you can stretch your budget further. If you are like me, you have had a pair of New Balance sneakers, a drone, or a Fire TV on your wishlist since July but haven't ordered for one reason or another. With some stores offering free shipping during Black Friday, you can tick off these items without worrying about the added costs.
Tax Savings:
Breakthrough's smart move to use a Delaware address is a great example of how free shipping can lead to more savings. Delaware is tax-free, so you can avoid paying sales tax on your purchases when you ship them to a Delaware address. This can result in substantial savings, especially when buying high-value items.
Shipping To Nigeria And Ghana Made Even Easier:
Shipping to Nigeria and Ghana has never been easier for savvy business owners like Breakthrough. Thanks to free shipping deals on Black Friday, entrepreneurs can access a world of savings and opportunities from retailers and wholesale suppliers in the U.K. and U.S.
You and other business owners can increase your profits and expand your inventory using Heroshe. This game-changing strategy allows you to source various products at competitive prices. You can further reduce costs with the added advantage of shipping to Heroshe's Delaware address.
Expanded Shopping Horizons:
Free shipping allows you to explore a broader range of online stores, not just those you are used to, like eBay, Amazon, and Sephora. This opens up more options and ensures you are not missing out on exclusive deals and unique products that may not be available in your usual stores.
Gift Giving:
With the holiday season just around the corner, Black Friday is an ideal time to start your holiday shopping. Free shipping makes buying gifts for your loved ones easier, especially if you plan to send them to different locations.
Convenience:
Free shipping makes online shopping on Black Friday even more convenient. You can avoid the hassle of calculating shipping costs and worrying about how it might affect your overall spending. It simplifies the checkout process and lets you focus on hunting for the best deals.
Where Can I Find Free Shipping on Black Friday?
Now that we have discussed the benefits of free shipping on Black Friday, the next big question is where to find it. As Breakthrough has mastered the art of shipping to increase his profits, you can join the ranks of savvy shoppers and business owners. Here's a guide to some top destinations for free shipping deals:
Amazon:
The retail giant Amazon has a generous offer from Amazon Prime. Members of Amazon Prime can enjoy the luxury of free two-day shipping with no minimum spending requirement. And for non-members, don't fret! Free international shipping is your gift if your order passes $25. This means you can dive into a sea of Black Friday deals without the added weight of shipping costs.
Walmart:
Walmart is another major player in the free shipping game. If you plan a shopping spree, Walmart offers free two-day shipping for orders totalling $35 or more. It is a fantastic opportunity to get those Black Friday bargains without the concern of extra shipping fees.
Wayfair:
If you are on the hunt for furniture, home decor, or other delightful goodies, Wayfair has your back. They generously provide online shoppers with free shipping on orders exceeding $35. Now, you can set up your workspace with those coveted Black Friday finds while keeping your budget in check.
Bloomingdales:
Bloomingdales has a great offer for those with a taste for high-end fashion and luxurious goods. They are giving you free international shipping through December 20. This is perfect for indulging in early holiday shopping or treating yourself to a well-deserved splurge.
As you explore these options, remember that Black Friday isn't limited to these stores alone. Many other retailers also jump on the free shipping bandwagon during this shopping holiday. So, sharpen your eyes for announcements and promotions from your favorite stores to make the most of the 2023 Black Friday event.
How to Make the Most of Free Shipping on Black Friday
Now that we know where to find free shipping on Black Friday let us discuss how to make the most of it.
Plan Ahead:
Black Friday is a high-stakes shopping event, and planning ahead is your secret weapon. Start by creating a list of the items you need and want. Research the deals offered by various retailers and create a game plan. Prioritizing your purchases can help you stay focused and avoid impulse buying, which could reduce the savings from free shipping.
Compare Offers from Different Retailers:
Not all Black Friday deals are created equal. Compare offers from different retailers and wholesale suppliers to make the most of free shipping. Some might offer free shipping with no minimum purchase requirement, while others may have specific conditions. By comparing, you can ensure you get the best overall deal, including shipping savings.
Stay Safe:
While the focus here is maximizing your savings, staying safe while shopping on Black Friday is essential. Be cautious of online scams and phishing attempts. For more information on protecting yourself, refer to our Black Friday safety tips article for a safe shopping experience.
Use Coupons, Cashback, and Rewards:
Enhance your savings by using coupons, cashback offers, and rewards programs. Many retailers offer more discounts or cashback on Black Friday, which can stack with your free shipping savings. Check for coupon codes and consider signing up for cashback websites to get more value from your purchases.
Sign Up for Alerts:
To stay ahead of the competition and be among the first to know about Black Friday deals, sign up for alerts from your favorite retailers. Many stores send their subscribers early access offers, exclusive discounts, and free shipping promotions. Being in the loop can give you a significant advantage.
Compare Shipping Fees from the US to Nigeria:
If you are a business owner or shopper in Nigeria, you are likely aware of the shipping costs involved in international purchases. It is important to compare shipping fees from the US to Nigeria and consider using Heroshe as your shipping partner.
Heroshe offers a seamless and cost-effective way to ship your Black Friday purchases to Nigeria, letting you increase your savings and grow your inventory. At Heroshe, we aim to provide you access to quality products in the U.K. and the U.S. We understand the challenges of shipping these products to Nigeria, so we have simplified the process for you. Here are some reasons to let Heroshe be your trusted shipping buddy:
✅ Ease of Use:
Say goodbye to the complexities of international shipping. Our user-friendly platform ensures that shipping your packages becomes a breeze. With a few simple clicks, you will be on your way to shipping your items from the U.K. to Nigeria.
💰 Affordable Rates:
We believe that sending packages should be accessible to all. That is why we offer competitive and affordable shipping rates, so you can stay connected with loved ones without breaking the bank.
⏱️ Fast and Reliable Shipping:
Time is of the essence, and we understand that. Our fast and reliable shipping options ensure your packages reach Nigeria in 5 - 7 days. Count on us to deliver every time.
📞 Excellent Customer Support:
Do you have a question or concern? Our dedicated customer support team is here to assist you every step of the way. Your peace of mind is our priority, and we are here to ensure your shipping experience is exceptional.
📦 Tax-Free Shopping:
If you shop from Nigeria or Ghana and want to increase your Black Friday savings, consider using Heroshe's Delaware address. Delaware is tax-free, meaning you won't incur any extra sales tax costs, which can add up significantly on high-value items. All you have to do to enjoy this is upgrade to Heroshe Pro at $25/month for tax-free shopping or use it with a $20 flat fee per order. This strategic move can save you even more money, making Black Friday a true shopping bonanza.
Related: How To Sign Up And Use Heroshe Pro For Your Business Shipping Needs
If you plan to start a small business idea like dropshipping, look no further! Heroshe is here to ensure that your packages arrive safely and on time. Our reliable and swift delivery services are tailored to meet the unique needs of your business. Sign up today to enjoy the love and swift delivery of using Heroshe.
Conclusion
In conclusion, Black Friday is not just a holiday shopping event but an excellent opportunity to save and grow your profits. The key to maximising this shopping event is harnessing the power of free shipping on Black Friday. It is a game-changer that can stretch your budget, expand your shopping horizons, and even lead to significant tax savings.
So, don't miss out on this golden opportunity. Subscribe to the Heroshe newsletter today to stay in the loop, receive exclusive offers, and make the most of Black Friday and beyond. With Heroshe as your shipping buddy, the sky's the limit for your business. Happy shopping, and may your savings soar.
---
Enter your email below to join our newsletter