What "Love and Swift Delivery" Means To Us At Heroshe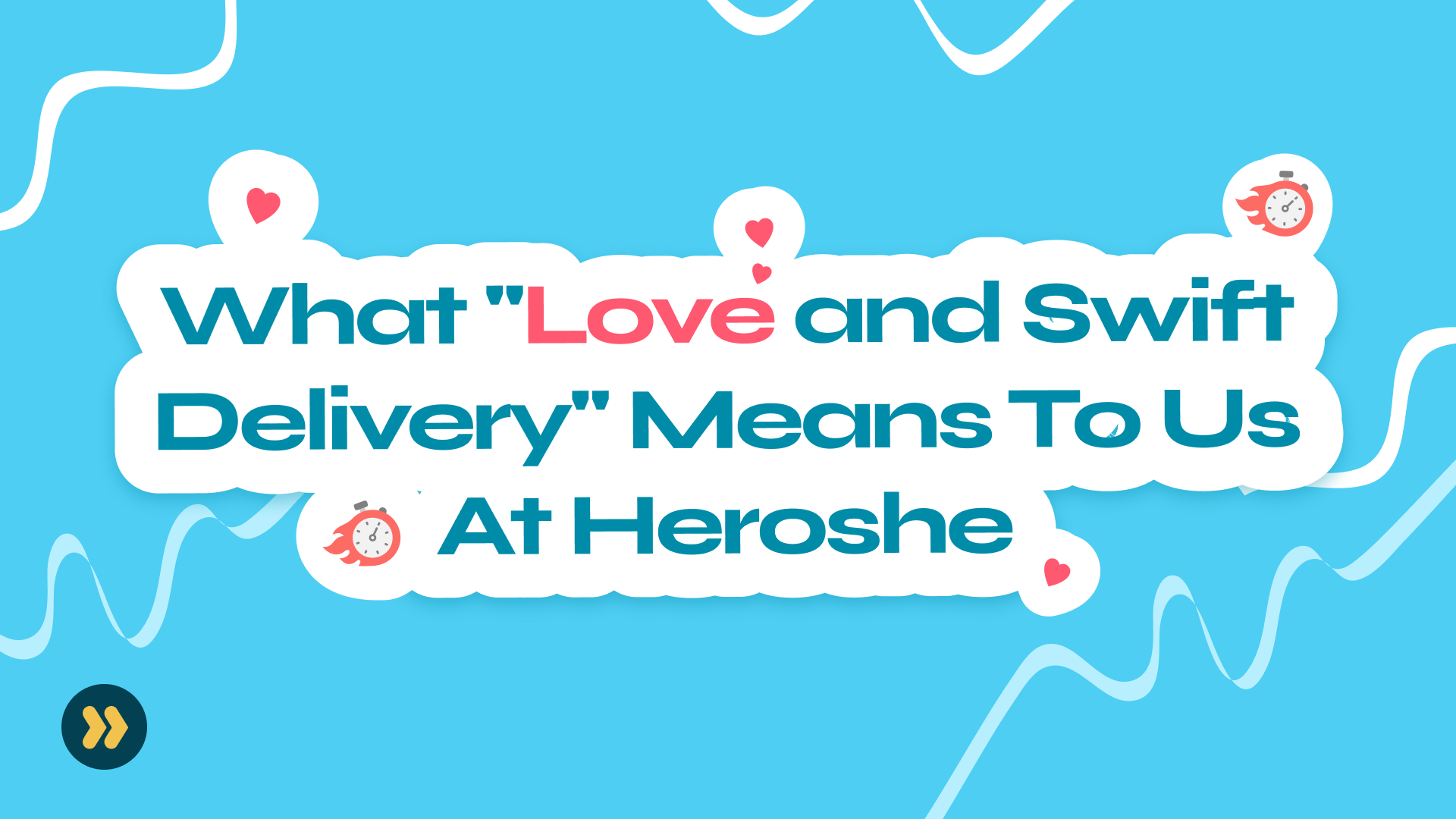 Have you ever wondered why we conclude our newsletters, social media posts, and blog entries with the phrase, Love and Swift Delivery? It's a question we often receive at Heroshe. In this article, I want you to come behind the scenes to understand how important these words are to us.
Let me take you back to a beautiful February morning somewhere in Lagos. Wunmi, our product marketing team lead, laced up her running shoes, ready to tackle her morning run to the gym. With her favorite music playing in her ears and the excitement of breaking her deadlift record in her mind, she thought: How can we differentiate Heroshe from our competitors?
While jogging, Wunmi had an idea to end our communications with the phrase: Love and Swift Delivery. She even sent a message to the product marketing Slack channel so she wouldn't forget. This phrase wasn't just a catchy slogan but a guiding principle that influences everything we do at Heroshe. So, what does it mean to us? Let me walk you through it.
At Heroshe, Love isn't just a word; it is the foundation of our entire philosophy. It represents our deep commitment to our customers and partners. Here's what Love means to us:
Customer-Centric Approach:
Our number 1 priority is you, our valued customer. Love signifies our unwavering dedication to your satisfaction. We do this by providing you with an exceptional experience, from the moment you create an account to the timely arrival of your packages in Nigeria and Ghana. We view every delivery as an opportunity to show our commitment to your satisfaction and peace of mind. We always try to understand your needs so we can exceed your expectations in every interaction.
Our mission is to bring joy to your doorstep along with your package. We understand that receiving a long-awaited item can excite and delight you. That's why we take extra care to ensure your items are safe and secure until they reach you. Our love for what we do is evident in our attention to detail and commitment to delivering within the promised timeline.
Empathy and Respect:
Love extends beyond our interactions with our customers to how we treat each other as a team. We believe in building a work environment of respect, empathy, and accountability. When you choose Heroshe, you are not just partnering with a shipping company; you are joining a community that values human connection and mutual understanding. As part of this community, you will feel like you belong. It is a community where your needs are always heard, your concerns are addressed, and your success is celebrated.
Fola explains this in more detail in his article to celebrate his first year with Heroshe.
Transparency:
We believe in being honest, truthful, and transparent. In 2022, the United States Customs and Department of Homeland Security (DHS) detained our shipments containing high-value luxury goods. Our shipping schedule, which ranges from fourteen to twenty-one days, ballooned into months. We worked round the clock in cooperation with the DHS to ensure the items were released. Throughout this period, we made sure to keep everyone informed. We sent regular updates through email and on our social media pages. We knew this would open us to questions, but we accepted it.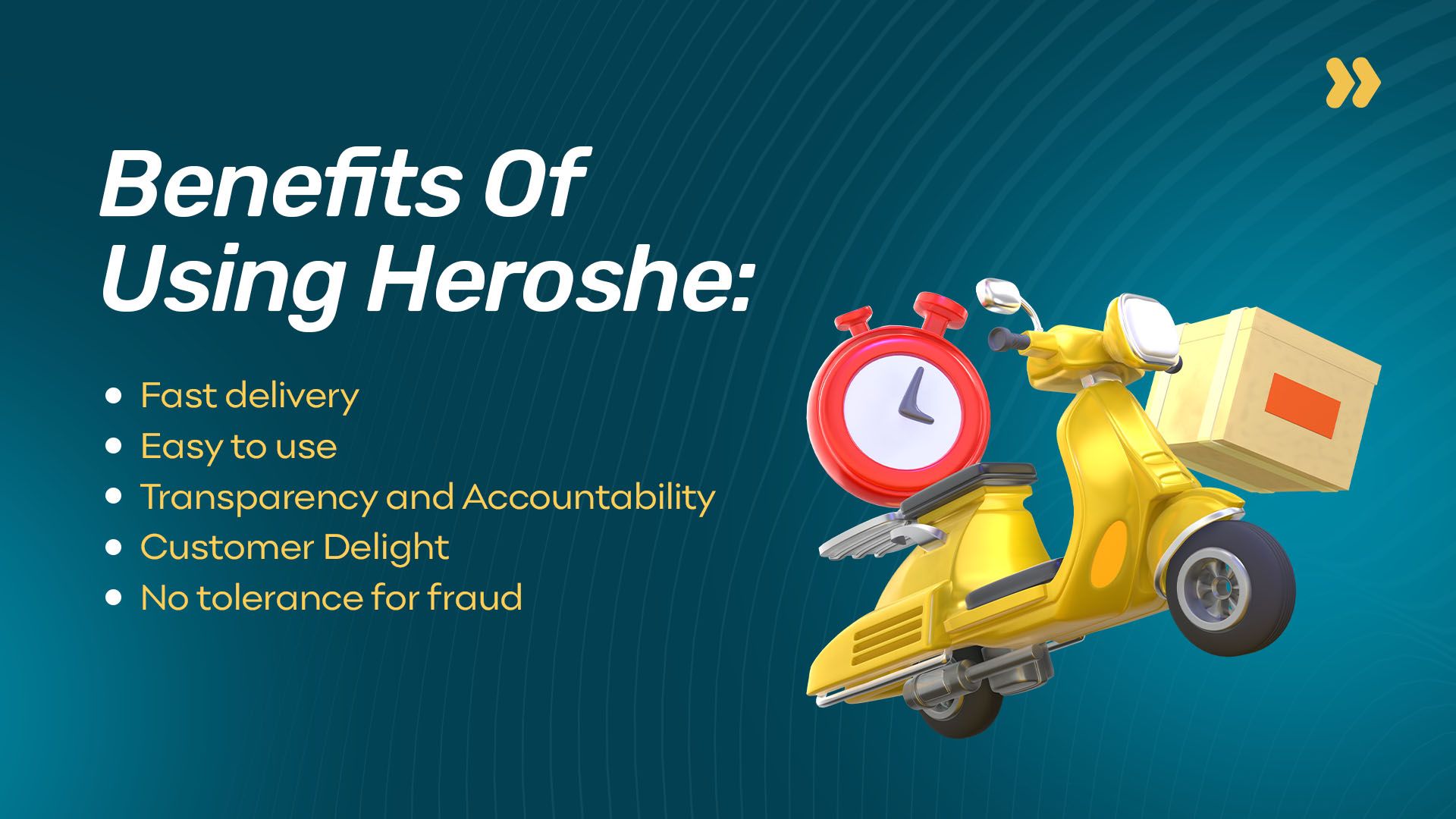 Our customers trust every day to deliver their packages from the U.S. and U.K. to Nigeria and Ghana. Our team members rely on one another to show up and do our best. We take ownership of the entire process to ensure we come through for our customers and team. We don't just do our part and leave the rest to vibes and Insha Allah; we see it through to the end.
Swift Delivery is the other half of our guiding phrase and is equally vital to us. It represents our commitment to efficiency and excellence. Here's what Swift Delivery means to us:
Timeliness:
Swift delivery extends beyond just minimizing your wait time for your items. It is also reflected in how quickly we address your questions and concerns across various communication channels.
We do this because we understand the value of time in today's fast-paced world and to ensure you have a smooth experience with us. Whether you have a query, need assistance, or simply want to track your item, our team is always ready to assist you with speed, enthusiasm, and delight.
Continuous Improvement:
Swift delivery means we are always trying to improve our way of doing things. We're committed to staying at the forefront of our industry to offer the best possible solutions. That is why we have solutions like  the Smart Locker, Heroshe Proof of Purchase, Split Pay, and an easy-to-use dashboard.
We are also focused on helping you get quality items from the U.S. and U.K. to Nigeria and Ghana, and we plan to expand to more countries soon. Stay tuned!!!
The Essence of Love and Swift Delivery
When you come across the phrase "Love and Swift Delivery," we want you to understand the depth of its meaning to us. It is not just about shipping packages from the U.S. and U.K. to your doorstep; it is about sending care and affection your way.
Our culture is the glue that binds us together as we navigate toward our mission of improving lives through global commerce. The Heroshe way is honesty, empathy, responsibility, outcome-driven, service excellence, humanity, and experimentation. Simply put, our work culture values accountability, learning, and empathy. On this podcast, you can hear Osi talk more about the Heroshe company culture.
To keep ourselves aligned with our core tenets, we introduced "Heroshe Minutes." During our general meetings, one team member shares a story that resonates with our values. These stories serve as a reminder that every customer ID is more than just digits—it represents a real human with emotions. By sharing these stories, we build a culture that values empathy and reinforces our commitment to swift delivery. This practice also encourages open dialogue, learning, and finding ways to incorporate these values into our daily work.
Related: Celebrating Heroshe Parents on Global Day of Parents
Conclusion
In conclusion, Love and Swift Delivery isn't just a catchy slogan at Heroshe; it is a heartfelt commitment that runs deep within our company's DNA. It all began with a morning run and a question on how to set ourselves apart in shipping and logistics. Today, it embodies our unwavering dedication to you, our valued customers, and our team's commitment to excellence.
So, when you see it at the end of our newsletters, social media posts, and blog entries, remember that it reflects our dedication to you. It is a reminder we are not just delivering packages; we are delivering care, commitment, and a little bit of love, one swift delivery at a time. Ready to enjoy love and swift delivery? Sign up now.
---
Enter your email below to join our newsletter