One Year of Remote Work at Heroshe: What I Have Learned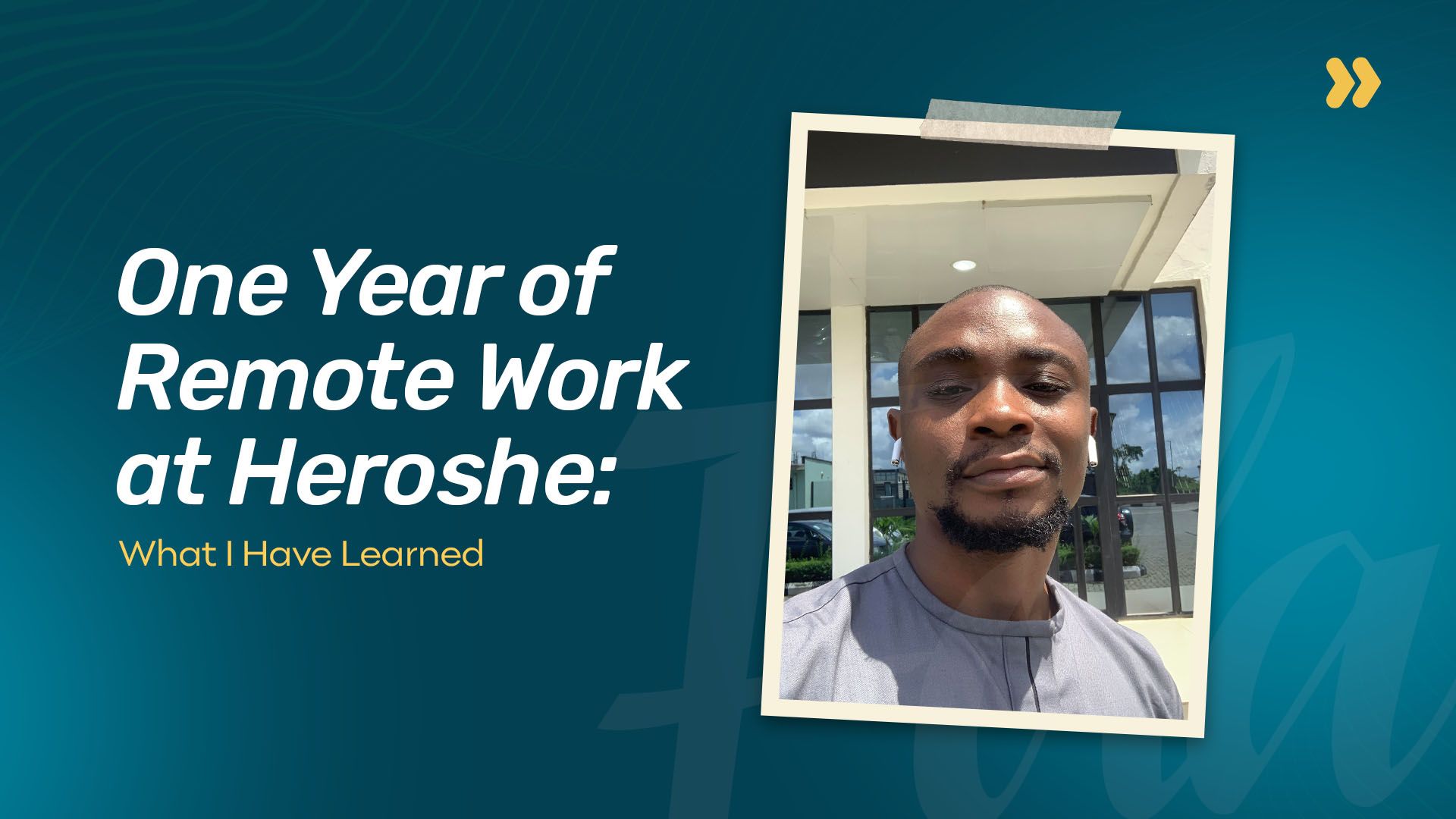 It has been over a year since I started my job at Heroshe. In my previous job, I was a content editor for a leading news app. The position involved writing political editorials and managing a team of freelance writers. The writers sent news articles from across Nigeria, and I fact-checked and reviewed them for grammatical errors. Transitioning to a content marketing role was a welcome change as it aligned with my career goals.
How I Got To Heroshe
The first time I heard about Heroshe was in late 2020 when I wanted to buy a pair of MMA gloves from Amazon. The prices on Nigerian e-commerce sites were ridiculous, and I was skeptical about their quality anyways. I asked a couple of friends how I could ship from USA to Nigeria, and Heroshe was one of the names that popped up. I carried out a check on the options and chose them because their process seemed smoother. I was not wrong. I paid about N15,000 less than the Nigerian value, and it arrived in Nigeria in about 14 days.
Then one afternoon in 2021, I received a LinkedIn message from a mutual connection, Akintoye. He was recruiting for a content marketing specialist position at Heroshe and wanted to know if I had any interest. At that point in my career, I knew I wanted a lot more than I was doing, so I said yes! He sent an application link, and I knew at that moment that I wanted to work for this company. The Typeform had thoughtful questions and remains the most memorable job application of my career.
The interview process was smooth and seemed more like a conversation than an inquest. I got an offer three days later, and there was no doubt in my mind when I said yes to them. I had a gut feeling that I would enjoy working with them, and I was right.
Starting At Heroshe
When I started working as a Content Marketing Specialist at Heroshe, I was relatively green to many tasks. For example, content strategy decisions came from above in my previous role, but now it was my job to create and execute them. Thankfully, I had a lot of support from the Growth Marketing team: Rebecca, Akintoye, and Jason. They helped with all the questions I had and gave constructive feedback.
Working in the Growth Team
When I joined the team, my first task was creating a content marketing strategy document. I loved this idea because the playbook shows how content marketing can help achieve larger company goals. To do this, I had to research the target audience and how Heroshe's services can solve their problems. I also did some UX writing on revamping the copy and design of the Heroshe website. The growth team was small when I started, but I enjoyed working in it because there was this sense that they had my back.
My day-to-day work involved meeting, creating blog posts, speaking to designers, and providing customer support on our social media platforms. Working in a growth marketing role means working across the entire customer journey. The team was responsible for everything from the awareness stage to acquisition and retention. I learned a lot about the place of content marketing in growth marketing. There were a lot of experiments, and we used the resulting data to make decisions that resulted in an increase in organic traffic.
The Product Team
Moving from the growth team to the product-led team is a significant transition. It means moving from a role focused on growth (e.g., outreach, analytics, A/B testing, etc.) to one focused on building products and delivering value.
The product team is very different from my previous team because it is bigger. In fact, it has two teams headed up by Nana and Wunmi. Team A consists mostly of designers and engineers who work daily to ensure smooth operations and innovations. Team B works to build a system that supports successful product launches and ongoing customer education. The close working relationship between both teams ensured we were delivering value beyond what is currently available in the Nigerian market.
The Heroshe Proof of Purchase feature was the first product launched after I joined the team. The feature solved the issues with DHS between December 2021 - February 2022. We have since rolled out features like Split Pay and Heroshe Post. With Heroshe Insurance, Pro, Plug, and other exciting features on the horizon, it is a great time to be at Heroshe.
Connecting With Others
One of the problems of remote working is "doing communication right". It is harder to start small talk and actually know your colleagues. With the people working in Lagos, we often meet at the Lagos office to connect in person. There have also been instances when the company brought together the entire Nigerian team for bonding sessions. Colleagues can also schedule short random meetings to socialize and have discussions unrelated to work. In one of these sessions, Silas and I discovered our mutual love for UFC. We also have a few channels on Slack that are non-work related: #UFC, #random, and #heroshe_book_club.
A lot of the communication at Heroshe is asynchronous since we have team members spread across the world. We have teammates in Ghana, Australia, India, Canada, and several Nigerian states. For my direct team, we do weekly stand-ups to see who is working on what and how we can help each other out. I have found these standups to be an excellent way to keep the remote teams connected. We use JIRA for project management, Google Meet to schedule meetings, Notion to create documents, and Slack to chat. These are tools that I learned to use daily. As a person who can sometimes procrastinate, JIRA has kept me productive even for personal tasks. The sense of satisfaction when I move a task from "in progress" to "done" is exhilarating.
At the end of the month, we also have a company-wide all-hands meeting. Here we meet new hires and learn more about their superpowers, consolidate the company culture, and participate in the book club quiz. In these meetings, we get an in-depth discussion with the co-founders on the company's direction. Michelle asks questions from the book of the month, and everyone participates. For example, we read Grit: The Power of Passion and Perseverance by Angela Duckworth in September, and two people won shopping vouchers!
The Heroshe Way
The Heroshe way is honesty, empathy, responsibility, outcome-driven, service excellence, humanity, and experimentation. Simply put, it is a culture that values accountability, learning, and empathy. Heroshe's mission is to improve lives by opening access to global commerce. Our culture is the glue that binds us together as we navigate toward this mission. I have found that believing and doing the same things develop a bond that drives us toward our mission.
One of the ways we achieve this is by starting every Heroshe all-hands meeting with The Heroshe Way. A random team member has one minute to speak about one of the culture tenets. The person tells a story or shares an experience they have observed within or outside the organization that represents that tenet and ways we can do more of that. On this podcast, you can hear Osi talk more about the Heroshe company culture.
Heroshe is a place of constant learning, so it is no surprise they provide learning opportunities for staff. I have earned certificates from Backlinko and CXL that have helped me become an even better content marketer. Heroshe also celebrates wins no matter how small it is. There is a slack group named #Kudos_Appreciation where colleagues praise individuals who have performed admirable work. Or like now when I give props to Shalom, the visual chef in charge of all the crisp designs you have seen lately on our social media channels and the blog.
Productivity Tips I Learned From working Remotely
Make The Workspace Comfortable And Productive
One of the things I learned early in my Heroshe role was that productivity levels are very low when working from bed. To improve this, I set up a comfortable mini-office at home. I got a work desk, chair, and ample lighting. The space was free from distractions, comfortable, and enabled focused work. On days when motivation levels are low at home, I work from a shared office space close to my house.
It is easy to assume working from home gives you a free pass to slack in your duties. That's not right. Your employer expects the same time and effort whether you work from home or the office. I use my workspace only for work, which has helped train my brain to know that it's time to work when I sit in my work chair. It has also helped me decompress at the end of the day. When I leave the workspace, it feels like I am leaving my 'work brain' behind, which helps me relax. So, as tempting as it is, I try not to check my FPL team or the latest Rick and Morty episode while I'm in my workspace.
Encourage Collaboration
Working from home can be a great way to boost productivity, but it can also be isolating. One way to combat this is to encourage collaboration among team members, even if they are not in the same physical space. The best remote teams regularly collaborate with each other. Collaboration is something that happens both within departments and across departments. This is something Heroshe does in spades.
Here, everyone has a chance to contribute. When setting up new projects or brainstorming new ideas, everyone's opinions count. It doesn't matter if you are in logistics or the product marketing team. This helps everyone feel invested in the project and prevents anyone from feeling left out. Another way Heroshe makes her employees feel connected is through regular check-ins. Cobhams, one of the co-founders, and I have a 10 - 30 minute chat once a month to talk about work and, sometimes, our love for the Mercedes e350. Things like this create a more collaborative environment that encourages productivity.
Be Flexible and Adaptable
One of the most important productivity tips I learned from working remotely is always ready to wear many hats. You can only sometimes predict what tasks will come your way when you work remotely. Your lead might ask you to do something outside your normal work scope. Or, you might have to take on a new project because the company is short-staffed. Whatever the case, it is essential to be flexible and adapt to changing situations.
In my role at Heroshe, I've had to learn to be comfortable wearing many hats. Even though I am a content marketing specialist, I have handled social media. I have more recently taken on the role of SEO manager. This can sometimes be overwhelming, but it also made me more productive. After I finished my CXL course in August, I collaborated with the engineering team to fix the website's technical SEO problems. I also optimized the titles and meta descriptions. We have seen a visible growth in the organic traffic to the website and blog.
If you are thinking of working remotely or are already doing so, embrace the challenge of wearing many hats. It will make you a more well-rounded and productive person.
Prioritize Your Physical And Mental Health
Remote work can negatively task your physical and mental health. You can avoid this by exercising regularly, getting enough rest, and eating healthy food. You can set aside time each day to work out, play with your pet, and take short walks on your street. It would help if you also took time out of your busy schedule to socialize. This will help with both your physical and mental health!
I go to the gym thrice weekly. I also socialize at least once monthly with my friends. You can catch me at Saturday Night Fever, Silent Disco, or Bar Enclave in Ilupeju. (P.S. They sell the best grilled Turkey in South West Nigeria!)
To Sum It Up
After over one year of remote work at Heroshe, I have to say that I absolutely enjoy working this way. Working here has positively impacted my work-life balance in more ways than one. I don't have to spend two hours in Lagos traffic in the morning and another three on my way back.  This means that during lunch, I might go out for a walk with my dog or get a quick "Chicken Dinner" on Call of Duty mobile.
For other colleagues, it means spending quality time with their kids or having time to learn new skills and run a second business. Honestly, I don't see myself working in an office full-time again. However, I cherish the moments I connect with my colleagues in person. Like this lunch, we had in Shark Express, Lekki.
Overall, I have enjoyed my experience of working remotely with Heroshe and would recommend it to others who are considering doing the same!
---
Enter your email below to join our newsletter