7 Surprising Things You Didn't Know Heroshe Could Ship to You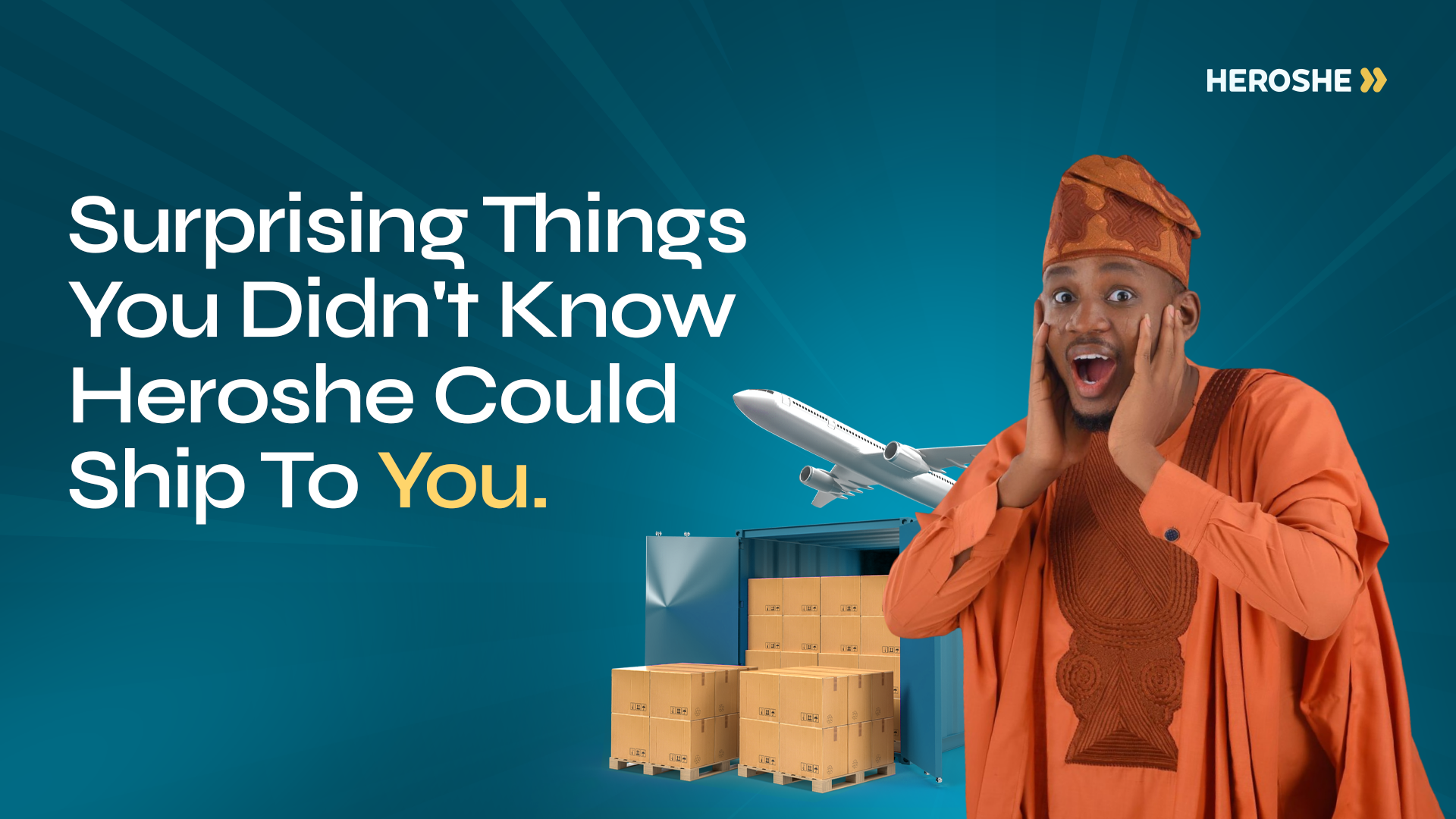 Have you ever wanted to ship something you consider out of the ordinary from the U.S. to Nigeria or Ghana? Do you feel like you are the only one crazy enough to want to ship a giant inflatable flamingo to Nigeria? Or a life-sized cardboard cutout of Ryan Reynolds? Or have you thought about buying a year's supply of Tabasco sauce? And you paused to think "Who will even agree to ship this stuff for me?" Well, because you are not alone in your shipping adventures, Heroshe will! 🚀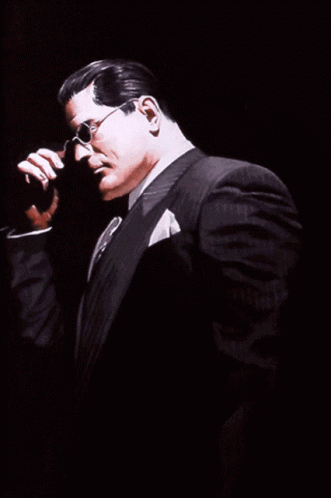 So, let me tell you a hilarious story from handling customer calls during the DHS crisis. A customer called to ask if we could ship condoms.👀👀 I know we have shipped many unusual things, but this request caught me off guard! Of course, I maintained my professional demeanor and answered that we could ship them. But as soon as the call ended, I couldn't help but burst out laughing. It was much-needed laughter during a tough period and I took it. 😂
No matter how bizarre or weird you think the item you want to ship is, Heroshe dey for you. Just be sure it is not on our list of contraband and illegal items - we do not want wahala! We are not just your run-of-the-mill shipping company. We are enabling global commerce, we take that responsibility and the trust that comes with it seriously. Dream big with your shipping needs! Whether you need to send a vintage record player, large volume of skin care products, a collection of garden gnomes, Heroshe is here to make it happen.
In this blog post, we will explore 7 surprising things you didn't know Heroshe could ship to you.
Car Parts
As a car owner in Nigeria, I know the struggle of finding the right spare parts in this country. Let's be real, dealing with Baba Mulika in Ladipo can be a nightmare - promising you a top-quality fuel pump only for your engine to stall weeks later. And what about the daunting task of trying to find that elusive part for your 2022 Ford F-150? The thing de pain ehn!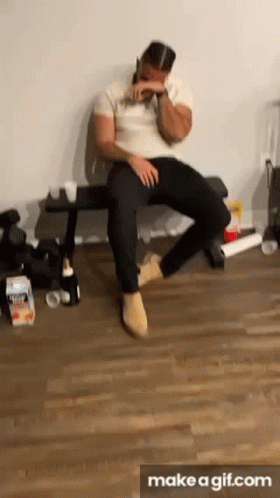 But wait, there's no need to worry about being cheated when you can just get it yourself. 🤷🏻You can easily get any car part shipped directly to your doorstep from any store in the U.S. using Heroshe. No more dealing with shady suppliers or running around town in search of parts that never seem to appear. And the icing on the cake? We safely ship all car parts, from tires to lights, engines to transmissions, so you can have your ride back on the road in no time. Say goodbye to the headache and say hello to hassle-free car maintenance with Heroshe. See how a customer shipped some spare tyres.
Fitness Equipment
Let me tell you the story of Ofilz, a gym owner based in Ikeja. He faced the common challenge of sourcing quality cardio equipment and ellipticals for his new gym branch. He had visited many stores on the mainland and island and even considered importing them. But the logistics and customs duties choke! Then he discovered Heroshe, and everything changed. He browsed different online stores in the USA, chose the equipment he wanted, and delivered them to the Heroshe warehouse. In 10 days, the equipment was in his gym, and he still finds it mind-blowing how easy and hassle-free the process was!
That is precisely the kind of service you can expect from Heroshe. We can help you ship all types of fitness and gym equipment, from treadmills to Peloton bikes, from any store in the USA to your doorstep in Nigeria or Ghana. Our experienced professionals have you covered from start to finish, ensuring that they're properly packaged to avoid being tampered with. Rest assured that you are getting the best value for your money.
Grand Piano
E shock you? Let me be the first to tell you that shipping a grand piano is the smallest thing for us! Are you a music lover or a professional pianist in Nigeria or Ghana searching for the perfect grand piano but struggling to find one locally? Or are you just someone who wants a beautiful and functional piece of furniture in your home? Heroshe can safely and securely ship grand pianos straight to your doorstep from the USA.
You don't have to take our word for it -  our track record speaks for itself. We have safely and successfully shipped a grand piano in the same pristine condition as when it left the store in the US.
Perfumes
This one sweet my belle! We haven't been able to ship perfumes for the longest time due to safety concerns since they are flammable, and I get sad when customers ask us daily! But, we have developed a safe process that ensures that your perfumes arrive in perfect condition at your doorstep in Nigeria or Ghana. So in case you haven't seen the news on our social media pages, HEROSHE NOW SHIPS PERFUMESSS!!!!!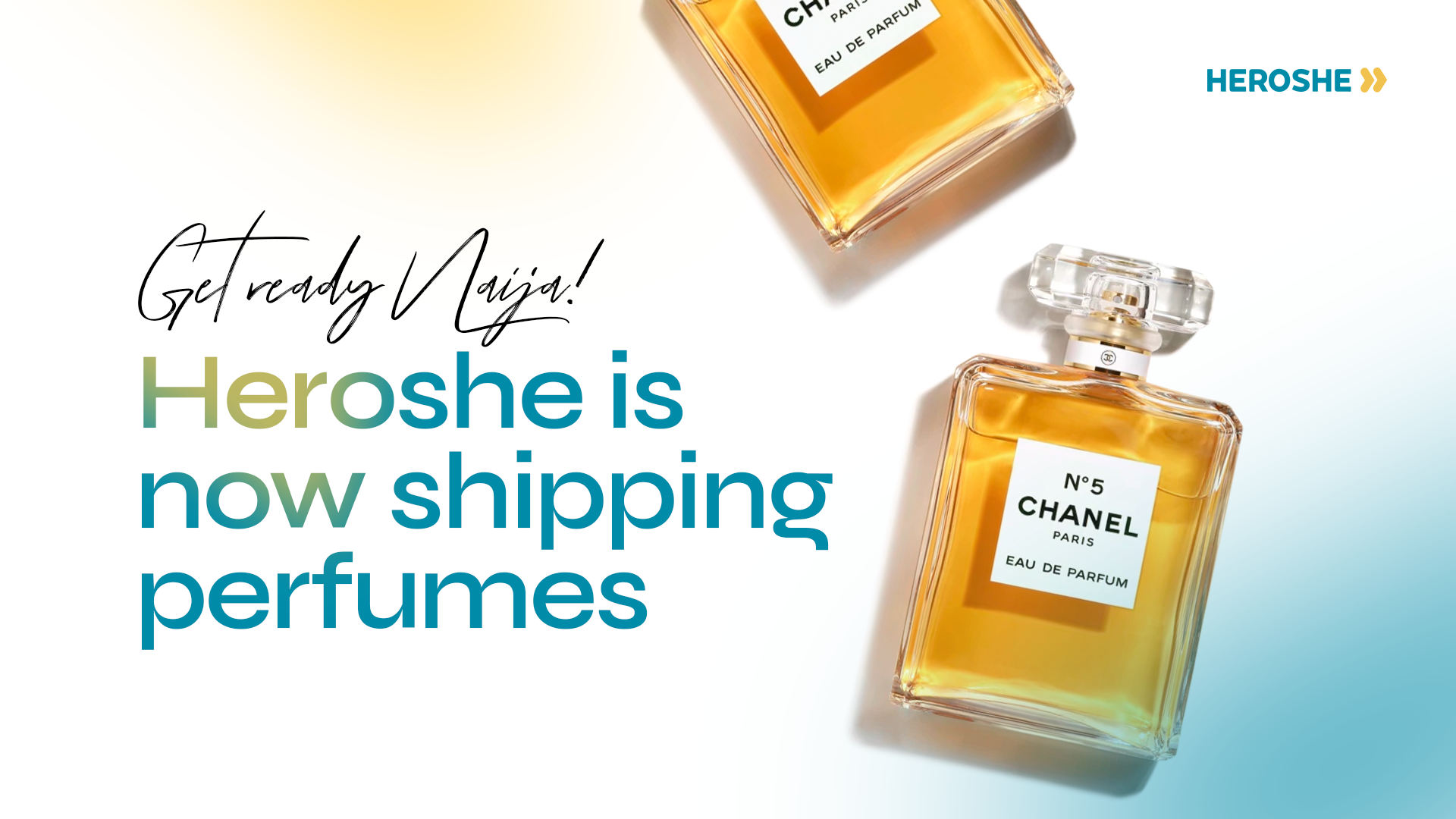 So, whether you want to order your favorite designer scent or try out a new perfume, Heroshe has got you covered. So all my YSL, Kayali, and Lovefest lovers that want the real deal, head over to Amazon, Sephora, Huda Beauty, or wherever and place your orders right now!
Diamonds
Diamonds are often referred to as a woman's best friend, and we couldn't agree more. But, just like great friendships, finding quality diamonds can take time and effort. At Heroshe, we understand that the search for the perfect diamond can be overwhelming, which is why we offer a convenient solution to your diamond needs. With our shipping services, you can have any diamond shipped from any U.S. store to your doorstep in Nigeria or Ghana. Whether you are looking for loose stones to create your own jewelry or diamond jewelry ready to wear, Heroshe has got you covered.
The process of shipping diamonds can be tricky, as they are valuable and delicate items. But we handle your precious gems with the utmost care and attention to detail. So why limit yourself to local diamond options when you can access the best cut of diamonds? Simply shop for your diamonds and have them sent to the address on your Heroshe dashboard. We will handle all the details, including customs clearance and delivery to your desired destination.
Prosthetics
At Heroshe, we understand the importance of prosthetic limbs to their recipients. That's why we take extra care when handling and transporting them. When we received a Twitter DM from an NGO in November 2022 asking if they could ship prosthetic limbs from the USA to Kaduna using our shipping services, we were more than happy to help. We quickly responded and assured them we could handle their needs, carefully and efficiently. As a result, the NGO has become our returning customer, and we are happy to have earned their trust.
We know that prosthetics are not just packages but essential pieces of people's lives and we prioritize safety, security when handling these delicate items. We take every precaution to ensure they are well packaged and shipped promptly. So, if you need to ship prosthetics to Nigeria or Ghana, trust us to get the job done right - one limb at a time! 😉
Tissue Paper
Last but not least, we also ship tissue papers. Wait wait wait. You are wondering why because Nigeria produces tissue and we've got some fairly good ones at that. It is really just personal preferences that vary when it comes to things like this. That is why we provide access to all types of tissue paper, including luxury varieties that can be hard to come by in Nigeria or Ghana. We know that some people prefer the comfort and quality of high-end toilet paper brands, and we are here to ensure you have access to them.
We guarantee that your bougie toilet paper will arrive at your doorstep in pristine condition, so you can indulge in the luxury you deserve. Don't let distance or availability limit your access to the finer things in life - let us handle the shipping logistics for you. Our competitors may not find shipping toilet paper glamorous, but someone has to do it, it's a clean business after all - and we are happy to roll with it! 😉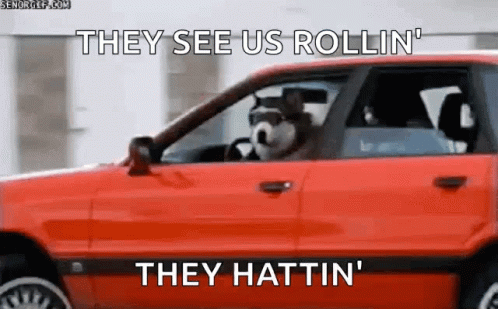 Do Your Shopping And Let Heroshe Handle The Shipping
Heroshe is an online shipping service that lets you ship anything legal from the USA to Nigeria and Ghana. Our service is convenient and cost-effective, allowing you to ship items that may be too large or fragile to ship using other methods. At Heroshe, we offer a fantastic deal for shipping your items from the USA to Nigeria or Ghana.
For only $8 per pound, you can ship items of any size and weight and receive real-time status updates throughout the shipping process. The best part? You won't have to worry about paying a single Naira or Cedi for customs fees. We know the importance of avoiding hidden costs and surprises, so we have included all fees upfront in our transparent pricing.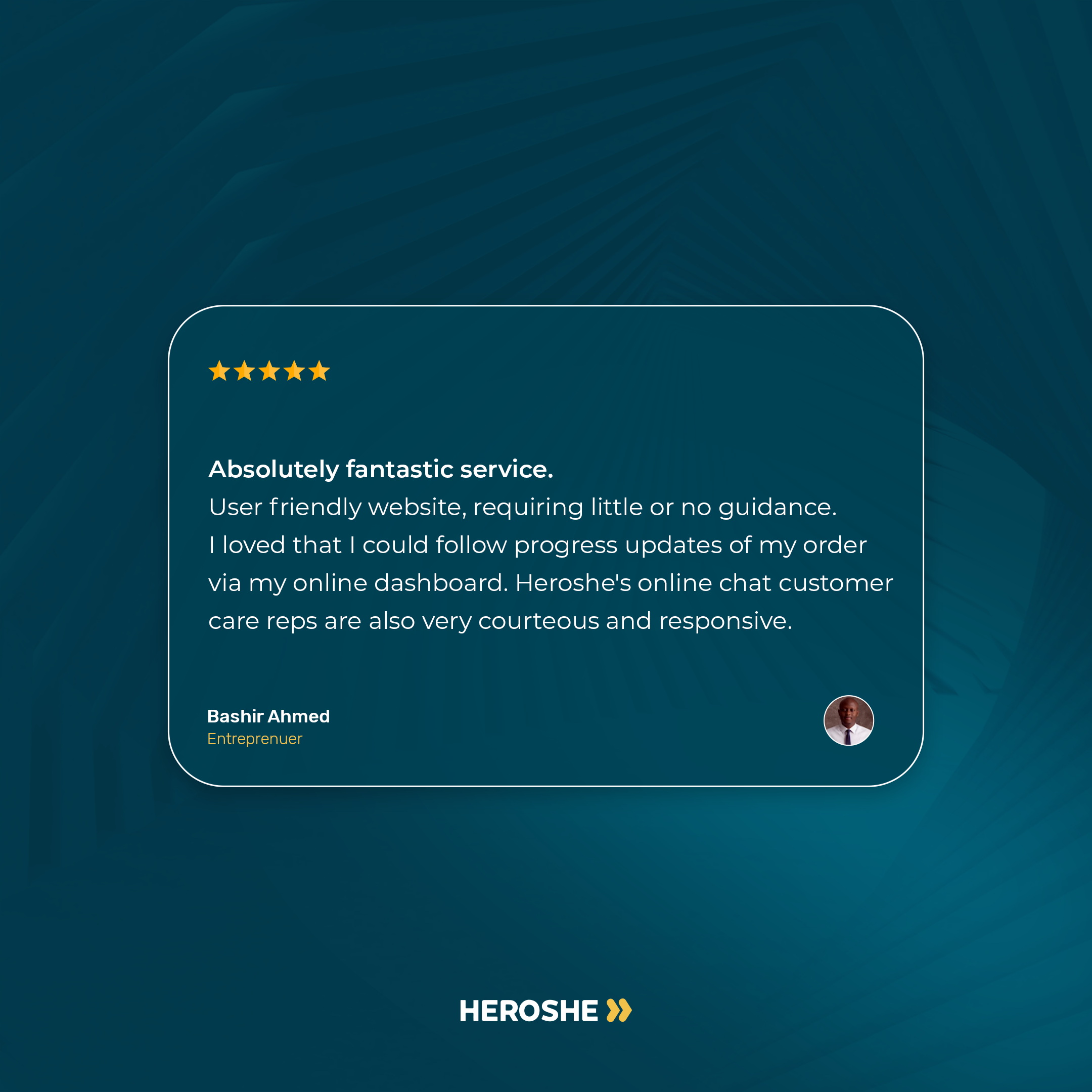 Using Heroshe is a breeze. Sign up for an account, ship your items from your favorite online stores to the address on your Heroshe dashboard, and we will take care of the rest. You can easily update your delivery address, fund your wallet, and pay for your shipment from the Heroshe dashboard. It usually takes 7 - 14 days (or less sef) for your items to arrive at your doorstep, so you can enjoy your purchases as soon as possible.
Why wait to experience the love and swift delivery of Heroshe's shipping services? Sign up today to start shipping your favorite items with us! Our customer support team is always available to assist you with any questions or concerns. You can easily access our FAQs or reach out to us on social media, via email, or by phone on +2347000800900. Join the thousands of satisfied customers who trust Heroshe for all their shipping needs today!
---
Enter your email below to join our newsletter