8 Reasons To Trust Heroshe With Your Shipping Needs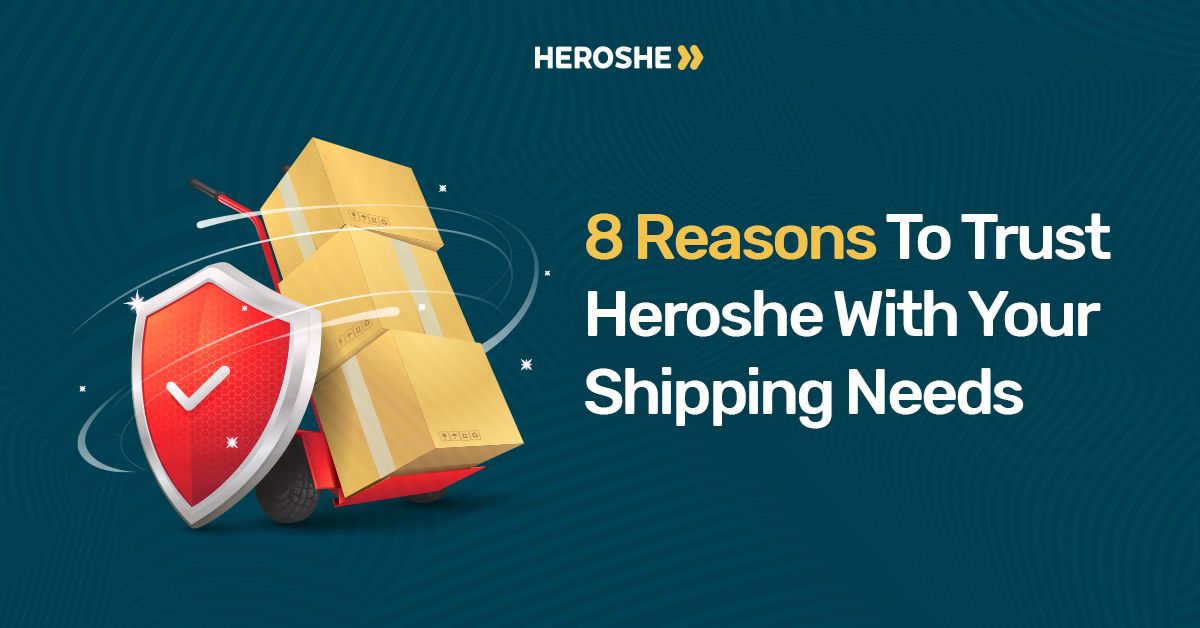 Warren Bennis was spot on when he said, "Trust is the lubrication that makes it possible for organizations to work." As business owners, we understand that trust is everything. It may take years for a company to develop the trust of its clients, but it can lose it in moments. Without trust, transactions cannot happen, companies lose key members of staff, and influence gets destroyed. The list is endless.
Trust, like Rome, isn't built in a day. It comes as a result of small words, thoughts, and actions. When I worked in sales, convincing clients sometimes took months of hard work and transparency before I fully gained their trust. But the work did not end there. Even after they converted, I took special care to fulfill every promise made to them and consistently delight them. Despite the importance of trust, some companies don't give it the focus and nurturing it deserves. Not us here at Heroshe, though.
As Nigerians, we understand how hard it can be to get quality items from stores in the United States of America. This is because most of them only offer delivery services to places within the United States of America. To overcome this challenge, some people relied on their family and friends who live in the U.S. to buy the items and deliver them on their annual December trip back to Nigeria. Imagine buying a pair of New Balance 327 shoes when they are trending and getting them months after the rave has ended. It was quite frustrating.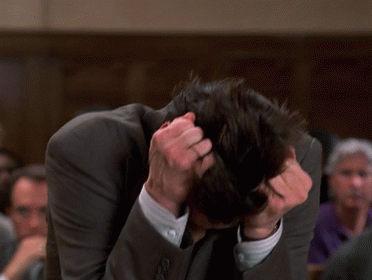 Those without family use services that end up wasting their time and sometimes even losing their items. The process of shipping these items came with customs fees, a longer shipping period, a higher shipping price, and other hassles that do not make this experience worthwhile.
For us at Heroshe, customer delight comes first. This was our mandate when we set out to solve this problem after many tests with our target audience. We are a customer-centric and product-driven company, which means that we focus on creating the best products for all our customers. Since our launch in 2019, we have provided shipping services from the U.S. to Nigeria for businesses and individuals at an affordable price, along with a stress-free shipping experience that our customers can confirm.
Over the years, we have given our 40k+ customers hundreds of reasons to trust us with their shipping needs ahead of our competitors. We have experienced these reasons firsthand and know we should be top of mind when you need to ship from the USA to Nigeria. Let us walk you through eight of them:
Why do Nigerians choose and trust Heroshe with their shipping needs?
Fast Delivery:
Let me start this section by bragging about our new shipping time, which is now 7–10 working days! We have a new airline partner, and this has allowed us to shorten delivery times.
After the challenges we had with the Department of Homeland Security (DHS) early in the year, we put measures in place to prevent a reoccurrence. Before you ship high-value luxury goods, we ask for proof of purchase to enable easy verification and clearance at the U.S. airport.
Easy to use:
Our users unanimously agree that shipping from the U.S. to Nigeria with Heroshe is simple from start to finish. We designed the website to make the process easy for all our users, regardless of the device they use to access their Heroshe dashboard.
At Heroshe, our processes are seamless. Signing up on our website, getting your free U.S. address, and providing proof of purchase? We keep it simple. We receive your items and ship them to you in Nigeria with a big smile on our faces. That is our promise to every customer that chooses Heroshe.
Competitive Pricing:
At Heroshe, we believe that customers deserve clear and transparent shipping pricing. You should not have to break the bank to get value for our services. This is why we have offered competitive and fair pricing with no hidden costs since we started operations.
Using our shipping price calculator, you can have a close estimate of the cost of your shipment. We are not the cheapest in the market. But we take pride in how much value we deliver at an affordable price. With Heroshe, you don't have to worry about extra charges for shipping and clearing. Our customers never have to guess the location of their items. We will send an email to you every step of the way!
Customer Delight:
We stand behind the meaning of our name, "Heroshe," which was derived from the Japanese word for generous: "Hiroshi". This has been our guiding principle since we kicked off in 2019, and it shows in our relationship with our customers.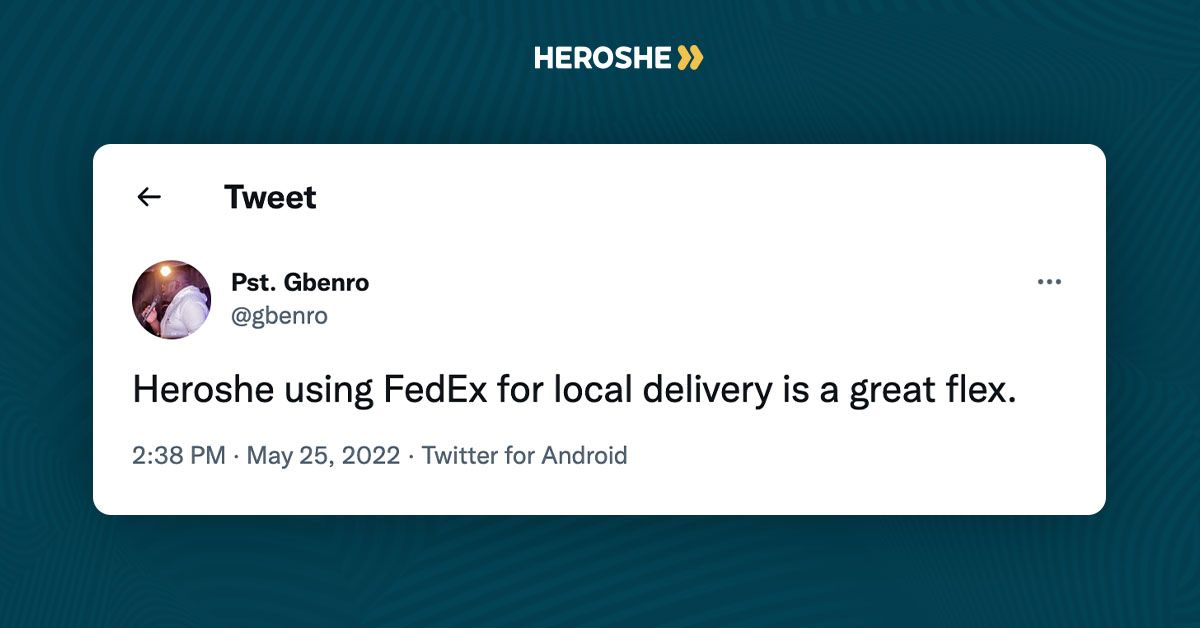 We have solid confidence in our promise to consistently serve all our customers. Are you a first-time online shopper or a professional shopper? We will be happy to serve you as well. Nothing excites us more than improving the lives of our customers as we deliver one package at a time.
Our level of expertise:
Over the last couple of years, Heroshe has been enabling global commerce for Nigerians. This is not a fluke. We pride ourselves on helping our customers get access to quality products globally using our cost-effective solutions. We have a world-class team in every department working tirelessly to build products that will make shipping easier for our customers.
Our experience is not just us shooting blindly in the dark and hoping to hit the target. Far from it. We have an IAC (Independent Air Carrier) license from the TSA (Transportation Security Administration). This license allows us to ship directly with any airline in the United States of America. We also have the DG (Dangerous Goods) license from IATA. This demonstrates our rigorous adherence to the highest international logistics standards.
No tolerance for fraud:
Heroshe works continuously to stop, identify, and mitigate fraudulent activity. We want our customers to be able to trust us when making use of our services. This is why we have solid structures and processes that keep us one step ahead in mitigating fraudulent activities.
Prompt Response:
When you call us, your call does not go to voicemail. Your emails will not go unanswered. Your queries will not be ignored. We will not ignore you because we are not just a logistics company but a trusted partner.
We know the importance of communication in building trust with our customers. This is why we have retrained our support agents to be better equipped to serve you better. We also increased our support time from eight hours to sixteen hours, from five days a week to six days a week across all channels.
Transparency and Accountability:
We strive to be honest, truthful, and transparent. When the DHS caused a delay in shipping times, we were open with information by sending regular updates via email and on our social media platforms. We knew that it would subject us to scrutiny, but we accepted it.
Our customers trust us every day to deliver essential goods for their families and businesses. Our teammates trust us to show up and give our best. We take ownership of the whole process to make sure we deliver for our customers and our teammates. We don't do our part and pass the buck, we make sure we deliver.
Key Takeaways
One of the Google My Business reviews described Heroshe as "the absolute best shipping company" they've used, and we couldn't agree more.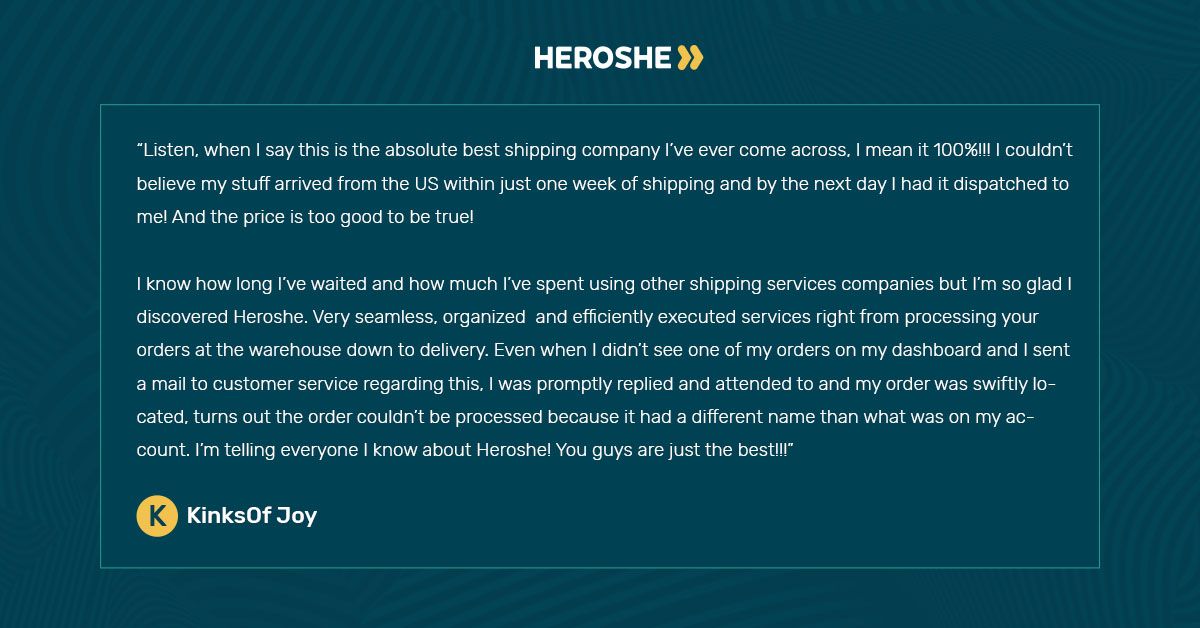 For us at Heroshe, we lay no claim to perfection. The challenges between December and February taught us new lessons in humility. We will continue to adapt and learn to serve our customers in ways that delight them. We hope to have provided you with the information you need to trust us with your shipping needs.
And of course, we know new questions and concerns will always arise, which is why we suggest referring to our FAQs page. Moreover, our team is always available and can be reached on our contact page, Instagram, Facebook, and Twitter. We look forward to welcoming you to Heroshe.
---
Enter your email below to join our newsletter