Heroshe 2022 Holiday Shipping Calendar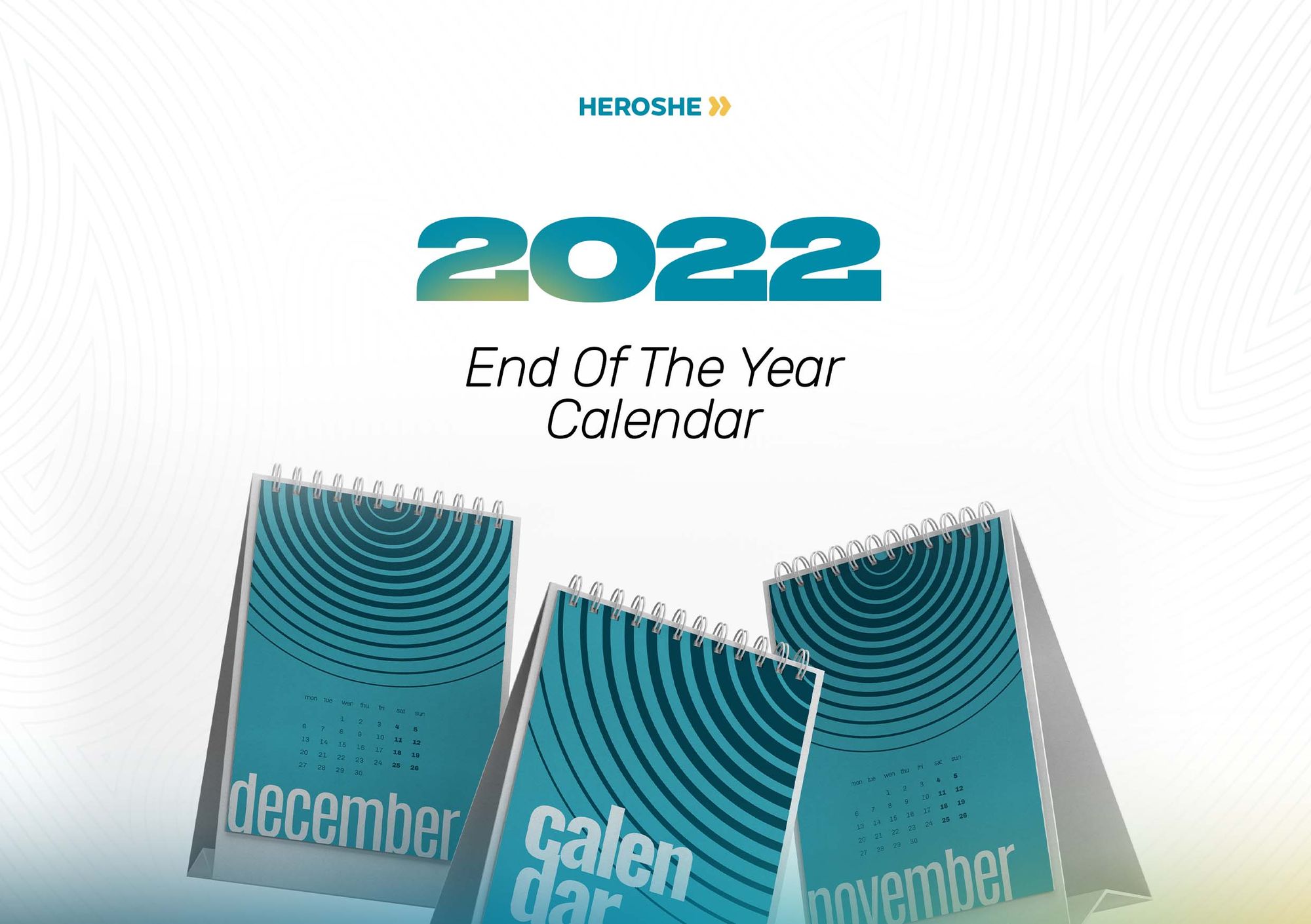 The holiday season is fast approaching again. The Thanksgiving, Black Friday, Cyber Monday, and December shipment rush are almost upon us.
You know what that means.
Many eCommerce online stores offer great deals on products, leading to more orders than usual during the holiday season (October – December).
The 2021 holiday shipping season was a learning experience for us as a business. Many factors contributed to making it an extremely stressful time for everyone involved. But thanks to them, we have introduced processes that will make your shipping experience delightful.
So how can you plan accordingly for the 2022 holiday shipment rush?
One way to plan is by having a holiday shipping calendar. It helps you beat the holiday rush and get your shipments when needed. With that in mind, here is everything you need to know about the 2022 holiday shipping calendar. As usual, we will update this article with any new relevant information if there are any changes.
Why do you need a holiday shipping calendar?
A holiday shipping calendar is crucial for everyone who needs to ship items during the holidays.
With the holidays around the corner, you and your loved ones will likely be doing a lot of shipping! If you plan to buy gifts for your friends and family, it is essential to know they will arrive on time. This is where the holiday shipping calendar comes in.
For business owners and social sellers, the holiday shipping calendar is a tool to ensure your customers get their orders on time. The holiday shipping season is the busiest time of year for online retailers, and the holiday shipping calendar can help you plan your deliveries.
Tips To Prepare For The 2022 Holiday Season
Be organized
The most important thing is to be organized. You will want to plan your holiday shopping days and weeks to avoid the rush and keep yourself on track with your shopping.
Plan ahead
Planning will help you save time and money by avoiding unnecessary expenses during the holiday season. It will also help you stay focused on what is important to you, allowing you to enjoy and appreciate the holidays more fully.
Have a budget
Creating a budget helps you prevent overspending during the holidays. If you do not have a budget in mind, it can be easy for your spending habits to take over and cause an unnecessary financial burden.
You can read up on more tips to help you prepare for the holiday shopping season.
Heroshe's 2022 Holiday Shipping Guide
We have prepared our end-of-the-year shipping schedule and operational calendar to enable you to plan your shopping during the holiday.
We have put in some measures to make it a delightful shopping and delivery experience during the festive season rush. We are anticipating the smooth sailing of all your shipments. So, start early and keep the dates below in mind. We offer a downloadable copy at the end of the article.
Holiday Shipping Date Guide
Thanksgiving Day, November 24th, 2022: There will be no shipping on Thanksgiving Day. Instead, shipping will take place on Wednesday, November 23rd, 2022.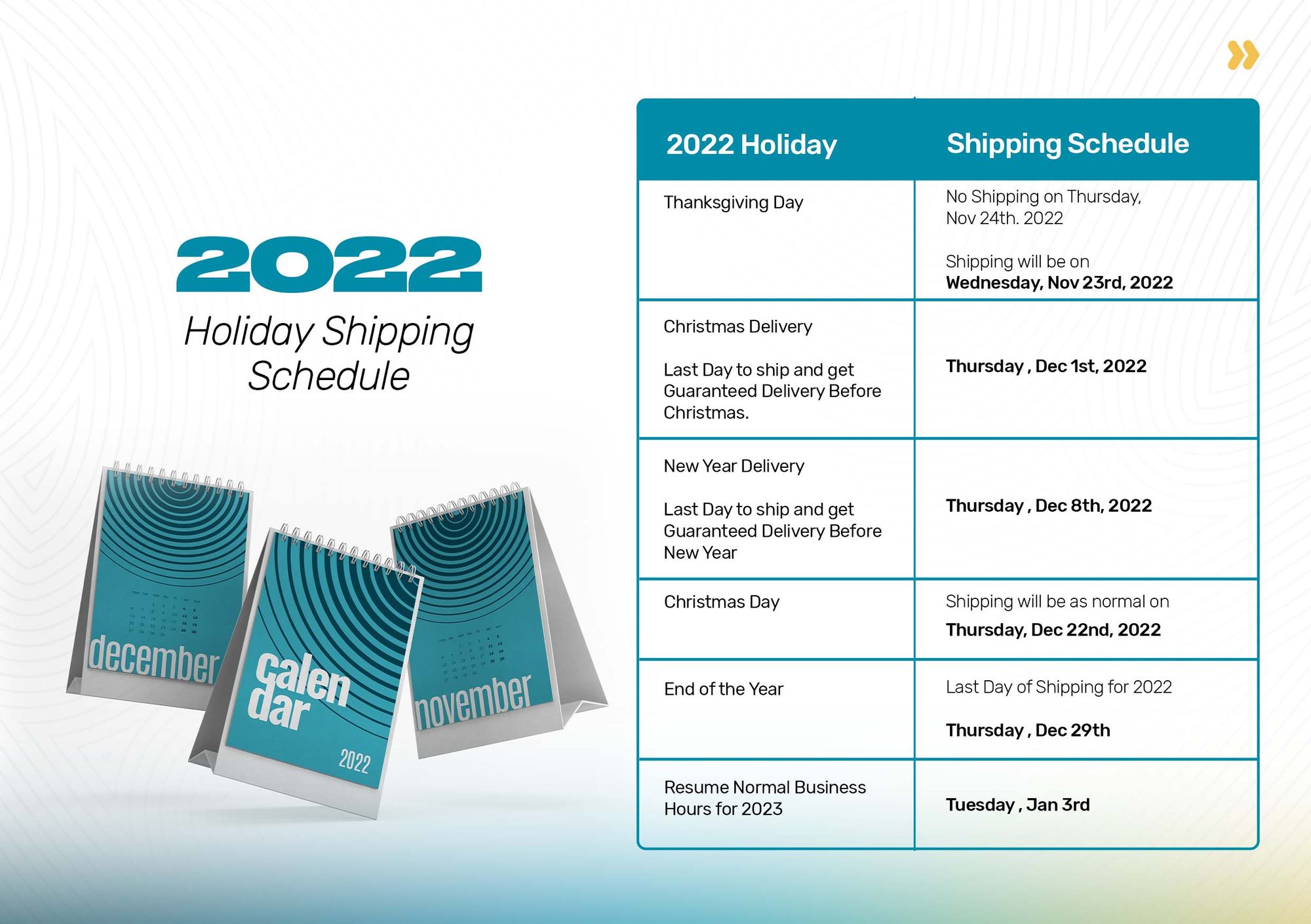 Thursday, December 1st, 2022: The final day for Lagos customers to ship and receive their items before Christmas. Outside of Lagos, delivery before Christmas is not guaranteed.
Thursday, December 8th, 2022: The final day for Lagos customers to ship and receive their orders before Christmas. Outside of Lagos: Delivery before the New Year is not guaranteed.
Thursday, December 22nd, 2022: The final shipping day before Christmas.
Thursday, December 29th, 2022: This is our final shipping day for 2022. On Tuesday, January 3rd, 2023, we will resume normal business hours for 2023.
Download your Heroshe 2022 Holiday Shipping Calendar now and start preparing for the Holidays.
While we are closed for Christmas and New Year holidays, these activities will be ongoing:
Receiving customer packages at the U.S. warehouse. But, we won't process them until our U.S. warehouse resumes on January 3rd, 2023.
Lite Customer Support via website chat and our social media platforms.
If you have any questions, don't hesitate to contact us on our platforms.
---
Enter your email below to join our newsletter