Enjoy Amazing Savings With Heroshe Pro and Premium Subscriptions Discount!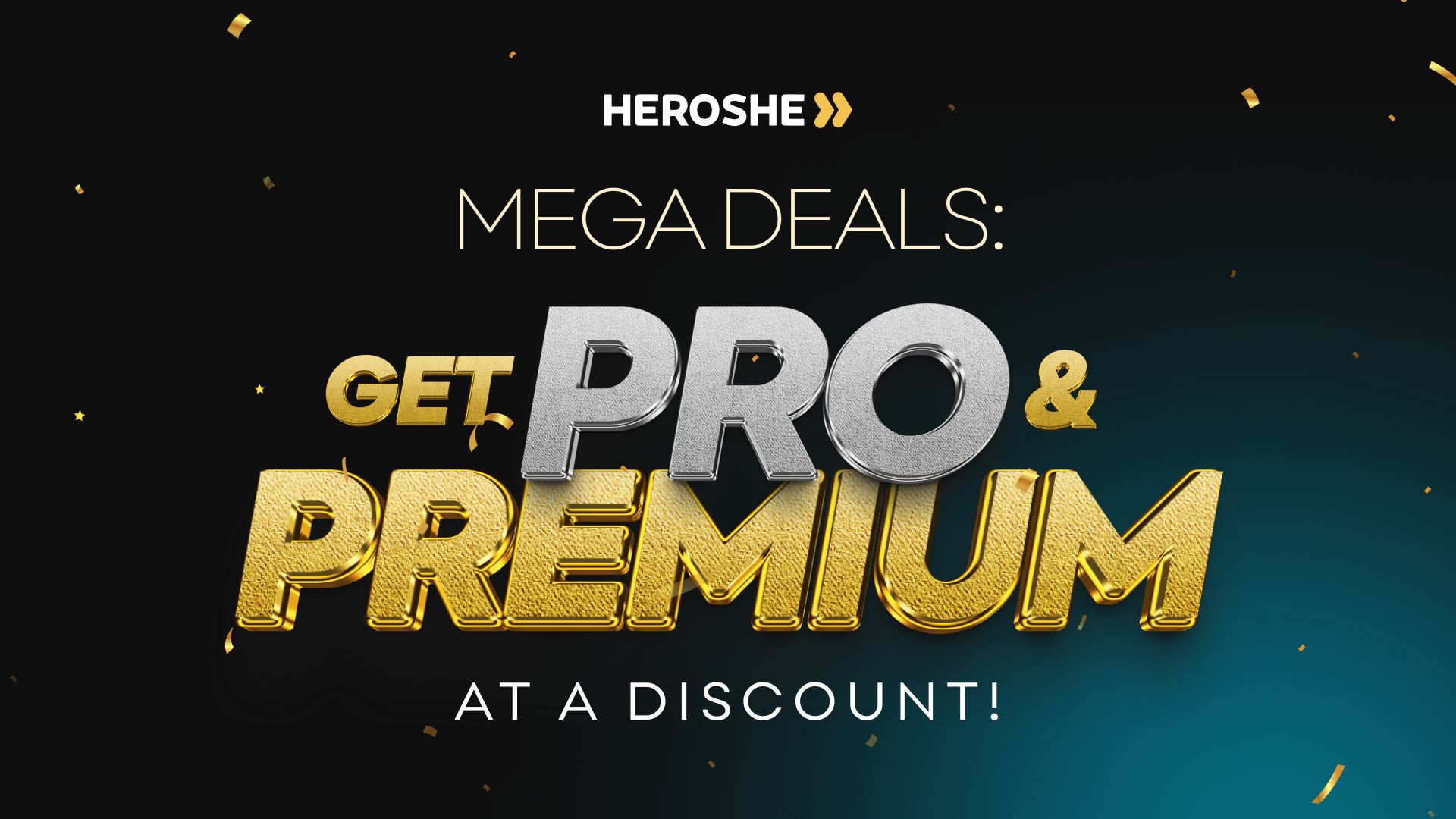 Remember Segun, the ambitious business owner in the bustling hub of Computer Village? He has been using Heroshe Pro since May to stock up on his inventory for his phone store to meet his customers' demands. As Black Friday approaches, he is ready to take advantage of the incredible deals from eBay, Amazon, and Sellvia. His wish list is carefully curated to align with his customers' desires, and he's determined to make the most of the holiday season.
With Heroshe Pro, Segun has enjoyed benefits like tax-free shipping, same-day pickup and cheaper shipping fees. At Heroshe, we understand the unique challenges that business owners like Segun face when it comes to shipping to Nigeria and Ghana. We are always committed to providing accessible and affordable solutions, and we're excited to take it a step further this month. From November 6th to December 1st, we have an exciting offer for you as you ship more items ahead of the holiday season.
The Good News
The good news is that for a limited time, we are making it even more accessible for you to upgrade to Heroshe Pro and Heroshe Premium. From November 6th to December 1st, we are offering massive discounts on Heroshe Pro and Premium subscriptions:
Heroshe Pro Monthly Subscription: Get all the benefits of Heroshe Pro for just $14 per month. This monthly subscription is perfect if you want flexibility and don't want to commit to a long-term plan.
Heroshe Pro Annual Subscription: For those looking for even more savings, the Pro Annual Subscription is available at just $135 per year. This is the most cost-effective option for business owners committed to growing their businesses with Heroshe Pro.
Heroshe Premium Monthly Subscription: For just $26 per month, you can unlock all the premium features that Heroshe has to offer.
Heroshe Premium Annual Subscription: If you want even greater savings, the Premium Annual Subscription is available for just $209 per year.
Why Upgrade to Heroshe Pro and Premium?
We designed Heroshe Pro and Premium with business owners in mind, including personal shoppers, online and social sellers, store owners, drop shippers, and small and medium-sized enterprises (SMEs). But it doesn't stop there – it is also perfect for individuals who frequently ship items to Nigeria and Ghana.
It offers a range of features and benefits that set it apart from our already amazing basic shipping services. Here are some reasons to upgrade to Heroshe Pro and Premium:
Reduced Shipping Fees:
As a Heroshe Pro user, you will enjoy discounted rates to help you save on shipping costs. Regular users pay $8 per pound to send items from the U.S. to Nigeria and Ghana, but as a Heroshe Pro subscriber, you'll only pay $6 per pound. If you are a Heroshe Premium member, it is even better – you will pay just $5 per pound. If you are shipping from the U.K., Heroshe Pro subscribers pay $5 per pound, and Premium subscribers get the lowest rate at $4 per pound.
Access to Our Tax-Free Delaware Address:
Heroshe Pro and Premium users gain access to our tax-free Delaware address. This feature allows you to take advantage of tax benefits, reducing costs and making your business operations more financially efficient.
Expanded Delivery Options:
Heroshe Pro and Premium allow you to pick multiple delivery addresses during checkout, while the basic plan limits you to just 3. Heroshe Pro users can add as many as 10,000 delivery addresses to their accounts, which makes it simpler to serve different customers and locations. Premium users enjoy the extra benefit of unlimited delivery addresses.
Same Day Pickup:
We understand the importance of speed in the world of business. With Heroshe Pro, you can now enjoy same-day pickup for your shipments. This quick turnaround ensures that your packages get to you even faster.
A Dedicated Account Manager:
Heroshe Premium offers you a dedicated account manager who is there to assist you with all your shipping needs. A personal point of contact ensures a seamless and personalized shipping experience, with expert guidance at your fingertips.
How to Upgrade to Heroshe Pro Or Premium
Upgrading your account to Heroshe Pro or Premium is a breeze. Simply follow these steps:
Visit your dashboard on the Heroshe website and click "Upgrade Plan" in the lower-left corner of the menu.
This takes you to the upgrade page, where you can switch to either the monthly or yearly plan for Heroshe Pro or Premium.
Choose your preferred payment option and click the "Pay Now" button.
You can also pay with your Dollar wallet and click the "Pay Now" button.
Complete the payment, and you can enjoy the exclusive benefits of Heroshe Pro and Premium.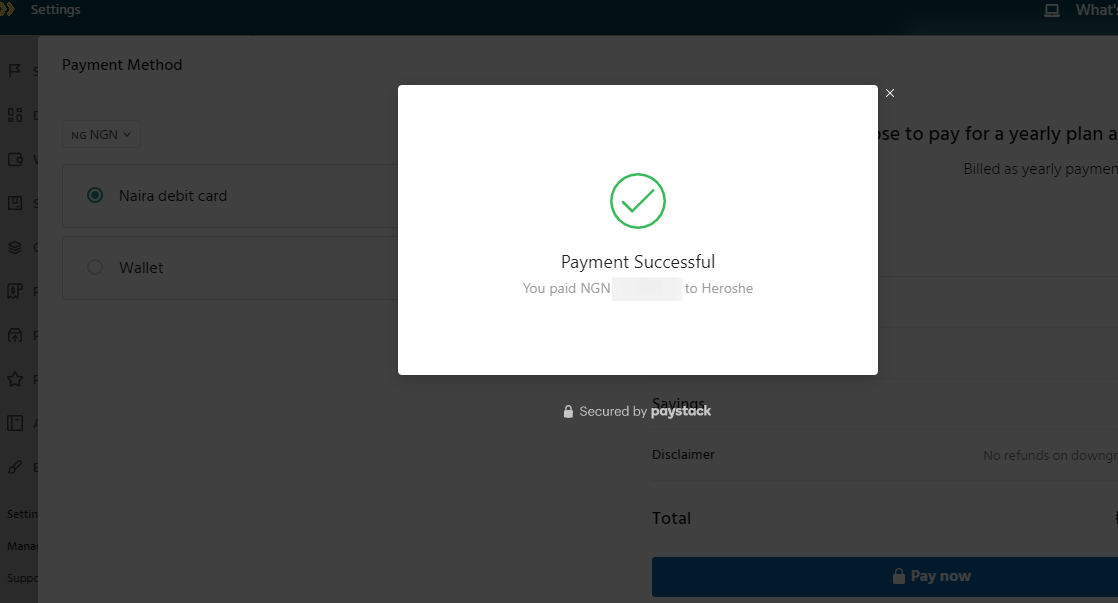 That's all!
Don't miss this opportunity to enhance your business, streamline shipping, and delight your customers. Join Segun, Emeka, and countless other business owners who have already upgraded to Heroshe Pro. Experience the love and swift delivery that Heroshe Pro provides for you and your customers.
---
Enter your email below to join our newsletter