Heroshe 2023 Holiday Shipping Calendar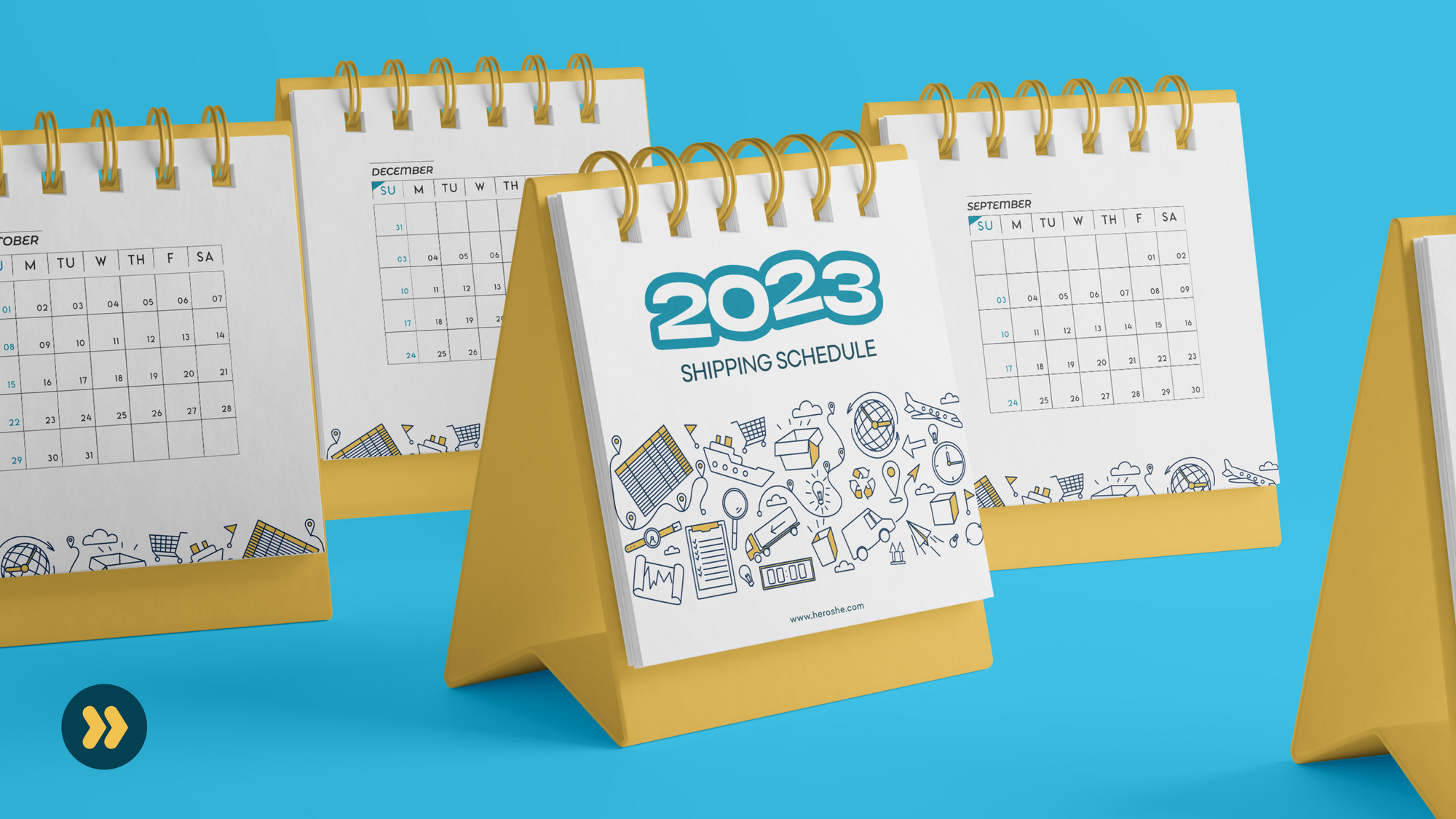 We are close to that magical time of the year when the streets, especially Ajose Adeogun 😅, will come alive with twinkling lights. It's that beautiful time of year when we gather with loved ones, exchange heartfelt gifts, and create cherished memories. And, if you are like me, you are already counting down the days until the festivities begin! As you begin to plan for delicious Jollof and chicken, it is also the perfect moment to consider your holiday shipping needs.
At Heroshe, we understand how crazy the peak shipping season gets, our gift to you today is the 2023 holiday shipping calendar. It helps you beat the holiday rush and ensures that your packages get to their destinations in Nigeria and Ghana with plenty of time to spare. Whether you are a business owner, a thoughtful individual looking for the perfect gift, or a loyal Heroshe user who knows the value of our services, this holiday shipping calendar is tailor-made just for you. As usual, we will update this article with any new relevant information if there are any changes.
Let's get started!
How Do You Manage Peak Delivery Periods?
If you are a dropshipper or a mini importer, peak season is a blessing and can be a burden if you don't plan properly. Peak season, especially the four weeks leading up to Black Friday accounts for a large part of holiday shipping. Preparation is key to effectively managing the surge in orders and maintaining a smooth shipping process. Here are some strategies to help you deliver on time during peak season:
Create and Communicate Your Holiday Shipping Policy
Avoid confusion and manage customer expectations by creating a clear and comprehensive holiday shipping policy (like this one!😉). This policy should address essential aspects such as returns, shipping cutoff dates, and delivery estimates.
Use Affordable and Fast Couriers
Not to toot our horn, but Heroshe is the best shipping method from the UK & US to Nigeria and Ghana. Our speed of delivery is surpassed only by the big boys - DHL, UPS, and FedEx - and we charge 90% less than them!! Don't just take our word for it; witness the evidence of our exceptional service through a real-life test we conducted.
Buy Key Packaging and Supplies in Advance
To streamline your fulfillment process, stock up on essential packaging materials and supplies well in advance. Order shipping boxes online from trusted suppliers to ensure you have everything when the holiday rush begins.
Create a Smooth Post-Purchase Experience
Be like Heroshe and create a smooth experience for your customers. Use a transparent returns process and give customers easy access to tracking information. By ensuring transparency and effective communication, you can foster customer trust and loyalty.
Heroshe 2023 Holiday Shipping Calendar
Last year, we told you why you need a holiday shipping calendar, so let's dive right into it. We have prepared a comprehensive shipping calendar to help you plan your shipments during the 2023 holiday season in both the U.K. and U.S.
So, start shopping early and keep the dates below in mind. You will find a downloadable copy of our calendar at the end of this article for your convenience.
Holiday Shipping Date Guide
Thanksgiving Day, November 23rd, 2023: On Thanksgiving Day, there will be no shipping. Instead, shipping will take place on Wednesday, November 22nd, 2023.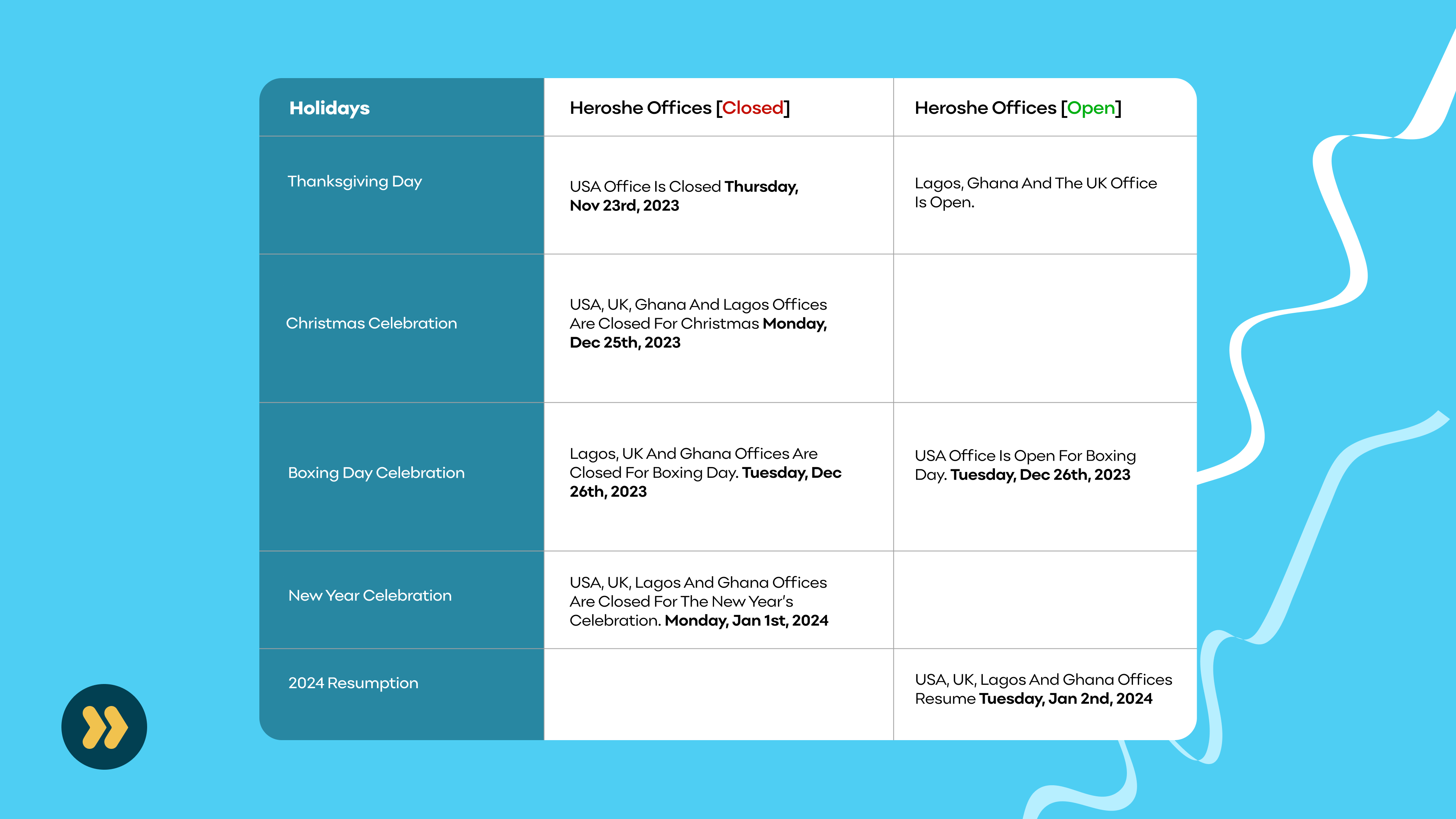 Thursday, November 30th, 2023: For Lagos customers, this is the final day to ship and receive items before Christmas. However, for customers outside of Lagos, delivery before Christmas is not guaranteed.
Thursday, December 7th, 2023: This is the final day for Lagos customers to ship and receive their orders before Christmas. For customers outside of Lagos, delivery before the New Year is not guaranteed.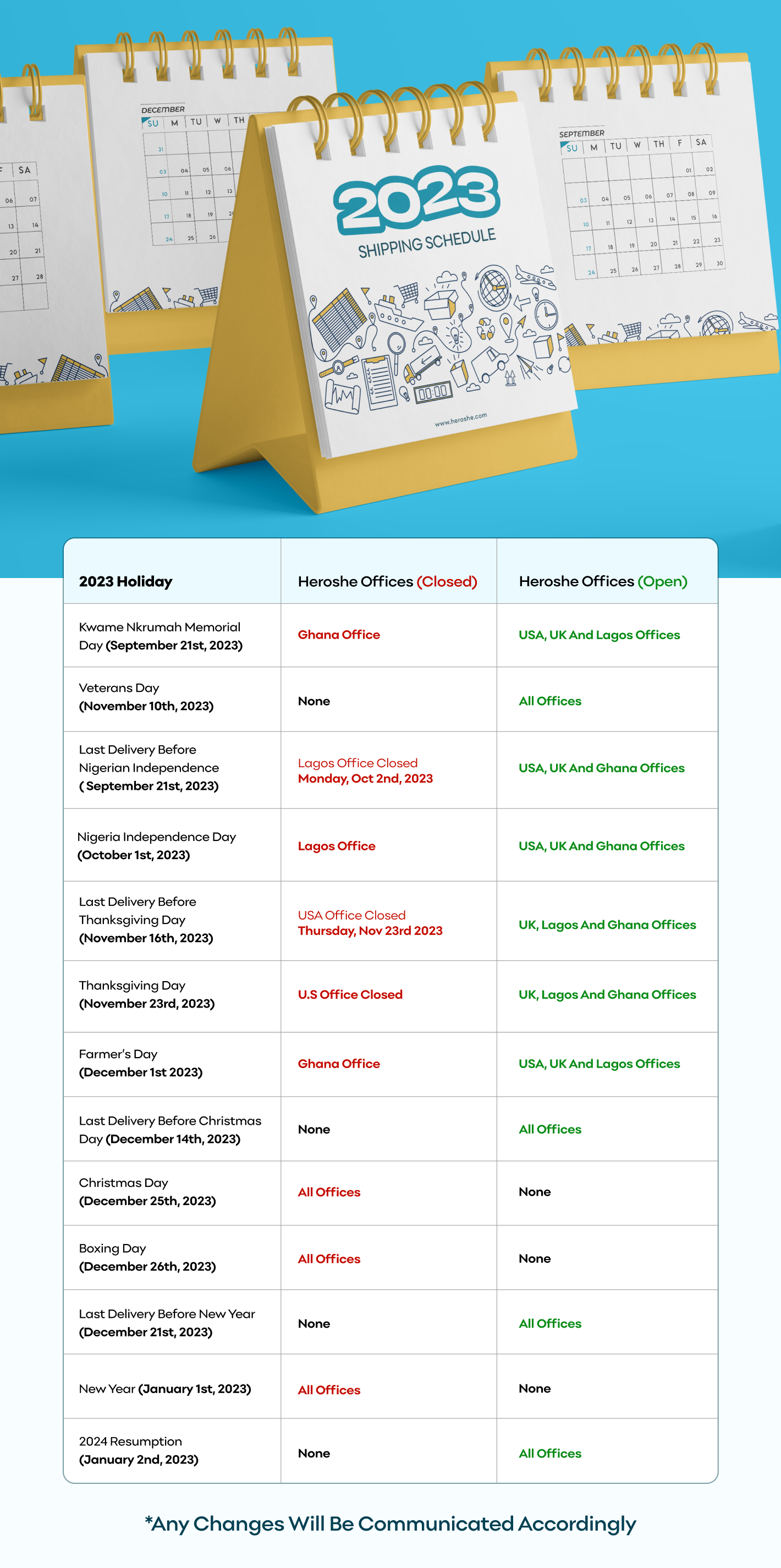 Thursday, December 21st, 2023: This is the final shipping day before Christmas.
Thursday, December 28th, 2023: This is our final shipping day for 2023. On Tuesday, January 2nd, 2023, we will resume normal business hours for 2024.
💡
How late can you ship packages to have them arrive by Christmas?
Just download our 2023 Holiday Shipping Calendar below.
While we are closed for Christmas and New Year holidays, these activities will be ongoing:
Receiving customer packages at the U.S. and U.K. warehouses. But, we won't process them until our U.S. and U.K. warehouses resume on January 2nd, 2024.
Lite Customer Support via website chat and our social media platforms.
If you have any questions, please don't hesitate to contact us on our platforms. We are here to assist you with love and ensure swift delivery of the support you need. Happy shipping and happy holidays!
---
Enter your email below to join our newsletter