How To Buy Quality Perfumes From The U.S. & Ship To Nigeria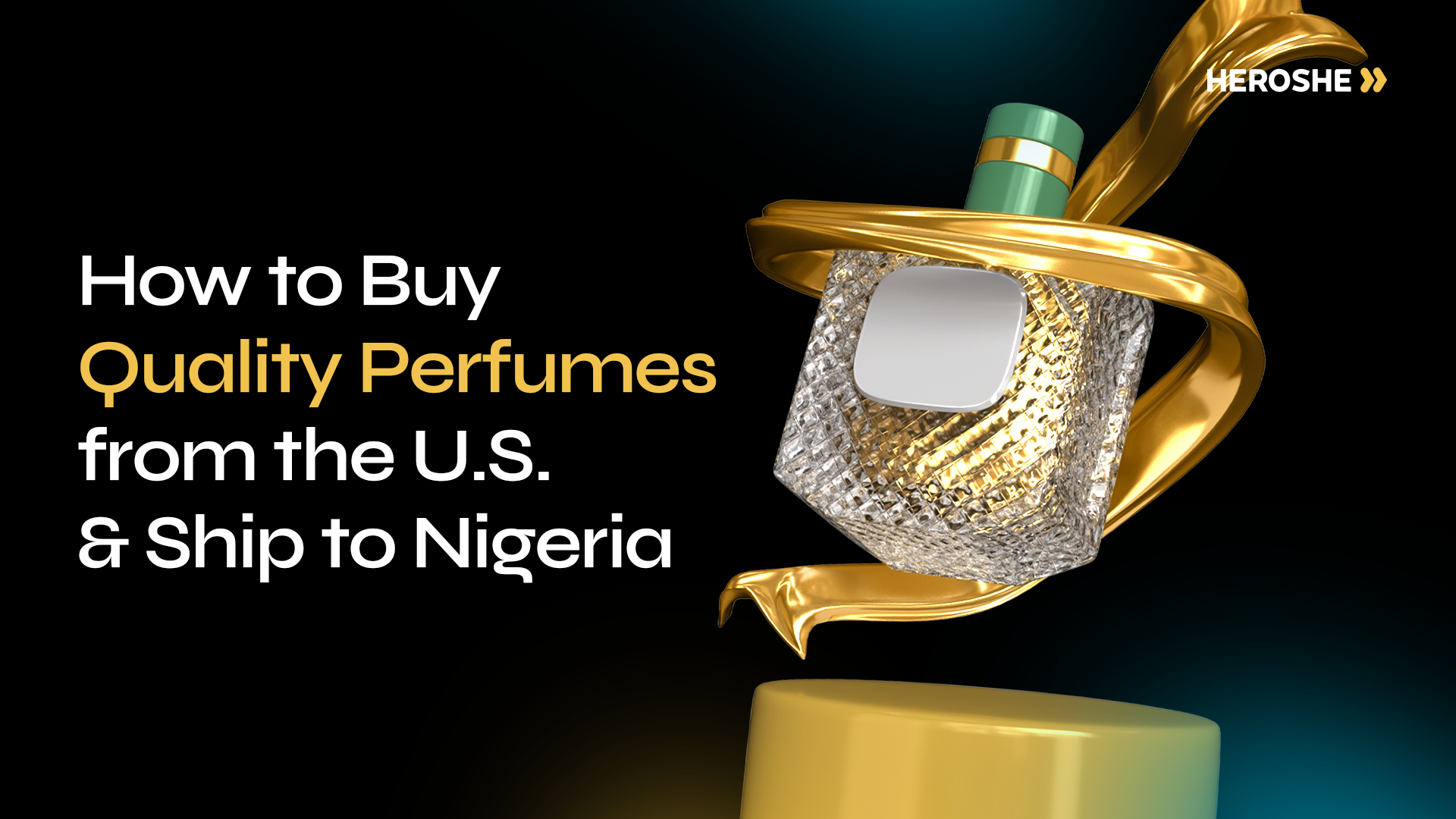 Hey there fellow perfume lovers! If you are anything like me, you know the thrill of finding your favorite YSL perfume on Amazon at a sweet discount. But, oh boy, the shipping costs, customs duties, and long delivery times can be real deal-breakers, right? Well, let me tell you about the affordable method I used to ship my favorite perfume from the U.S. to Nigeria in 7 days!
One afternoon I was browsing through Amazon (instead of working 🤭), and there it was - my favorite YSL EDP perfume was available at a sweet 8% discount. It practically called out my name! But, oh, there was a twist. The seller didn't ship to Nigeria, and my heart sank. The struggle is real, my friends! At the time, Heroshe had not started shipping perfumes to Nigeria. I checked the competitors, and the earliest any of them could get it to Nigeria was in 21 days. I added it to the cart and forgot about it.
Thankfully in January, Heroshe included perfumes to the list of items they ship from the U.S. to Nigeria. Without a second thought, I quickly paid for the perfume and had it shipped to the U.S. Warehouse. In this article, I'll walk you through how I funded my Heroshe wallet, paid for the perfume, and how it arrived in Nigeria 7 days later. So, let's dive right in and get started!
How To Fund Your Heroshe Wallet
I believe that by now you already have an Heroshe account and if not redeem yourself by signing up now. Login to your Heroshe dashboard and click on "Wallet". Choose the wallet you want to fund (NGN OR USD).
Enter the amount you want to top up, and click on "Proceed".
This redirects you to the safe and secure payment page where you will enter your card details and pay.
This increases your wallet balance. And just like that you have funded your Heroshe wallet.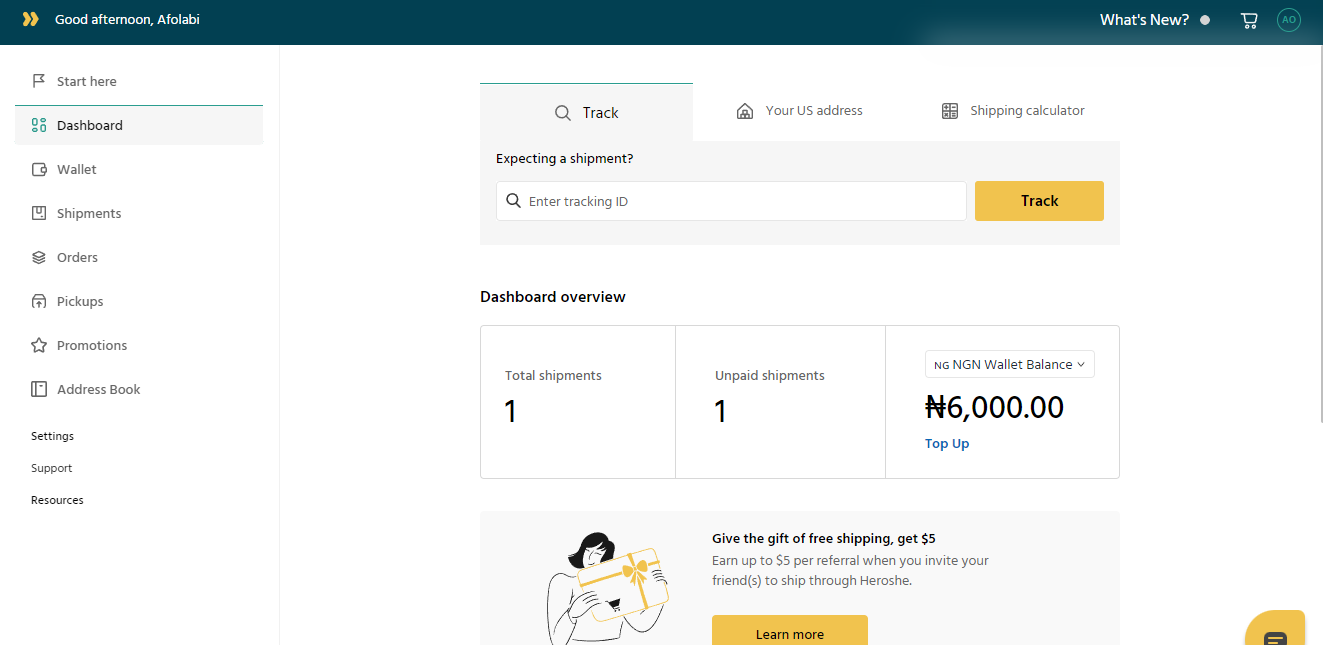 How To Pay For Your Shipment on Heroshe
It is very easy to pay for your perfume shipment on Heroshe. Simply click on Shipments from your Heroshe dashboard, select the perfume you want to pay for, and Add to cart.
Click on the cart logo and select "Checkout".
This leads you to the page where you can select how you want to receive your perfume. There are two options. You can either pick up for free at the Lagos warehouse or deliver to your doorstep anywhere across Nigeria for an additional fee.
I selected free pick up and I got redirected to the safe and secure payment page. There are three options to choose from: Naira debit card powered by Paystack, Heroshe wallet, and Split Pay. I selected Wallet and paid.
Related: 3 Reasons To Use Heroshe Split Pay On Your Next Shipment
O pari!
I got redirected to the order confirmation page confirming that I had paid for my item.
How Long Did It Take For The Perfume To Arrive In Lagos?
It took 7 days!!! You can check out the tracking timeline in the picture below.
How To Schedule Free Pickup From The Heroshe Lagos Warehouse
When the perfume arrived in Nigeria, there was one last step before we could finally be united. Schedule a free pick up from the Heroshe Lagos Warehouse.
From your Heroshe dashboard, click on Pickups. From that page, select "Schedule pickup" and then "Proceed" on the prompt.

This leads to a page containing items ready for pick up. I selected the perfume and clicked on proceed.
I scheduled a date and time to pick up and clicked on "Proceed".
All I had to do now was confirm the date and time.
This redirected me to a page containing the referral code I used to pick up the item.
Picking up from the Lagos Warehouse was very seamless. I will talk about it in another article where I walk you through using the Heroshe Smartlocker. Stay tuned!
Related: 10 Simple Tips Every Heroshe First-Time Customer Will Benefit From
Now, let's talk about savings, because who doesn't love a good deal? I bought the amazing perfume for $75 (with an exchange rate of 752 Naira to 1 dollar at the time), bringing it to a total of 56,400 Naira. The shipping fee on Heroshe was $8 (N6,016), bringing the grand total to 62,416 Naira. You won't believe it, but the same perfume currently costs 89,999 Naira on my favorite Nigerian perfume brand, Fragrances! Can you believe the incredible savings I made? Score one for Idan gangan.
Not only did I get my hands on my favorite scent, but I also managed to do it without breaking the bank. Thanks to Heroshe, my perfume dreams became a reality, and I didn't have to pay an arm and a leg for it. I couldn't be happier!
Look at this beaut now!
That's all there is to it, my fellow perfume lovers. That's how I bought my perfume on Amazon and shipped to Nigeria in just 7 days. The best part is that you can get your items in Nigeria in 7 - 10 days too. Just follow my lead and use Heroshe's amazing shipping service to have that dream perfume delivered straight to your door.
Find your dream perfume in any U.S. online store,
Ship it to the U.S. warehouse,
Let Heroshe work their magic to get it to your doorstep in Nigeria, all without breaking the bank.
Trust me, you'll be dropping your own testimonial in no time!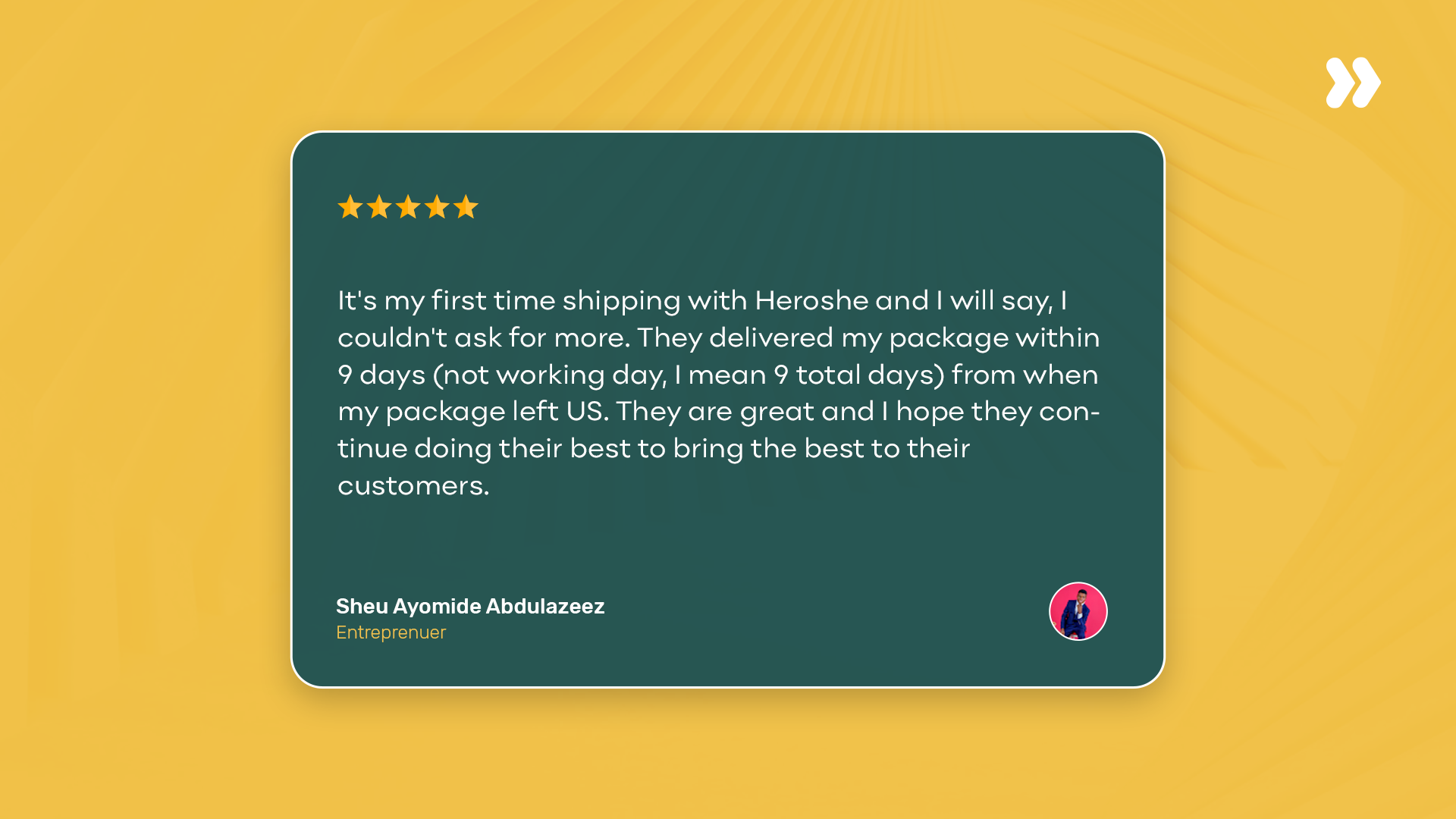 Things To Note While Shipping Perfumes With Heroshe
The 7 - 10 days shipping timeline begins from the moment your perfume leaves the Heroshe U.S. warehouse.
Please note that Heroshe currently ships perfumes once every two weeks.
Customers in Ghana can also enjoy perfume shipping with Heroshe.
Update:
Starting from Thursday, September 14th at 7 am CDT, we will no longer be able to ship perfumes due to updated shipping regulations. We understand that this change may affect some of our valued customers who have been enjoying our perfume shipping services.
To ensure that you have an opportunity to receive any outstanding perfume orders, we have set a final payment deadline for perfumes on Thursday, September 14th at 7 am CDT. Any perfumes with confirmed payments made by this deadline will be shipped as part of our last batch on September 22nd, ensuring that you receive your order.
Please note that any perfume shipments received at our warehouse after the September 14th cutoff time will be processed as Dangerous Goods (DG). If you find yourself in this situation, we kindly request you to arrange a return label for the item. Our customer support team will be available to assist you in this process and address any questions or concerns you may have.
Now go on, sniff out those fantastic perfume deals, and let Heroshe handle the rest with love and swift delivery. Happy shipping and smelling fabulous, my fellow perfume lovers!

---
Enter your email below to join our newsletter